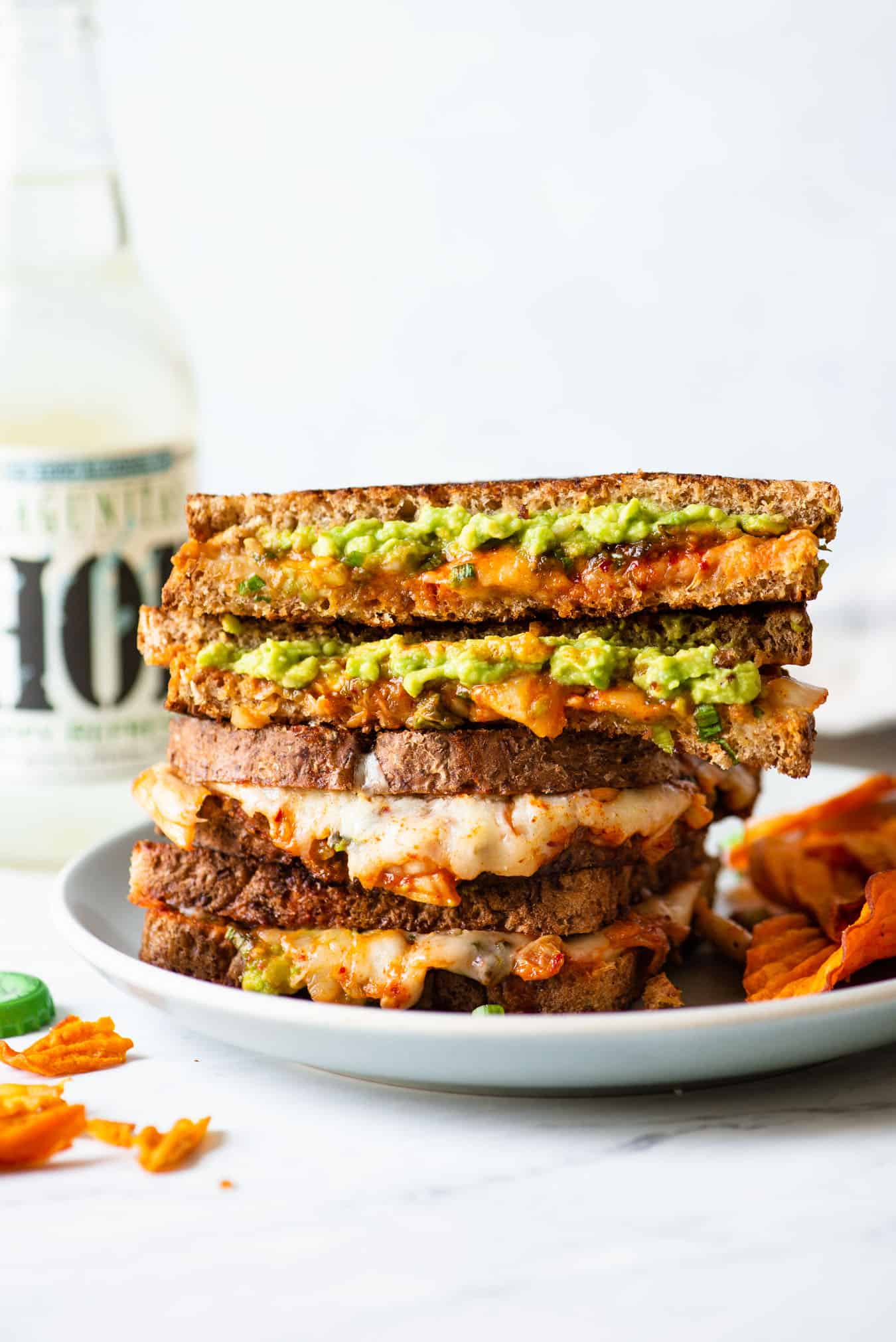 Thank you to Safeway for sponsoring this post!
Beer, cheese, and bread are some of my favorite food and drink in the world. That's why I was very excited when Safeway invited me to Petaluma to visit Alvarado Street Bakery and Lagunitas Brewing Company last month. It was part of my third trip this year as part of the Safeway Blogger Tour to learn more about Safeway's Northern California vendors.
ALVARADO STREET BAKERY
We first visited Alvarado Street Bakery to see how they make and package their sliced sandwich bread. The distinguishing characteristic about Alvarado Street Bakery's bread is that they make their loaves with sprouted organic wheat berries instead of wheat flour. The sprouting process turns wheat kernels into a plant, which allows the body to digest nutrients from the grains more easily. Then, these sprouted grains go through a large grinder, turning the sprouted kernels into a thick paste. This paste goes directly into making the bread dough.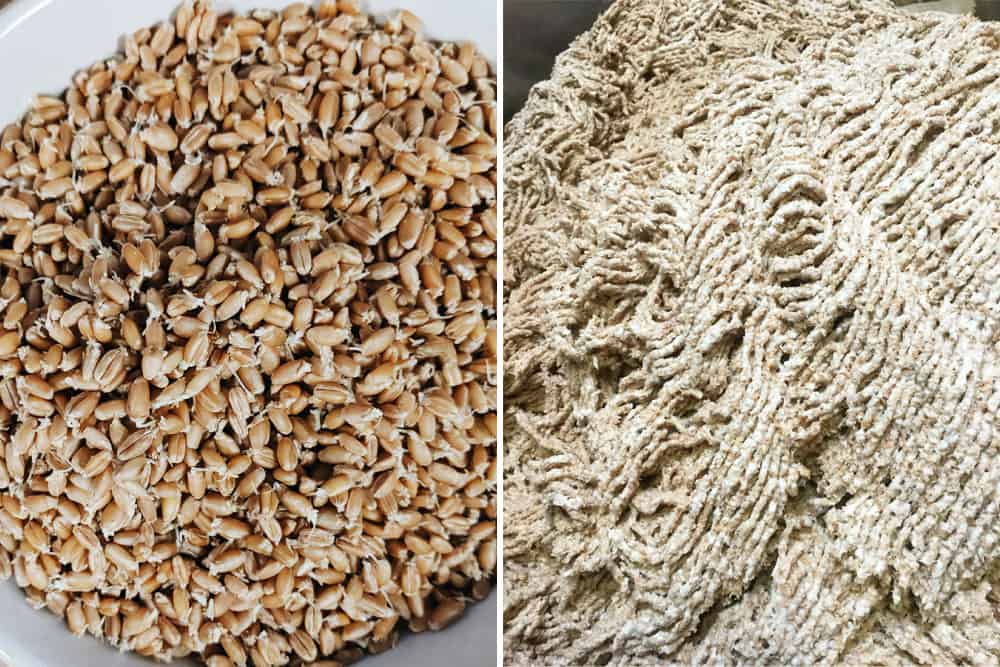 The production facility at Alvarado Street Bakery produces a lot of bread each day–about 30,000 loaves! It was fascinating to see the bread move along huge conveyor belts and tracks that wraps around the facility in a serpentine fashion. I also loved the smell of freshly baked bread hitting my nostrils when I walked past the oven. I don't get to visit facilities like this often, so I soaked it all in like a kid visiting a museum for the first time.
LAGUNITAS BREWING COMPANY
Our final stop was at the Lagunitas Brewing Company's Petaluma facility and taproom. When we arrived, we got there just in time to see the bottling of their popular IPA. I genuinely felt as if I had stepped onto the set of Laverne and Shirley. There were bottles of IPA as far as the eye could see. We even got to drink freshly bottled IPAs off the line!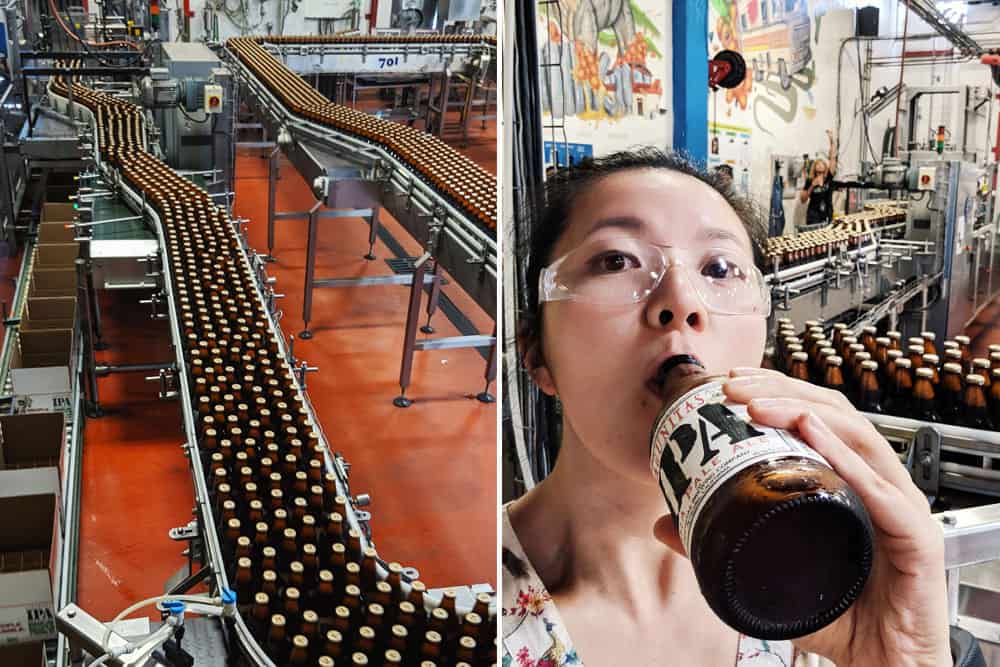 The Lagunitas taproom is known for hosting free concerts in their on-site amphitheater. It's a great opportunity for the community to hang out and enjoy some beer and food in the evening. I was surprised that even though we visited at noon on a Wednesday, there were so many families there relaxing at the taproom.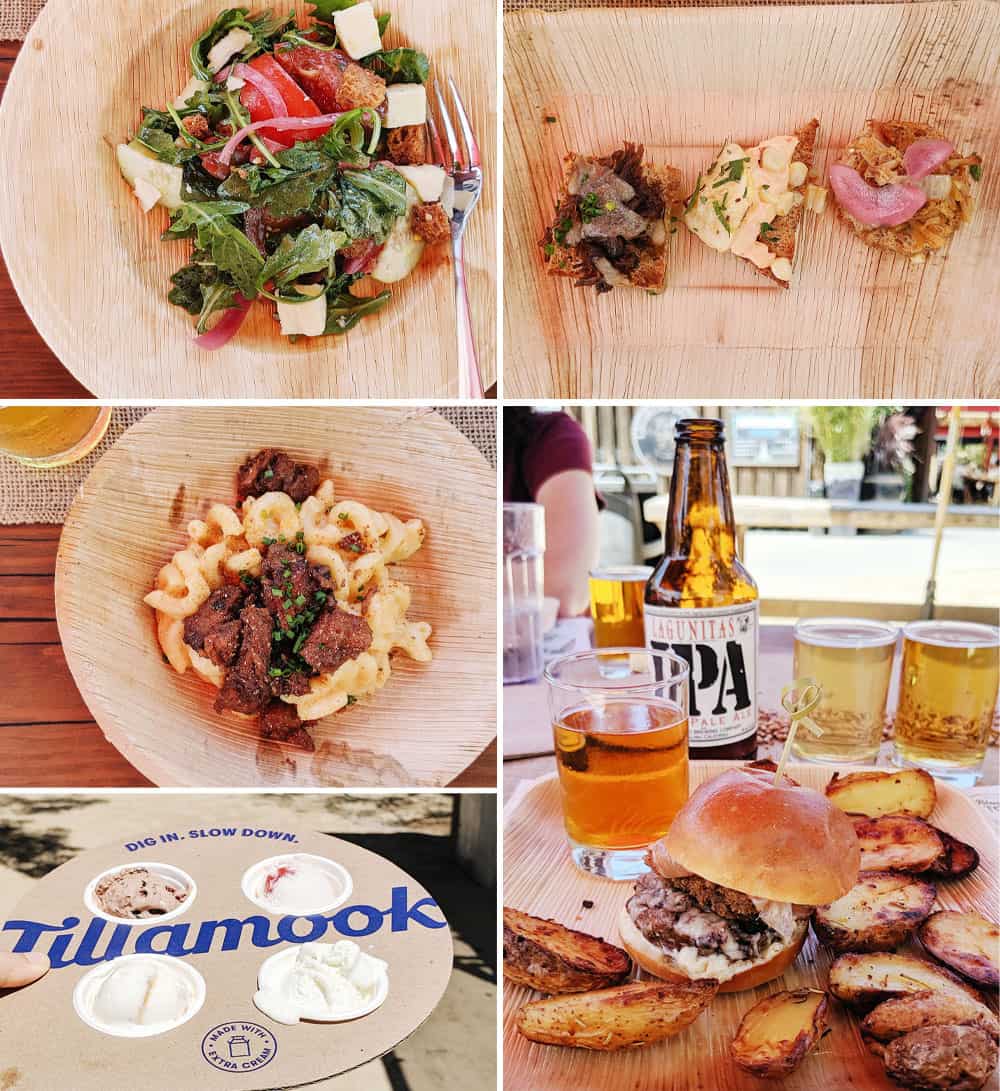 While we were at Lagunitas, we were treated to a delicious 4-course lunch and beer pairing. Each course featured bread from Alvarado Street Bakery and cheese from Tillamook: panzanella salad, bruschetta served three ways, drunken mac and cheese, and a Cuban burger. For dessert, Tillamook served up a lot of ice cream, which was a welcome treat on a warm summer's day. I stuffed myself so much that I honestly did not eat dinner that night!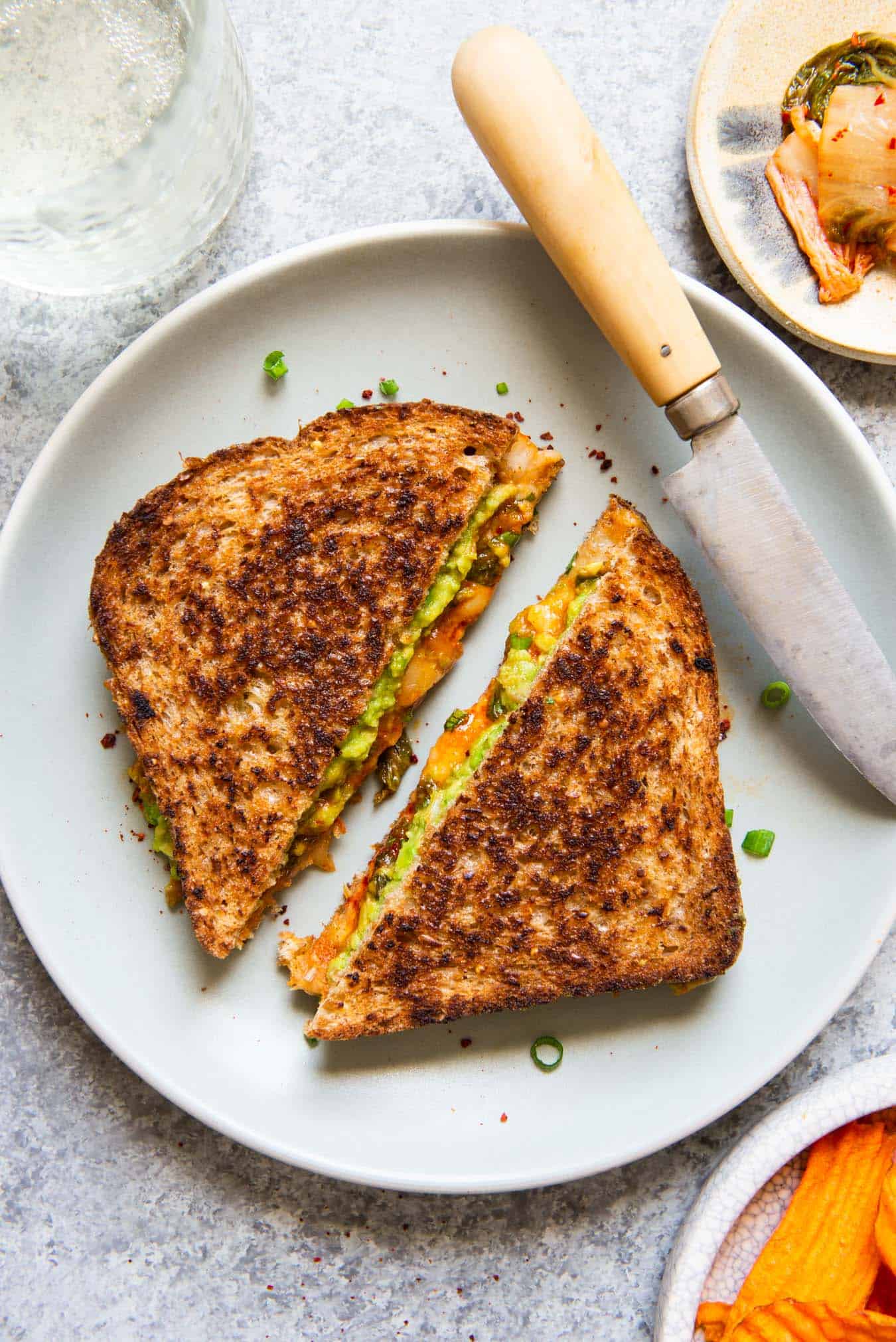 KIMCHI AND AVOCADO GRILLED CHEESE SANDWICH RECIPE
Inspired by the Safeway tour, I created this kimchi and avocado grilled cheese sandwich. I know it sounds unusual to stick kimchi into a grilled cheese sandwich, but it tastes fantastic! The kimchi cuts through the richness of the cheese and avocado and it adds tangy and spicy flavors to the sandwich. Kimchi can be quite sour, so I balanced it with gochujang (Korean red pepper paste) and a bit of honey.
For the bread, I used Alvarado Street Bakery's California-Style Sprouted Bread, which is a hearty bread that packs in 6 grams of protein per slice. I absolutely loved the flavor of Tillamook's extra sharp white cheddar cheese when I tasted it during lunch at Lagunitas, which is why I wanted to feature it in this recipe.
Finally, I paired the grilled cheese sandwich with the Lagunitas Hoppy Refresher, an IPA-inspired non-alcoholic beverage. It is like drinking sparkling water flavored with hops. You can taste the slightly bitter and floral notes of the hops, but it has a light, clean finish. The Hoppy Refresher is a great complement to the strong flavors of the kimchi and gochujang in the sandwich.
This kimchi and avocado grilled cheese sandwich comes together in about 15 minutes, and it is a quick and easy weeknight dinner. Hope you give it a try soon!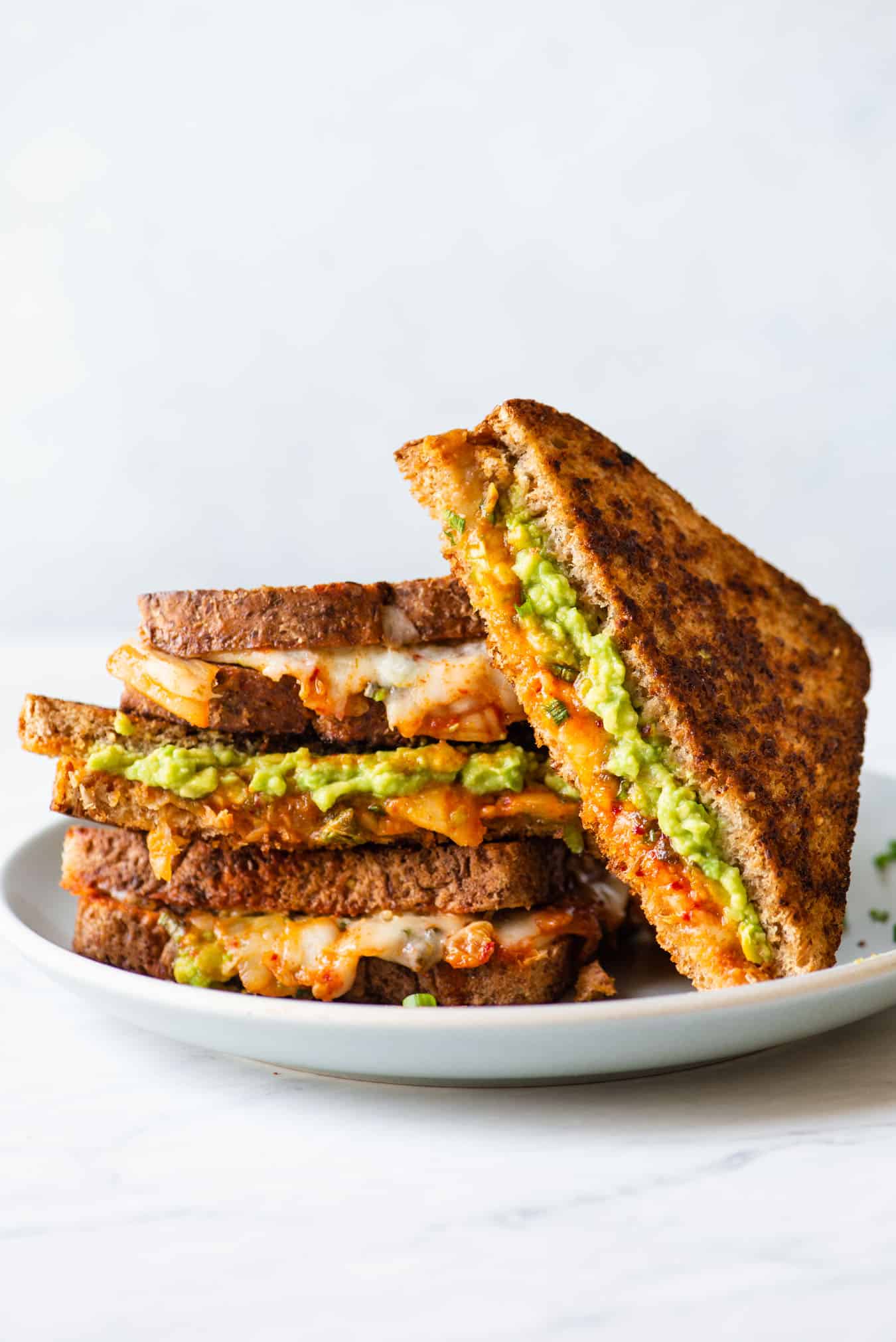 LOOKING FOR MORE WAYS TO USE KIMCHI?
Kimchi and Avocado Grilled Cheese Sandwich
This kimchi and avocado grilled cheese sandwich is a quick and delicious weeknight meal. The richness of the cheddar cheese and mashed avocado balances nicely with the tangy and spicy flavors of kimchi.
Ingredients
4

slices

of sandwich bread

2 1/2

tablespoons

butter at room temperature (see note 1)

2/3

cup

shredded extra sharp white cheddar cheese (see note 2)

1/2

cup

kimchi, chopped

3

tablespoons

chopped scallions

1

tablespoon

gochujang

1 1/2

teaspoons

honey

1/2

teaspoon

sesame oil

1

large avocado

1 1/2

tablespoons

lime juice

1/4

teaspoon

garlic powder

1/4

teaspoon

salt
Instructions
Spread a thin layer of butter over one side of each slice of bread.

Turn 2 slices of bread over so that the buttered side is facing down. Divide the shredded cheese between these slices of bread.

In a small bowl, mix the chopped kimchi, scallions, gochujang, honey, and sesame oil.

In another bowl, mash the avocado. Mix in the lime juice, garlic powder, and salt.

Divide the kimchi over the slices of bread that are topped with cheese. 

Heat a large skillet over medium heat. You may need to adjust the heat higher or lower depending on your stove. Carefully place the 2 prepared slices of bread with cheese and kimchi into the skillet. Cover the skillet and cook until the cheese is melted, about 3 to 4 minutes (see note 3). 

Carefully divide the mashed avocado over the remaining slices of bread (see note 4). Don't worry too much about having to spread the avocado all the way to the edges. The mash spreads out when you flip the sandwich over. 

Top both sandwiches with the remaining slices of bread, avocado side down and buttered side up. Gently press down on the top slices of bread to adhere the bread to the rest of the sandwich. Using a large spatula, carefully flip both sandwiches over and cook the other side until the bread is toasted, another 2 to 3 minutes, uncovered. Transfer the sandwiches to a plate and serve immediately.
Notes
You want the butter at room temperature so that it is easy to spread on the slices of bread. Alternatively, you can melt the butter in the skillet before you place the bread on top. I also like using olive oil (instead of butter) to make grilled cheese sandwiches. Just heat the oil in the skillet and place the sandwiches on top. 
I find that 1/3 cup of shredded cheese is enough for each sandwich. Feel free to add more or less if you like.
Covering the pan allows the cheese to melt faster. When I first tested the recipe, I forgot about this trick and my bread was burnt by the time the cheese melted. Don't make the same mistake I did.
I like adding the avocado after the cheese has melted because the avocado mash stays vibrant green.
Nutrition
Serving:
1
sandwich
|
Calories:
214
kcal
|
Carbohydrates:
41.3
g
|
Protein:
21
g
|
Fat:
38.9
g
|
Saturated Fat:
17.7
g
|
Cholesterol:
76
mg
|
Sodium:
1230
mg
|
Fiber:
9.7
g
|
Sugar:
8.6
g
Did you make this recipe?
Tag @hellolisalin or leave a star rating and comment on the blog!
Disclaimer: This post is sponsored by Safeway. You can find all the ingredients for this post at your local Safeway.