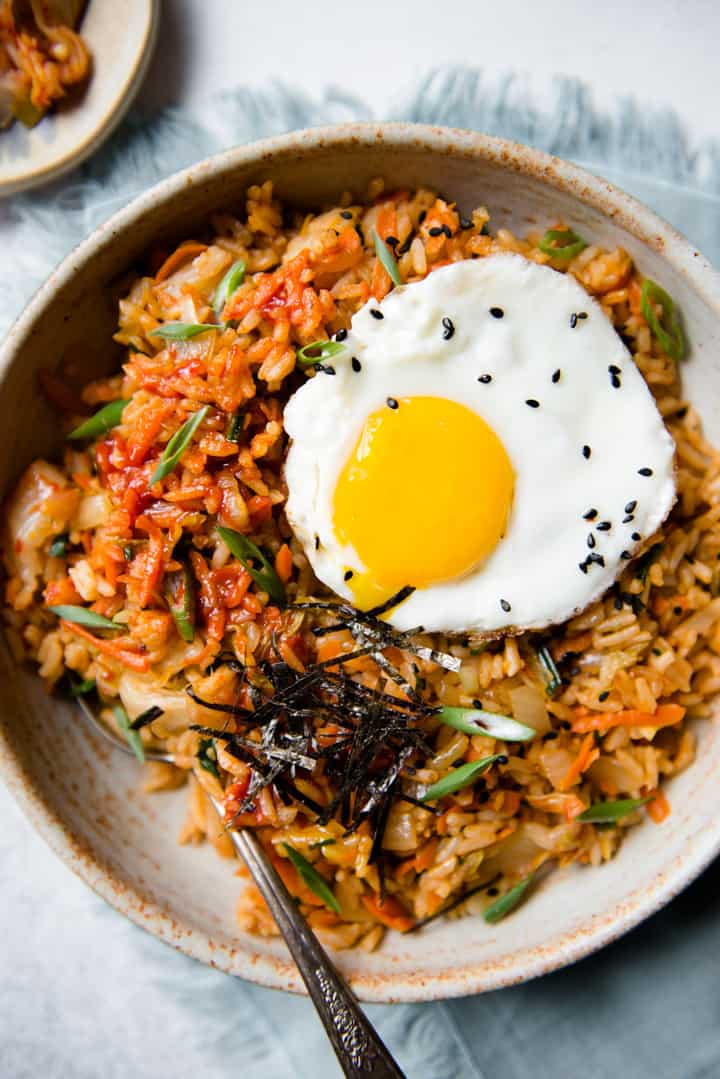 I remember the first I ever encountered kimchi over 10 years ago, when one of my college roommates apologized for stinking up the refrigerator with some homemade kimchi. Never in a million years did I imagine that kimchi would become hip in the health food world. (Read this post on how eating fermented foods, like kimchi, is good for our gut health.)
The flavors of kimchi can be quite intense if you've never tried it before. Stir frying kimchi with a bunch of rice and soy sauce is a great way to introduce kimchi to your taste buds. If you are looking to buy kimchi at the supermarket, try Sinto Gourmet's kimchi. It is one of my favorite brands so far, and it's organic! The only downside is that their distribution is mostly in Northern California right now.
If you want to make your own kimchi, you can try my small batch vegan kimchi recipe!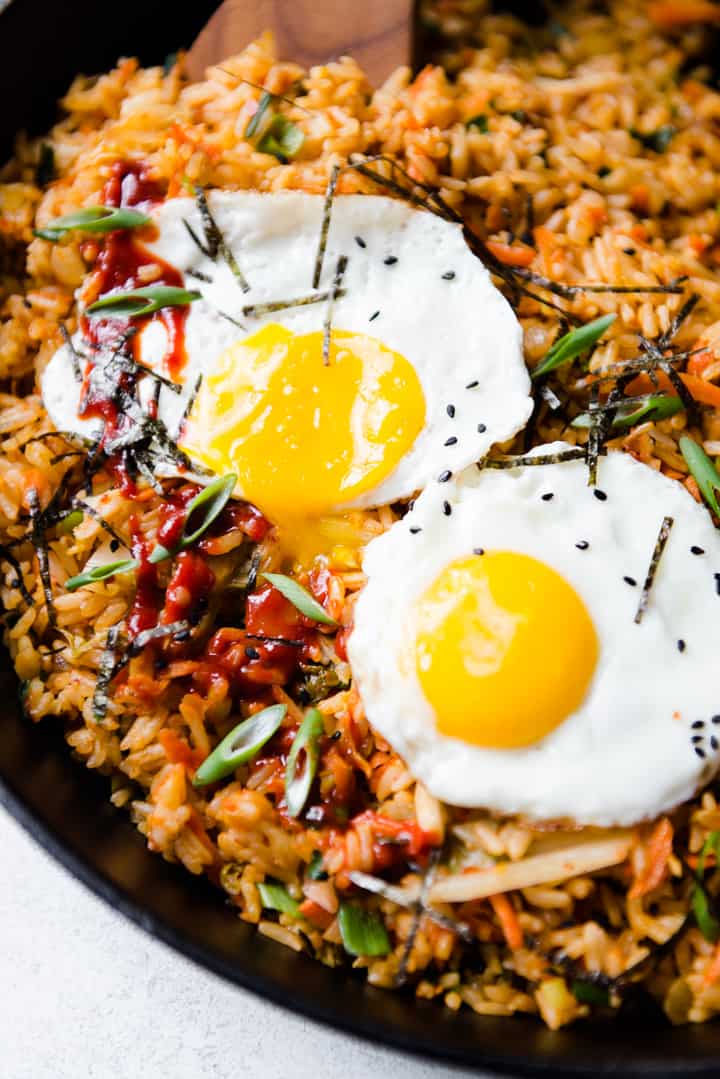 If you're looking for more ways to cook with kimchi, check out these recipes from some of my favorite blogs:
KIMCHI FRIED RICE COOKING NOTES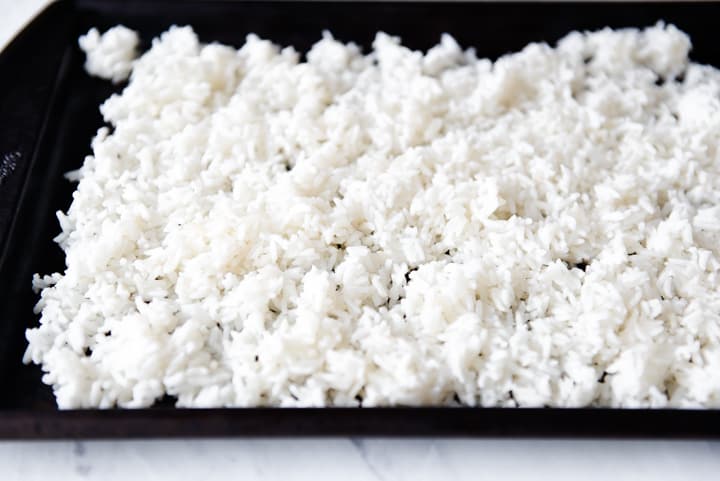 Using day-old rice: Traditionally, fried rice was a dish that people cooked to repurpose uneaten rice from the night before. That's why most fried rice recipes call for day-old rice. If you don't have leftover rice on hand, cook a batch of rice and spread it over plates or a large baking sheet to cool. Let the rice dry out for an hour or two. Freshly cooked rice has too much moisture, so it's not ideal for fried rice. See my tutorial on how to cook jasmine rice here.
Fried eggs: If you don't like eating eggs sunny side up, scramble the eggs in a separate pan. Then, mix the scrambled eggs with the fried rice.
Kimchi juice: For extra flavor, you can also add 1 or 2 tablespoons of the juice that comes with your kimchi.
Substitutions: Gochujang, a red fermented soybean and chili paste, compliments the kimchi fried rice very well. This is the brand that I used for the recipe. You can also find gochujang in rectangular (usually red) plastic boxes. Gochujang lasts for a while, as long as you keep it refrigerated. If you can't find any gochujang, sprinkle red pepper flakes into the fried rice for spice.
Kimchi: If you are interested in making your own kimchi, try my kimchi recipe!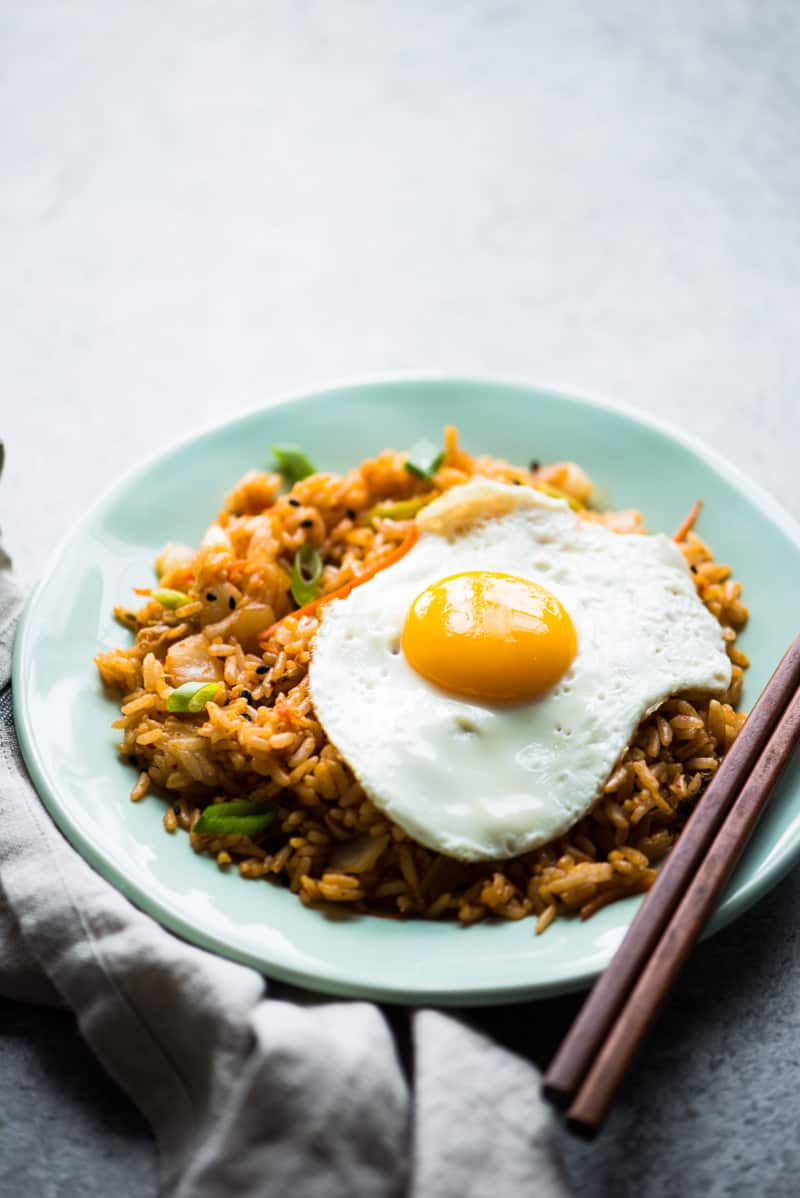 LOOKING FOR MORE FRIED RICE RECIPES?
Kimchi Fried Rice
This recipe is a great way to use leftover rice. Feel free to use other grains, such as quinoa or millet. The spiciness of gochujang varies across different brands. I recommend adding a 1/2 tablespoon to the rice first and tasting it. If you want more spice, add another 1/2 to 1 tablespoon of gochujang. You can also add 1 or 2 tablespoons of kimchi juice to flavor the rice.
Ingredients
Fried Rice
1 1/2

tablespoons

canola, peanut oil, or vegetable oil

1

cup

diced yellow onions (about 1/2 large onion)

3

cloves

garlic, minced

1

tablespoon

minced ginger

1

cup

kimchi, roughly chopped

4 1/2

cups

day-old jasmine rice

2

carrots, shredded

2

tablespoons

soy sauce (or use tamari if gluten free)

1

tablespoon

gochujang (optional)

1

teaspoon

sesame oil

2

scallions, sliced (separate the dark green parts from the light green and white parts)

black sesame seeds for topping (optional)

nori strips for topping (optional)
Fried Eggs
1

tablespoon

olive oil, add more if necessary

4

large eggs
Instructions
In a wok or a large sauté pan, heat 1 1/2 tablespoons of oil over medium-high to high heat.

Add the onions and cook until they start to turn translucent, about 2 to 3 minutes. Add the garlic and ginger and cook for 30 seconds to 1 minute, until they start to become fragrant. Add the chopped kimchi and stir until heated through, about a minute. Add the rice, carrots and the light green and white parts of the scallions to the wok. Stir to combine everything.

Add the soy sauce, gochujang (if using) and sesame oil, and stir until all the rice has been well coated with all the sauces. Taste the rice. If you want more spice, add another half or full tablespoon of gochujang. Drizzle in a bit more soy sauce if the rice needs more salt.

Add the dark green parts of the scallion and stir everything again. Remove rice from heat.

In a separate pan, heat 1 tablespoon of olive oil and fry up the 4 eggs.

Serve the rice with the fried eggs. Sprinkle some black sesame seeds and nori strips on top, if desired.
Notes
If you cook rice or grains a lot, consider getting a rice cooker. I love this Instant Pot because it cooks rice in just 12 minutes! It also works as a slow cooker and pressure cooker.
In general, the white and light green parts of a scallion take a little longer to cook. That's why I add them to the wok before the dark green sliced scallions.
Nutrition
Serving:
1
serving
|
Calories:
453
kcal
|
Carbohydrates:
62
g
|
Protein:
15
g
|
Fat:
17
g
|
Saturated Fat:
3
g
|
Cholesterol:
186
mg
|
Sodium:
713
mg
|
Fiber:
7
g
|
Sugar:
5
g
Did you make this recipe?
Tag @hellolisalin or leave a star rating and comment on the blog!