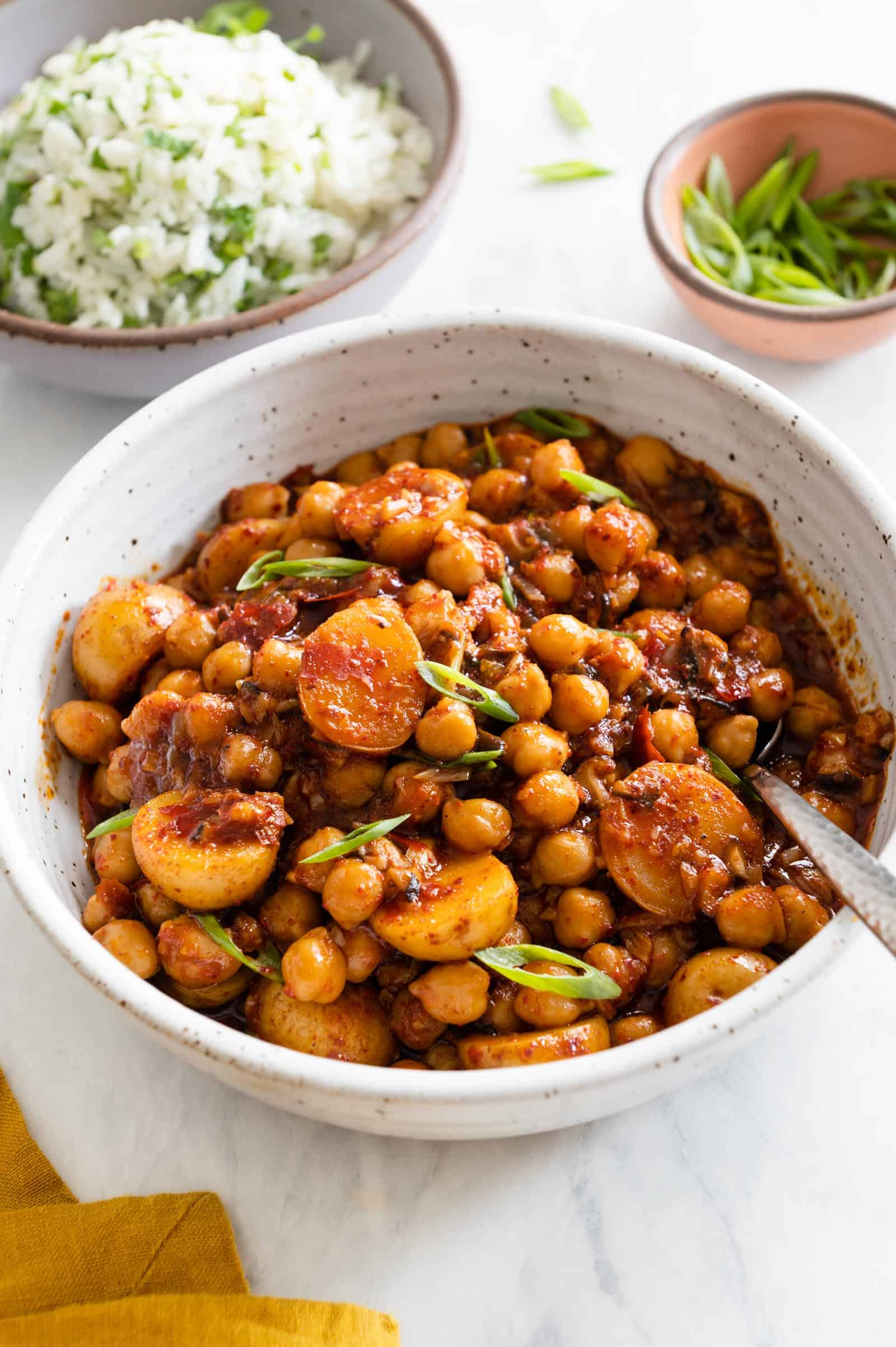 MAPO CHICKPEAS & POTATOES
The other day, I cooked a bunch of chickpeas in the Instant Pot without any clear plan about what to do with all those beans. So I dug through my old recipes for inspiration and came across my mapo tofu recipe. Swapping tofu for chickpeas, I experimented with the idea of a mapo chickpea dish and was pleasantly surprised by the tasty results! I also added a handful of baby potatoes for some textural contrast, which were a welcome addition.
Although I used chickpeas, I can see the recipe working with other beans, such as lentils, any kind of white bean, or mayocoba beans. Serve the mapo chickpeas with a side of jasmine rice, coconut rice, or cilantro lime rice (recipe below).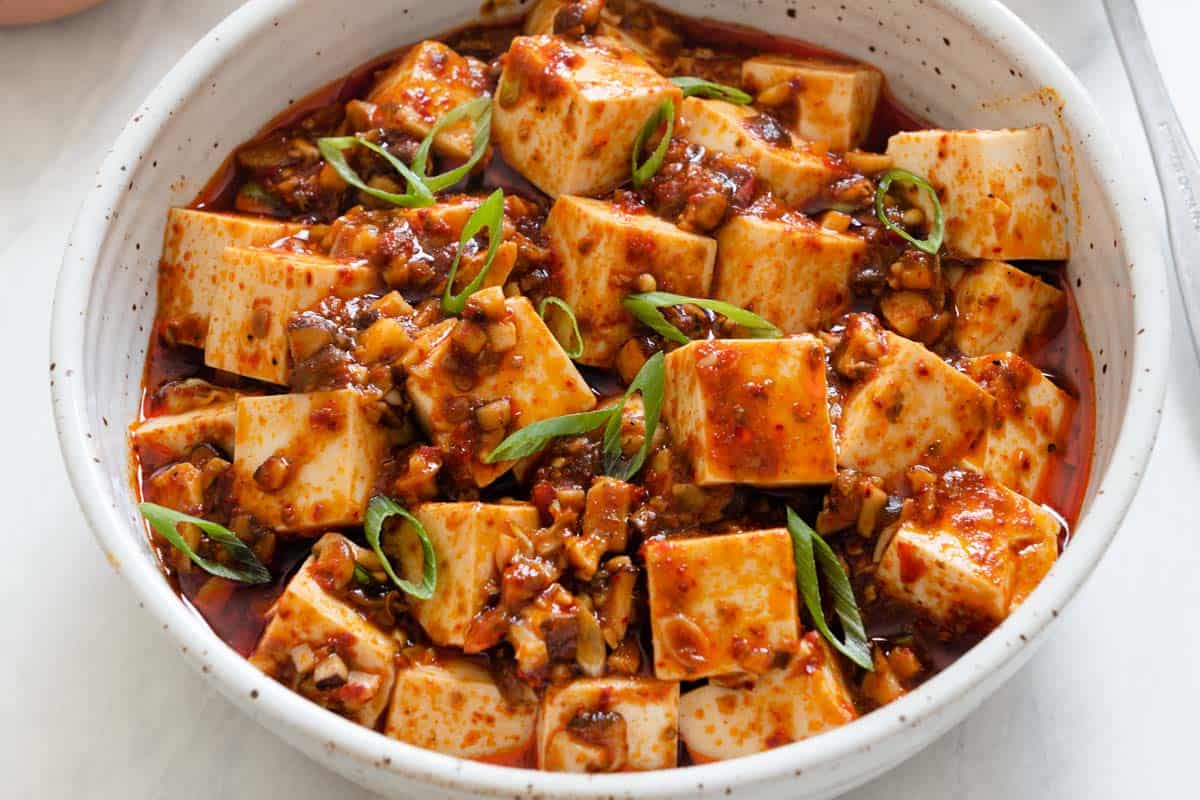 ORIGINS OF MAPO TOFU
As I alluded to above, this mapo chickpeas recipe is heavily adapted from my mapo tofu recipe. You can read more about the origins of mapo tofu (麻婆豆腐) and what the term "mapo" means in my mapo tofu post.
DIFFERENT BRANDS AND TYPES OF DOUBANJIANG (豆瓣醬)
One of the key ingredients in a mapo tofu dish is doubanjiang (豆瓣醬). Doubanjiang (sometimes shortened to just "douban") is a Sichuan-style chili sauce made with fermented broad beans (aka fava beans). This thick, spicy, and salty sauce is a very common ingredient in Sichuan cuisine. Over the past few years, I've cooked with many different brands and types of doubanjiang and I wanted to share some notes about the ones I've tried.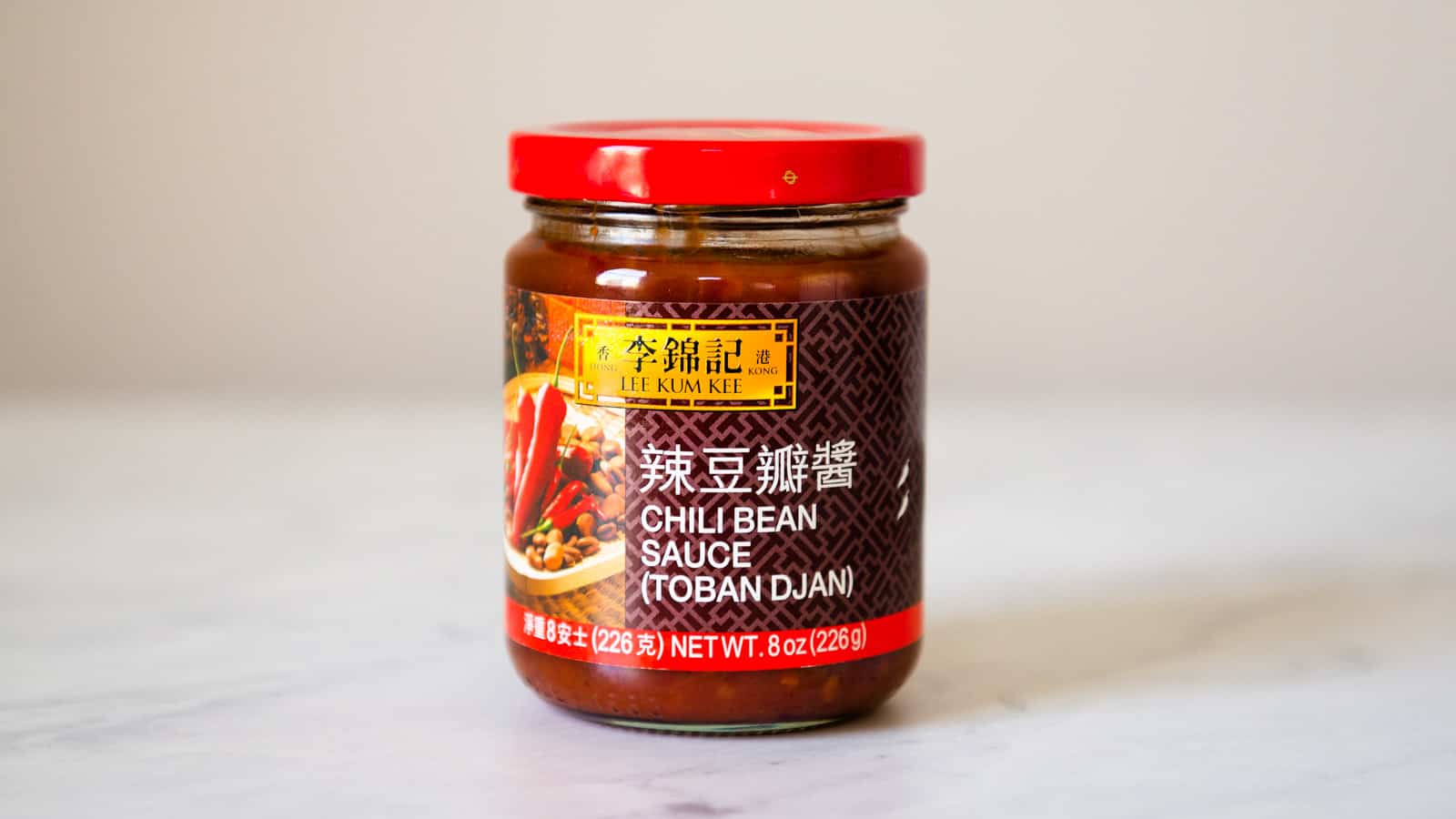 Lee Kum Kee Chili Bean Sauce (Toban Djan)
When I go to Asian grocery stores like Ranch 99, I often find the Lee Kum Kee brand of doubanjiang (photographed above, left). While the sauce has a nice red color, the sauce doesn't have quite the complex flavors I'd expect from doubanjiang. It's not as spicy as I'd like and the flavor of the fermented beans isn't strong enough. However, I do like the loose consistency of the sauce, which makes it easy to use for everyday cooking.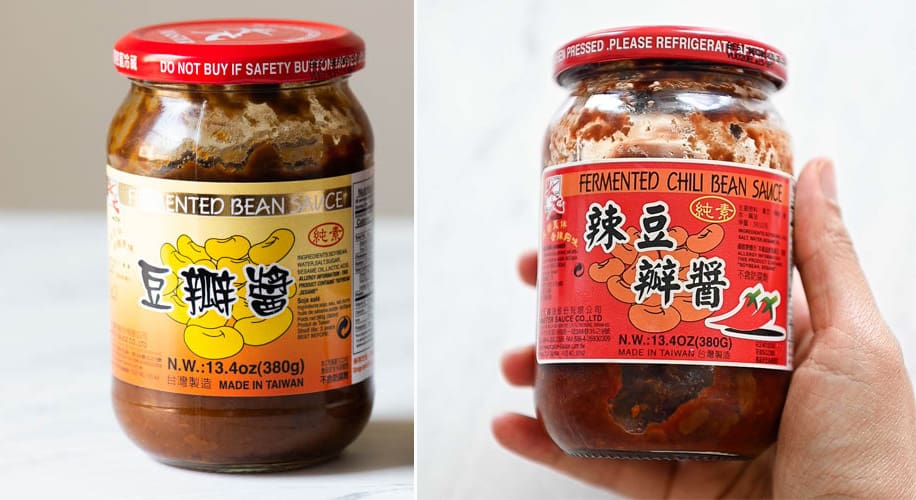 Zhuang Yuan
Another brand I see in Asian grocery stores is Zhuangyuan (莊元), which is based in Taiwan. They have a spicy and non-spicy version of doubanjiang, photographed above. Their doubanjiang has a strong fermented bean flavor, making it more complex compared to Lee Kum Kee. The spicy version still isn't quite as spicy as some of the Sichuan-produced doubanjiang I've tried in the past, but it has a good level of spice.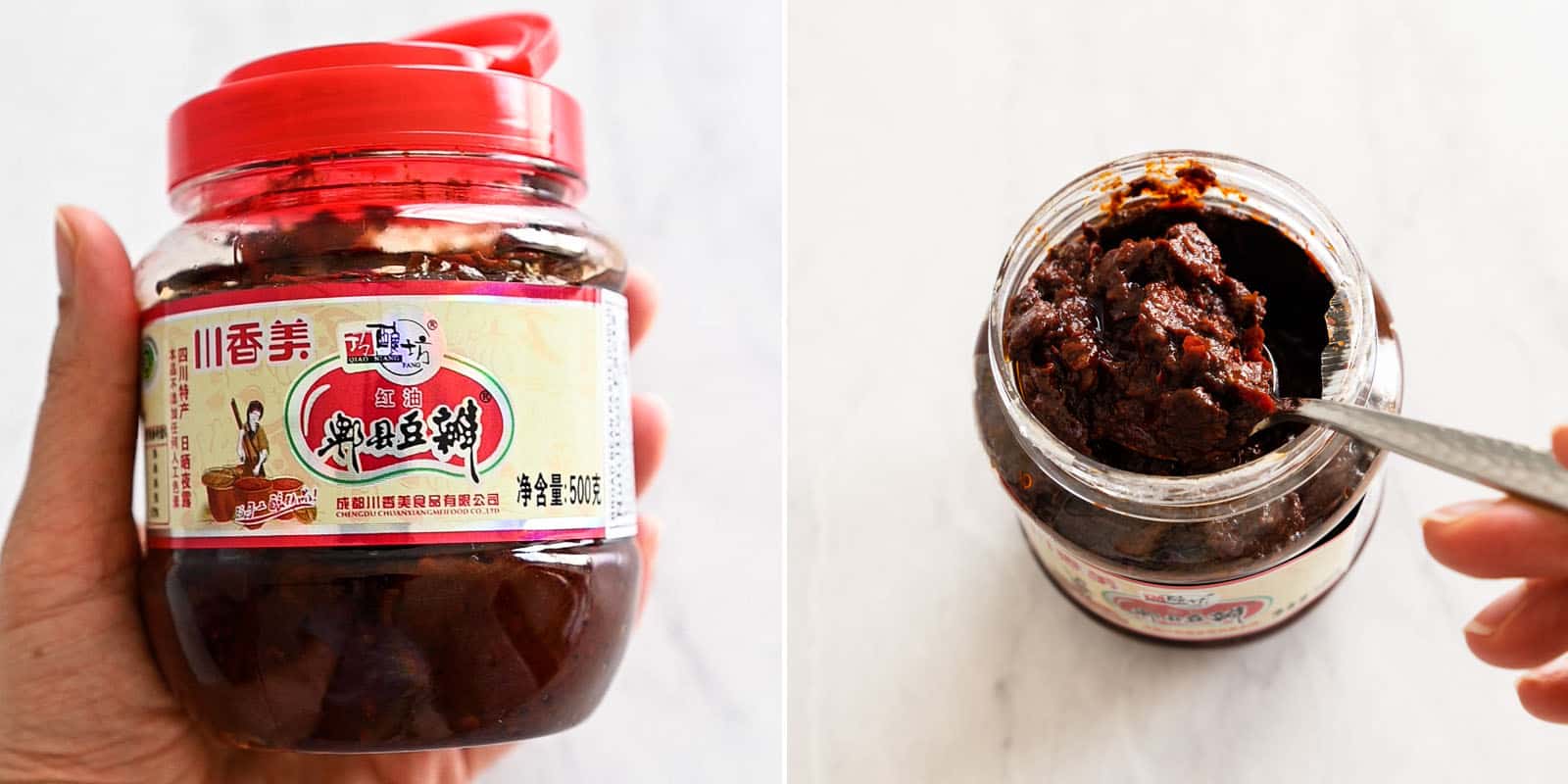 Pixian Douban (郫县豆瓣)
If you want a more traditional doubanjiang that actually comes from Sichuan Province, you'll want to try Pixian douban (郫县豆瓣). Note that the phrase "doubanjiang" has been shortened to "douban" here.
Pixian (郫县 or 郫縣 in traditional characters) is the name of a county located in Chengdu, the capital of Sichuan. Only doubanjiang that is produced in Pixian can be called 郫县豆瓣 because it is a protected geographical indication. It is similar to how the term "Champagne" can only be used to describe sparkling wine that is produced in the Champagne region of France.
Geography note: In 2016, Pixian, or Pi County in English, was reclassified as an urban district and renamed as Pidu District, 郫都区. Although that region was renamed to Pidu District, the doubanjiang from that area is still called Pixian douban.
There are different types of Pixian doubanjiang, the most common of which is 紅油郫县豆瓣 (pronounced hongyou pixian douban in Mandarin). The phrase 紅油 (hongyou) literally translates to "red oil" and refers to chili oil that's present in the sauce. The hongyou-style of doubanjiang is meant for everyday use.
When developing this mapo chickpea recipe, I used the hongyou Pixian douban. It has a good level of spice and a nice fermented flavor. If you also use this style of doubanjiang, 3 to 4 teaspoons of the sauce should be enough for this recipe.
Aged Pixian Douban
You can also find aged doubanjiang, like this 3-year aged Pixian douban, which has been fermented for a longer period compared to the hongyou Pixian douban. This style of doubanjiang is very thick and has a paste-like quality. Because of the longer fermentation period, the flavor of the aged doubanjiang is stronger with lots of spicy, salty, and even slightly sour notes.
WHERE TO BUY DOUBANJIANG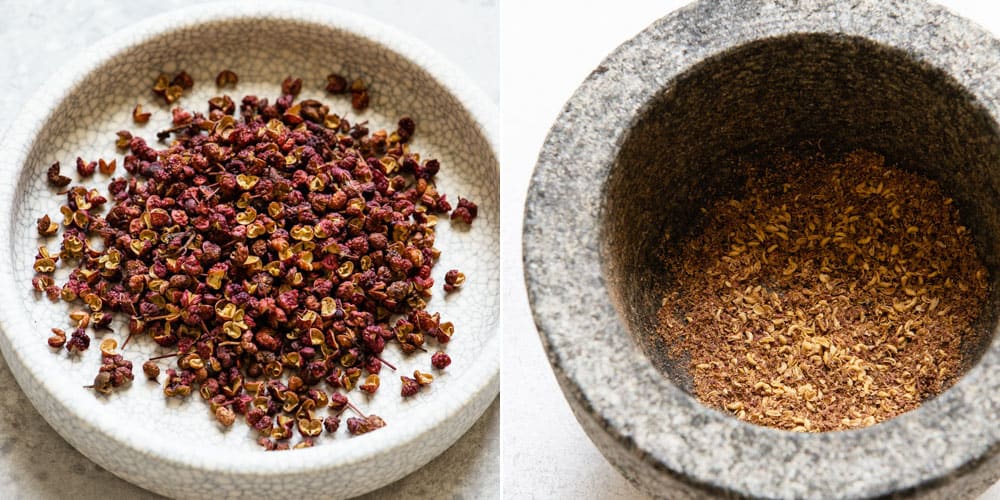 RED SICHUAN PEPPERCORNS (大紅袍花椒)
The key to good mapo tofu is the mala spice provided by red Sichuan peppercorns (affiliate link). When you bite into one of those peppercorns, you'll feel a slight tingling on the tip of your tongue. In a few short moments, the tingling feeling transitions into a slight numbing sensation. It is a strangely addictive experience that is common when eating Sichuan cooking.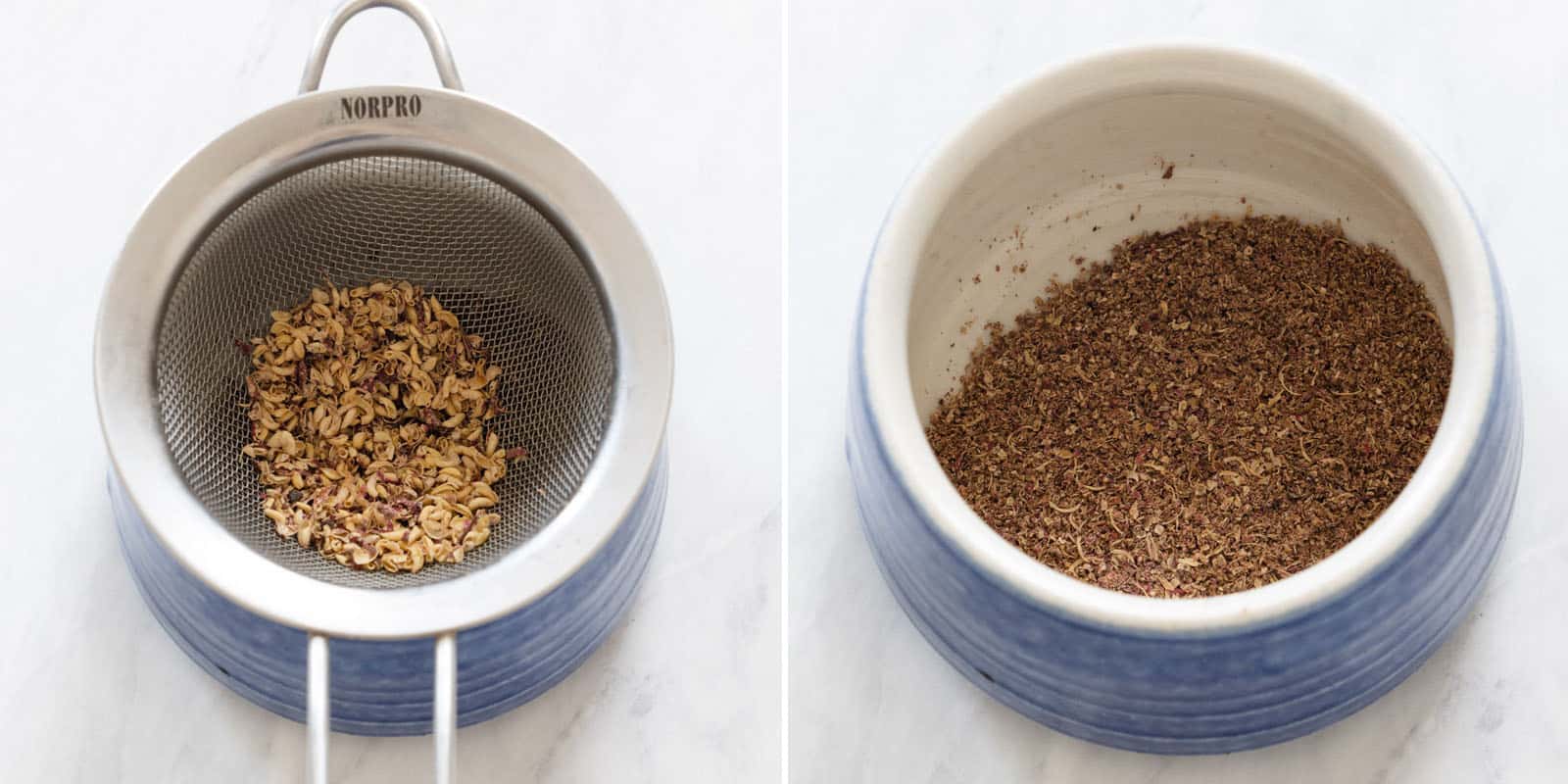 For this recipe, you'll want to grind the peppercorns with a mortar and pestle or a spice grinder. Once you grind the peppercorns, sift everything through a fine mesh to sift out the husks and seeds. They're very tough to eat, so it's better to sift them out.
WHERE TO BUY SICHUAN PEPPERCORNS
Asian grocery stores, particularly ones that sell Chinese food, should carry them. However the freshness varies widely from store to store.
I usually buy peppercorns online. You can find them on Mala Market or on Amazon (affiliate link)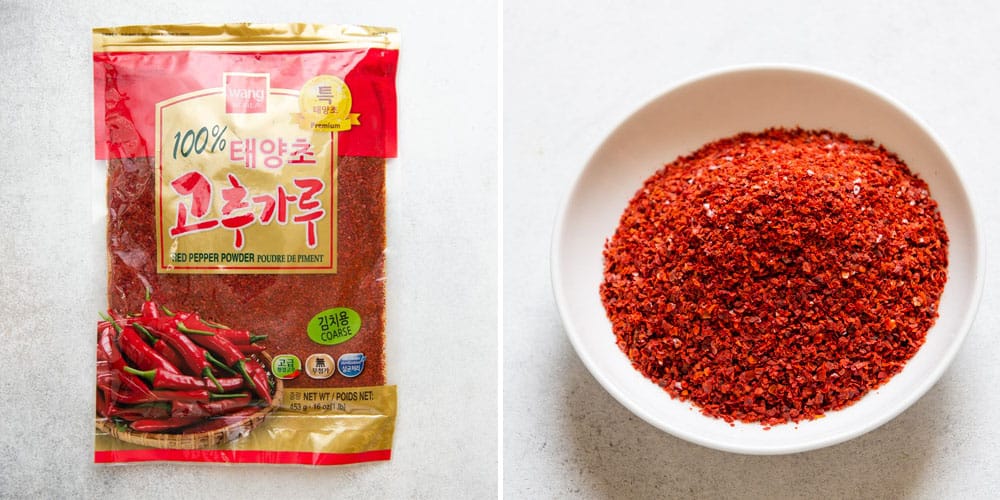 GOCHUGARU
Typically, in mapo tofu recipes, you'd add red chili flakes in addition to doubanjiang and Sichuan peppercorns. In this recipe, I add gochugaru, Korean red pepper flakes, because I love their slightly smoky flavor and the bright red color they add to the dish. The spice level of gochugaru is generally pretty mild. Feel free to use less if you are spice averse.
Substitutions for Gochugaru: You can use chili flakes like the ones in the photo above. These chili flakes with seeds can be much spicier than gochugaru. If you taste some of it and detect a strong heat at the tip of your tongue, I'd start with 3/4 teaspoon of the chili flakes. Add more if you want more spice.
WHERE TO BUY GOCHUGARU
I usually buy a huge bag at Korean grocery stores. In Sacramento, I've seen the Mother-In-Law's brand sold in jars at Nugget Markets.
CHICKPEAS
You can use a 15.5-ounce (439g) can of chickpeas for this recipe or cook your own! I generally cook chickpeas from dried beans in an Instant Pot because it is so convenient. You can read more about how to cook chickpeas in this post. I like my chickpeas to have a slight crisp, so I usually cook them in the Instant Pot for about 22 minutes.
OTHER RECIPES USING DOUBANJIANG
If you're wondering how to use up your jar of doubanjiang, here are a few recipe suggestions!
WHAT TO SERVE WITH MAPO CHICKPEAS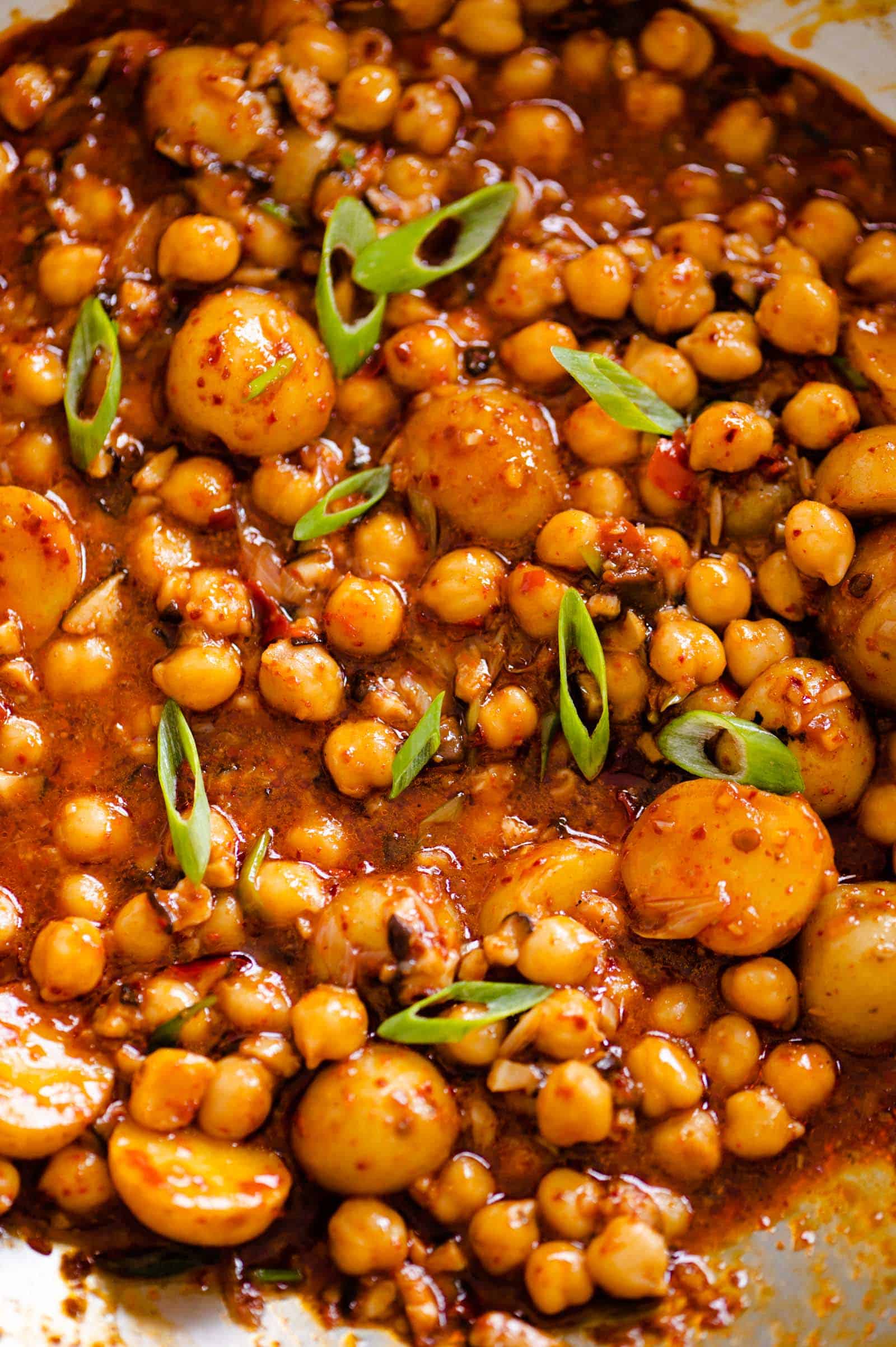 Mapo Chickpeas with Potatoes
This mapo chickpeas recipe is a playful adaptation of my mapo tofu recipe. The potatoes add nice textural contrast to the dish. One of the key ingredients in this dish is doubanjiang, a Sichuan-style fermented bean paste. You can read more about the different types in my blog post. You can serve the dish with any kind of rice and vegetable side dish you like. I've included a quick recipe for cilantro lime rice in note 1.
Ingredients
Mushrooms, Potatoes & Chickpeas
1

tablespoon

vegetable, safflower, or extra-virgin olive oil

1

cup

(65g) finely diced shiitake mushrooms

salt for cooking mushroom and potatoes

4 to 5

ounces

(113g to 141g) potatoes,

,

cut into 1-inch chunks

1 1/2

cups

cooked chickpeas

,

or one (15.5-ounce) can of chickpeas, drained and rinsed
Sauce
3 to 4

teaspoons

red Sichuan peppercorns,

depending on desired level of spice

3/4

cup

(175ml) water

1

teaspoon

cornstarch or tapioca starch

2

tablespoons

vegetable, safflower, or extra-virgin olive oil

2

tablespoons

minced garlic

1

tablespoon

minced ginger

1 to 2

tablespoons

doubanjiang,

depending on type of doubanjiang (see note 2)

1 1/2

tablespoons

gochugaru,

(see note 3 for substitutions)

1

teaspoon

sugar

2

stalks of scallions

,

sliced, lighter pieces and dark green pieces separated
Garnish
toasted sesame seeds for garnish
Instructions
Cook Mushrooms
Heat 1 tablespoon of oil in a wok or large sauté pan over medium heat. Add the mushrooms and cook for about 1 to 2 minutes, stirring frequently. Season with a small pinch of salt.

Transfer the mushrooms to a bowl and turn off the heat.
Cook Potatoes
Add the potatoes and a generous pinch of salt to a saucepan and cover with 2 inches of water.

Bring the water to boil. Then, reduce the heat to medium-high and continue cooking the potatoes for another 6 to 8 minutes, until fork tender. Drain the potatoes and set aside.
Prepare Sauce
Grind the Sichuan peppercorns with a mortar and pestle or spice grinder. Sift the ground peppercorns through a fine mesh to sift out the tough husks. Discard the tough husks.

In a small bowl, stir the water and cornstarch (or tapioca starch) together. Set it aside.

In the same wok (or sauté pan) that you used to cook the mushrooms, heat 2 tablespoons of oil on medium-high heat. Add the garlic and ginger and sauté for 30 seconds. Then, add the doubanjiang and sauté for another 30 seconds. Add the ground Sichuan peppercorn, gochugaru (or other chili flakes), and sugar and stir together.

Give the cornstarch slurry a stir again and add to the wok (see note 4). Add the white and light green parts of the scallion. Let the sauce simmer for 2 minutes.
Mix Sauce with Mushrooms & Tofu
Add the chickpeas, potatoes, and sautéed mushrooms to the wok. Toss everything together. Add the dark green parts of the scallions to the wok, saving a small pinch for garnish. Toss everything again and transfer to a serving bowl.

Garnish the mapo chickpeas with the remaining scallions and toasted sesame seeds. Serve with a side of vegetables and jasmine rice or cilantro lime rice (see below for recipe).
Notes
Cilantro Lime Rice: Cook 1 cup of jasmine rice using the stovetop method outlined in this recipe. Once cooked, let the rice sit, covered for 15 minutes. Then, fluff up the rice with a fork. Mix in 1/4 cup of chopped cilantro, 2 tablespoons thinly sliced scallions, zest of 1 lime, juice from 1 lime, a pinch of salt, and 1/2 teaspoon granulated garlic.
I used hongyou Pixian douban (紅油郫县豆瓣) to develop this recipe. You can find it in Asian grocery stores, especially ones that sell Chinese ingredients. One tablespoon of hongyou Pixian douban will deliver a good amount of spice to the dish, but feel free to use 4 teaspoons if you want something spicier. If you can't find any Pixian doubanjiang but can find ones made from other brands like Lee Kum Kee or Zhuangyuan (狀元). These latter brands of doubanjiang tend not to be as spicy or salty, so you can use up to 2 tablespoons of doubanjiang for the recipe. Just add the sauce gradually and taste as you go.
Traditional mapo tofu recipes use Chinese-style red chili flakes for the dish. I prefer using gochugaru because it gives the sauce a nice red color and a subtle smoky flavor. Note that different chili flakes vary in their level of spice! If you're using a very mildly spiced chili flake, use 1 tablespoon and add more if desired. Chili flakes from the supermarket that are sold with the seeds tend to be spicier. If you're using that type of chili flake or any spicy chili flake, start with 3/4 teaspoon of the flakes and add more if you want more spice.
Cornstarch settles at the bottom very easily. That's why you should stir the cornstarch right before adding to the wok.
Nutrition
Serving:
1
serving
|
Calories:
334
kcal
|
Carbohydrates:
38.7
g
|
Protein:
9.9
g
|
Fat:
17.7
g
|
Saturated Fat:
2.5
g
|
Cholesterol:
9
mg
|
Sodium:
734
mg
|
Fiber:
10.4
g
|
Sugar:
3.2
g
Did you make this recipe?
Tag @hellolisalin or leave a star rating and comment on the blog!