I saw a recipe on Skinnytaste for cauliflower tots a while back, and I have been craving them for a while. I adapted the recipe and added chia seeds for some additional crunch.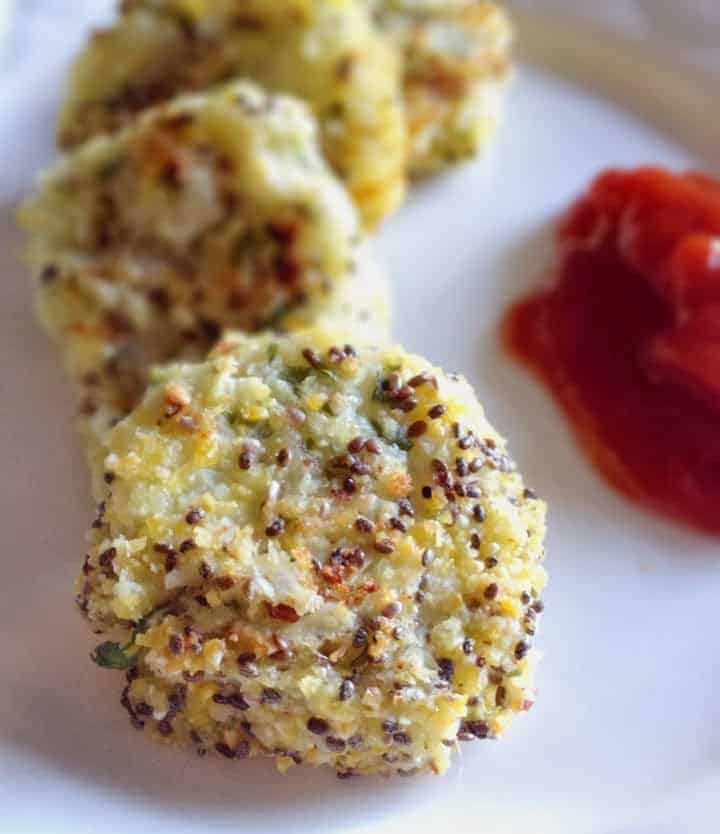 Print
Cauliflower Medallions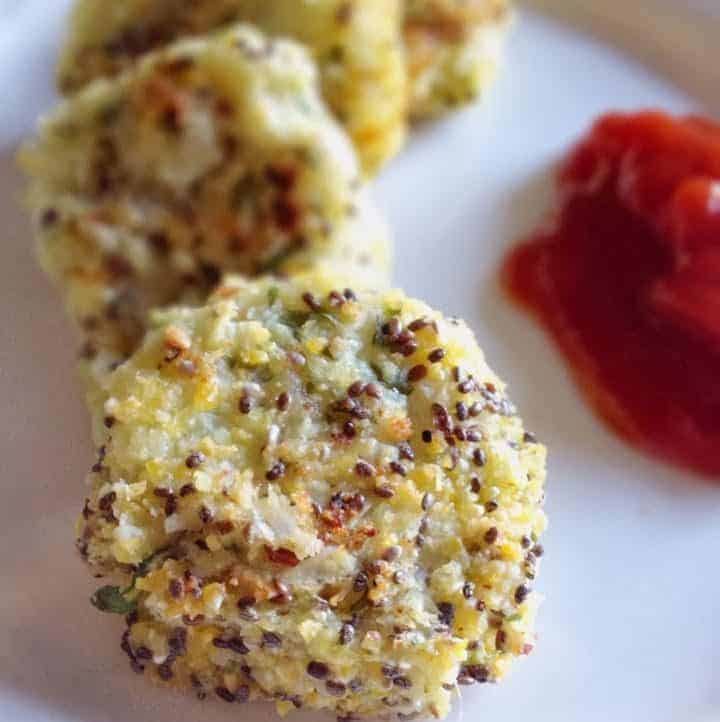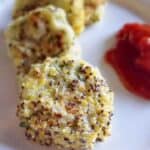 Makes 30 to 35 Medallions
Author:
Prep Time:

15 minutes

Cook Time:

20 minutes

Total Time:

35 minutes

Category:

appetizers
1/2

head of cauliflower, florets only

1

large egg

1

large egg white

1/2 cup

mozzarella

1/2 cup

onions, diced

1/4 cup

parsley, chopped

3

TBS almond meal

2

TBS organic corn meal

2

TBS chia seeds
salt and pepper, to taste
dried herbs (optional)
Instructions
Preheat oven to 400 degrees F. Grease two cookie sheets.
Fill a saucepan up with 2 to 3 inches of water, and bring it to boil. Once the water is boiled, place the cauliflower florets in the saucepan. Cook for about 5 minutes. Drain the boiled water from the saucepan and run the cauliflower under cold water.
Put the cauliflower, cheese, onions, and parsley in a food processor and mix until everything is finely chopped.
Empty the cauliflower mixture into a bowl and stir in the egg and egg white.
Add the almond meal, corn meal, chia seeds, salt, pepper, and any dried herbs, and fold everything into the cauliflower mixture.
Scoop about a tablespoon of the mixture and place it on the cookie sheet. Flatten the mixture into small medallions.
Once all the mixture is placed on the cookie sheets, place the sheets into the oven.
Bake for about 16 to 20 minutes and flip the medallions halfway through the baking.
Remove the medallions from the oven when they are golden brown.
Notes
1. Adapted from Skinnytaste.[br][br]2. I baked a batch of the cauliflower medallions on a cookie sheet that was lined with parchment paper. The medallions on that cookie sheet were not as brown as the ones on the greased cookie sheet.[br][br]3. I made these bites into medallion shapes because the cauliflower mixture was a bit too soft to manipulate into something else. The recipe from Skinnytaste uses panko bread crumbs instead of almond meal and corn meal. I imagine that panko would give a batter more structure, so you can form the cauliflower mix to look more like tater tots.
 Looking for more appetizer ideas?