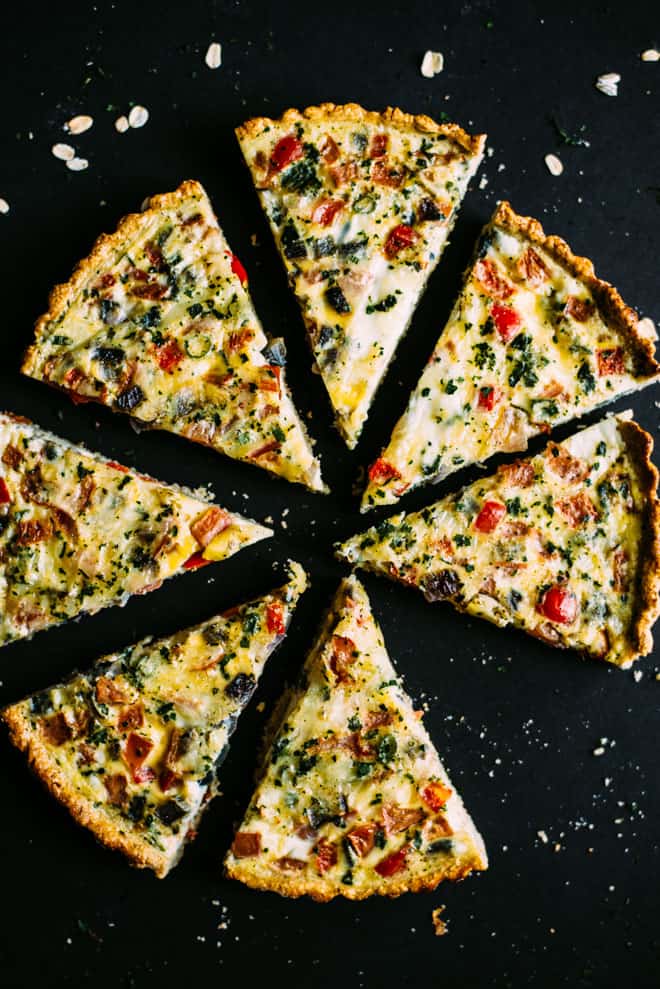 Two things I've added to my daily routine lately: word games (specifically, Codewords) and quiche. Word games to flex the brain muscles, quiche to nourish them.
I got the idea for this quiche when I was flipping through the morning paper in England (tea in hand, of course). It was a vegan Mediterranean quiche made with tofu instead of eggs. The tofu filling seemed like a bold move, even for me. The experimentation will come an another time, for sure. Just not now.
This quiche looks all fancy, but it comes together easy peasy. Just mix the ingredients into a dough, press it into a tart (or pie pan), fill with the egg/veggie mix, bake, and, MAGIC. Fresh quiche, right at your fingertips.
This quiche also gets bonus recipe points because it stays good for a few days, so that we can all have quiche breakfasts with a cup of tea in the morning. Care to join?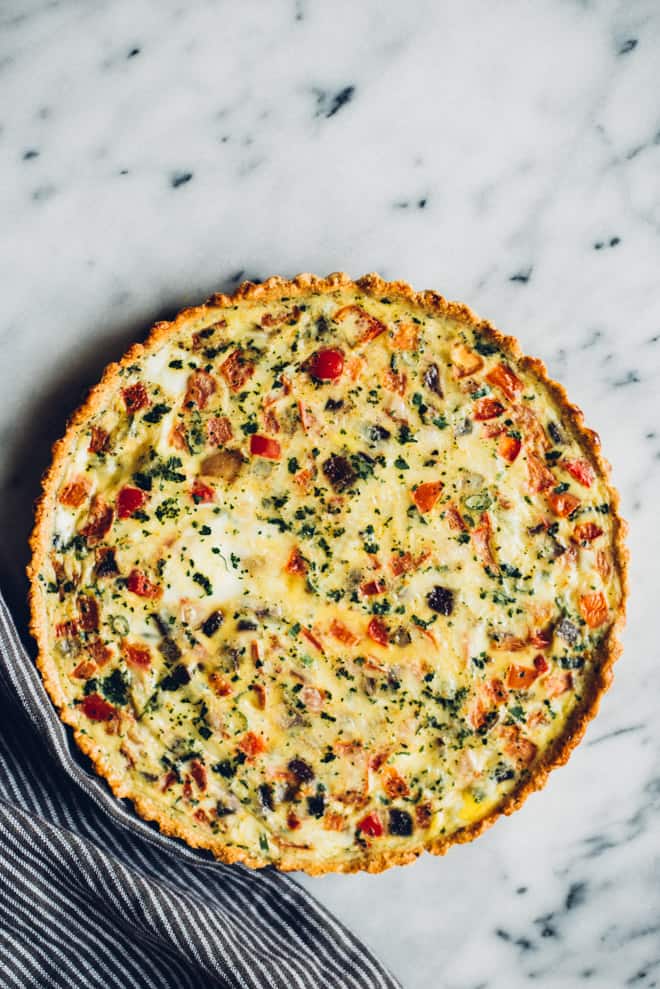 MASTER MY MISTAKES / COOKING NOTES
Baking the Crust: Before baking the crust, make sure to press along the bottom crease of the pan. This ensures that you don't get a thick piece of crust along the edges. You may notice that the pie crust puffs up in the center or forms a few small cracks after you par bake it. That's fine. Just press it back down with the back of a spoon.
Using a Pie Dish: I haven't tried this but you can probably bake this quiche in a regular 9-inch pie dish. You may have a bit too much filling, so watch out!
More Flavor Combinations: I tested a version of this quiche with a few tablespoons of diced green chiles and sliced green onion, and it tasted great!
Handling Tart Pans: Whenever you're moving around a tart pan that's filled, be sure to lift from the edges, and not the center. I made that mistake once and the filling of my tart spilled all over the floor. We ain't got time for a messy kitchen here.
Chopped Cilantro: I've been using a lot of Gourmet Garden's lightly dried herbs lately. They come in very handy because the herbs are all chopped up, and the herbs last about 4 weeks in your refrigerator even after the package is opened! Serious kitchen time saver. I used this lightly dried cilantro for the quiche.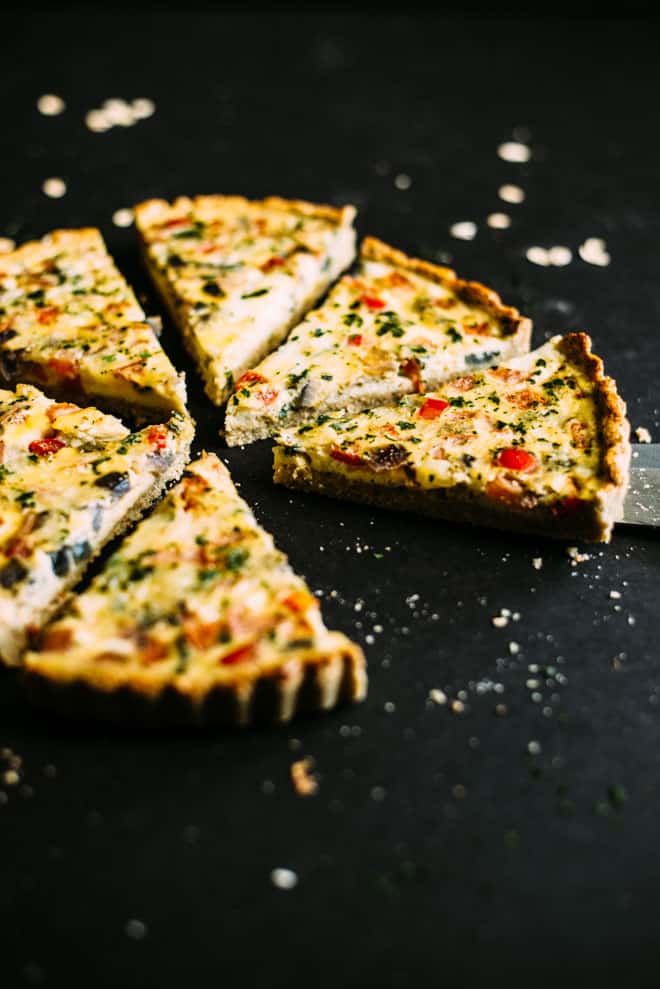 If you try this recipe, be sure to share your creations with me! Tag me on Instagram or Twitter so that I can give you a fist bump!
Mexican Quiche with Oat Almond Crust
Ingredients
Crust
1 1/4

cups

(135g) rolled oats

1

cup

+ 3 TBS

,

150g almond flour

1

tsp

dried oregano

1/2

tsp

ground cumin

1/2

tsp

sea salt

1

large egg + 1 egg white

1/2 to 1

tablespoon

water

cooking spray
Filling
1/2

TBS

olive oil

2/3

cup

(80g) chopped red onion

1

clove

garlic

,

minced

1/3

cup

(20g) chopped red pepper

1

small tomato

,

20g, seeded and diced

1

tsp

dried oregano

1/2

tsp

dried cumin

4

large eggs + 1 egg yolk

1/2

cup

(120ml) low-fat milk (I used 2% milk)

1/2

cup

(55g) shredded pepper jack cheese

1

tsp

sea salt

freshly cracked pepper

1/2

TBS

chopped cilantro
Instructions
Spray a 10-inch tart pan with cooking spray. Set aside.

Preheat oven to 350 degrees F (175 degrees C).

Place rolled oats in a food processor and mix until it turns into flour. It's okay if the flour is still a little gritty. Pour in a large bowl. Mix in almond flour, oregano, cumin and salt. Whisk egg and egg white together, and mix with flours. A dough should start to form. Add water to the dough, about 1/2 tablespoon at a time. Use as much water as necessary to get a slightly moist dough. Place dough in tart pan, and using your fingers, press dough so that it covers every part of the pan. Be sure to press down along the bottom crease of the pan to prevent an overly thick crust. Bake for 15 minutes.

While dough is baking, prepare filling. Heat oil in a skillet over medium-high heat. Cook onions until soft, about 2 to 3 minutes. Add pepper and cook for another minute. Turn off heat. Mix in diced tomatoes, 1 teaspoon oregano and 1/2 teaspoon cumin. Set aside.

Whisk 4 eggs and remaining yolk in a medium bowl, Mix in milk, cheese, salt, and some pepper.

Take crust out of the oven and raise the heat to 375 degrees F (190 degrees C). The crust may puff up a little, but just press it down with a spoon. Spoon half the vegetables on to baked crust. Mix rest of vegetables with egg mixture. Pour egg mixture into tart pan. Sprinkle cilantro on top.

Bake quiche for 23 to 25 minutes, until the center of the quiche is firm to touch. The filling may puff up at different spots when it comes out the oven, but it will deflate once it cools.

Slice and serve immediately.
Did you make this recipe?
Tag @hellolisalin or leave a star rating and comment on the blog!
NOTE: This is not a sponsored post for Gourmet Garden. I received a few free samples of their products to try but was under no obligation to write a sponsored post. Their products are great, and I thought you should all know about them!