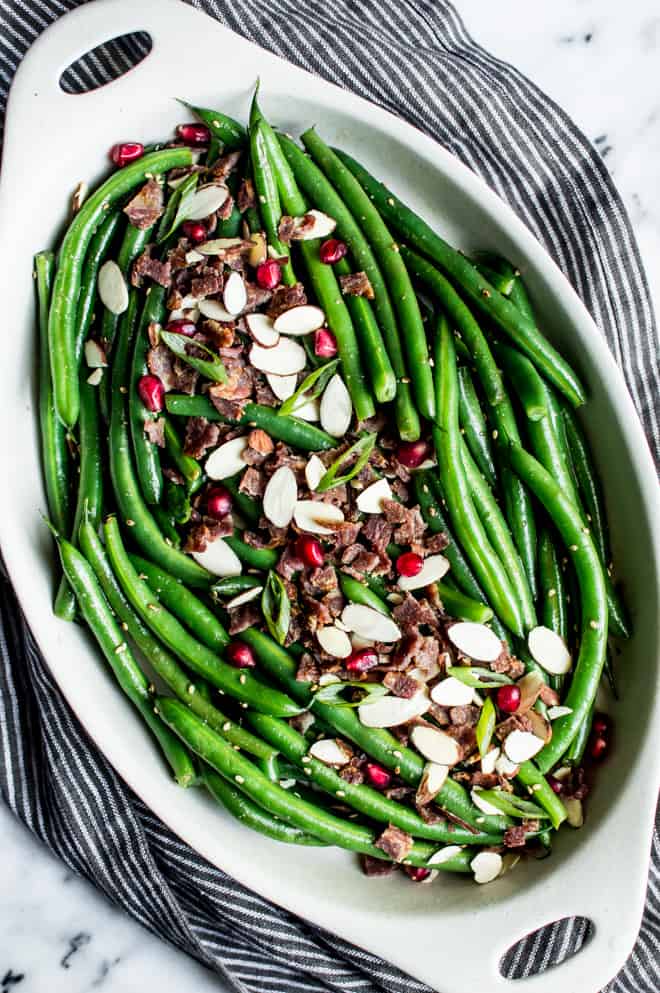 It's been many years since I've spent Thanksgiving with my friend's family, but I've tried to make sure that those 6 staple dishes are featured in my Thanksgiving dinners. But now that I'm hosting my family this year, I'm not sure how the green bean casserole would jive with them. Green beans, heavy cream, and cheese just don't go together in Mama Lin's book. She prefers her green beans stir-fried with some vaguely Asian flavors.
That's where this salad comes in. The green beans are crisp and vibrant, and they're tossed in a miso sauce—flavors that are at least familiar to Mama Lin. I've also added some bacon bits and toasted almonds here to give the salad extra flavor and texture. For the bacon, I used Applegate's Good Morning Bacon, which is made from pork shoulder instead of pork belly. The bacon still has great flavor, but it's leaner than regular bacon.
This salad is so good, I've eaten over a pound of green beans the last few days! Seriously. Definitely give the dish a try if you're looking for side dishes to add to your Thanksgiving meal!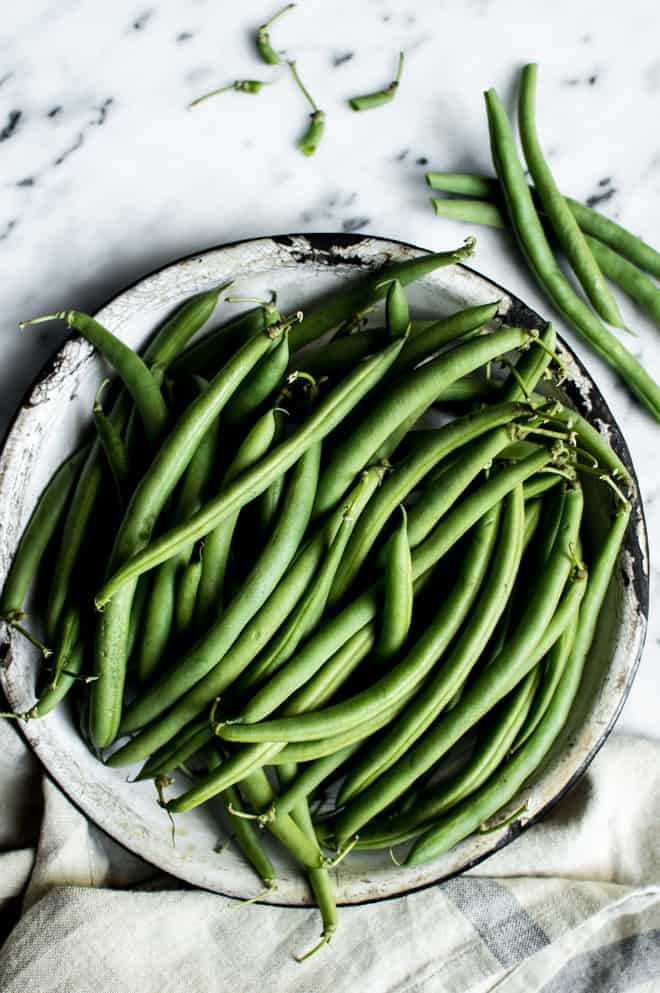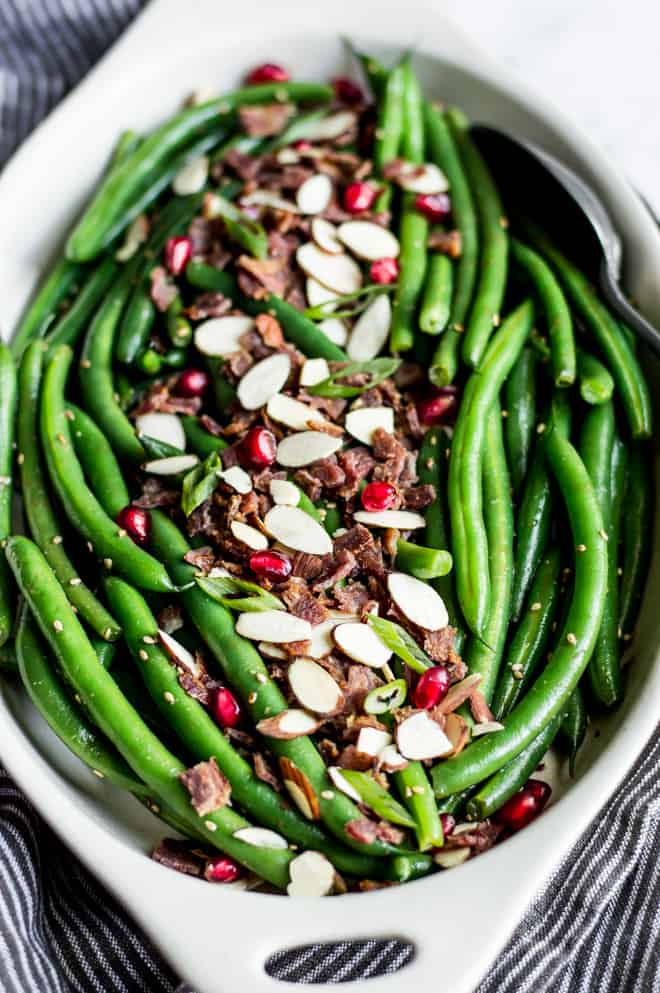 MASTER MY MISTAKES / COOKING NOTES
Don't skip the ice bath! Right after you blanch the green beans for 2 minutes, you'll want to submerge them into an ice cold bath. I've skipped this step before due to laziness and regretted it. If you pull the green beans out from the boiling water and just place them on a plate, the beans will continue cooking and turn softer. Placing them in an ice bath stops the cooking process and keeps the green beans nice and crisp.
Making the Dish Ahead: The green beans (undressed) and almonds can be prepared the day before. I recommend cooking the bacon no more than an hour or two before serving. If, for whatever reason, you want to prepare the bacon a day ahead, pop them in the microwave for about 30 seconds before serving. That should crisp up the bacon again.
Variations: I tried a version of the sauce using miso, rice vinegar, and maple syrup. The sauce had a brighter tangy flavor, but I much preferred the sauce with balsamic vinegar.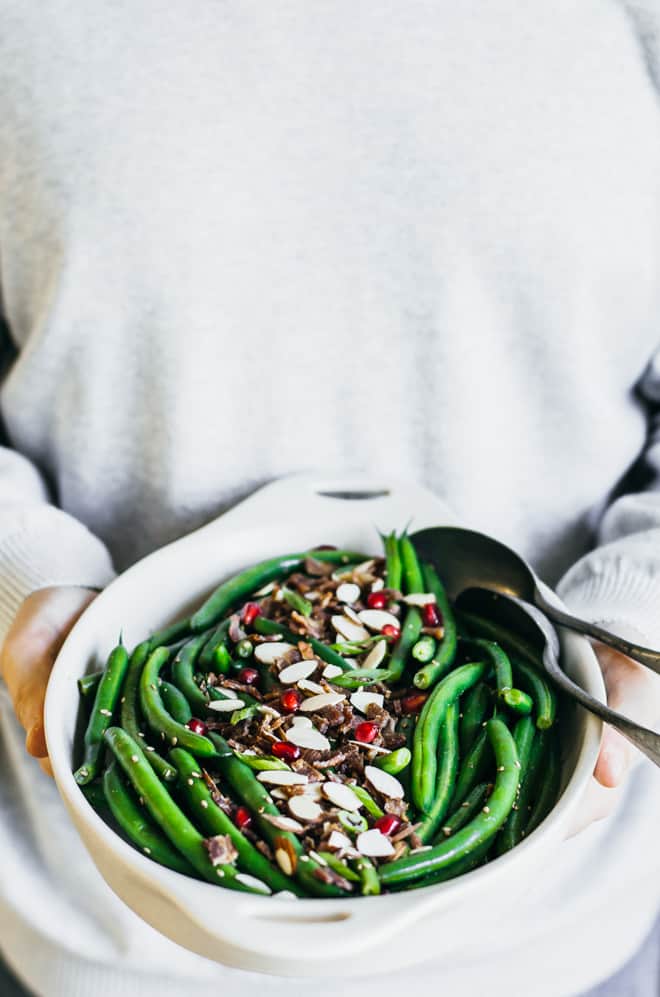 If you try this recipe, be sure to share your creations with me! Tag me on Instagram or Twitter so that I can give you a fist bump!
Miso Maple Green Bean Salad with Bacon
Ingredients
1 1/4

lbs

(565g) green beans, rinsed and trimmed

1 1/2

tsp

white miso paste

2

tsp

balsamic vinegar

2

tsp

maple syrup

1/2

tsp

kosher salt

4 to 5

strips of bacon

,

(I used bacon made from pork shoulder)

1/3

cup

sliced almonds

,

(about a small handful)

1

green onion

,

(green part only), thinly sliced
Optional Garnish
pomegranate seeds

sesame seeds
Instructions
Toast the Almonds: Preheat the oven to 300 degrees F (150 degrees C). Spread sliced almonds on a baking sheet or a pie dish, and bake for 8 minutes. Once they're done, let them cool on the pan. They'll turn crispy as they cool.

Cook the Green Beans: In a pot, bring 5 cups of water to boil, and add salt to the water. In a large bowl, add several handfuls of ice and fill the bowl halfway with water. Set aside. Once the water boils, add the beans to the pot. Blanch for 2 minutes and turn off the heat. Using tongs, remove beans from the pot and place them in the ice water. The ice bath helps keep the beans crisp.

Prepare the Bacon: Cook the bacon in a pan over medium to medium-high heat. Lay a sheet of paper towel over a plate. When the bacon has shriveled and browned, remove bacon from pan, and lay strips on top of the lined plate. Let bacon cool before crumbling them with your hands or chopping them with a knife.

Dress the Green Beans: In a small bowl, stir together miso paste, balsamic vinegar, maple syrup, and salt. Drain the ice water from the green beans, and toss them with the miso maple sauce. I find that it is easiest to use my hands for this step. Plate green beans. Sprinkle with crumbled bacon, almonds, green onions, pomegranate seeds, and sesame seeds.
Did you make this recipe?
Tag @hellolisalin or leave a star rating and comment on the blog!
LOOKING FOR MORE SIDE DISHES? TRY THESE: