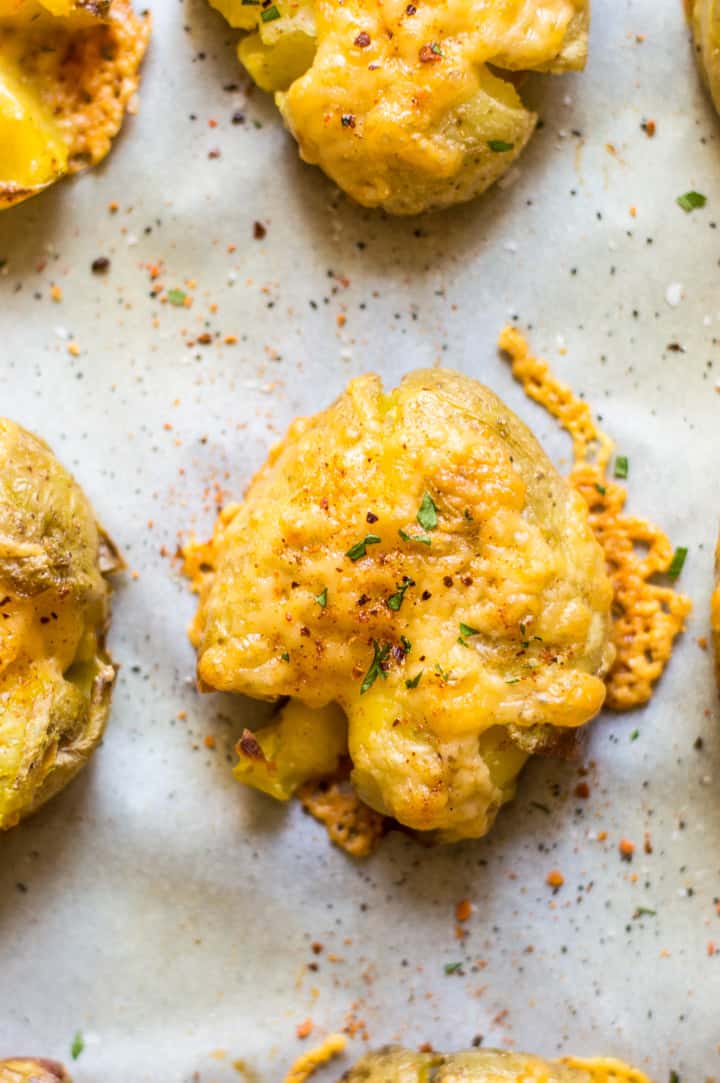 So when Mama Lin told me that I should store my potatoes with an apple, I thought it was another one of her old wives' tales. It turns out that piece of advice might not be so ridiculous after all.
Have you ever left potatoes on your counter for a few days and noticed that they were starting to sprout? I first heard about this from Cindy—it turns out that those sprouts are toxic, but you won't feel sick unless you've consumed a considerable amount of them.
I was talking potato sprouts with Mama Lin the other day (totally normal topic of conversation, by the way). She told me that I should store my potatoes with an apple because it would stop the sprouts from growing too fast. Being the good daughter that I am, I immediately shot her down and told her that was cray.
Okay, maybe I didn't actually use the word "cray" because Mama Lin would have no idea what that meant.
Guess what? It turns out that apples really do help prevent potatoes from sprouting! Clearly, I should listen to my mother a little more . . .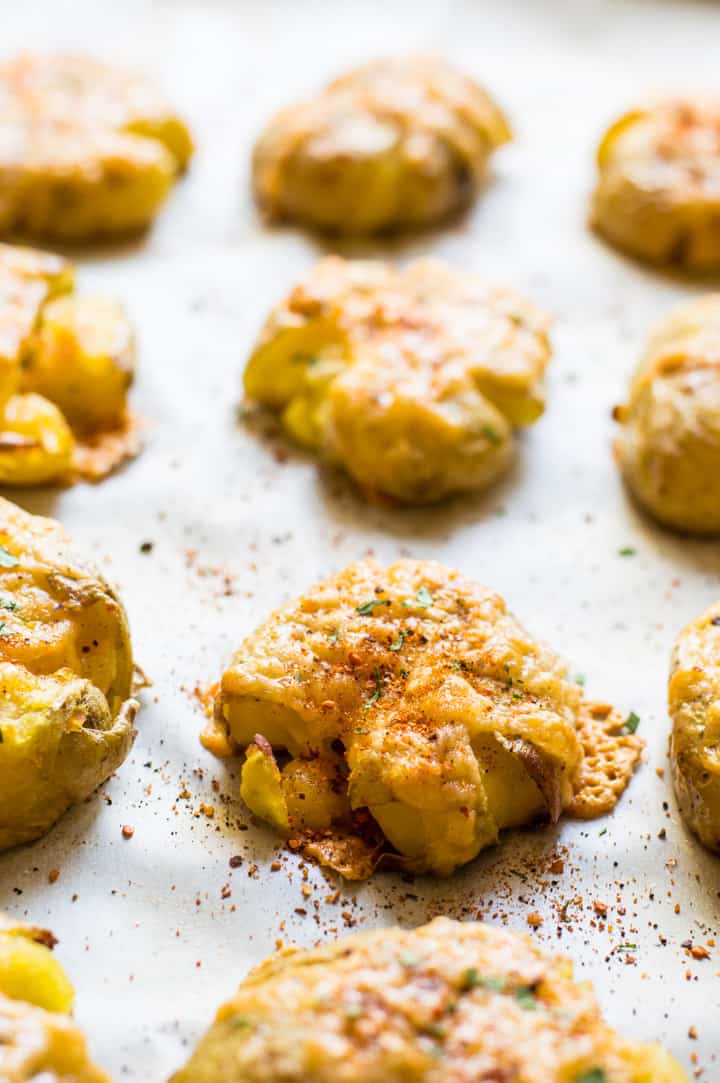 On to these potatoes. Smashed potatoes are frequently on the dinner rotation at my house because they're an easy side dish that doesn't require much prep work or 100 ingredients. Just boil potatoes, smash them, add some cheese and spices, and bake. You'll be left with some of the best potatoes you've ever tasted.
Don't believe me? Try it for yourself!

MASTER LISA'S MISTAKES (AKA COOKING NOTES)
Smashing Potatoes: I've tried using a potato masher or a fork to smash the potatoes. without much success. The potato always crumbles apart. I find it easiest to smash it with the palm of my hand.
Get the Cheese Crispy: When you're sprinkling the cheese, try to leave some hanging on the side of the potato. That way, the cheese will melt onto the baking sheet and turn super crispy. Trust me, it's good!
Use your favorite spices: I used Trader Joe's pilpelchuma to season the potatoes, but you can use whatever spice blend you have around the house!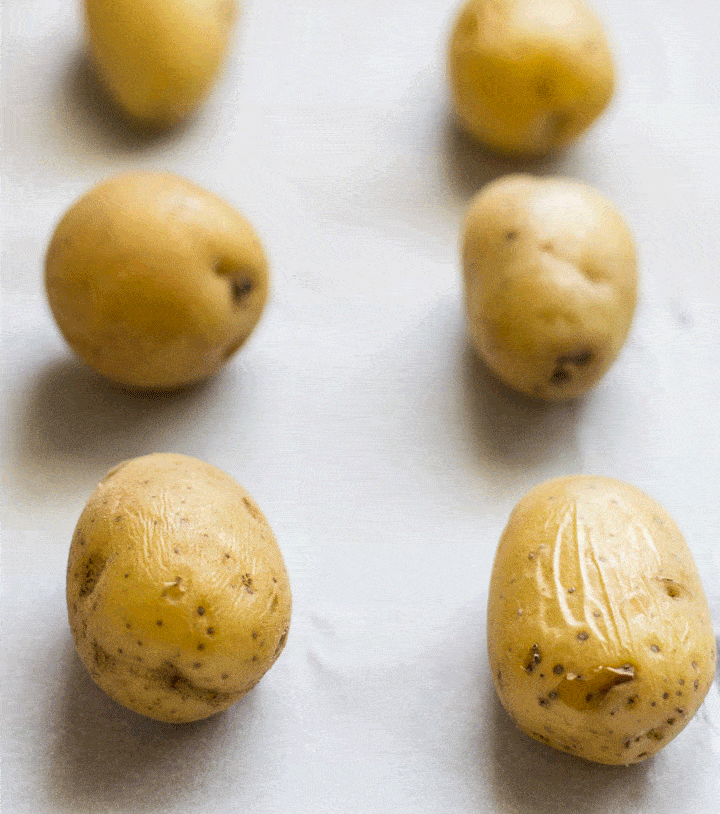 If you make this recipe, be sure to tag me on Instagram, Facebook, or Twitter and use #hnbeats!
Smoked Gouda Smashed Potatoes
Crispy roasted potatoes are topped with melted cheese and pilpelchuma, a Libyan pepper-based spice. These are perfect sides for weeknight dinners or game day snacks! Serves 6 to 8.
Ingredients
2

lbs

(900g) baby yukon potatoes* (or any small potato)

1 1/2

TBS

olive oil

1/4

tsp

granulated garlic

pinch

of salt

3/4

cup

(3 oz) shredded smoked gouda (any cheese works)
Optional Toppings
pinch

of your favorite spice blend

,

I used Trader Joe's pilpelchuma

chopped parsley
Instructions
Preheat oven to 450 degrees F (230 degrees C). Line 2 baking sheets with parchment paper. Set aside.

Scrub potatoes and place them in a pot. Fill pot with water until the potatoes are just covered.

Bring water to boil. Stir the potatoes a little so that the potatoes at the top go towards the bottom. Continue cooking potatoes for about 5 minutes, or until the potatoes can be pierced with a fork. You want to be able to pierce through about 1/4 inch into the potato, but be careful not to overcook them.

Drain water. Using tongs, place potatoes onto the baking sheets. Let the potatoes cool for 5 minutes.

To smash potatoes, place a folded paper towel or a kitchen towel on top of a potato. Carefully press down on the potato with the palm of your hand. Try to keep the potatoes in one piece.

Drizzle oil on the potatoes, and sprinkle garlic and salt on top.

Bake for 10 minutes. Take potatoes out of the oven, and sprinkle the cheese on top of the potatoes. Bake for another 7 to 8 minutes, or until the edges of the potatoes start to crisp up.

Sprinkle spices and chopped parsley on top of the potatoes. Serve immediately. Refrigerate leftovers in an airtight container for a few days.
Notes
1. *You can also make this dish with larger potatoes. Just make sure to boil and bake the potatoes for a few more minutes. [br][br]2. Feel free to substitute the smoked gouda with any of your favorite cheeses.[br][br]3. For extra crispy cheese bits, sprinkle some of the cheese on the side of the potato so that the cheese touches the baking sheet. The crispy cheese will taste amazing!
Did you make this recipe?
Tag @hellolisalin or leave a star rating and comment on the blog!
LIKE THESE SMOKED GOUDA SMASHED POTATOES? TRY THESE: