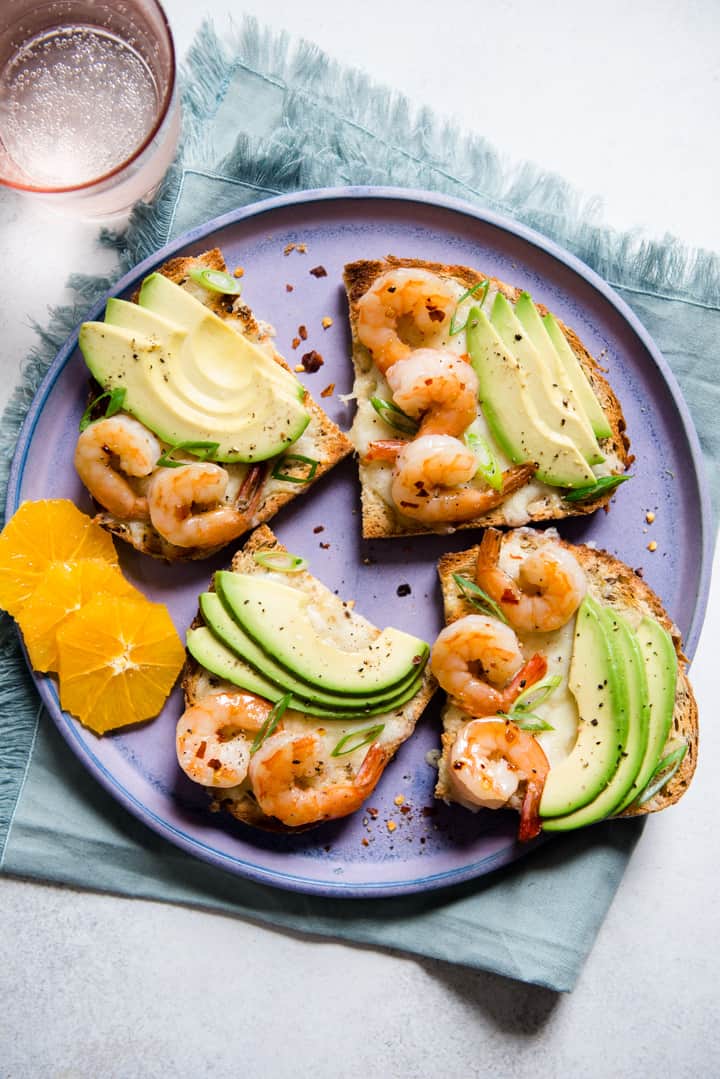 Thank you to Safeway for sponsoring this post!
Seafood is a huge part of the food heritage of my family. They came from the Guangdong Province in southern China, where they had easy access to fresh seafood. Eating steamed whole fish, often flavored with soy sauce and fresh herbs and spices, was very common.
Even after they moved to San Francisco in the late 80s, they kept up this tradition of cooking seafood. Grandma Lin made the best pan-fried catfish with peanuts and preserved kohlrabi. Mama Lin still seasons her dishes with dried seafood, such as dried shrimp and scallops. Seafood was so important to my upbringing that it comes as no surprise that I developed a love for cooking seafood.
As some of you know, our appetite for seafood has significantly skewed the food chain and disrupted the ocean's ecosystem. In order to maintain the health of the ocean's natural resources and ensure a steady supply of seafood for future generations, it is important that we pay attention to how our seafood is sourced.
Fortunately, there many organizations that help us make informed decisions about the seafood we purchase.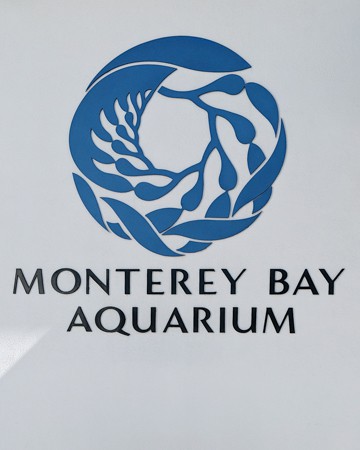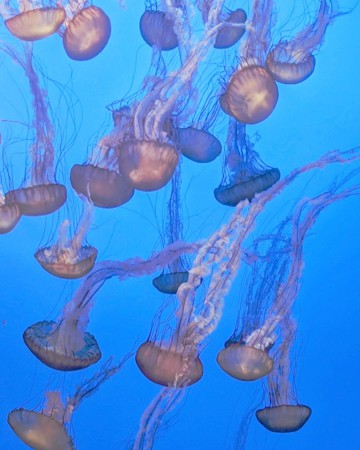 Last month, Safeway invited me and several bloggers to Monterey to learn about their sustainable seafood practices. We first stopped by the Monterey Bay Aquarium to learn more about its Seafood Watch Program.
Seafood Watch uses science-based and peer-reviewed studies to monitor and evaluate fisheries, particularly how their farming practices impact the environment. They also created a system that rates various seafood items in terms of their environmental impact. A green rating means "best choice": the seafood was caught or farmed in ways that cause little harm to their habitat or other wildlife. Yellow means "good alternative": there are a few concerns about how the seafood is caught or farmed. Finally, red means "avoid": the seafood is either overfished or caught or farmed in ways that are harmful to the environment or other marine wildlife. Seafood Watch provides this information to seafood suppliers to inform their decisions about where to source seafood.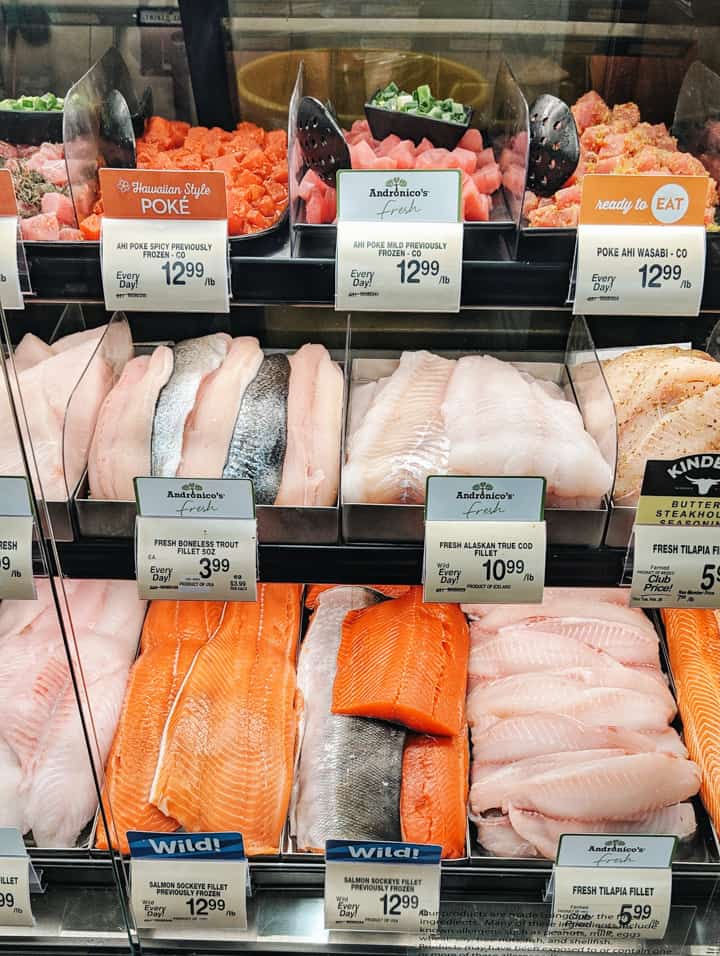 To ensure that they sell responsibly sourced Seafood, Safeway stocks their seafood from suppliers, such as Monterey Bay Seafood, who are committed to sourcing seafood that is sustainable and traceable. These suppliers, like Monterey Bay Seafood, are often partners of Seafood Watch. In addition, Safeway works with organizations such as FishWise to develop a robust Responsible Seafood Program across their stores. As a result, the only seafood you'll find at Safeway stores have been rated green or yellow by Seafood Watch.
As a consumer, it is comforting to know that I can walk into any Safeway store and know that the seafood I purchase is responsibly sourced.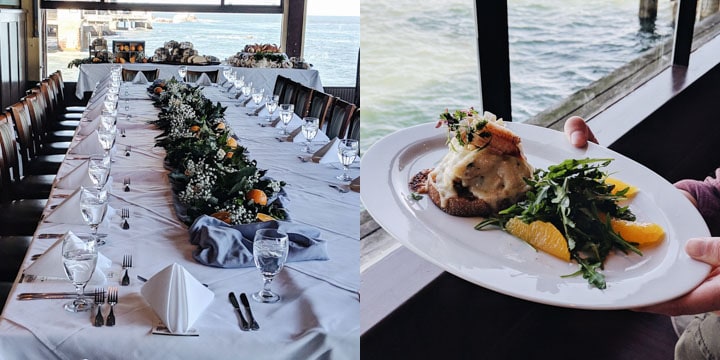 After an amazing lunch at The Fish Hopper, we all brought home a goodie bag, which provided me inspiration for this shrimp and avocado toast recipe.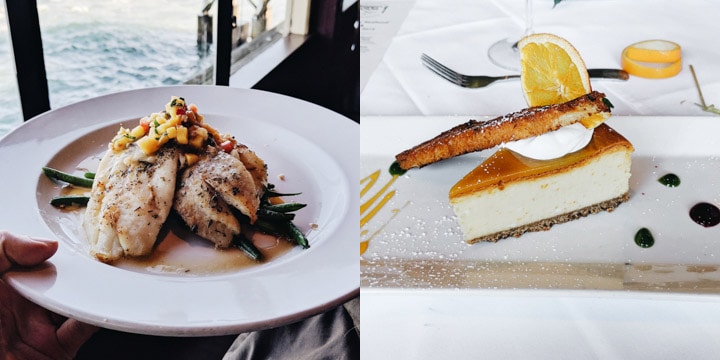 This avocado toast is great for brunch or a light dinner. The toast is made from The Rustik Oven's non-gmo artisan bread. I particularly love their Hearty Grains and Seeds loaf because it's very seedy and toothsome. The slices are also nice and thick so that they hold a lot of toppings.
I topped the toast with melted cheese, avocado slices and shrimp that are flavored with an orange and honey chili sauce. The sauce is made with Vintage Sweets Heirloom Navel Oranges, which are an heirloom variety of navel oranges. The oranges have a good balance between acidity and sweetness, which makes the juice great for this sauce. I absolutely LOVE eating the toast, and I hope you enjoy it, too!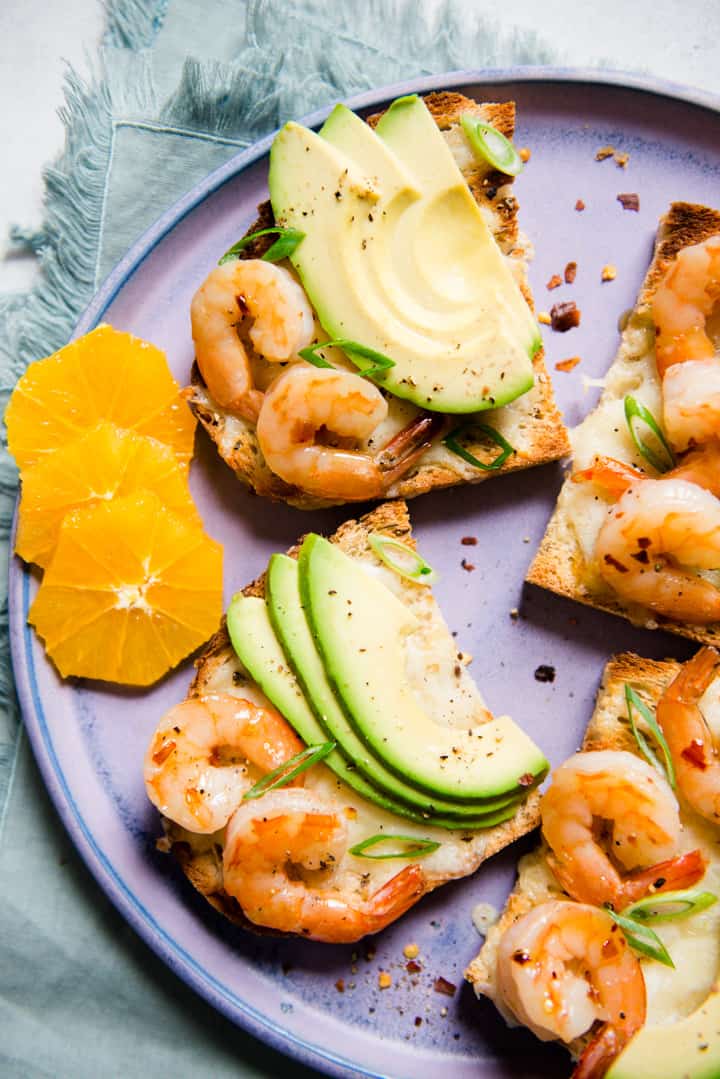 Orange Honey Shrimp and Avocado Toast
You'll have some of the orange honey chili sauce leftover. You can use it to season stir fries or fried rice. It should keep in the fridge for a week or two.
Ingredients
Orange Honey Sauce
1/4

cup

freshly squeezed orange juice

1/2

teaspoon

cornstarch

1/4

cup

honey

1

tablespoon

rice vinegar

1/2

teaspoon

red pepper flakes

1/2

teaspoon

kosher salt

1/4

teaspoon

onion powder
Avocado Toast
1/2

pound

medium shrimp

,

shelled

1/4

teaspoon

kosher salt

1

tablespoon

olive oil

4

large slices of bread

1

cup

shredded mozzarella cheese

1

cup

shredded Monterey jack cheese

1

large avocado

,

sliced thinly

freshly cracked black pepper

sliced scallions
Instructions
Prepare the Sauce

In a saucepan, stir the orange juice and cornstarch, until the cornstarch is completely diluted. Add the honey, rice vinegar, red pepper flakes, salt, and onion powder. Stir everything together.

Turn the heat to medium-high and bring the sauce to boil. Reduce the heat to medium-low, and let it simmer for another 2 minutes. Turn off the heat.

Cook the Shrimp

In a bowl, toss the shrimp with 1/4 teaspoon kosher salt.

Heat 1 tablespoon of olive oil on a skillet over medium-high heat. Once the pan is hot, add the shrimp and cook for about 5 minutes, flipping halfway. Remove the shrimp from heat, and toss the cooked shrimp with a few tablespoons of the orange honey sauce.

Prepare the Toast

Preheat the oven to 350ºF. Place an oven rack to the upper third and lower third position.

Slice the bread in half. Arrange the bread slices on a baking sheet and slide the sheet onto the oven rack in the lower third position. Bake for about 8 minutes. The bottom of the bread should be very lightly browned.

Remove the baking sheet from the oven. Turn on the broiler.

Divided the shredded cheese on the toasted slices of bread. Broil the cheese for about 2 to 3 minutes, until the cheese melts. Be very careful here because the bread can burn very easily. Check the toast at 2 minutes to see if the cheese has melted. Mine were ready in 2 minutes. Remove the toast from the oven.

Top the bread with avocado slices, orange honey shrimp, black pepper, and sliced scallions. Serve immediately.
Notes
NUTRITION INFORMATION: Amount for 2 Pieces: Calories: 480, Total Fat 21.4g, Saturated Fat: 6.8g, Cholesterol: 122mg, Sodium: 1094mg, Total Carbohydrate: 34.5g, Dietary Fiber: 5g, Sugar: 14.4g, Protein 31g
Nutrition
Serving:
2
pieces
|
Calories:
480
kcal
|
Carbohydrates:
34.5
g
|
Protein:
31
g
|
Fat:
21.4
g
|
Saturated Fat:
6.8
g
|
Cholesterol:
122
mg
|
Sodium:
1094
mg
|
Fiber:
5
g
|
Sugar:
14.4
g
Did you make this recipe?
Tag @hellolisalin or leave a star rating and comment on the blog!
Disclaimer: This post is sponsored by Safeway. You can find all the ingredients for this recipe at your local Safeway or purchase them through Safeway Home Delivery.