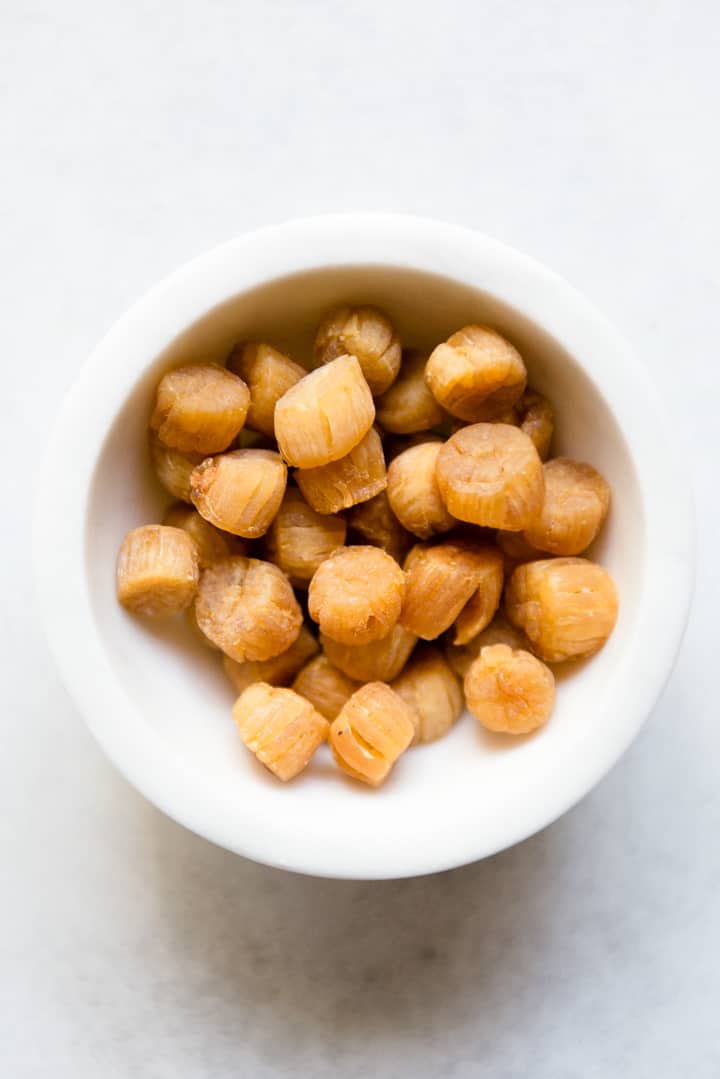 If you take a look into Mama Lin's kitchen, you'll undoubtedly find dried scallops. Dried shrimp and dried scallops are her one-two punch in flavoring dishes. The scallops impart umami flavor to a dish, and it tastes less fishy than dried shrimp.
In Chinese, the word "scallop" is 江瑤柱 (traditional) 江瑶柱 (simplified) (jiang yao zhu), and Mama Lin would use this phrase to describe both fresh and dried scallops. Another phrase that is often used to describe dried scallops is 乾貝 (traditional) 干贝 (simplified) (gan bei), which literally means "dried shell[fish]."
HOW TO SELECT DRIED SCALLOPS
You can usually find them packaged in Asian supermarkets, particularly ones that sell Chinese food. They are sometimes sold in bulk as well. Like dried shrimp, larger scallops cost more than smaller ones. When buying dried scallops, you want the ones with an even light brown color. You do not want ones with a lot of tiny white specks on them. That's usually an indication that they have been stored for a long time.
HOW TO STORE THE SCALLOPS
Refrigerate them in an airtight container, and they can last a good 4 to 5 months without the color fading. You can also freeze them for longer storage.
WAYS TO USE THE SCALLOPS
Because the scallops become very hard when they're dried (like rocks), you want to make sure to rehydrate the scallops before using them. This means soaking them in water for about 25 to 40 minutes, until they soften. The larger the scallop, the more time they'll need to be soaked. There are some exceptions to this general rule of thumb. For example, if you are using the scallops to make a broth or congee, where you'll cook the scallops for a long period of time, you don't need to rehydrate them.
Typically, once the scallops are rehydrated, Mama Lin tears up the scallops into their smaller muscle fibers. This helps distribute the scallops to the entire dish.
RECIPES USING DRIED SCALLOPS