Some people say that beets are the messiest thing to cook, but turmeric must come in as a close second. It takes just a tiny pinch . . . to stain my spatulas, my pans, my marble pastry board, my fingers, my clothes and even my face. Yes, my face. It's also a pain to clean. All my bamboo spatulas have now taken on an interesting yellow ochre hue. It doesn't come off. But I still love turmeric with the passion of 10 blazing suns. (Somehow, that sounded much better in my head.)
So when you get around to cooking this recipe, you will probably stain something, too. It is worth it.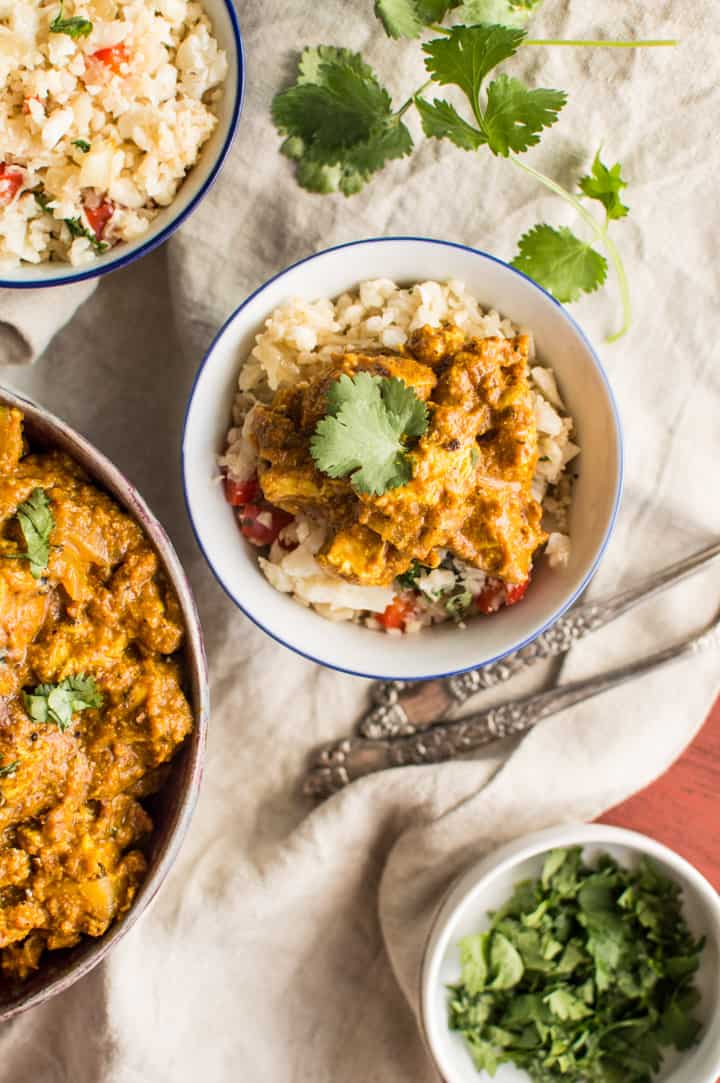 Many of you probably know that I've started on the Whole30. Here are my Whole30 feels so far:
Missing sugar? Surprisingly, not yet. But I do scarf down fruits like nobody's business. Thank goodness it's summer.
Missing grains? Only when there are no more roasted potatoes left in the house.
Missing dairy? There's a block of white cheddar in my fridge that's been taunting me. I'm not tempted.
Missing alcohol? Not in the slightest. This can easily change during happy hour today.
So many eggs for breakfast. I'm still okay with that.
Day 2: I felt SO HUNGRY in the afternoon. I was ready to humiliate myself by grabbing all the crackers and pita chips lying around at work and shove it in my face. It was a close call.
Potatoes, not diamonds, are this girl's best friend.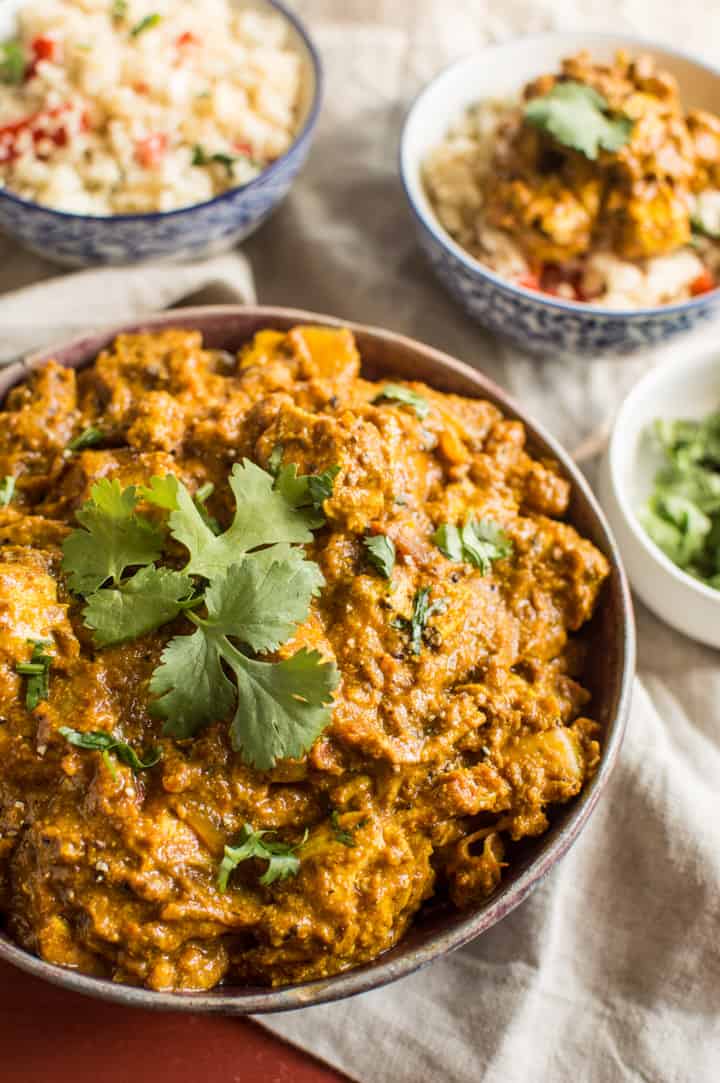 I'm beyond glad I made a large batch of this tikka masala earlier in the week. It has been the one meal that has kept me full for hours after lunch.
Usually, tikka masala is cooked with heavy cream and/or yogurt. (<— Sadly, not permitted under the Whole30.) Don't fret though. I've come up with a fabulous dairy-free alternative: cashew cream. I've used cashew cream before for my vegan neapolitan cheesecakes, but it's also perfect for savory sauces. It acts as a natural thickener and it's a healthier way to add richness to a sauce.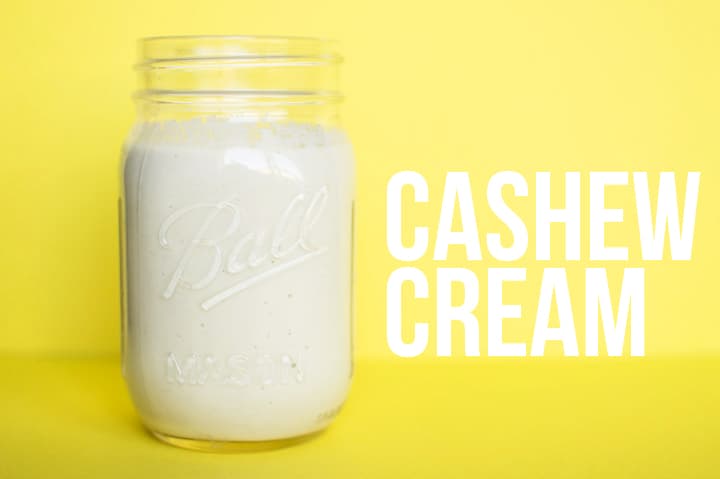 Cashew cream = my secret weapon for the next 3.5 weeks.
To make the tikka masala, you're going to need a few spices. If you don't have all of them, don't worry. A good 'ol curry powder can take you long ways with this recipe.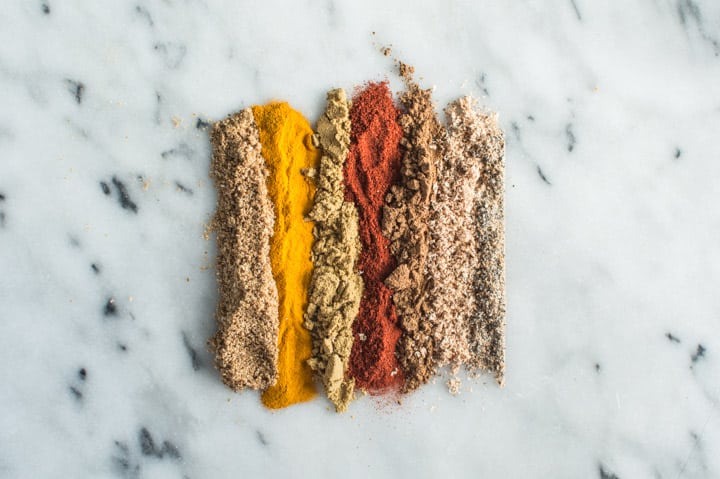 I know I mentioned before that this tikka masala will stain something in your kitchen. But take just one bite, and you'll know why it was all worth it. It's fantastic with cauliflower rice and some roasted potatoes. A flavor explosion in all the best ways.
Thank you, tikka masala.
Paleo Chicken Tikka Masala
Ingredients
Cashew Cream (save remainder for another dish)
1

cup

cashews

1

cup

water

,

240ml + more water for soaking
Chicken
1 1/2

pounds

(680g) boneless skinless chicken breasts

1/4

cup

cashew cream

3

tablespoons

cooking fat

,

I used avocado oil

2

teaspoons

lemon juice

kosher salt
Tikka Masala Sauce
2

tablespoons

coconut oil

,

or cooking fat of choice

1

small onion

,

thinly sliced

2

garlic cloves

,

minced

1

tablespoon

freshly grated ginger

1

tablespoon

ground coriander

2

teaspoons

ground turmeric

1 1/2

teaspoons

cumin

1

teaspoon

ground cardamom

1

teaspoon

paprika

1/2

teaspoon

ground nutmeg

6

tablespoons

cashew cream

1 1/2

cups

(400g) crushed tomatoes

1 1/2

cups

(450ml) water

salt and pepper to taste

chopped cilantro for topping
Instructions
Soak cashews with cool water in a small bowl for 4 hours or overnight. You can also soak the cashews with very hot water for about an hour. Drain the water. Blend the soaked cashews and 1 cup of water in a blender until smooth.

Chop chicken into smaller pieces. In a medium bowl, marinade chicken with 1/4 cup cashew cream, 1 tablespoon avocado oil, lemon juice, and a pinch of salt. Let sit for 10 minutes

While the chicken is marinading, start making the sauce. Heat 2 tablespoons coconut oil in a deep sauté pan over medium-high heat.

When the pan is hot, add the onions and stir for 2 to 3 minutes, or until the onions start to turn translucent. Add garlic and ginger and stir for another minute, or until the garlic starts to brown. Mix in spices and stir for 30 seconds.

Add cashew cream, crushed tomatoes, water, and another generous pinch of salt (about 1 teaspoon). Cover sauté pan and reduce heat to medium-low. Stir occasionally.

While the sauce is simmering, cook the chicken. Heat another pan with 2 tablespoons of avocado oil (or your favorite cooking fat) over medium-high heat. When the pan is hot, add chicken pieces. Cook until the chicken is no longer pink on the inside, about 5 to 8 minutes.

Add chicken to the simmering sauce and let it cook for another 5 minutes.

Turn off heat. Season with more salt and pepper if you like. Garnish with cilantro.
Notes
NUTRITION INFORMATION: Amount Per Serving: Calories: 376, Total Fat 26g, Saturated Fat: 8.5g, Sodium: 202mg, Cholesterol: 72.6mg, Total Carbohydrate: 10.7g, Dietary Fiber: 2.7g, Sugar: 4g, Protein 26.7g
VEGAN OPTION: Swap the chicken breasts for tofu!
Cashew cream will keep refrigerated for up to a week.
Did you make this recipe?
Tag @hellolisalin or leave a star rating and comment on the blog!