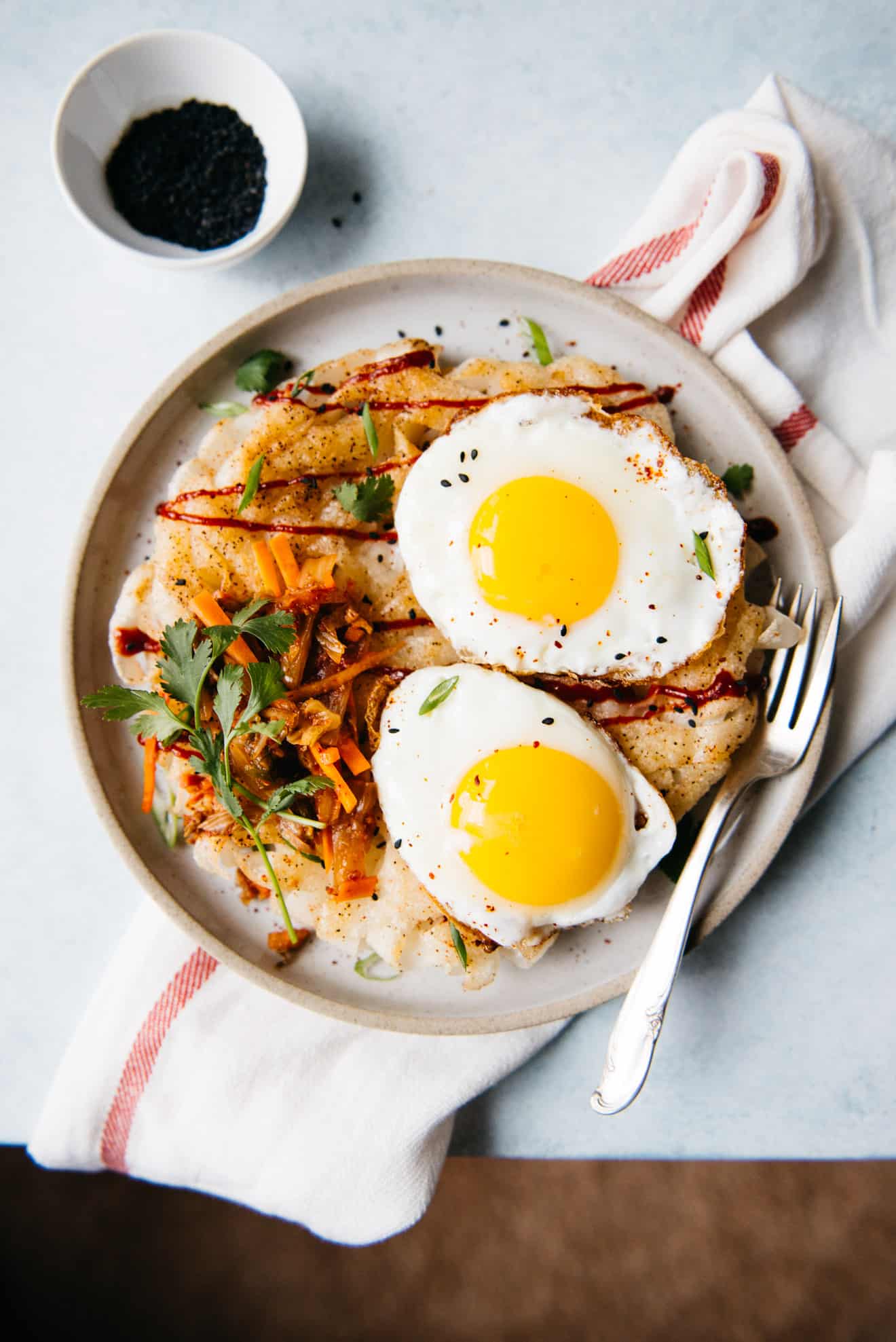 Many people keep dry pasta in the kitchen for quick weeknight meals. But me? I store dry rice noodles. A quick look into my pantry informed me that I have 10 different packages of rice noodles, along with a stern reminder that I need to clean the chaos in there. Whether they're stir-fried or simply thrown into a soup, rice noodles are a versatile ingredient for simple, easy dinners.
I never tried making pan-fried rice noodles until I came across the recipe in Andrea Nguyen's The Pho Cookbook (she calls them "panfried pho noodles"). It's a fairly large cake of pan-fried rice noodles with a crispy exterior. In her recipe, she tosses the rice noodles with a scant amount of sugar and cornstarch to get the noodles to brown more easily. I omitted the sugar and cornstarch because I thought the noodles browned reasonably well without them.
I served these noodles with gochujang and fried eggs, and my husband wouldn't stop talking about how tasty the entire dish was. If you have another favorite hot sauce, such as sriracha, feel free to use that instead!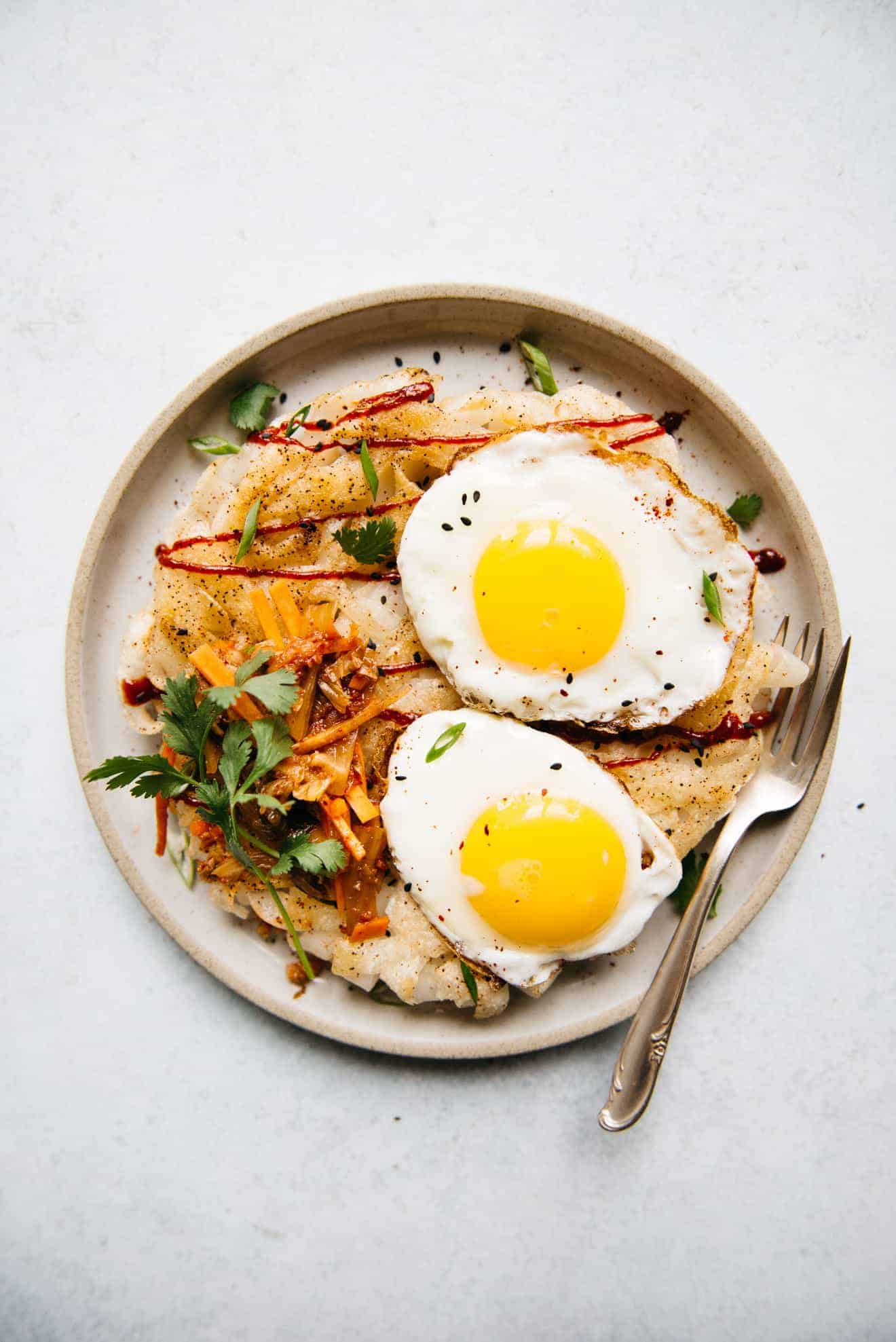 COOKING NOTES FOR PAN-FRIED RICE NOODLES
Using fresh rice noodles: Although I haven't tried this yet, I suspect that this recipe tastes even better when you use fresh rice noodles (i.e., ones that are already fully cooked). There is a soft chewiness to fresh rice noodles that is not easy to replicate by cooking dried rice noodles. Ever wondered why pad see-ew or pad thai in a restaurant tastes different when you attempt to make it at home? Using fresh rice noodles may be part of the answer. You can find fresh rice noodles at Asian supermarkets, though they are usually stored in the most random places. Sometimes, I see them by the refrigerated tofu or dumpling wrappers. I also see them by the cash registers. The noodles are usually laid over a piece of styrofoam and the entire package is tightly wrapped in plastic. Just take the noodles out of the package and cut them into strips. You'll need about 10 ounces of fresh noodles to make 1 cake. Just throw them straight into the pan to cook.
LOOKING FOR MORE NOODLE DISHES?
Pan-Fried Rice Noodles with Fried Eggs
This recipe is heavily adapted from Andrea Nguyen's The Pho Cookbook. 
For this dish, I used wide rice noodles, which are about 1/2-inch wide when they're dry. You can use thinner noodles if wide noodles are not available.
Ingredients
10

ounces

wide rice noodles

7

tablespoons

canola or olive oil for frying noodles and eggs

1

teaspoon

salt

4

large eggs

gochujang

,

or your favorite hot sauce

kimchi,

optional
Garnish
sliced scallions

black sesame seeds

red pepper flakes
Instructions
Bring a large pot of water to boil. Add the noodles and cook for about 7 minutes. During the first 2 minutes of cooking the noodles, you want to stir the pot constantly because the rice noodles will want to stick to each other. Stir the noodles occasionally after the first 2 minutes. Drain the noodles and rinse with cold water.

Toss the noodles with 1 tablespoon of oil and 1 teaspoon of salt. The oil helps prevent the noodles from clumping together as it cools. Spread the noodles over a baking sheet to dry out for about 10 to 15 minutes. This drying out process helps ensure crisper noodle cakes. If you cook the noodles right after they're drained, there may be a lot of residual moisture in the noodles that prevent them from crisping up properly.

Get 2 small pans ready—8-inch or 10-inch pans work very well for this. Heat 1 1/2 tablespoons of oil in both pans over medium heat. Divide the noodles between both pans. Pan fry the noodles for about 5 minutes, until the bottom is a nice golden brown.

Flip the noodle cake over. You can use a large spatula, but I found the best way is to cover the pan with a large plate. While pressing the plate against the pan, flip the pan over so that the noodle cake turns onto the plate, golden side facing up. Add another 1 or 1 1/2 tablespoons of oil into each pan and slide the noodle cakes back into the pan to pan fry the other side. Cook for about 3 to 4 minutes. Transfer the cakes to a dish.

Drizzle 1/2 tablespoon of oil into each pan and pan fry 2 eggs in each pan. Cook for a few minutes, until the egg whites have settled. Serve the eggs on the noodle cakes. Drizzle the cakes with gochujang (or your favorite hot sauce) and serve with kimchi, if desired.
Notes
NUTRITION INFORMATION: Amount for 1/2 cake with 1 egg: Calories: 532, Total Fat 29.8g, Saturated Fat: 5g, Cholesterol: 186mg, Sodium: 652mg, Total Carbohydrate: 56.6g, Dietary Fiber: 1.3g, Sugar: 1.4g, Protein 6.3g
If you are in a hurry and you don't have time to cool the noodles before frying, skip the step of tossing the noodles with 1 tablespoon of oil. The oil is meant to keep the noodles from sticking together while they're cooling.
You can use less oil for this dish if you like, but the noodle cakes will not be as brown as they look in the photo.
In my photo, you probably notice tiny black specks on the noodle cakes. When I shot the photos, I tossed the noodles with onion powder and the powder burned during the frying process. The onion powder did not add much flavor, so I omitted it in the recipe.
Want to try making kimchi at home? Try my small batch vegan kimchi!
Did you make this recipe?
Tag @hellolisalin or leave a star rating and comment on the blog!