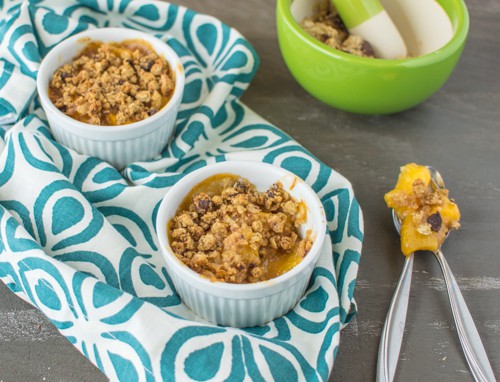 Last week, when I was testing out my oatmeal chocolate chip cookie recipe, I made a batch of dry oatmeal cookies. And when I say dry, I mean VERY dry.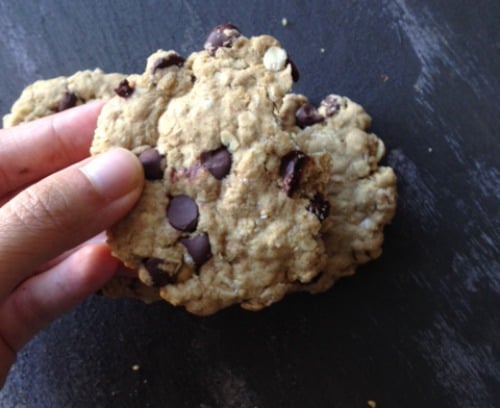 Of course, I didn't want to waste the 2 dozen cookies! My mother would be horrified if she found out I threw food away just because the texture was slightly off. So I posted a photo of my dry cookies, asking you all how I should deal with them. There were so many great suggestions from the foodie community!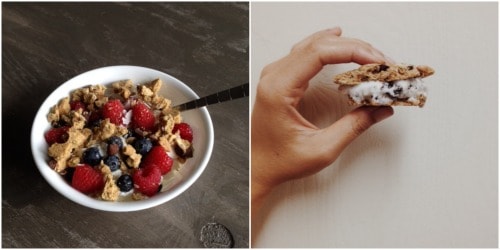 From crumbling the cookies on top of my yogurt parfait to making small ice cream sandwiches, I have managed to eat many of those dry cookies in delicious style. Thanks to all you foodies for helping me out!
A few of you (Sarah at Snixy Kitchen, Liz at Floating Kitchen, and Joanne at Eats Well With Others) suggested that I make a crumble with the cookies. So, ladies, this peach crumble is for you!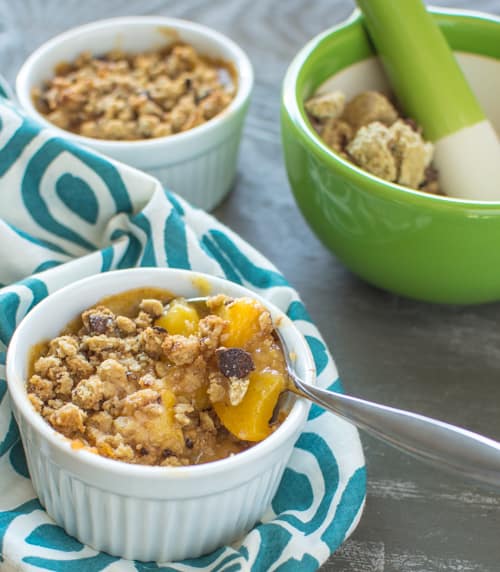 To make the crumble topping, I simply crushed the cookies with my mortar and pestle (a kitchen toy that I've been meaning to use for the longest time). If you don't have any cookies, just use some biscuits that you have around the house.
Peach Crumble for Two
Ingredients
1 1/2

large yellow peaches

1

TBS

all-purpose flour

1 1/2

TBS

sugar

1/2

tsp

lemon juice

1/2

tsp

cinnamon

2

oatmeal chocolate cookies or 2 biscuits

1

tsp

vegetable oil
Instructions
Preheat oven to 375 degrees F (190 degrees C). Grease two ramekins with cooking spray or a bit of oil.

Peel the peaches and cut it in half. Remove the pit and cut the peach into slices. In a small bowl, mix the sliced peaches with the flour, sugar, lemon juice, and cinnamon. Pour the contents into the two ramekins. Don't wash the bowl yet.

Crumble the oatmeal cookies. I used a mortar and pestle but you can always crumble the cookies with your hands. Pour the crumbled cookies into the same bowl that you used to mix the peaches. This will add some extra flavor. Add about a teaspoon of oil into the mixture. Pour the crumble on top of the peaches.

Place the ramekins on a baking tray to catch any overflowing juices. Bake for 15-17 minutes, or until the peach mixture starts to bubble.

Let the crumble cool for at least 10 minutes before eating. Enjoy!
Notes
Feel free to use 2 whole peaches for this recipe. I just didn't want my crumble to overflow.
Did you make this recipe?
Tag @hellolisalin or leave a star rating and comment on the blog!