There's no need to waste a lot of money buying pumpkin spice lattes. Just make them at home! No fancy equipment required.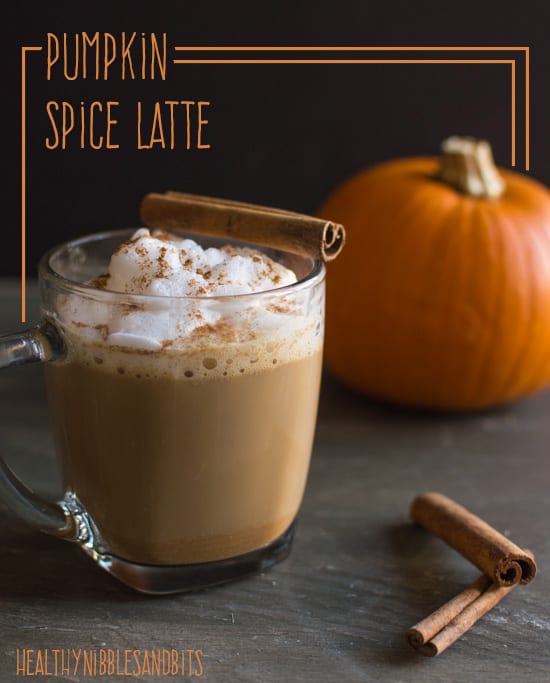 Tis the season to be drinking . . . pumpkin spice la-la-la-la-ttes! Ever since Starbucks announced the return of pumpkin spice lattes to their menu, those drinks have returned with a vengeance. Every coffee shop that I go to and every major kitchen website I visit have come up with their own version of a pumpkin spice latte! These drinkable delights are getting all up on my grill, and you know what, I don't mind it all that much.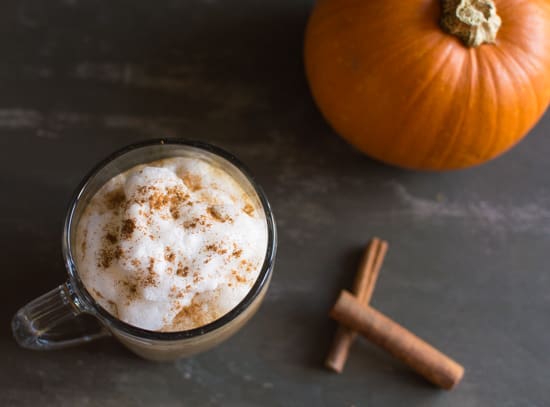 Of course, I want to make one of these lattes for myself. But the fact of the matter is that I don't own an espresso machine. They're way over my budget and I don't have the space in my apartment for one. Instead of using espresso, I tried recreating a pumpkin spice latte with coffee.
Oh boy, I definitely had several cups of nasty drinks before I got to something I was happy with. When you're making this, keep in mind that you're going to want a very strong tasting cup of coffee. Because the taste of espresso is very concentrated, the coffee needs to be bold in flavor as well. For me, this meant adding more beans to the grinder for a cup of coffee.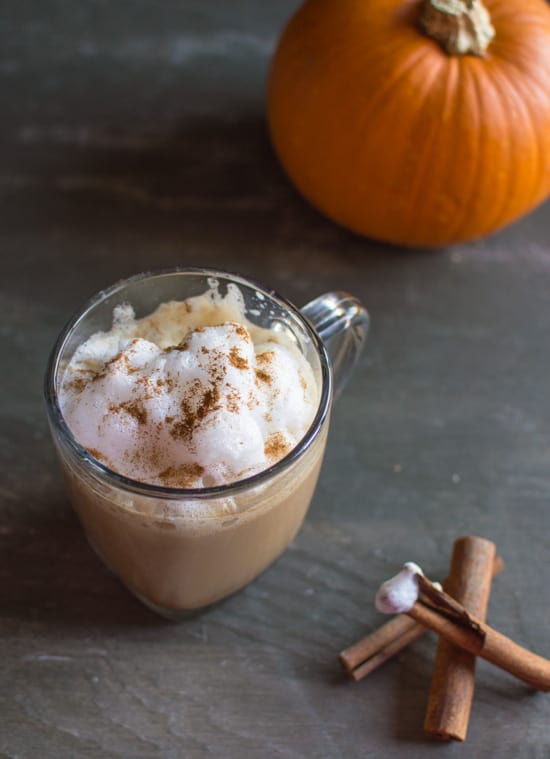 What about the milk foam you ask? I found this fantastic tutorial from The Kitchn on how to froth milk with your microwave. I couldn't believe that it worked! No fancy machine required!
You'll have to excuse the quality of the photo on the right. I got so excited it worked that I forgot to shoot it with my camera nicer! Photo quality aside, look, the microwave method actually works!
Frugal Girl's Pumpkin Spice Latte
Ingredients
1/2

cup

(120ml) strongly brewed coffee

2

tsp

to 1 TBS pumpkin puree

,

depending on your taste

1/2

tsp

pumpkin spice

1/2

TBS

maple syrup

1

cup

(240ml) 2% milk

,

divided
Instructions
Heat the pumpkin puree in a saucepan with the pumpkin spice over medium-high heat. In a minute, add the maple syrup and stir. Reduce the heat to medium low. Once the maple syrup starts to bubble, mix in 1/2 cup of milk and stir until the milk is warmed up. There's no need for the milk to bubble. Turn off the heat.

Pour the coffee into a mug and then add the pumpkin milk.

Pour the rest of the milk into a jar. Make sure that there's plenty of space left in the jar to help aerate the milk as you shake it. Put the lid on the jar, and shake it for about a minute. You should be able to see a lot of frothy bubbles forming. Microwave the jar of milk uncovered for 30 seconds. You should now see some nice frothy milk on the top. Spoon the milk froth on top of the latte. Repeat this step by shaking and microwaving the same milk if you want more froth in the drink. I repeated this step once.

Drink immediately!
Notes
i][1. Pumpkin Spice Latte recipe adapted from The Kitchn. For the full tutorial on how to create frothed milk with your microwave, refer to this guide from the Kitchn.[br][br]2. The amount of milk you add into the latte is up to you. I thought 1/2 cup was enough, but feel free to add more if you want the latte to be more milky.
Did you make this recipe?
Tag @hellolisalin or leave a star rating and comment on the blog!