Ever wondered how to cook the perfect quinoa? Here is a guide on how to cook quinoa three ways: stovetop, slow cooker, and Instant Pot.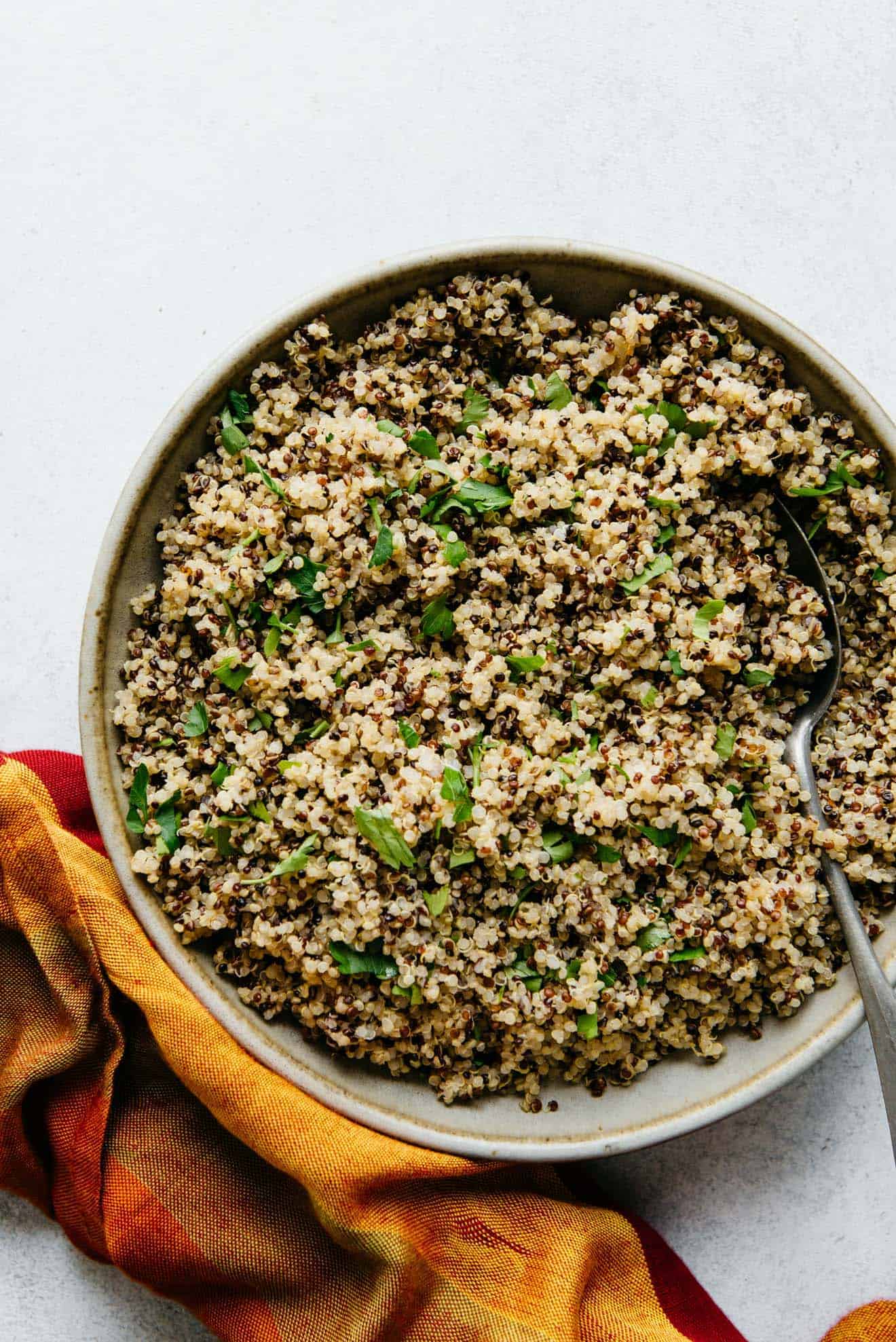 I cook quinoa often, and I never seem to remember how much water I need to use to cook it. If you look at my online search history, "how to cook quinoa" is probably right up there at the top. Rather than continue this ongoing cycle of typing in the same search query every month, I decided it was finally time to develop my own spreadsheet of cooking times for quinoa (along with other grains and legumes). It is so handy!
As I prepared for this post, I found that a lot of existing recipes for cooking quinoa in the slow cooker and Instant Pot use too much water. As a result, the quinoa is too soft and mushy for my taste. I think that the amount of water you use to cook quinoa should vary depending on the cooking method. Cooking on the stovetop requires the most water and the Instant Pot method the least amount. Feel free to play around with the amount of water to get the quinoa to be the texture you prefer.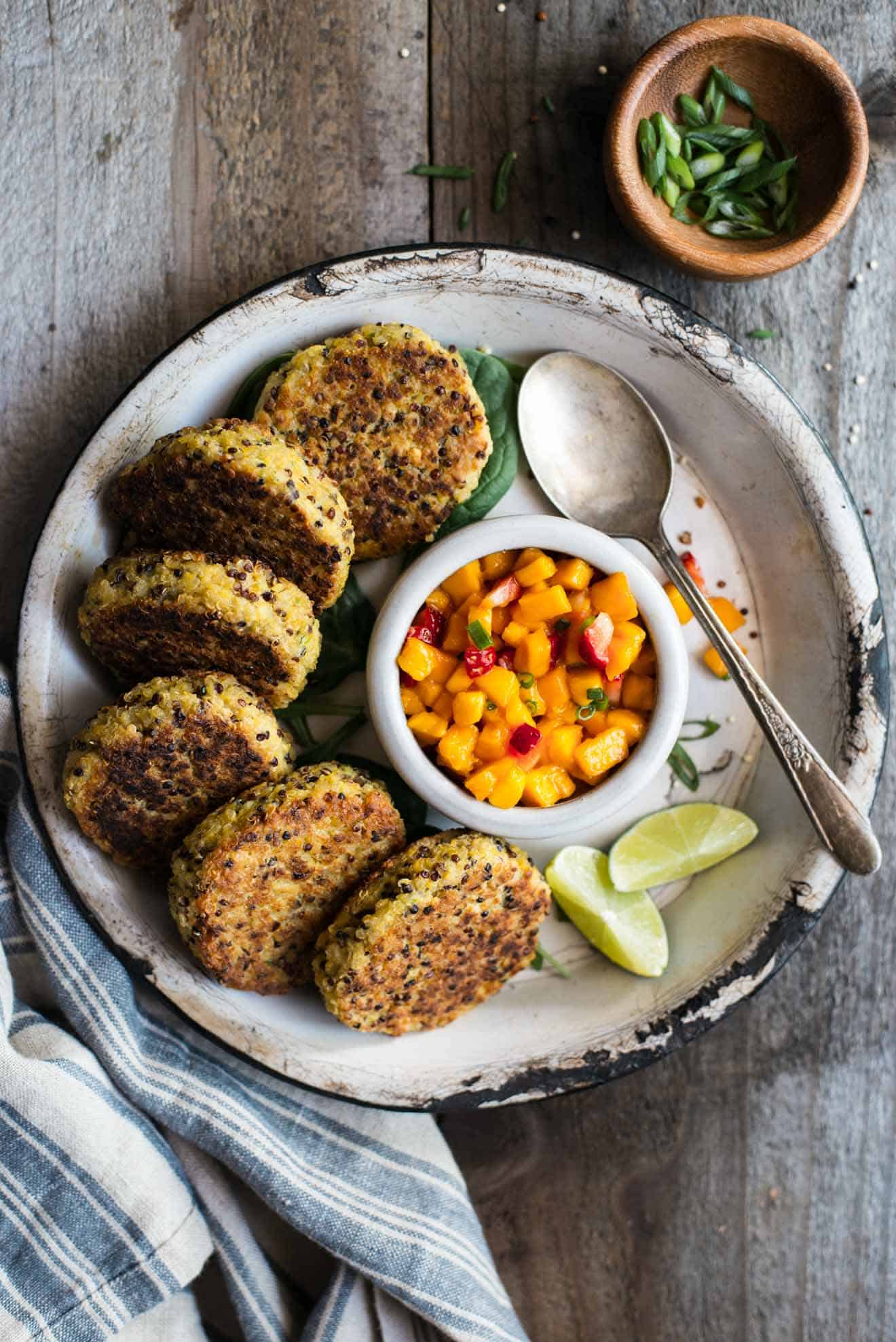 COOKING NOTES FOR THE QUINOA
Finding the right cooking time for the slow cooker. I have an All-Clad slow cooker with a ceramic bowl, and the quinoa cooked relatively quickly. The quinoa around the edges browned at around 2 1/2 hours, so I turned off the slow cooker. The quinoa was already cooked through. Do a test batch in your slow cooker and see if 2 1/2 hours is enough time for you.
HOW TO USE YOUR COOKED QUINOA: A FEW RECIPES
TOOLS I USED
Print
How to Cook Quinoa 3 Ways: Stovetop, Slow Cooker & Instant Pot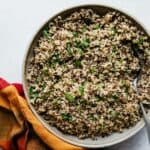 Author:
Yield: About

4 cup

s

1

x
Scale
Ingredients
1 cup

uncooked quinoa
water

1/2 teaspoon

salt
Instructions
Rinse the quinoa.
STOVETOP METHOD: Add 1 cup of quinoa, 2 cups of water, and 1/2 teaspoon salt in a saucepan. Bring the water to boil, then reduce the heat to low, and cover the saucepan with a lid. Cook for another 15 minutes, until all the liquid has been absorbed. Turn off the heat and let the quinoa sit, covered for another 10 minutes. Fluff the quinoa with a fork and serve.
SLOW COOKER METHOD: Add 1 cup of quinoa, 1 3/4 cups of water, and 1/2 teaspoon salt to the slow cooker. Cook the quinoa on low for about 2 1/2 to 3 1/2 hours. One important thing to note here is that a different brand of slow cooker may take a longer time. Do a test on your slow cooker first to figure out the appropriate time. Once the quinoa is ready, fluffy it with a fork and serve.
INSTANT POT METHOD: Add 1 cup of quinoa, 1 1/2 cups of water, and 1/2 teaspoon salt to the instant pot. Set the Instant Pot manual mode and cook on high pressure for 5 minutes. Once the timer goes off, let it rest for 10 minutes. Release any remaining pressure and remove the lid. Fluff up the quinoa and serve.