Who doesn't love a curry? This bright vegan dish is filled with mixed vegetable noodles and topped with a light red curry stew.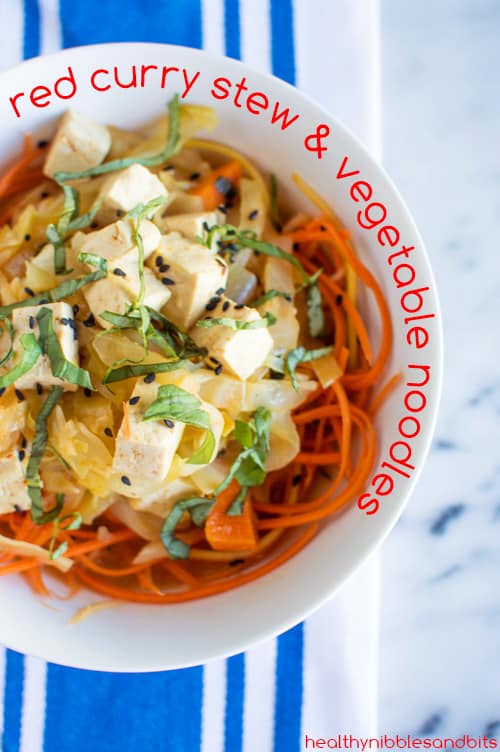 You may have noticed the copious amounts of vegetable noodles I have been eating lately. It is slowly turning into an obsession.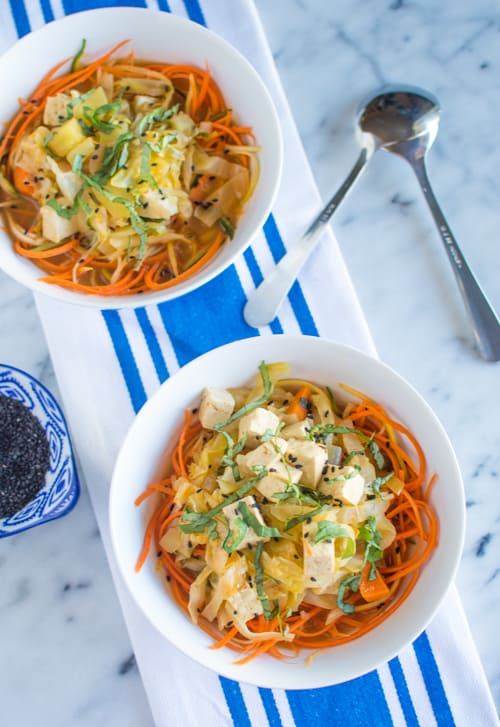 Most of the time, I use the spiralizer to make vegetable noodles, but there are other great kitchen tools for making them, too!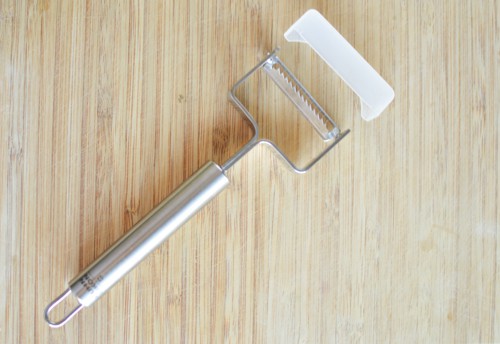 Meet the julienne peeler! They look like a regular vegetable peeler with tiny blades sticking out of one side, and you can usually find them for $4 to $20 dollars. I own the Kuhn Rikon Julienne Peeler (about $19), and I love that the sharpness of the peeler's blades make it easy to cut vegetables. I might be a bit of a nerd for doing this, but I kept the plastic packaging cap for storing the peeler. I don't want my fingers to touch the blades accidentally when I'm reaching into my kitchen drawer!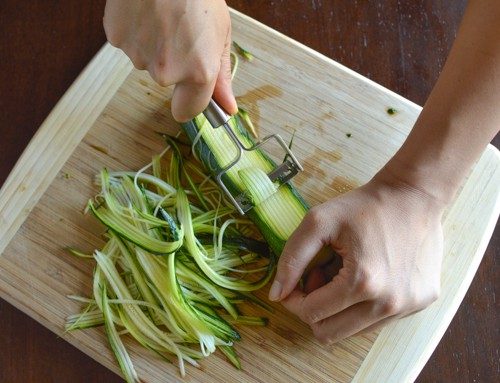 When using the julienne peeler, I like to lay the vegetable flat on a cutting board and hold down one end of the vegetable. Then, I run the peeler along one side to create noodles. After slicing through the vegetable a few times, I usually turn the vegetable around to make sure that the vegetable is peeled evenly.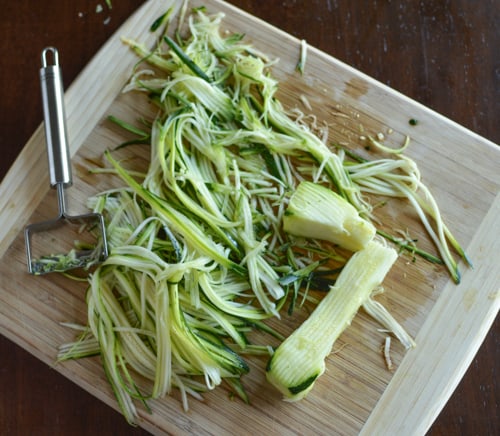 At some point, you will have whittled down the vegetable so much that it becomes difficult to run the peeler along it. I usually chop up the core and cook the pieces along with the rest of the dish. Waste not!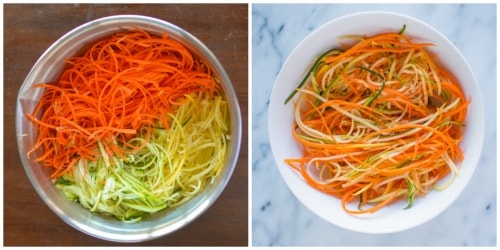 This time, I decided to combine carrot, zucchini, and summer squash noodles together for some variety. Lay a bed of vegetable noodles inside a bowl, pour some soup on top, and presto! You'll have one delectable vegetable dish!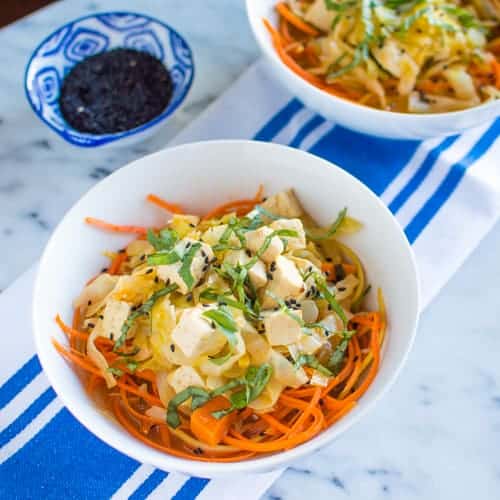 Print
Red Curry Stew and Vegetable Noodles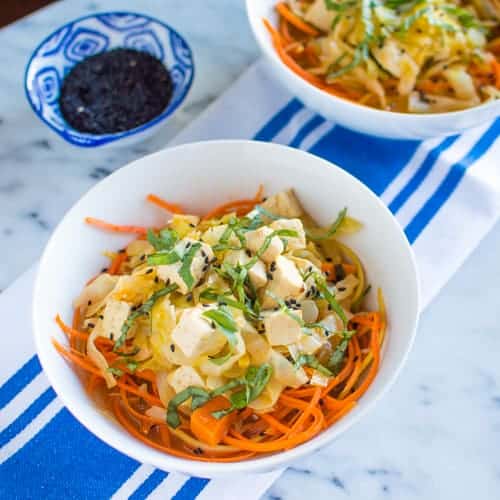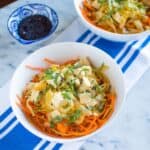 Author:
Prep Time:

20 minutes

Cook Time:

25 minutes

Total Time:

45 minutes

Yield:

7

1

x
Category:

vegan, gluten-free
2

large carrots, peeled

1

medium yellow squash

2

medium zucchini

1

14-ounce package of firm tofu

1

and 1/2 TBS olive oil

1/3

large red onion, chopped

1

inch piece of ginger, peeled and sliced

3

cloves of garlic, minced or pressed

5 tsp

red curry paste

1

large potato, peeled and diced (~

11 oz

/~

310g

)

4 cups

(948ml) vegetable stock

1 cup

(237ml) light coconut milk

1/2

head cabbage, chopped

2

TBS fish sauce

2

TBS lime juice

1

and 1/2 TBS sea salt

8

large basil leaves, chopped
Black sesame seeds (optional)
Instructions
Make vegetable noodles with the carrots, yellow squash, and zucchini with a julienne pepper. Place all the noodles into a medium-sized bowl, and mix them together. Set aside. Chop up the parts of the vegetable that were not cut by the julienne peeler. Save it for the stew.
Drain the water from the tofu package and rinse the tofu. Chop the tofu into smaller cubes, and set aside.
Heat the olive oil in a medium-sized pot over medium-high heat. Once the pot is heated, pour in the diced onions and ginger. Sauté them for about 2 minutes, or until the onions turn translucent. Next, add the minced garlic, curry paste, diced potatoes, chopped carrots, and stir everything together.
Add the vegetable stock and cover the pot with a lid. Once the stock starts boiling, add the coconut milk, cabbage, and leftover chopped summer squash, stir, and wait for the water to start boiling again. Once the stew boils, season with fish sauce, lime juice, and sea salt. Check to see if the potatoes are fully cooked by piercing a fork into a piece of potato. If the fork can go through it easily, they're ready.
Turn off the heat, and add the chopped basil. You can also save some for garnish.
In a bowl, put about 1 to 1-1/2 cups of the vegetable noodles on the bottom, and pour the stew on top. Sprinkle black sesame seeds for garnish.
Refrigerate leftover noodles in a separate container from the stew.
Notes
1. If you don't have any fish sauce, use low-sodium soy sauce instead.[br][br]2. Feel free to add lemongrass into the stew.
Wondering what you can do with leftover coconut milk? Try these easy tropical ice pops!