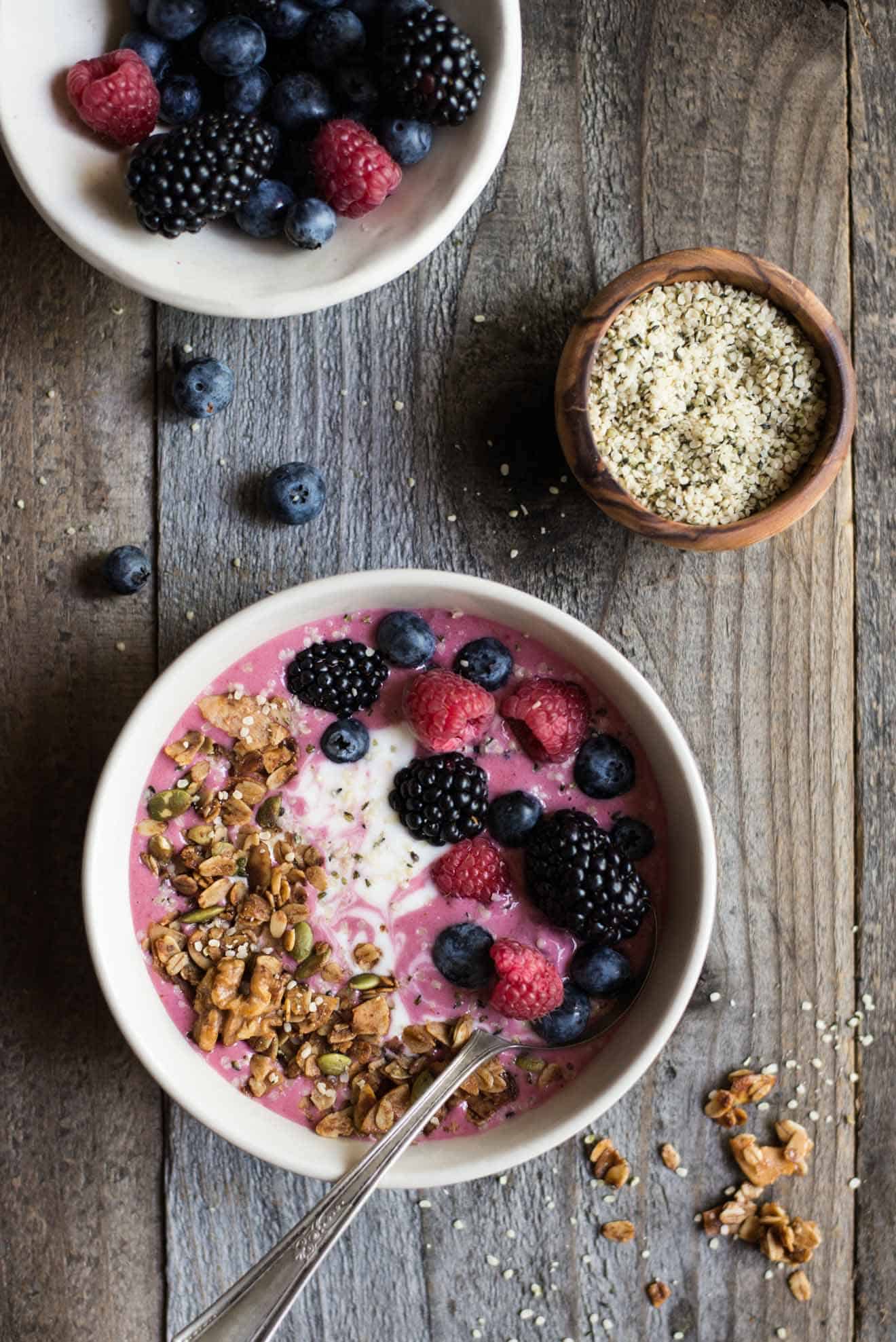 When I was in law school, granola was one of my favorite things to snack on. It was a healthier alternative to buying a bag of candy to get through those long hours of reading cases. A lot of granola was consumed during that 3-year period.
In the last few years, my taste for granola changed. Store-bought granolas that I previously enjoyed are now a touch too sweet for me. That's why I developed this healthy granola recipe. I can control the amount of sugar I put into homemade granola, I can pack in all the ingredients I enjoy.
In general, I follow this basic granola recipe formula:
1 1/2 to 2 cups oats/grains
+ 1 1/2 to 2 cups nuts
+ 1/3 to 1/2 cup coconut
+ 1/3 cup coconut oil
+ 1/3 cup sweetener (usually maple syrup or honey)
= a batch of amazing granola
No granola is complete without a healthy amount of cinnamon and spice. Feel free to tweak this recipe with whatever nuts and grains you have on hand. Once you make a batch of homemade granola, you'll never look back!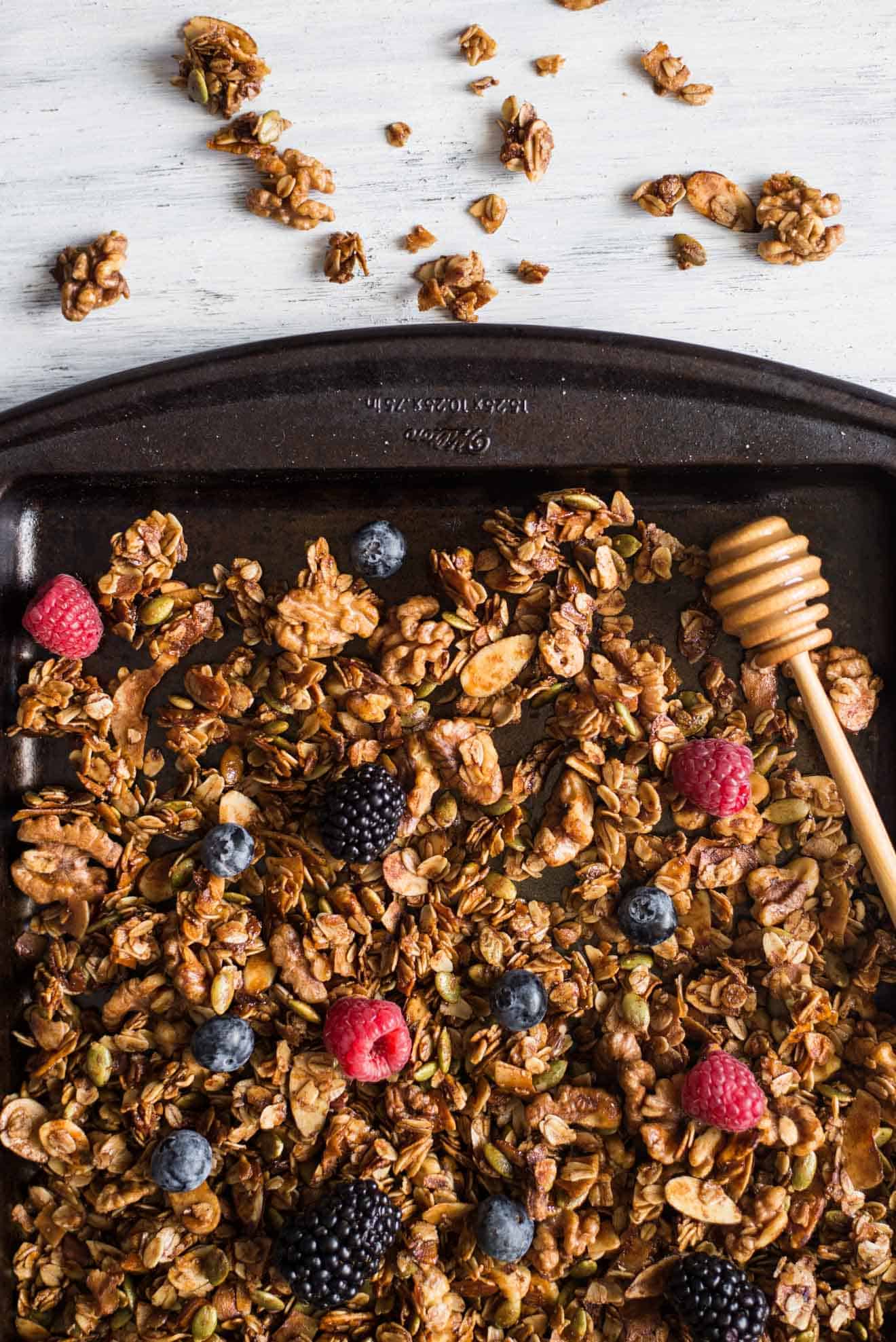 COOKING NOTES ON THE HEALTHY GRANOLA RECIPE
Bake with low heat: This granola takes about an hour to make, which sounds like a long time but is worth the wait. The key to a good batch of granola is low heat. Baking granola between 350 to 375 degrees F does save time. However, the ingredients in your granola with a higher fat content (nuts, seeds, coconut, etc.) can burn easily. Having burned about 6 batches of granola in the past, I learned that baking it at 275 degrees (135 degrees C) is the sweet spot. Plus, I think that the granola tastes better when cooked at a low heat.
CLUSTERS: If you like granola clusters, here's what you need to do. DO NOT stir the granola during the baking process. The granola will bake into a solid block and you can break it up once it cools off.
TOOLS I USED
LOOKING FOR MORE WAYS TO COOK WITH OATS?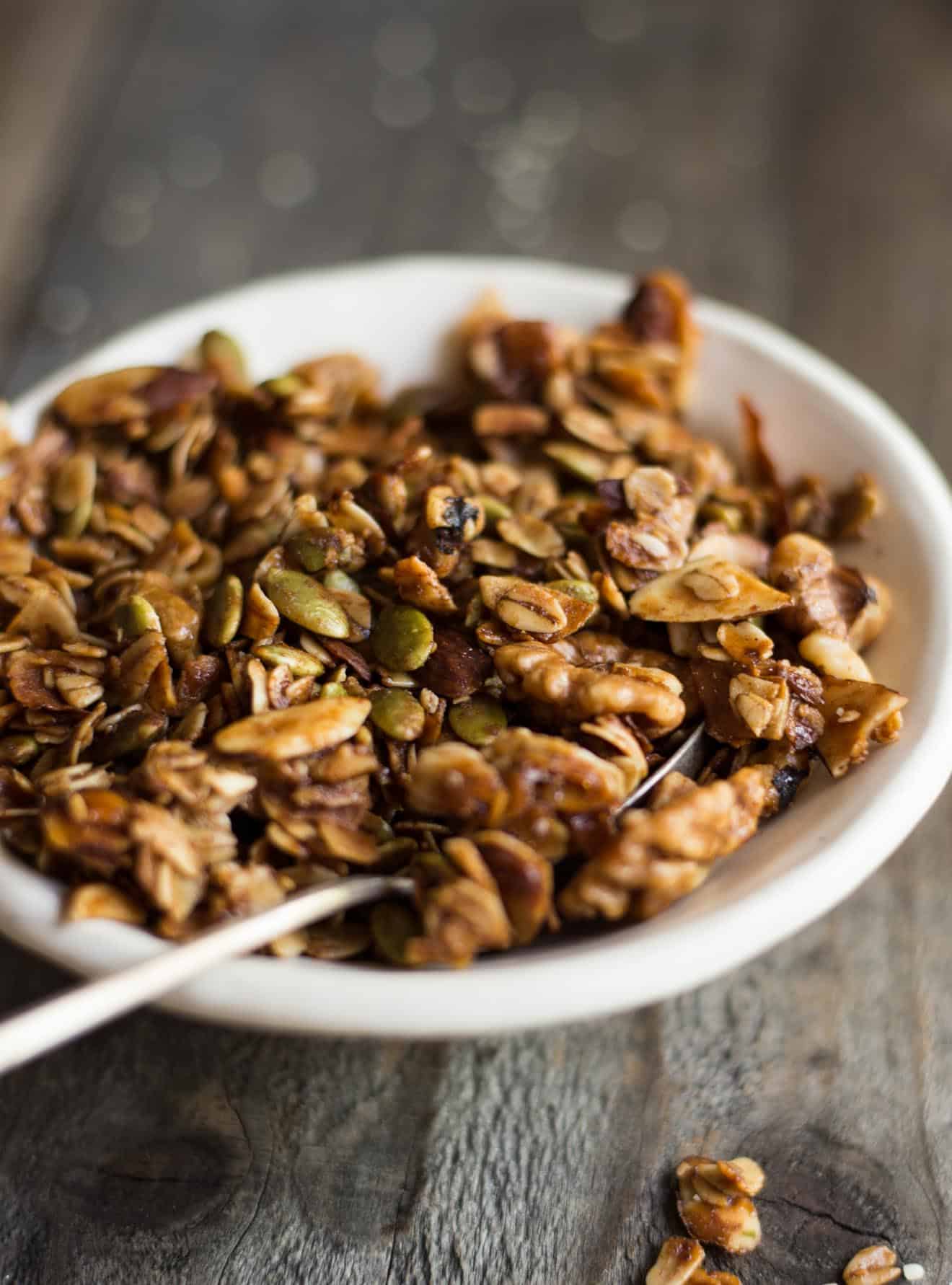 Easy Healthy Granola Recipe
Making granola at home is easier than you think! This simple oats and honey granola is lightly sweet and filled with nuts and seeds.
Ingredients
2

cups

(225g) rolled oats

1

cup

(110g) walnuts

1/2

cup

(60g) sliced almonds

1/2

cup

(80g) pumpkin seeds

1/2

cup

(40g) flaked unsweetened coconut

1

teaspoon

ground cinnamon

1

teaspoon

ground ginger

pinch

of salt

1/3

cup

(105g) honey

1/3

cup

(80ml) coconut oil, melted

1

teaspoon

pure vanilla extract
Instructions
Preheat oven to 275 degrees F (135 degrees C). Line a large baking sheet with parchment paper and set aside.

In a large bowl, mix oats, walnuts, almonds, pumpkin seeds, coconut, cinnamon, ginger, and a pinch of salt. Add honey, coconut oil, and vanilla. Stir until incorporated.

Spread out granola on baking sheet. Bake for 45 minutes, stirring midway through. If you want clustery granola, do not stir.

Let granola cool for 20 to 30 minutes before eating. The granola will crisp up after it is out of the oven. I didn't want big clusters this time, so I stirred the granola after 10 minutes of cooling to break up everything.

Serve with yogurt or eat them by the handful! Store in an airtight container.
Notes
NUTRITION INFORMATION: Yields 18 servings (1/4 cup per serving). Amount per serving: Calories: 156, Total Fat 10.7g, Saturated Fat: 4.7g, Sodium: 9mg, Cholesterol: 0mg, Total Carbohydrate: 13g, Dietary Fiber: 2g, Sugar: 5.6g, Protein 4g
To make the berry bowl that you see in the first picture, blend some yogurt with a handful of mixed berries until smooth. Top with more yogurt, berries, granola, and hemp seeds.
Did you make this recipe?
Tag @hellolisalin or leave a star rating and comment on the blog!