We all love fresh spring rolls at restaurants, but did you know they're easy to make at home? These delicious, flavorful shrimp spring rolls with peanut sauce are ready in under 45 minutes!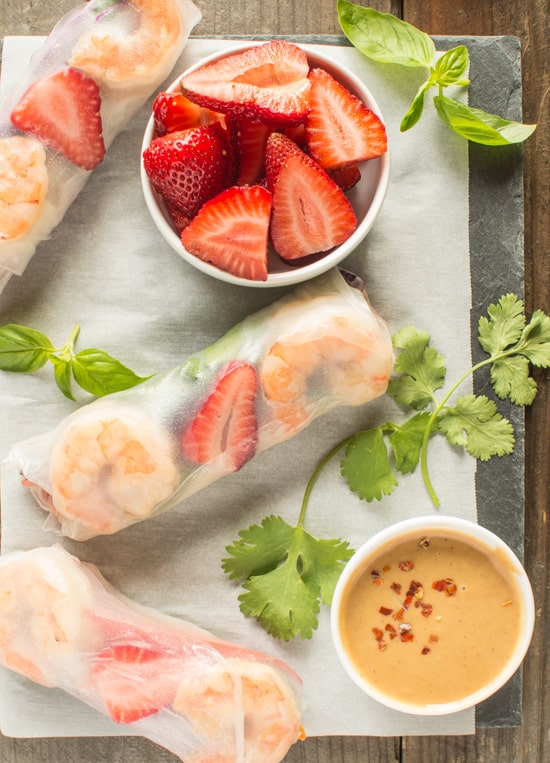 Six years ago, I was sitting on a beach in Thailand, sipping on a cold pint of Chang while playing a game of "what does that cloud look like." Come to think of it, why don't we play that game right now? I see a lounging dinosaur craning its long neck to the right and blowing steam out of its nostrils. What do you see?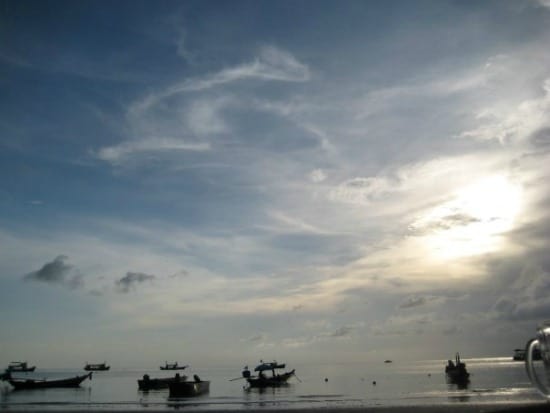 Lately, I've been going through a lot of old photos from my ye olde travels. This one from Koh Tao was filed under a folder named "SPRING BREAKKK!!!" All the Ks and exclamation points are totally necessary.
During my trip to Thailand, I learned several important things:
1. The best fruit smoothies come from Thailand. They have the freshest, sweetest, most wide selection of tropical fruits I've ever tasted. Jamba Juice has nothing on them. More importantly, they go for about $1 to $2 a pop. I can't even buy an orange for a dollar!
2. I'm not made for beachside dinners around sunset. Doesn't it sound nice to have dine on the beach and while the sun slowly descends into the horizon? Sure, if you don't mind the 1000+ mosquitos that are buzzing around your legs. I was downright mauled by mosquitos during that dinner. You know what was my travel buddies' best mosquito repellant? ME. No matter how many layers of poison I sprayed on myself, those pesky critters came for me.
3. I can't handle the whole monsoon season thing. Would you believe it if I told you that the photo below was taken only 2 hours before I took the photo of the dinosaur cloud? No, I didn't feel the urge to pull a Gene Kelly "Singin' in the Rain" number here.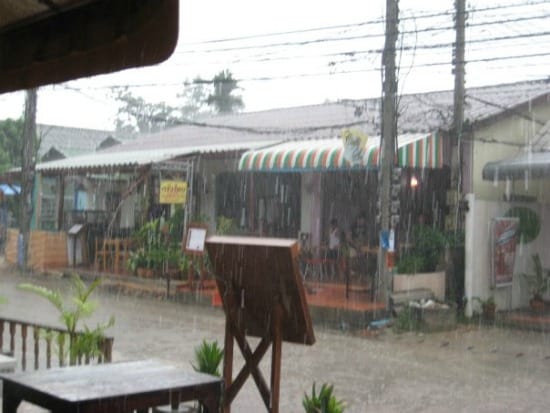 4. Full Moon Party = overrated. All I remember is walking on the beach until 3 or 4 a.m., drinking out of a bucket of the cheapest, nastiest booze mixed with Coca Cola and a lot of ice. It was not a shining moment for me.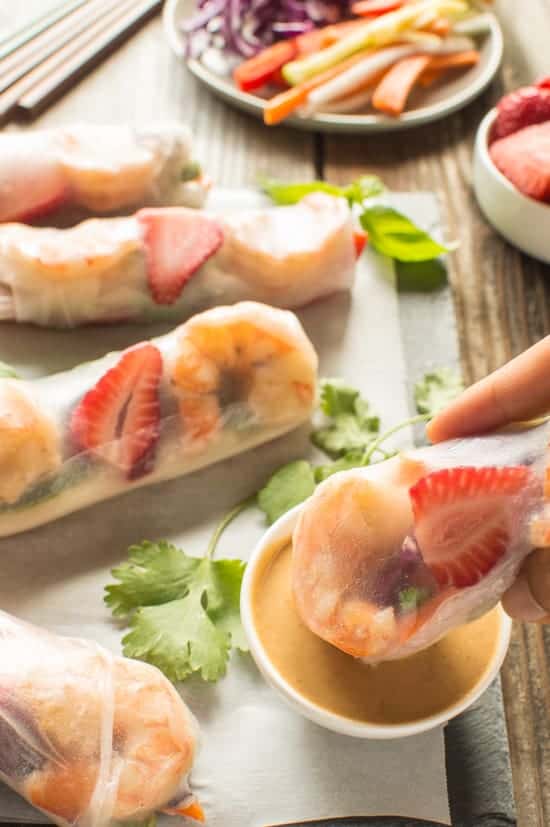 There's a reason why I have been thinking about Thailand recently. I'm part of the Food Bloggers Central Facebook Group, and Nagi at Recipe Tin Eats came up with a great idea for us to do a blog hop and try another blogger's recipe. I was paired with Michelle from Vitamin Sunshine. Michelle is based in Kuala Lumpur, and I can't tell you how jealous I am of all the tropical food she gets to play with all the time.
Going through Michelle's blog, the post that immediately grabbed my attention was her photo journal of Bangkok street eats. I miss the sight of fresh tropical fruits lining the streets. From afar, it looks like a wall of wonderful bright colors. I left my heart in Southeast Asia.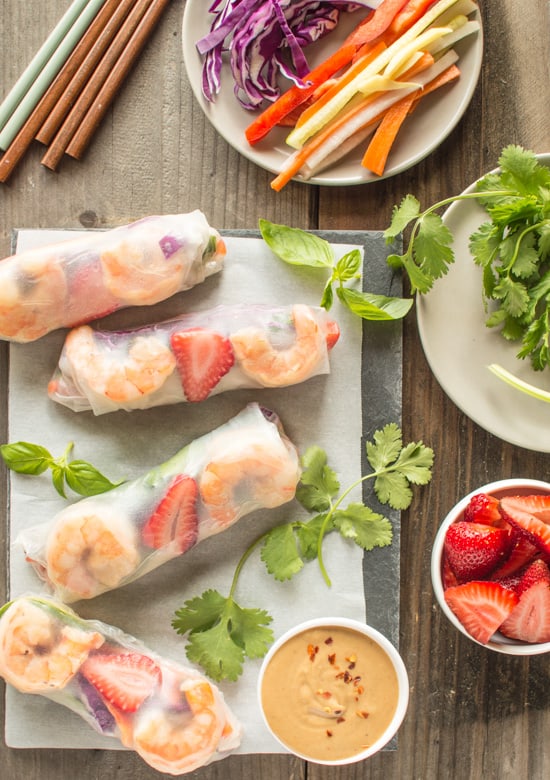 To rekindle the fond memories I have of Thailand, I decided to make these Fresh Spring Rolls with Shrimp with a few modifications. First, I added pickled vegetables, mainly because I enjoy the tangy flavors they add to spring rolls. I used this pickled vegetables recipe of mine. I also made a peanut dipping sauce instead of the almond version from Michelle's recipe. Peanuts give off a slightly sweeter taste than almonds do, and sweetness is I want in my dipping sauce. Finally, I added strawberries because, well, why not? It's spring, and I'm just happy that strawberries are sweet again. Let's throw in some seasonal fare into these delights.
Friends, these spring rolls are legit. One bite, and it took me back to my tranquil, yet mosquito-filled, time in Thailand. Thanks, Michelle!

Lisa Lin
Shrimp Spring Rolls with Peanut Sauce
Serves 4 to 5. Prep time does not include the time to prepare the pickled vegetables
30 minPrep Time
8 minCook Time
38 minTotal Time
Ingredients
Shrimp

1 lb (450g) shrimp, shelled and deveined
1 tsp sesame oil
1 TBS chopped fresh ginger
1 clove garlic, finely minced
1 TBS low-sodium soy sauce
1 tsp rice wine vinegar
1/2 tsp honey

Spring Rolls

12 rice wrappers
1/2 cup (15g) fresh basil leaves
1/2 cup (15g) fresh cilantro leaves
1 1/3 cups (140g) shredded red cabbage (about a quarter of a small head of cabbage)
1 large red bell pepper, thinly sliced
pickled vegetables ( recipe here )
6 large strawberries, sliced

Peanut Sauce

1/4 cup creamy peanut butter (I used a slightly salted one)
1/4 cup full-fat coconut milk (from the can)
1 TBS rice wine vinegar
1 TBS low-sodium soy sauce
1/2 TBS lime juice
1/2 TBS honey
1 tsp sesame oil
Instructions
PREPARE THE SHRIMP: Heat 1 teaspoon of sesame oil over medium heat. Add the ginger and garlic, and let them cook for about 2 minutes. Add the shrimp, and cook each side for 2 to 3 minutes. The shrimp will be done when it looks orange and the shrimp has started curled inward. While the shrimp is cooking, stir the soy sauce, rice wine vinegar, and honey. Drizzle this sauce over cooked shrimp. Let the shrimp cool for at least 20 minutes.
PREPARE THE SPRING ROLLS: Fill a bowl with hot water. Dip a sheet of rice paper wrapper and wet it entirely. The wrapper doesn't have to be completely soft, just moist. It will continue to soften as you add more ingredients to it. Place the wrapper on a flat surface. Fill the wrapper with shrimp, a slice of strawberry, all the vegetables, 2 to 3 basil leaves, and a few cilantro leaves. Fold the lower half of the wrapper over the filling. Fold in the left and right sides toward the center. Continue rolling everything like you would a burrito. The spring rolls should seal nicely.
PREPARE THE DIPPING SAUCE: In a small bowl, mix all the peanut sauce ingredients until well incorporated.
Serve immediately and refrigerate leftovers.
Notes
1. Recipe adapted from Vitamin Sunshine .

2. If you have leftovers, store the rolls in an airtight container and refrigerate it. When you are ready to eat them again, microwave the spring rolls for about 15 seconds to soften the skin. The sauce will become quite thick once it is refrigerated. It will soften in room temperature, but if you are pressed for time, just microwave it for 15 seconds.

3. If you are going to roll your spring rolls over a wooden board like I did, make sure to wet the board and reapply water once the board starts to dry up. This will help make the wrappers less sticky on the board.
7.6.4
423
https://healthynibblesandbits.com/shrimp-spring-rolls-with-peanut-sauce/
Looking for more shrimp recipes?
Rice Noodles with Shrimp & Snow Peas