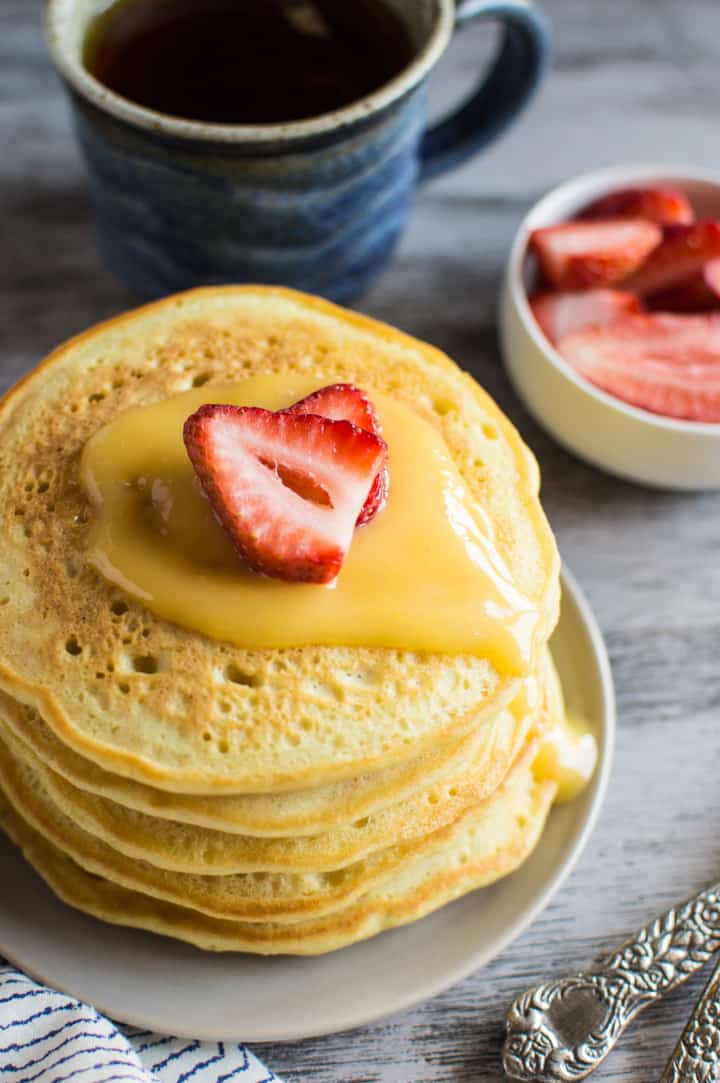 This conversation is sponsored by Silk. The opinions and text are all mine.
Many moons ago, I was a low-level cashier at my college's main food court on campus. To all of my friends who ever doubted my mental math skills, all I have to say is that I was damn good at my job. Money, Asian genes—there's probably some correlation there. I learned a few nifty tricks while I was working there, like how to refill the soda concentrate in the soda fountain and how to spot counterfeit bills like a pro. To this day, I hold big bills to the light to check for watermarks.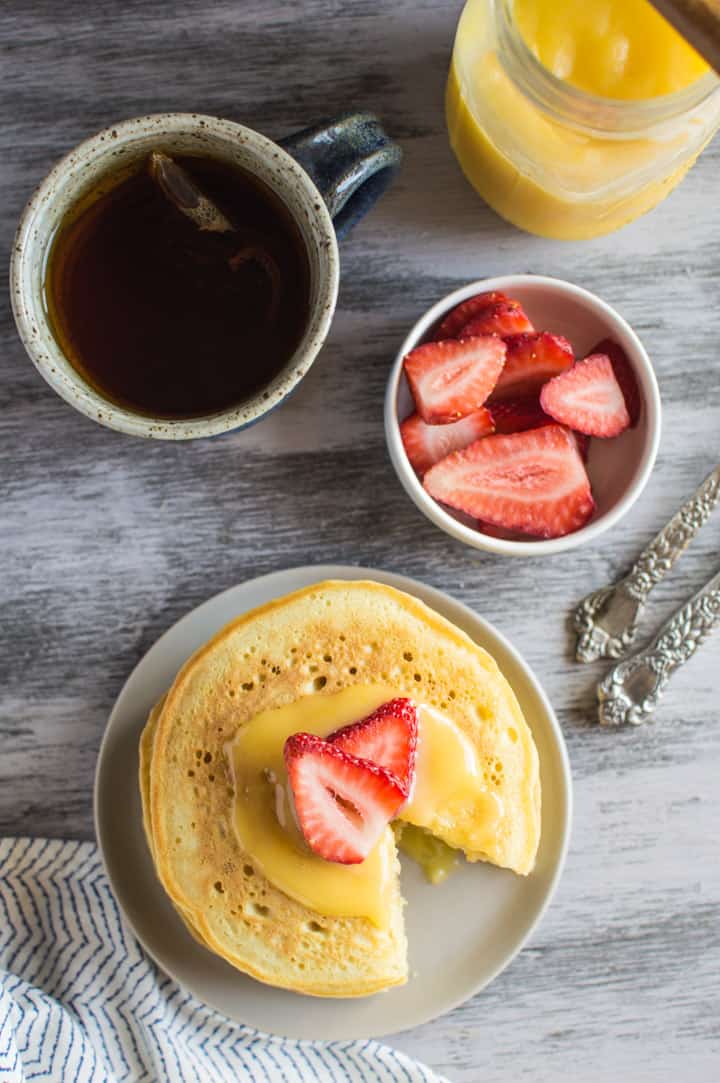 Would it surprise you if I told you that my favorite shift was working at the bakery? No, I didn't think so either. I mean, coffee and sweets for days! For the most part, I fought the temptation to throw money on everything there. Lemon bars were my Achilles' heel though. The first time I sunk my teeth into that thick, luscious layer of baked lemon curd felt like citrus heaven. I probably added new cavities every time I devoured one of those 2 x 2 squares of lemony gold.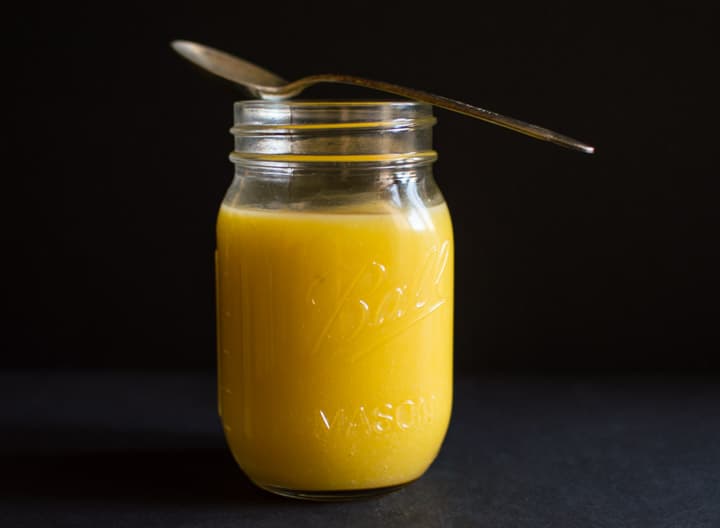 It's a sin that I have never made any lemon bars at home, so we're going to correct that with some baby steps, starting with this sweet lime curd. I based it off this delicious meyer lemon curd recipe from Hungry Girl Por Vida and cut down on the sugar and butter. Instead of going all sweet lime, I added one lemon in here for some tartness. A citrus curd just ain't right without a bit of tart flavor.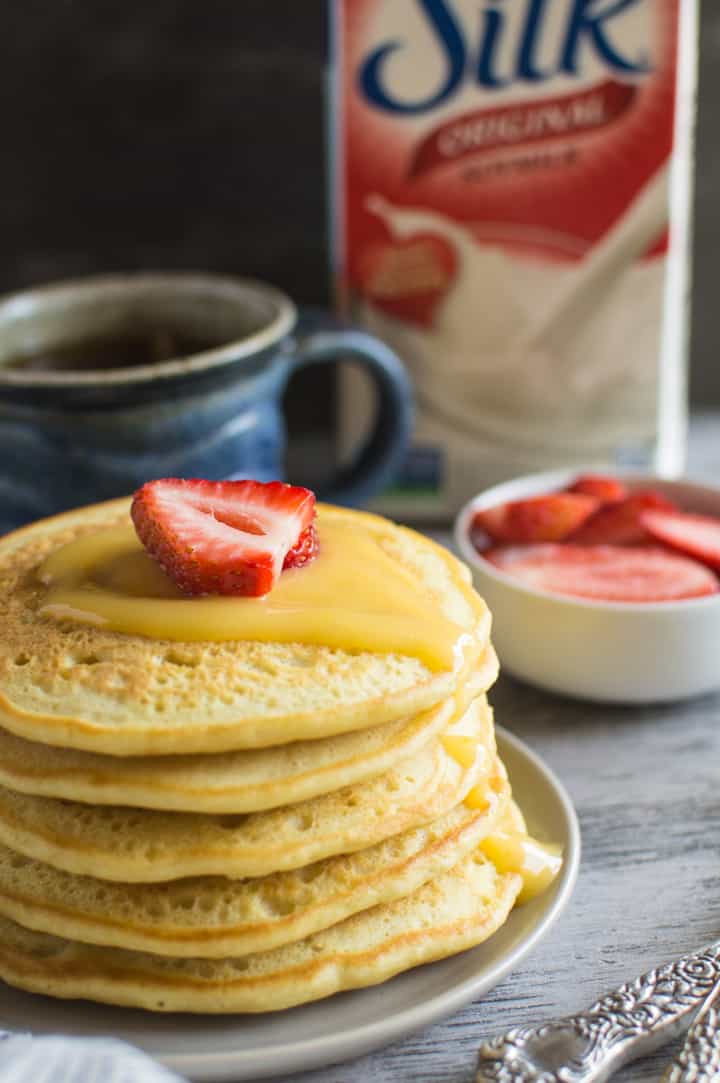 I could have just incorporated the sweet lime curd into a dessert bar, but my cravings were pointing towards a breakfast dish. Bring on the pancakes!
By now, you probably know how much I enjoy using soy milk to cook my pancakes. I do it on the regular. Silk's soy milk is a great substitute for regular milk because it has the same creamy consistency minus the cholesterol and way less saturated fat. Plus, Silk's soy milk adds natural, plant-based protein to the pancakes—we're talking 8 grams of protein per serving! More protein = more filling meals = no more hangry Lisa. You don't want to see me when I'm hangry.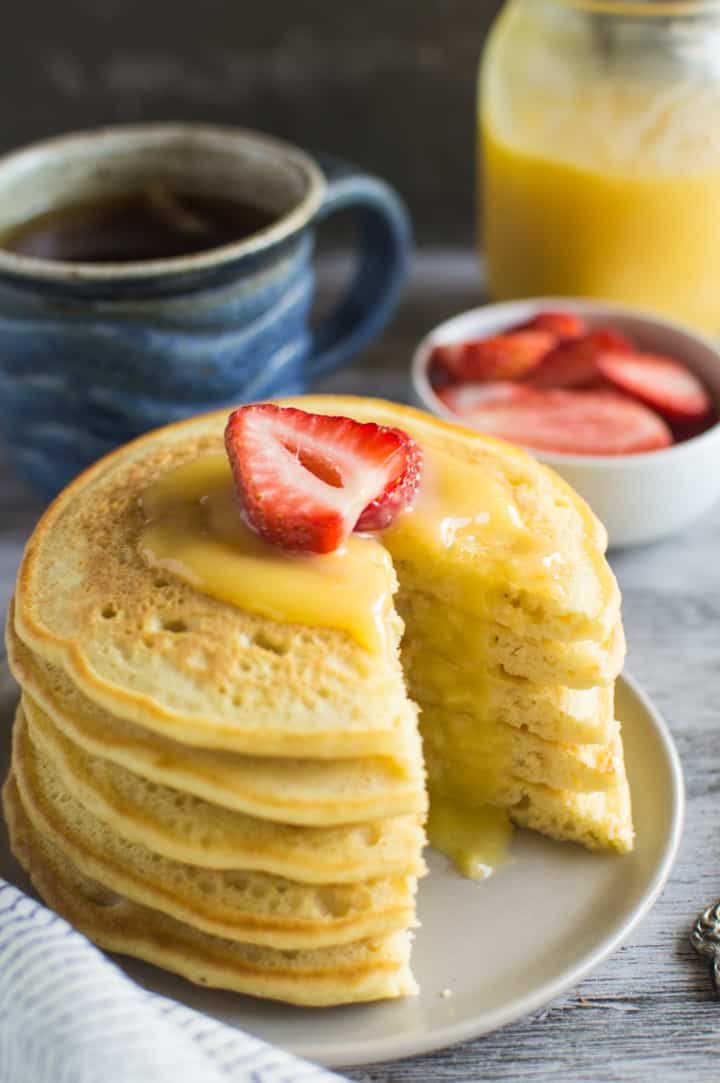 If you haven't tried Silk's soy milk yet, what are you waiting for? Click here to receive free coupon on your next soy milk purchase. Then, check out Silk's Pinterest board for delicious recipe inspiration. Let's get cooking!
Soy Milk Pancakes with Sweet Lime Curd
Super fluffy soy milk pancakes are topped with a luscious sweet lime curd and sliced strawberries. Great for breakfast! Serves 8.
Ingredients
Sweet Lime Curd
1/2

cup

freshly squeezed sweet lime juice

,

about 2 sweet limes

1/4

cup

freshly squeezed lemon juice

,

about 1 lemon

zest from one lemon

4

TBS

butter

1

cup

granulated sugar

6

egg yolks
Pancakes
1

cup

Silk soy milk

1

TBS

apple cider vinegar

1

cup

all-purpose flour

1 1/2

TBS

granulated sugar

1

tsp

baking powder

1/2

tsp

baking soda

1/2

tsp

salt

1

large egg

1 1/2

TBS

coconut oil

,

melted

natural cooking spray

sliced strawberries for topping

,

optional
Instructions
Heat the butter in a small saucepan over medium-low heat. When the butter is melted, add the rest of the sweet lime curd ingredients and whisk until well incorporated. Keep stirring the mixture until the curd is thick enough to coat the back of a spoon. You don't want the curd to boil. Turn off the heat and let the sweet lime curd cool.

In a small bowl, stir the soy milk and apple cider vinegar, and set it aside for 5 to 10 minutes. The soy milk will curdle, but that's what we want.

In a medium bowl, whisk the dry ingredients for the pancakes together. Add in the egg, coconut oil, and soy milk to the dry ingredients. Stir everything until the dry ingredients are just incorporated. Visible lumps are okay!

Heat a skillet or a pan over medium-low heat. You want to cook the pancakes on low heat or else they will burn quickly. Spray the heated pan with cooking spray.

Pour a bit of batter for each pancake, and spread the batter to 4 to 5-inch circles. Let the batter cook until some of the bubbles that form on the pancakes have popped. Flip them over and cook for another minute. Repeat for the rest of the batter. You should have about 8 pancakes total.

Serve pancakes with a bit of the sweet lime curd and sliced strawberries.The sweet lime curd will be runny. If you want a stiffer curd, make it a day ahead.

You'll have a lot of sweet lime curd left, so pour it in a jar and wait until it cools before refrigerating. The curd can stay in the fridge for up to a week or in the freezer for a few months.
Did you make this recipe?
Tag @hellolisalin or leave a star rating and comment on the blog!
Looking for more pancake recipes?
Vegan Green Tea Matcha Pancakes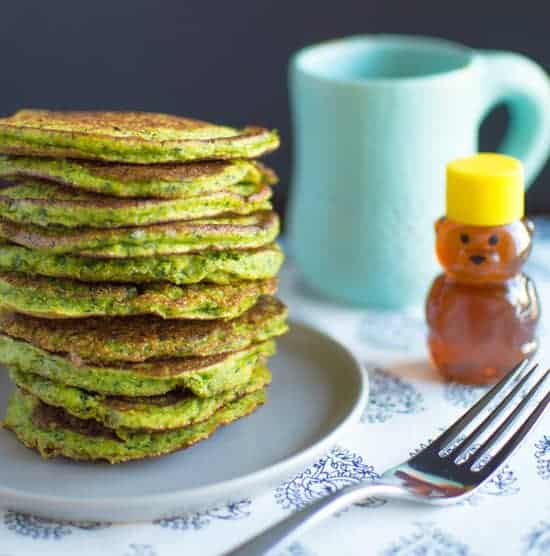 This conversation is sponsored by Silk. The opinions and text are all mine.