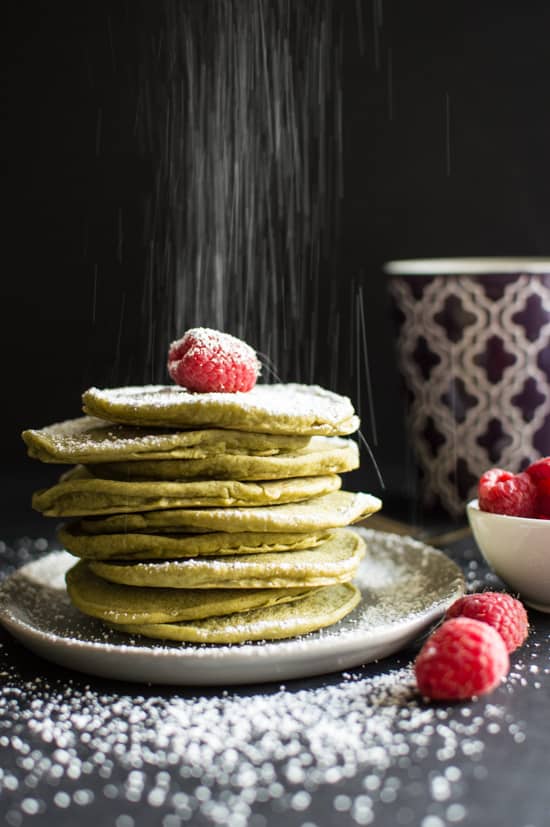 As a kid, I don't remember anyone teaching me the actual origins of St. Patrick's Day. All I knew was that it coincided with a deluge of arts and crafts revolving around four-leaf clovers, leprechauns, pots of gold at the end of the rainbow, and so much green. Oh, and how can I forget about the pinching? For the longest time, I thought the day was one big excuse for children to hurt each other. I will have you know that I was never that cruel! Miss goodie two shoes right here.
I'll be the first to admit I never got on top of St. Patrick's Day. I almost always forget to wear green, and I have all the scars on my arm to prove it. (I don't really, but let's pretend for dramatic effect.) Sometimes, I luck out by accidentally grabbing my green headband to the gym that day. In other years, I've tried to get away with wearing a shirt that had a tiny speck of green on it. Wouldn't it be easier if we could just celebrate St. Patrick's Day with food? Let's make it happen.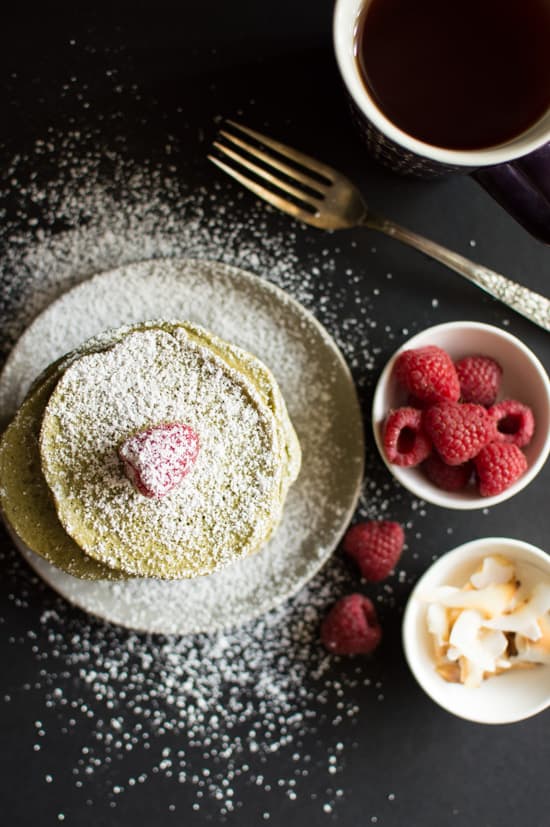 I've been struck by the green tea matcha bug. Just a little bit of matcha, and you'll get baked yummies with a delightful color. See these green tea chocolate chip cookies and green tea cupcakes. Add some to your pancake batter, and you'll make a dish that brings a smile to your face. Alright, maybe I can't guarantee that they'll actually make you smile, but I do hope so!
The big question is:

Me? It depends. On any given morning, I would go the Just Feed Me route because I am huuungry when I wake up. If I'm shooting photos of pancakes, I'll go with the Classic because I'm all about that pour shot. And you know what I mean when I say pour shot. But the Plain and Simple has been blowing my mind as of late. As someone how has a taste for all the lemon things, powdered sugar and a quick squeeze of lemon juice is the quick and dirty way to get my cravings sorted. Am I the last person in the world to hear know about this powdered sugar and lemon thing? If you haven't tried it yet, it's definitely worth giving a go.
Ready, set, snow!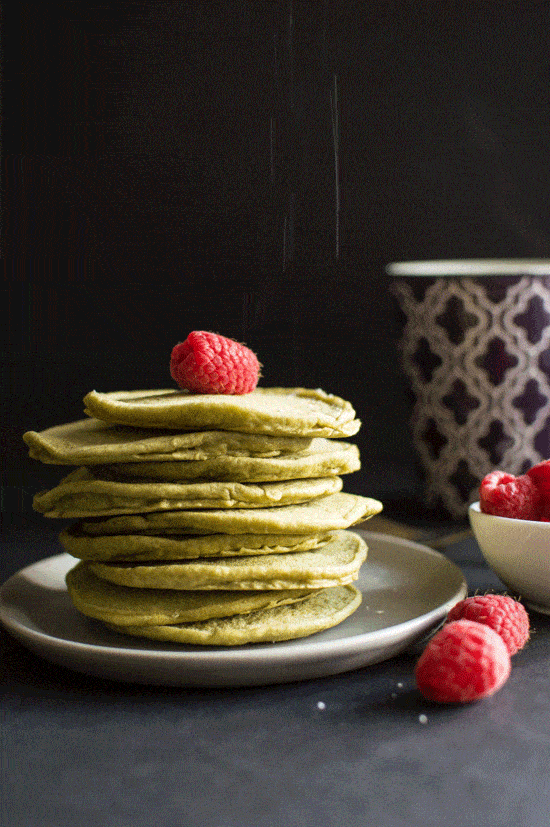 Vegan Green Tea Pancakes
Makes about 12 to 15 small pancakes, about 8 to 10 medium pancakes.
Ingredients
Pancakes
1

TBS

ground flax

3

TBS

water

1

cup

(235ml) soy milk

1

TBS

apple cider vinegar

,

optional

1

cup

(140g) gluten-free all-purpose flour

2

TBS

sugar

2

tsp

baking powder

1/2

tsp

salt

1/2

TBS

matcha powder

1 1/2

TBS

canola oil

cooking spray
Optional Toppings
powdered sugar

lemon juice

maple syrup

fruits

toasted coconut

peanut butter
Instructions
Prepare flax egg: In a small bowl, whisk together flax and water and set aside.

Prepare "buttermilk": In another bowl, whisk together soy milk and apple cider vinegar and set aside. I added vinegar to the milk to mimic buttermilk. If you're not concerned about the buttermilk taste in your pancakes, just skip this step.

In a medium bowl, mix the flour, sugar, baking powder, salt, and matcha powder together. Add in the canola oil, flax egg, and milk. The flax egg should be a gooey consistency, and the milk should have curdled a bit. Stir everything until well incorporated.

Heat a large pan over medium-low heat. I like cooking my pancakes on low heat to prevent them from burning too quickly. Apply cooking spray onto the pan and pour the batter. My pancakes were about 4 to 5 inches in diameter. Cook until you see that the edges of the pancakes start to puff up, about 2 to 3 minutes. Flip over and cook for another 2 minutes.

Serve with your favorite toppings. You can always make a large batch of this and freeze them for the rest of the week.
Did you make this recipe?
Tag @hellolisalin or leave a star rating and comment on the blog!
Looking for more breakfast inspiration?