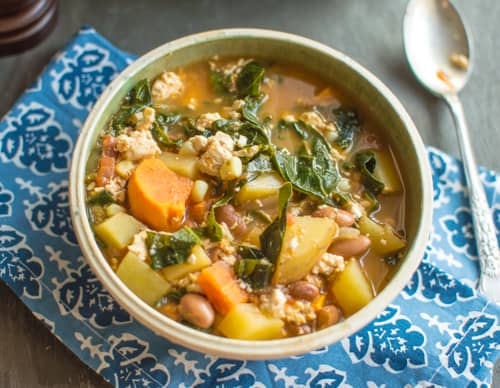 Why on earth would I make a chili dish when it's so hot out? Three possible reasons:
1. There is the saying that if you sip on hot drinks on a hot day, your body will turn on its natural cooling system, causing you to sweat. Sweat = the body's natural way to cool down. This may be proven by science, but I'll go ahead and reach for a cold beverage.
2. I was inspired by the new tofu sofritas at Chipotle. First off, yes, I do eat at Chipotle sometimes. I usually go there when I need a quick Mexican fix in the form of a salad. The burritos are much too big for me to finish in a sitting, but the salads are where it's at! I tried the new "tofu sofritas" on the menu this weekend: tofu braised in chipotle chili, roasted poblano, and other spices. It was so flavorful, way better than plain grilled chicken! That tofu sofritas inspired to make a chili with crumbled tofu.
3. I haven't done any grocery shopping yet. Okay, maybe this was the main reason I opted for the chili. As far as pantry-cleaning recipes go, I don't think I did a bad job either!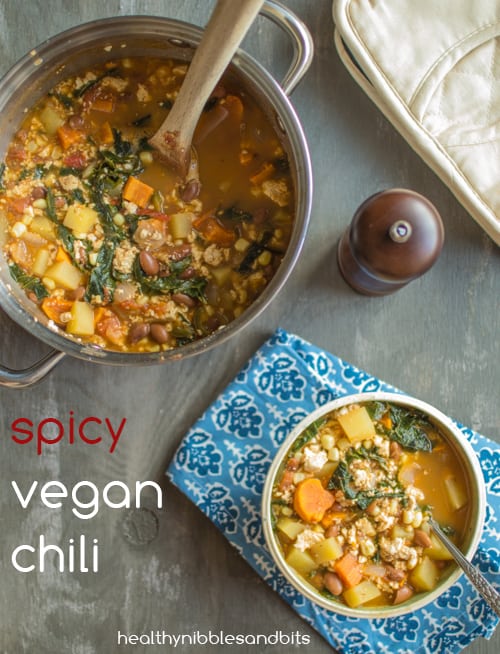 I pumped up the volume with the spices in this chili by adding an entire jalapeño, 2 teaspoons of chili powder, and a teaspoon of cayenne pepper. I probably could have turned up the dial with the spices a bit more, but I wanted to make it through an entire bowl without sweating a storm.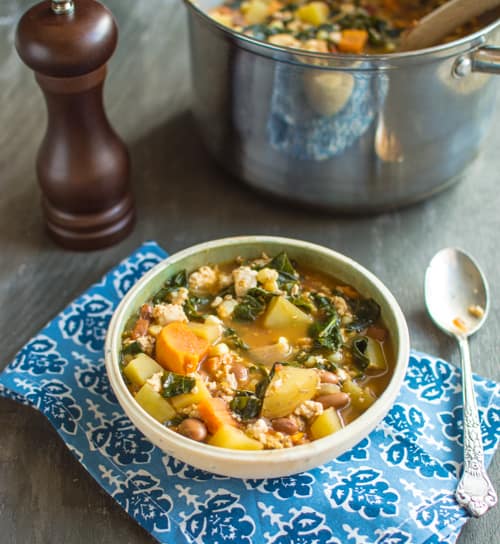 The potato, beans, and tofu combination in this chili was so filling that I didn't need much more than a cup and a half of this to be full!
Spicy Vegan Chili
Ingredients
1 1/2

TBS

olive oil

1/2

large yellow onion

,

diced

1

medium yukon potato

,

diced

1

medium sweet potato

,

peeled and diced

3

medium roma tomatoes

,

diced

1

jalapeño pepper

,

diced (I kept the seeds for more spice)

2

garlic cloves

,

minced or pressed

2

tsp

chili powder

1

tsp

cumin

1/2

tsp

cayenne pepper

3

cups

vegetable broth

1

cup

(~260g) canned pinto beans, rinsed

4

large collard green leaves

,

about 4 cups chopped

1 14-

ounce

package firm tofu

,

396g, rinsed and drained

2

tsp

salt

freshly ground pepper

,

optional
Instructions
Heat the olive oil in a pot over medium-high heat. Once the pan is hot, add the onions. When the onions start to turn translucent, add the diced potatoes. Let it cook for a minute or two, and add the diced tomatoes, jalapeño, garlic, chili powder, cumin, and cayenne pepper.

Cook everything for about another minute and add the vegetable broth. Bring the broth to a boil.

While the chili is cooking, remove the rough stem from the collard green leaves. Chop them into strips.

Once the chili has boiled, add the beans and chopped collards. Chop the tofu in half, and crumble each half with your hands. I did this right over the boiling pot. Be careful of hot liquids splashing out!

Season with the salt and boil for another 5-10 minutes, or until the potatoes can be easily pierced with a fork.

Turn off the heat and serve the chili with some ground pepper.

Store any leftovers in an airtight container.
Did you make this recipe?
Tag @hellolisalin or leave a star rating and comment on the blog!