These simple gluten-free waffles are made with oat flour and topped with strawberries and homemade whipped cream! Plus, here's a neat trick on how to make whipped cream in a jar!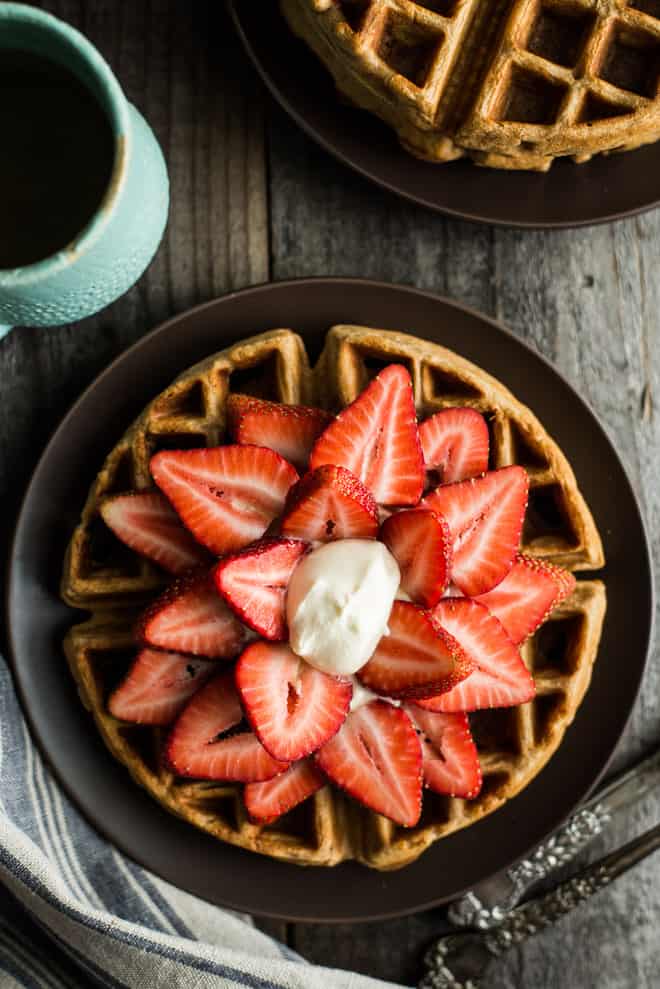 We're working with magic today. Pure magic.
Pour heavy cream into a jar, give it a good shake, and, poof, fresh whipped cream in your jar! I first talked about this whipped cream trick last year with my churro waffles, but I really wanted to make a video so you could see how easy it is to make. Seeing is believing, right?
Why does whipped cream in a jar work? If you think about it, when we're shaking heavy cream in a jar, we're forcing air molecules to integrate with the cream, just like whisking heavy cream with a mixer. The longer we shake the jar, more the air bubbles will surround the fat in the cream and turn the liquid into a sturdy structure. It all seems like magic to me.
Now that I'm starting to see more strawberries pop up at my farmers' market, I can no longer resist the urge to pick up a few baskets of them and bring them home. They're still not quite in their peak season form yet, but I can't care less. Those ruby berries are just calling my name!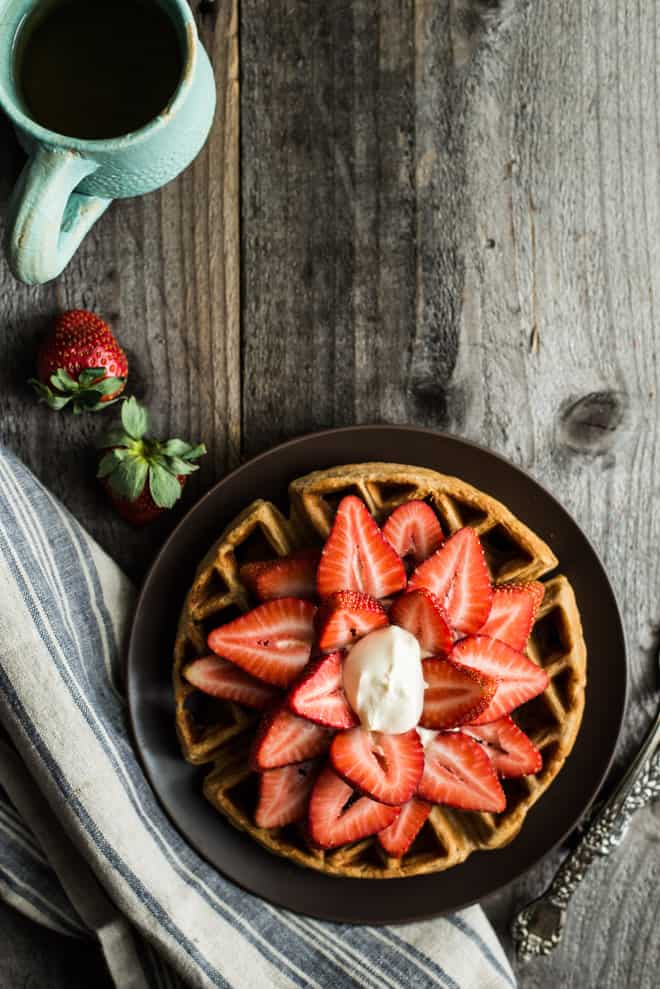 MASTER MY MISTAKES / COOKING NOTES
When to stop shaking: When you start shaking the jar, you'll hear the heavy jostling inside the jar. Stop ONLY when you can no longer hear anything moving inside the jar. This process usually takes me 3 to 5 minutes. I've seen some videos say that you can finish whipping the cream in 45 seconds, but that's never long enough for me.
Let batter rest before cooking: When you're working with gluten-free batters (whether they're for waffles, pancakes, muffins, or breads), you want to let it rest for about 10 to 15 minutes before cooking it. Gluten-free flours need some extra time to absorb moisture. You may notice that the batter is very runny right after you mix it. If you let it sit for a little while, the batter will thicken.
Coconut Sugar: I tried making the waffles with regular sugar, coconut sugar, and maple syrup. The waffles made with coconut sugar are by far my favorite because of the golden color.
Adding chopped strawberries to the batter: I thought it would be a good idea to add some strawberry chunks into the batter, but my waffles didn't turn out great. The chopped strawberries actually added too much moisture and made my waffles soggy.
Try to warm up the milk and use room temperature eggs: Because melted coconut oil hardens very quickly, I suggest using an egg that's been left out at room temperature and warming up the milk in the microwave for 30 seconds before mixing up everything. It's not essential, but I think the ingredients mix better this way.
Looking for more ways to enjoy the whipped cream? It also pairs very well with my churro waffles and soy milk pancakes.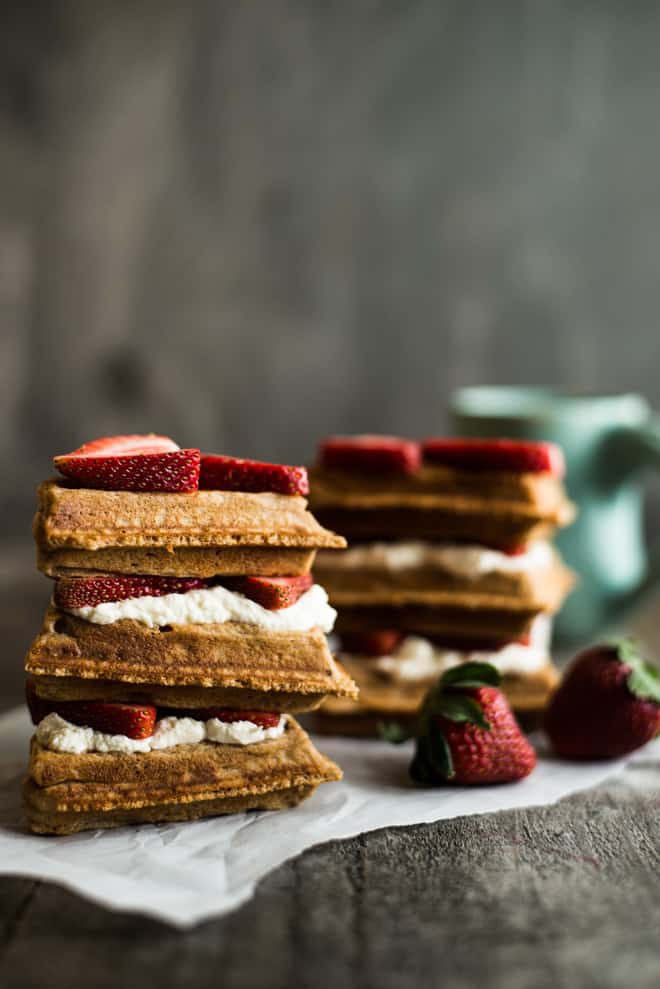 If you like my whipped cream video, I would love it if you could give it a thumbs up on YouTube! For the latest updates on my videos, subscribe to my YouTube channel! Also, if you try making any part of this recipe, let me know! Take a photo of your creation and tag me on Instagram so that I can give you a fist bump!
Strawberries & Cream Oat Flour Waffles
Ingredients
Whipped Cream
1

cup

heavy cream

3

TBS

powdered sugar

,

any sugar works*

1

tsp

vanilla extract

splash of Kahlua

,

optional
Waffles
1 3/4

cups

(220g) oat flour

2

TBS

coconut sugar

,

any sugar works

1 to 2

tsp

ground cinnamon

1/2

tsp

freshly grated nutmeg

1

tsp

baking powder

1/2

tsp

salt

3

TBS

melted coconut oil

1

large egg

1 1/3

cups

(315ml) low-fat milk (I used 2% milk)

2

tsp

vanilla extract

cooking spray

10 to 15

large strawberries

,

sliced
Instructions
Pour whipped cream ingredients into a jar. You want to make sure that the jar is not full after you pour in the cream. You want it to be 1/3 or 1/2 empty. Shake jar for 3 to 5 minutes, until you can no longer hear any liquids jostling inside. If you hear a little bit of liquid still shaking inside, it's NOT ready! Keep shaking. Chill whipped cream in refrigerator until you're ready to serve.

In a large mixing bowl, mix oat flour, coconut sugar, cinnamon, nutmeg, baking powder, and salt. Stir in coconut oil, egg, milk, and vanilla until well combined. A few small lumps are okay. Let batter rest for 10 minutes. Heat your

waffle iron

 to medium-high.

Spray your waffle iron with cooking spray and pour in about 1/2 to 2/3 cup of batter. Cook for 3 to 4 minutes, until the waffle are golden brown. Repeat with the rest of the batter.

Top waffles with sliced strawberries and serve with a dollop of whipped cream. Refrigerate leftover whipped cream in the jar for up to 3 days.
Notes
NUTRITION INFORMATION: Amount Per Waffle (without whipped cream): Calories: 330, Total Fat 14g, Saturated Fat: 9g, Sodium 359mg, Cholesterol: 40mg, Total Carbohydrate: 42g, Dietary Fiber: 4g, Sugar: 11g, Protein 10g
*1. If you're using regular sugar for the whipped cream, I would use between 2 to 2 1/2 tablespoons.
2. I like using coconut sugar for the waffles because it gives everything a deeper golden color. Feel free to use whatever sweetener you have on hand. Liquid sweeteners will work, too.
2. Because the melted coconut oil hardens very quickly, I suggest using an egg that's been left out at room temperature and warming up the milk in the microwave for 30 seconds before mixing up everything. It's not essential, but I think the ingredients mix better this way.
Did you make this recipe?
Tag @hellolisalin or leave a star rating and comment on the blog!