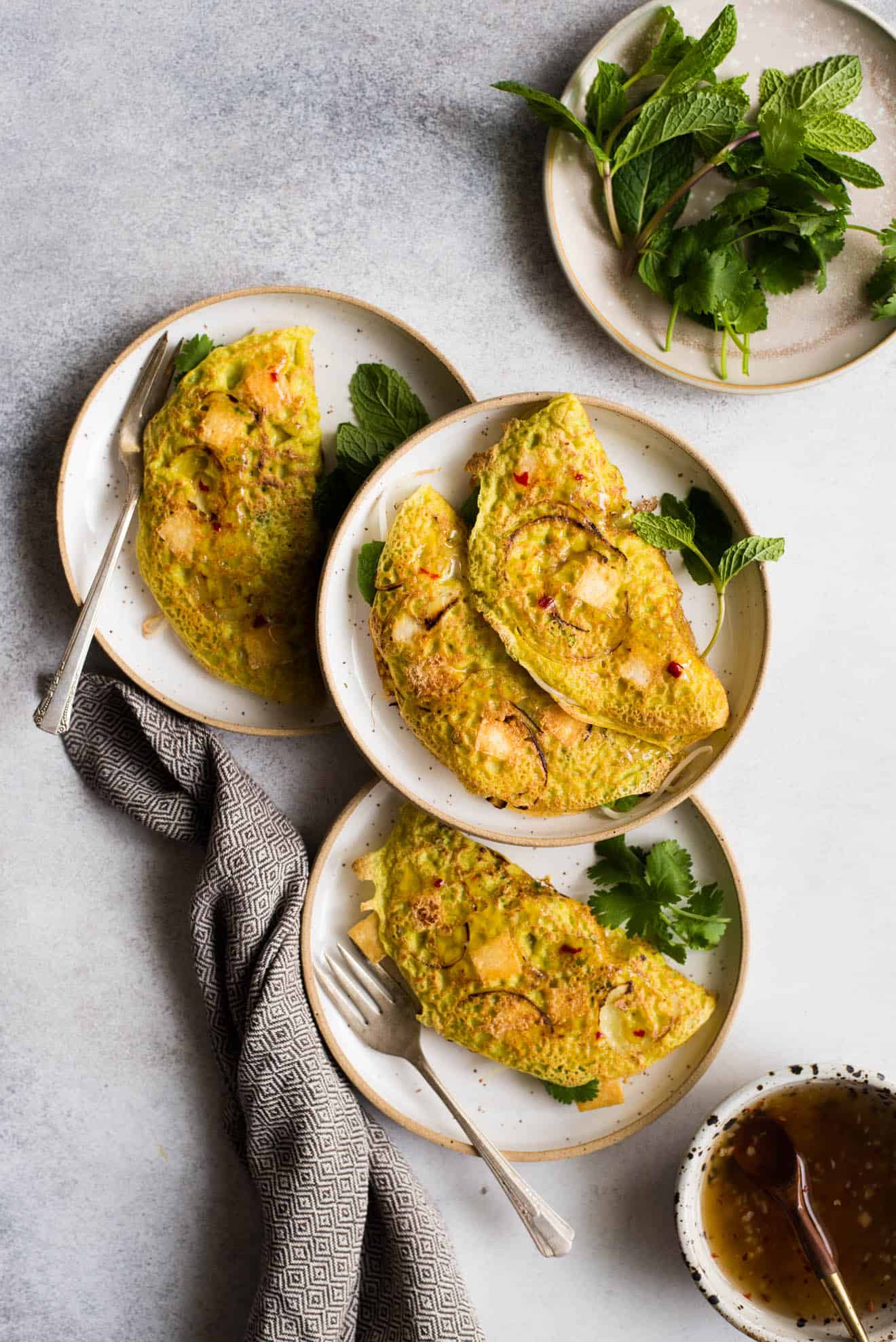 Thank you House Foods for sponsoring this post!
Like many people, I once made the mistake of referring to banh xeo as that "Vietnamese omelette thing" because, well, it looks a lot like an omelette. It's circular, yellow, stuffed with delicious surprises and folded over on itself. Except banh xeo aren't actually made from eggs—the batter consists of rice flour, water and turmeric, which gives it the yellow color. Literally translated, banh xeo means "sizzling cake," a reference to the delightful sizzling sound you hear as you pour the batter into the hot pan.
Traditionally, banh xeo are filled with shrimp, pork, mung bean sprouts, scallions and sometimes steamed mung beans. Vegetarian versions are not easy to find, which is why I developed this vegan recipe.
Instead of meat, I filled the banh xeo with pan-fried tofu cubes made with House Foods extra firm tofu. I love using their extra-firm tofu in general because it is quite firm right out the box, so I don't need to press them for too long before frying them up.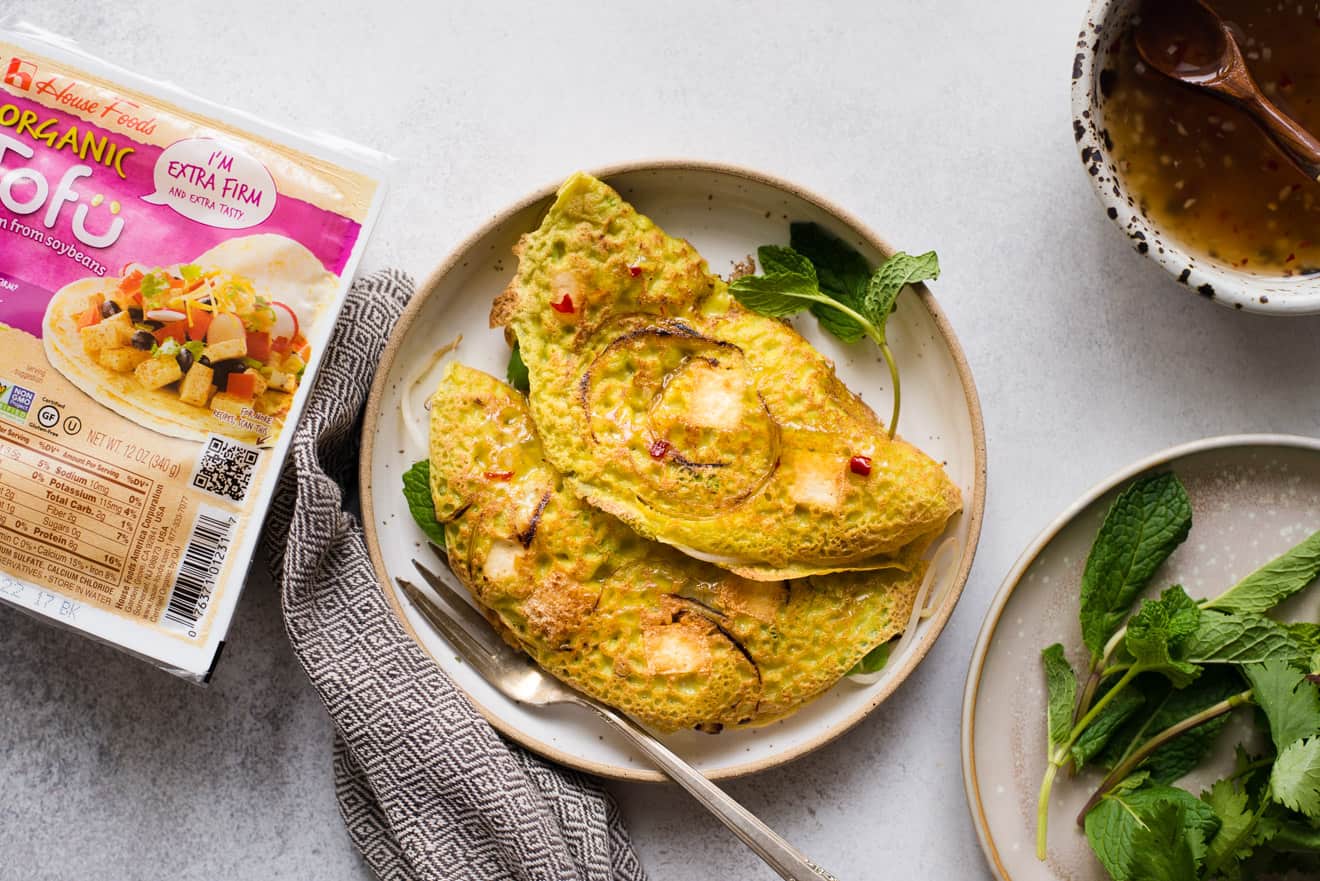 Because this banh xeo doesn't contain shrimp or pork, I need to add other spices to give the crepes more flavor. In the batter, I mixed in garlic powder, ground coriander and porcini mushroom powder, which I made by grinding dried porcini mushrooms. I love using porcini mushrooms because it adds umami flavor to any dish. If they're too much of a hassle to buy, go ahead and leave the powder out.
Banh xeo are often served with nuoc cham, a dipping sauce made with fish sauce. I tried making a vegetarian version of nuoc cham, but I haven't quite figured out a proper way to substitute the fish sauce (soy sauce isn't quite right). Instead, I'm serving the banh xeo with a sweet chili sauce, which is adapted from my honey chili sauce recipe.
These sizzling cakes are a bit time consuming to make, but they taste so good that the effort is all worth it!
MASTERING MY MISTAKES / COOKING NOTES
Use a nonstick skillet: Do yourself a favor and cook these on a good nonstick skillet (i.e., one that hasn't been beaten and is starting to lose it's nonstick coating). Because the batter is made out of rice, the banh xeo will want to stick to the pan. I tried cooking them in a cast iron skillet, and it was just bad news. It was so difficult to get one off the pan cleanly.
Adding mung beans to the batter: I tried many different variations of the batter and the one that yielded consistently good results without the cake ripping apart were the ones where I added blended soaked mung beans with the batter. If mung beans aren't readily available, feel free to leave them out. Don't be alarmed when the crepes rip as you try to fold them over.
The size of the skillet: For the banh xeo that you see in the photos, I'm using an 8-inch nonstick skillet. A 10-inch skillet will work fine, too. A 12-inch skillet makes banh xeo that are a little too big for me.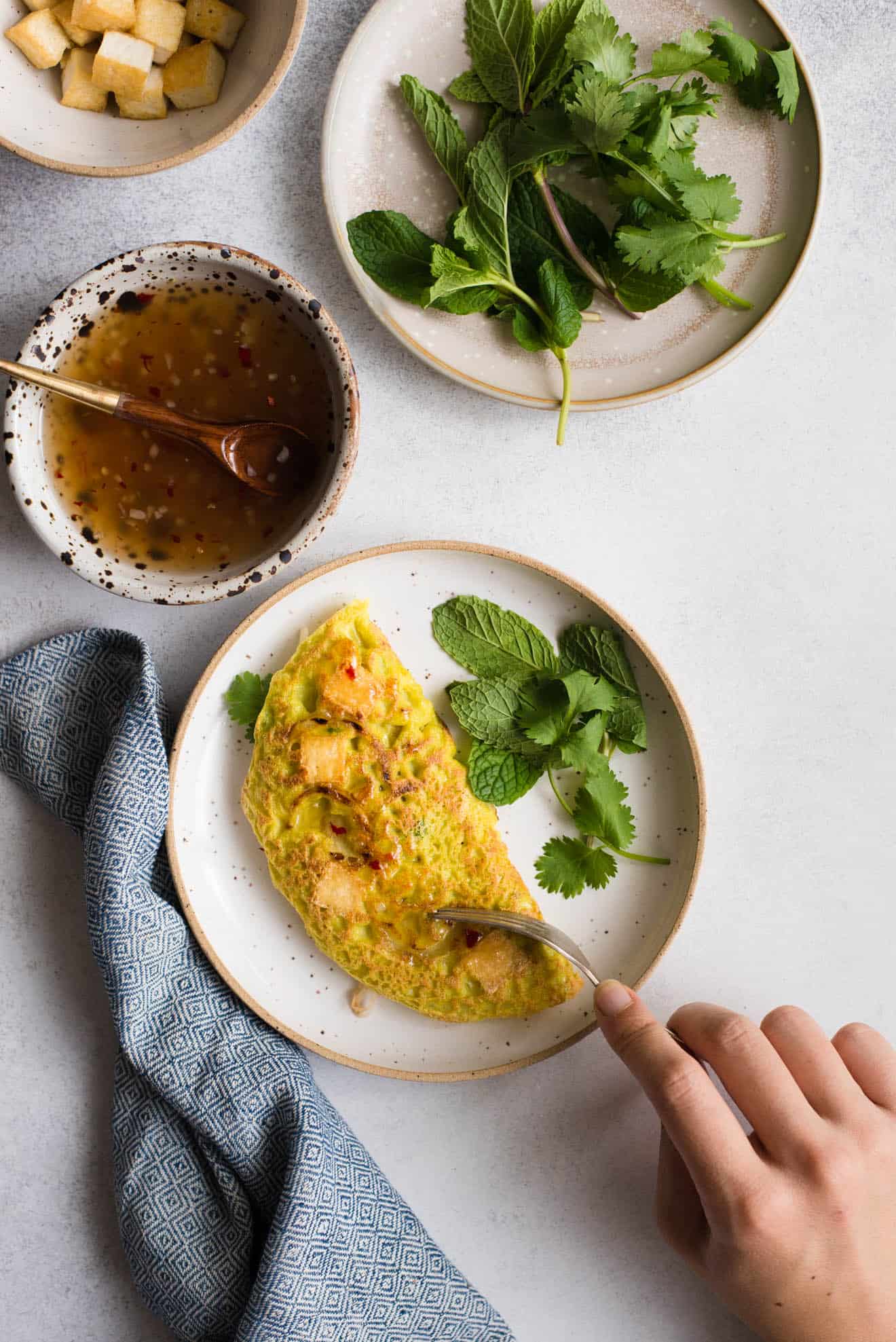 Vegan Banh Xeo (Vietnamese Sizzling Cakes) with Tofu
Ingredients
Banh Xeo
1/4

cup

mung beans

1 1/2

cups

water

1/2

can of coconut milk

,

about 3/4 cup

1

cup

rice flour

1

tablespoon

cornstarch

3/4

teaspoon

kosher salt

,

more to taste

1/2

teaspoon

turmeric

3/4

teaspoon

ground coriander

1/2

teaspoon

ground porcini mushroom powder

1/4

teaspoon

garlic powder

2

scallions

,

sliced

1

12-ounce House Foods extra-firm tofu

olive oil for frying

1/2

large onion

,

sliced thinly

2 1/2 to 3

cups

mung bean sprouts
Sweet Chili Sauce
1/2

cup

sugar

1/2

cup

water

2

tablespoons

rice vinegar

2

teaspoons

cornstarch

1

teaspoon

soy sauce

,

use tamari if gluten free

1/2

teaspoon

salt

1/4 to 3/4

teaspoon

red pepper flakes

,

depending on the amount of heat you want

1

clove

garlic

,

minced
Optional Sides
fresh mint leaves

fresh cilantro
Instructions
Prepare the batter
Pour the mung beans into a heat-safe bowl. Pour hot water over the beans and let it soak for at least an hour.

Add the soaked mung beans, water and coconut milk into a high speed blender, and blitz until smooth.

In a medium bowl, mix the rice flour, cornstarch, salt, turmeric, coriander, porcini mushroom powder and garlic powder. Pour the liquids into the flour mixture and stir until you get a silky batter. Mix in the sliced scallions, cover and refrigerate for at least an hour.
Cook the Tofu
Drain the tofu and wrap a layer of paper towels around the tofu block. Place the tofu on a plate and press it with a stack of plates placed over the tofu block. Let it sit for 15 minutes.

Remove the paper towels and slice the tofu along the length of the tofu block, making 8 slices. Take each slice and cut in half to get 2 thin rectangles. Cut each rectangle into 5 cubes. You should have about 80 tofu cubes when you're done.

Heat a large pan with about 2 tablespoons of olive oil over medium-high heat. When the pan is hot, add the tofu and cook until a few sides are golden brown, about 6 minutes. Flip the tofu cubes to get the other sides browned, but it's not necessary to brown all sides. Sprinkle a small pinch of salt over the tofu and stir. Turn off the heat and leave the tofu in the pan.
Cook the Banh Xeo
Heat about 1 to 1 1/2 teaspoons of olive oil in an 8-inch skillet over medium heat. Add a few slices of onions to the pan and cook for about 1 minute. Sprinkle 6 to 8 tofu cubes into the pan. Imagine there is a line running down the pan and arrange the onions and tofu on either side of that line, leaving about a 1-inch gap in between. This will make it easier for you to fold the banh xeo in half later. Pour a scant 1/4 cup of batter into the pan, swirling the batter to make sure that it covers the entire surface area of the pan. Enjoy the sizzling noise!

Once the outer edge of the banh xeo is slightly cooked, this takes about 20 to 30 seconds, add the mung bean sprouts to one half of the cake. Lower the heat a bit and cover the pan with a lid. Leave the lid on for about 1 minute. This helps soften the mung bean sprouts. Remove the lid and cook for another 1 or 2 minutes, until the edges are browned. Using a rubber spatula, gently lift the half of the banh xeo without the mung beans and flip it over the other half. Turn off the heat. Transfer the banh xeo to a plate and repeat with the remaining batter.
Make the sweet chili sauce
Add all the ingredients for the sweet chili sauce to a saucepan. Stir until the cornstarch is dissolved.

Heat the saucepan over medium heat. When the sauce starts boiling, let it simmer for about 3 minutes. Turn off the heat.

Serve the banh xeo with the sweet chili sauce, mint leaves and cilantro.
Notes
NUTRITION INFORMATION: Amount for 1/4 of recipe without the sweet chili sauce: Calories: 542, Total Fat 32.7g, Saturated Fat: 12.6g, Sodium: 387mg, Cholesterol: 0mg, Total Carbohydrate: 51.4g, Dietary Fiber: 5.8g, Sugar: 5g, Protein 15.8g
You can cook these in a 10-inch skillet. Add about 1 1/2 teaspoons of oil to the pan and pour 1/3 cup of batter into the pan. You should get about 8 to 10 banh xeo.
Did you make this recipe?
Tag @hellolisalin or leave a star rating and comment on the blog!
Disclosure: This post has been sponsored by House Foods. Thank you for supporting the brands that keep me inspired in the kitchen! To stay up to date with House Foods or to get recipe inspiration, visit their website or follow them on Facebook or Instagram!