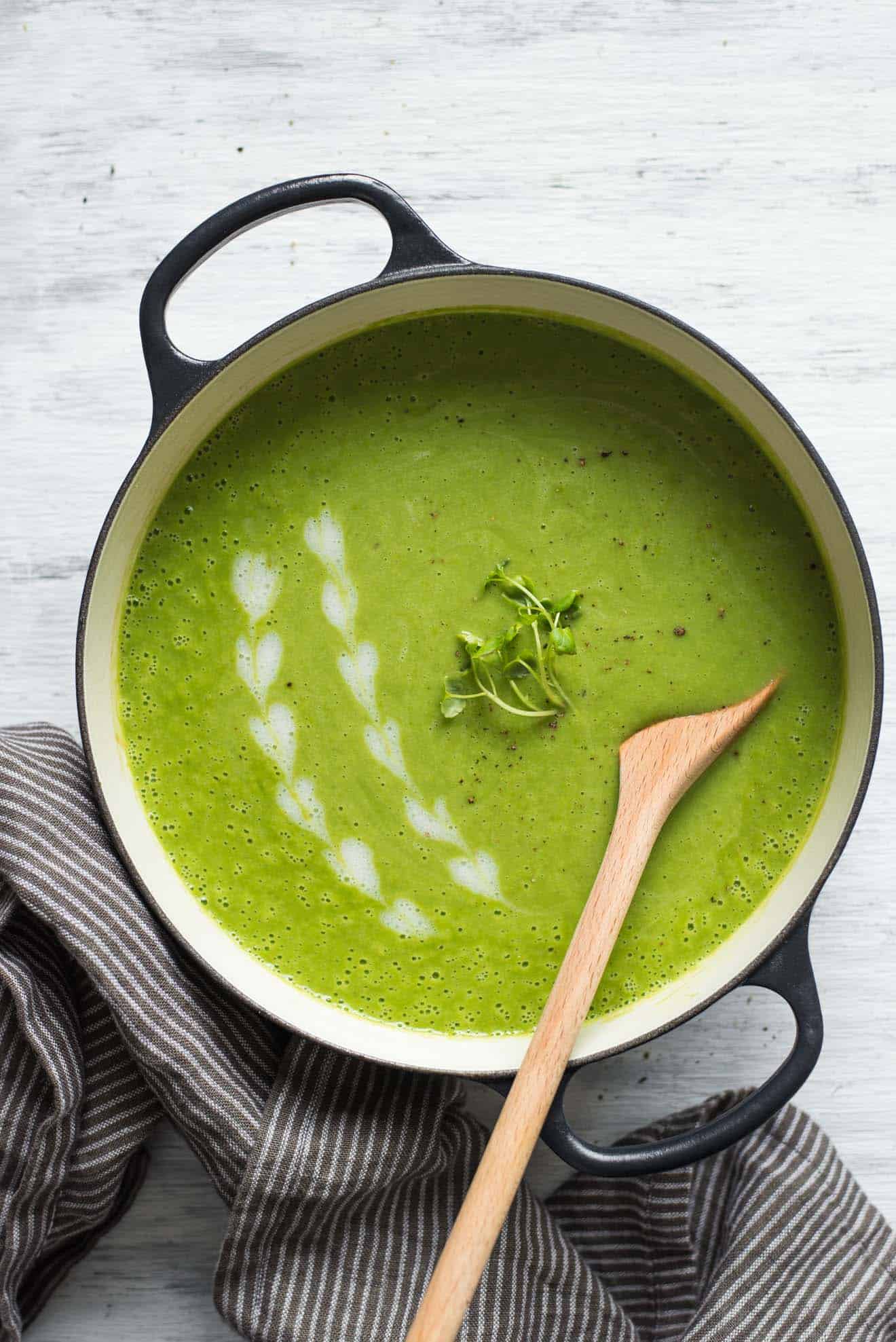 A few months ago, I noticed something a little strange at the farmer's market. At one of the farmer's stalls, there was a fish bowl with 2 goldfish inside and some plants floating on top. "What is this?" I asked.
Aquaponic farming. Have you ever heard of it before? It's pretty cool.
It's a way of growing crops without soil. The plants are kept on a growing bed that is connected to a large fish tank, and water flows through both units. Fish waste provides nutrients for the plants, and the plants help clean the water for the fish to swim in. Besides creating an awesome ecosystem for the plants and the fish, aquaponic farming also uses less water than traditional farming. Pretty sweet, right?
One of the things that this aquaponic farm sells is watercress. Now, the way Mama Lin taught me how to cook watercress was by boiling it in a pot of water with some pork shoulder and seasoning it with some salt. I like it, but it's definitely an acquired taste and it takes a longer time to make.
I googled a few watercress soup recipes, and landed on this one by David Lebovitz. My goodness, it was SO tasty. I quickly polished off the entire batch of soup in a few sittings and licked the bowl each time. To put my own spin to the recipe, I loaded the soup with ginger, scallions, and basil, which helped to brighten up the flavors. I also used less watercress so that the flavor of the cress would be more muted.
Save up a few bread pieces so that you can mop up all the soup in your bowl! I've also dipped my baked tortilla chips into the soup, and that was also scrumptious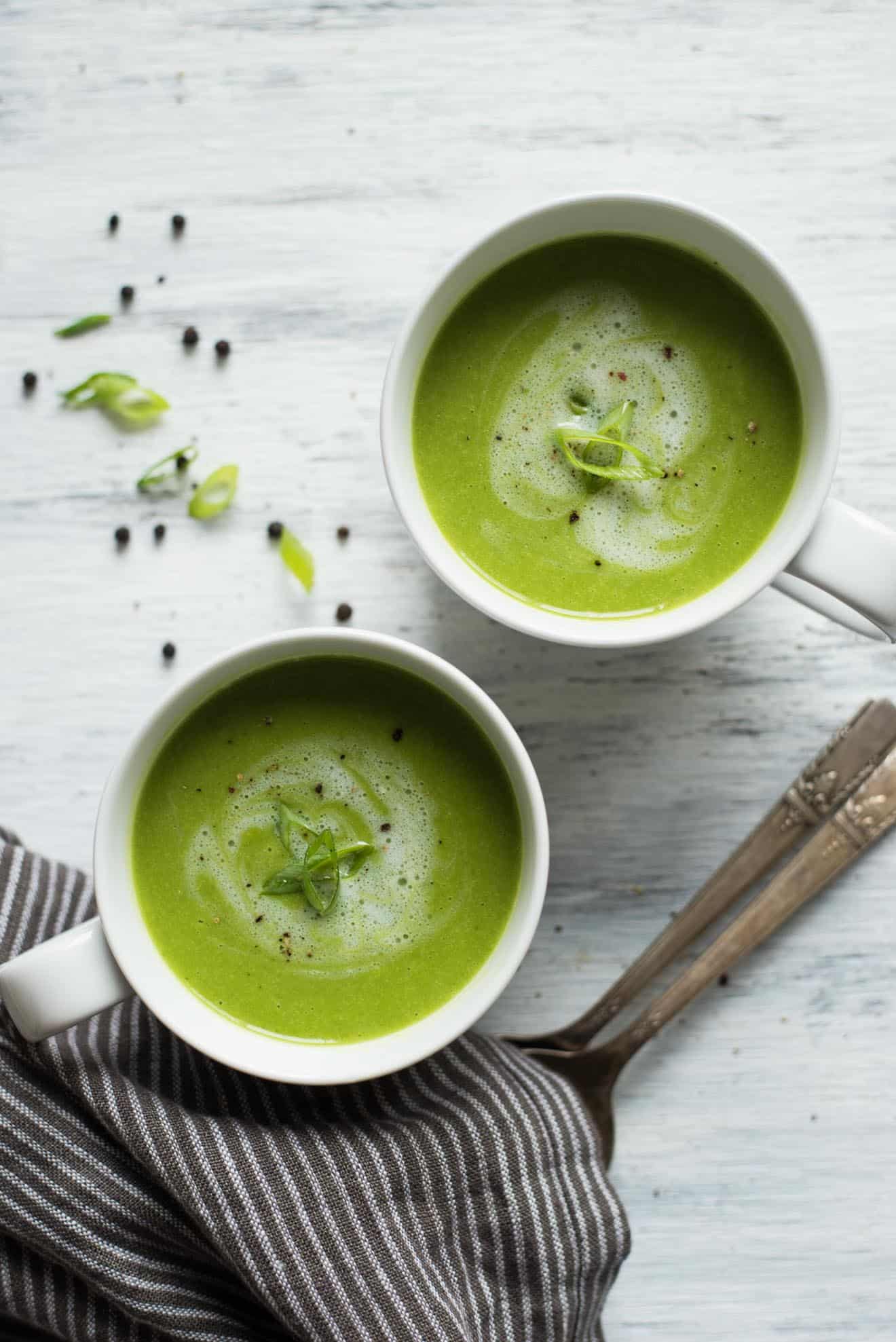 MASTERING MY MISTAKES / COOKING NOTES
Variations: David Lebovitz's recipe calls for a cup of peas. I tried two versions: one with the peas and one with 2 cups of baby spinach. I definitely preferred the version with the peas. The spinach, when blended, added a slightly slimy quality to the soup. I didn't care so much for that.
Watercress Soup with Potatoes and Peas
Ingredients
6

ounces

(170g) watercress (leaves and tender stems only)

2

tablespoons

olive oil

1

medium yellow onion

,

diced

2

teaspoons

minced ginger

1

pound

(450g) potatoes, peeled and diced into 1/2-inch cubes

4

cups

(950ml) low-sodium vegetable broth

1

cup

(240ml) water

1

cup

(145g) peas (fresh or frozen)

2

scallions

,

sliced

1/4

cup

packed basil leaves

,

about 4 to 5 large leaves

salt and pepper to taste

coconut milk for topping

,

optional
Instructions
Rinse watercress thoroughly. Set aside.

In a heavy-bottomed pot, heat 2 tablespoons of olive oil over medium heat. Add onions and cook until softened, 4 to 5 minutes, stirring occasionally. Add minced ginger and cook for 30 seconds, stirring frequently.

Add potatoes, broth, water, and a generous pinch of salt. Cook partially covered for about 10 minutes. The potato cubes should be easily pierced with a fork.

Turn off the heat and add watercress, peas, scallions, and basil leaves. Keep stirring until the watercress has wilted. Let everything cool in the pot for 5 minutes before blending with an

immersion blender

or let everything cool for 10 to 15 minutes before mixing in a

blender

.

Pour pureed soup back into the pot to reheat. Season with more salt and pepper, and serve with a splash of coconut milk, if desired.

The soup will keep in the refrigerator for a few days.
Notes
Nutrition Information is for 1/5 of the recipe.
NUTRITION INFORMATION: Amount per serving: Calories: 185, Total Fat 7.1g, Saturated Fat: 1.2g, Sodium: 642mg, Cholesterol: 0mg, Total Carbohydrate: 22g, Dietary Fiber: 5g, Sugar: 4.4g, Protein 8.4g
Did you make this recipe?
Tag @hellolisalin or leave a star rating and comment on the blog!