Globe squash are making their rounds at the farmers market lately, and it's hard to resist the temptation to buy one of them.
Also known as Ronde de Nice, globe squash are a French heirloom variety of summer squash. They are quite similar to a zucchini but with larger seeds in the center. Their tender flesh is quite easy to scoop out, making them the perfect vessel for stuffed vegetable dishes or dips.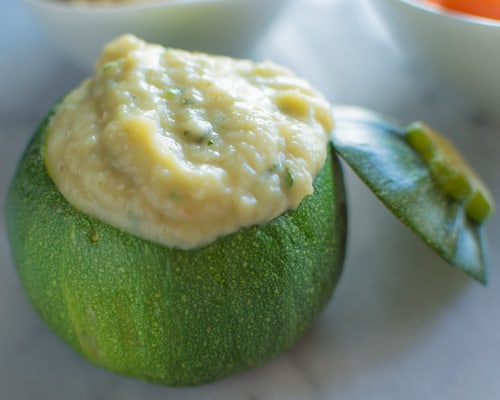 I started snacking on a lot of carrot sticks and sliced vegetables lately, possibly because I tend to crave lighter foods during the summer. As we all know, sliced vegetables are always better when consumed with a bit of flavorful dip.
Hummus and I need to take a break for a while. They're absolutely tasty, of course, but my tastebuds need some excitement. So I experimented with preparing a lighter dip using globe squash and cannellini (white kidney beans). Roasted globe squash brought lightness to my dip, and the bulb of roasted garlic I added gave it fantastic sweet flavor.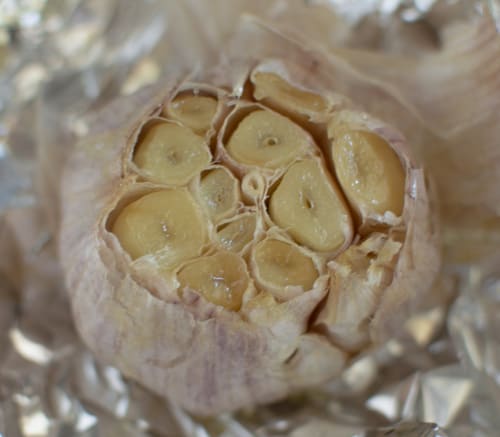 I know that cooking with roasted garlic can be a pain. My fingers are always sticky after removing the tender cloves from the skin. But because they release such great flavor to any dish, I'll bite the bullet. Besides, I love squeezing roasted garlic cloves from their papery sheaths. It feels like I'm squeezing tiny tubes of garlic purée!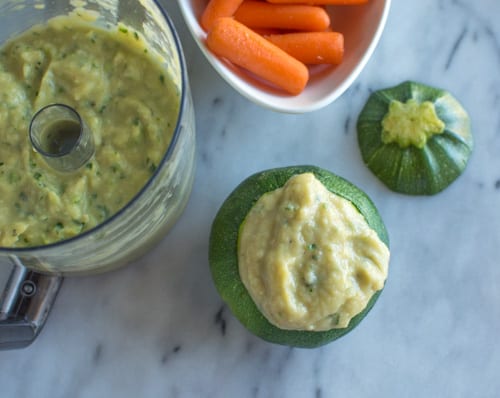 I added about 1 1/2 cups of this dip to flavor a pasta dish yesterday, and I was pleasantly surprised that it all worked together! This dip is a great alternative for days when you don't feel like a tomato-based pasta dish.
White Bean Squash Dip
Makes about 3 to 3 1/2 cups.
Ingredients
3

medium globe squash

,

or 3 medium zucchini

1

bulb of garlic

1

TBS

+ 1 tsp olive oil

1

15-ounce can

of cannellini

,

white kidney beans, rinsed and drained

1/2

tsp

sea salt

,

add more to taste
Instructions
Preheat oven to 400ºF (~205ºC). Line a baking sheet with parchment paper.

Chop the top off the garlic bulb, exposing the cloves. Rip a sheet of aluminum foil, and place the garlic bulb on top. Drizzle a teaspoon of olive oil over the garlic, making sure to cover all exposed cloves. Wrap the garlic loosely with foil, but make sure that it is properly sealed. You want to trap heat inside the foil pouch. Bake the garlic for about 35-45 minutes, or until the cloves are browned. Mine took about 45 minutes.

Chop off the tops and bottoms of each globe squash, and then chop them into small cubes. If you want to create a squash bowl like I did in the photo, save one globe squash for the bowl. Just chop off the top and, using a spoon, dig out all the flesh. Toss the squash with a tablespoon of oil and a small pinch of salt, and bake on the baking sheet for about 20 minutes.

When the garlic is done, open up the foil wrap and let it cool for 10-15 minutes. When the garlic is cool enough to handle, squeeze out the cloves into a food processor.

Add the cannellini beans, roasted squash, and salt into the food processor and blend until smooth.

Enjoy as a dip or add it to a pasta dish!

Refrigerate leftovers in an airtight container.
Notes
1. I did not add any additional oil to the dip when I blended all the ingredients together, as the dip was quite creamy without the oil. Feel free to add oil to your taste.[br]2. If globe squash is difficult to find, use zucchini instead.
Did you make this recipe?
Tag @hellolisalin or leave a star rating and comment on the blog!