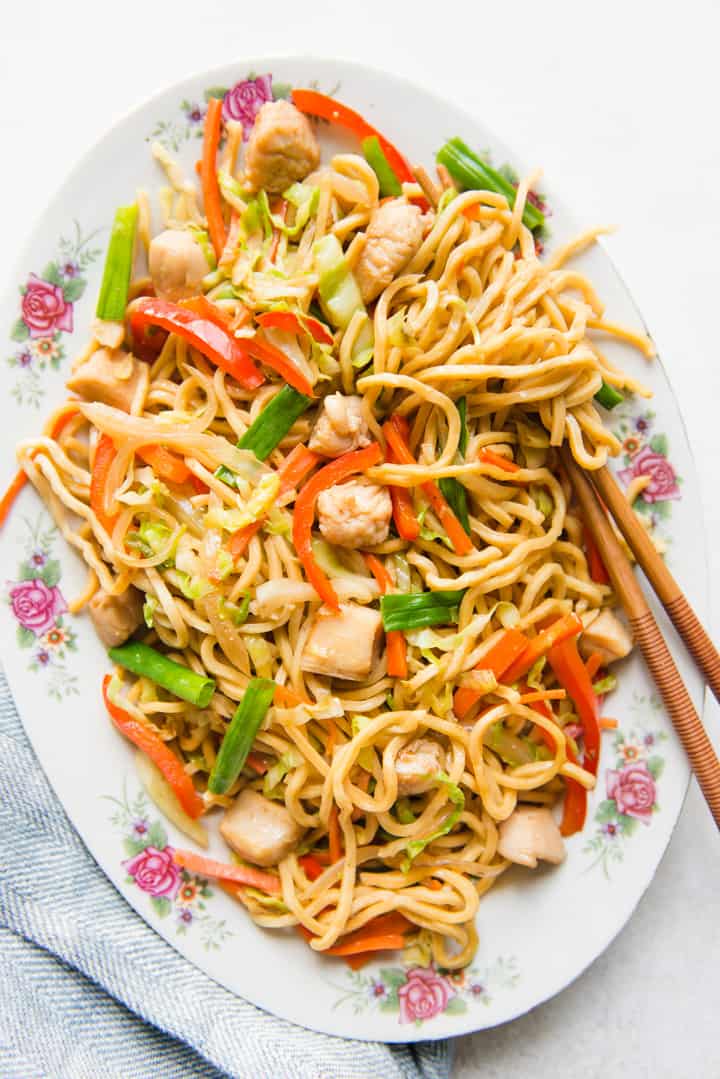 Note: This is an updated version of my Chicken Chow Mein recipe that was first published in March 2015.
The thing I hate about ordering takeout from a restaurant is that it always takes forever for the food to arrive. Restaurants always underestimate the time it takes for the food to be ready. By the time the food gets to me, I will have eaten a mini-meal just to stave off my hunger. That's why I prefer to make my own dinner, even when I'm exhausted and cooking seems like the last thing that I want to do.
I usually keep noodles around the house, like chow mein, so I that I can whip up a meal quickly. This chicken chow mein is one that I make often. Keep in mind, I don't always use the exact combination of vegetables described in the recipe below. Feel free to substitute the vegetables with whatever you have.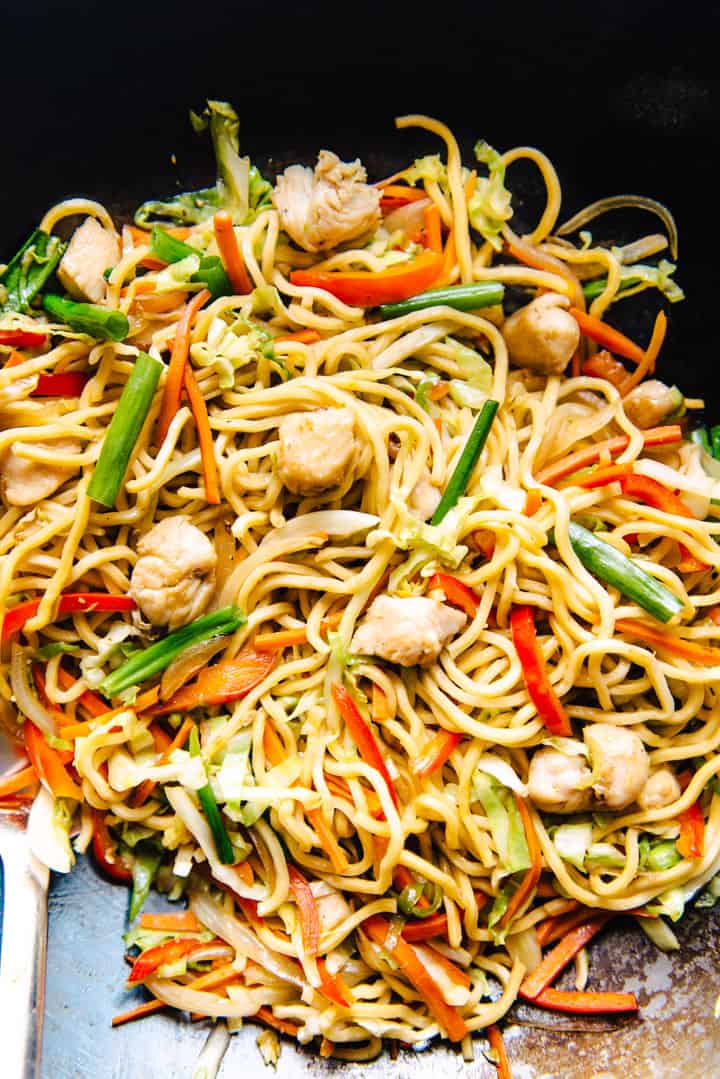 HOW TO MAKE CHICKEN CHOW MEIN
Making chow mein at home is very simple, and you can actually cook it without a recipe. Here are the general steps I usually follow:
Prepare the vegetables: For chow mein (or any stir-fried noodle dish), I typically slice my vegetables quite thinly. The vegetables are easier to cook and eat.
Prepare the chicken: I chop the chicken into small 1-inch chunks. In this recipe, I used chicken breasts, but you can use chicken thighs. Once cooked, chicken breasts can be quite dense. A trick to make them more tender (if you have the time), is to mix the raw chicken pieces with 1/2 teaspoon baking soda. Let the chicken sit for about 15 minutes. Then, rinse the chicken under water and pat dry with towels. The chicken is now ready for cooking. You can definitely taste the difference in the texture of the chicken breast.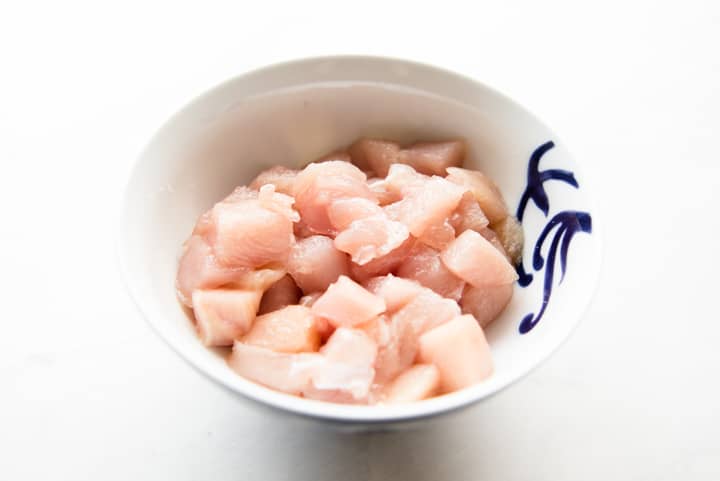 Cook the noodles: Bring a pot of water to boil and cook the chow mein according to the package instructions. It usually takes around 5 minutes for fresh noodles to cook and a few more minutes for dried noodles. After they are cooked, drain the noodles and rinse under cold water.
Prepare the sauce: Mix all the sauce ingredients together. In this recipe, I used Lee Kum Kee's oyster sauce. You can find it on Amazon, but it is significantly cheaper at an Asian supermarket. If you prefer not to use oyster sauce, you can swap it for my homemade teriyaki sauce.
Cook the chicken: I always cook the chicken by itself because it releases liquid when it cooks. If I cook the chicken together with the vegetables, there would be too much liquid inside my wok. This can lead to soggy chow mein, which nobody wants! I cook the chicken pieces for about 5 minutes. Then, I dish them up.
Cook the vegetables: My wok is quite hot when I add the vegetables, so they only need a few minutes of cooking.
Add the remaining ingredients: Once the vegetables have softened a little, I add the chicken back to the wok. Then, I add the noodles and sauce and toss everything together.
WHAT CHOW MEIN NOODLES DO I USE?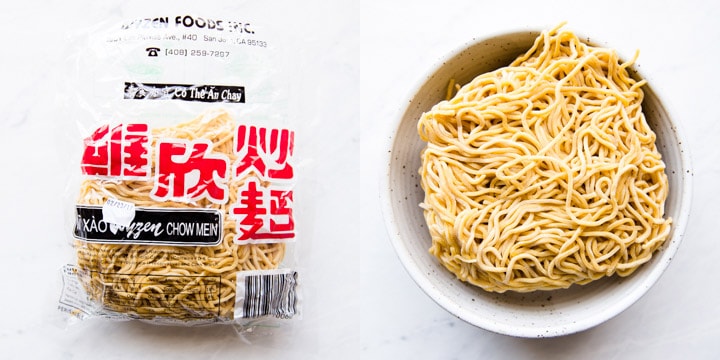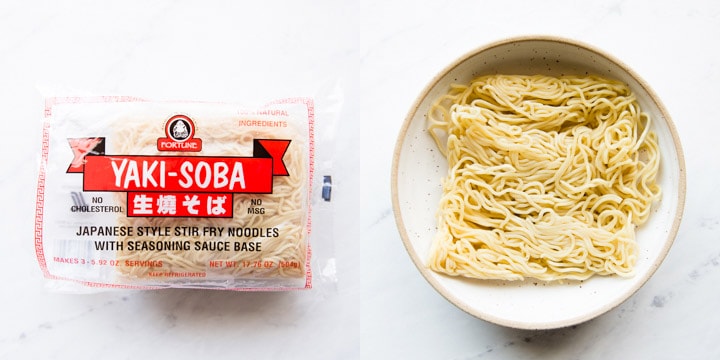 I have no brand loyalty when it comes to chow mein noodles—I grab whatever looks best at Asian supermarkets. For these photos, I am using Wyzen's noodles, which I bought at SF Supermarket in Sacramento. Although the noodles look more authentic, the manufacturers added yellow food coloring to get that hue. If you are looking for noodles that contain more natural ingredients, you can try Fortune's yakisoba. I made my vegetable chow mein with those noodles. My local Safeway and Raley's sell these noodles in the refrigerated section.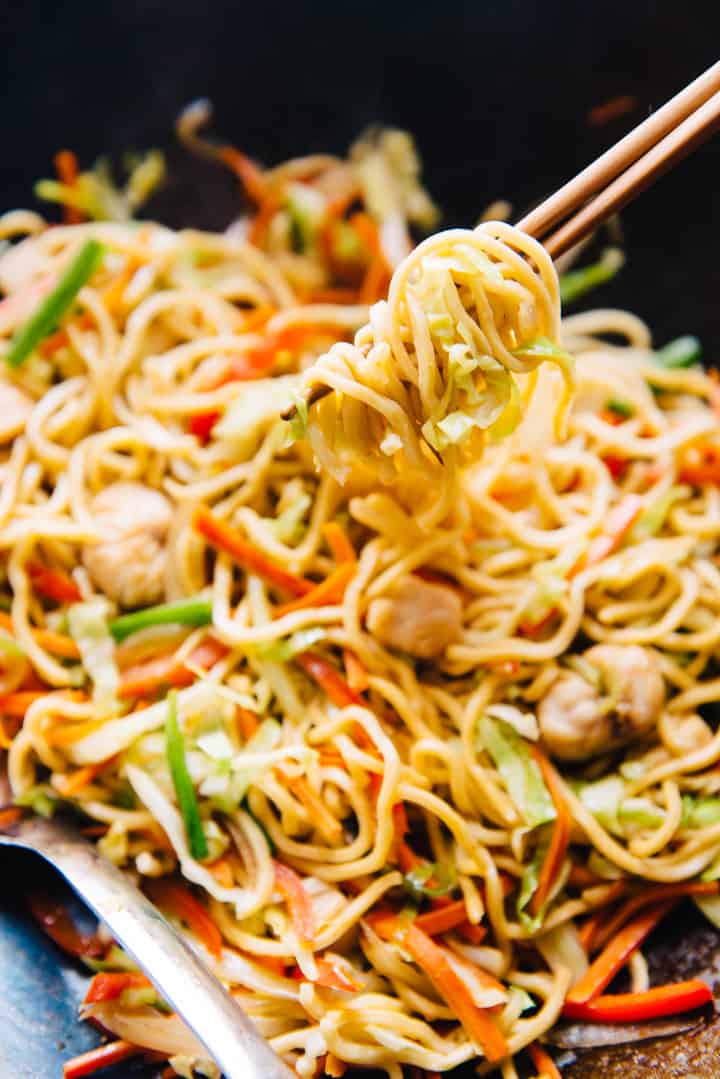 LOOKING FOR MORE 30-MINUTE MEALS?
30-Minute Chicken Chow Mein
This simple chicken chow mein recipe is a delicious meal that's ready in 30 minutes. It is much less greasy than Chinese takeout! You can also customize this recipe by substituting your favorite protein and vegetables.
Ingredients
8

ounces

(225g) chow mein noodles

2

tablespoons

canola oil, divided

8

ounces

(225g) chicken breast, chopped into 1-inch chunks

pinch

of salt

1/2

medium yellow onion, thinly sliced

1/2

large red pepper, thinly sliced

1

large carrot, julienned

3

cups

sliced green cabbage

2

stalks of scallions/green onion/spring onion, sliced
Sauce
1 1/2

tablespoons

oyster sauce

1

tablespoon

soy sauce

1

teaspoon

sesame oil

1/4

teaspoon

white pepper (optional)
Instructions
Cook the noodles: In a pot, bring about 6 cups of water to boil. Add the chow mein and cook them according to the package instructions. I cooked mine for about 5 minutes. Drain the water and rinse the noodles under cold water.

Cook the chicken: Heat a wok or large sauté pan over high heat. Swirl in 1 tablespoon of canola oil. Sauté the chicken pieces for about 5 minutes, until they are nearly cooked. Season with a tiny pinch of salt, and turn off the heat. Transfer the chicken to a dish and wipe off the wok.

Cook the vegetables: Get the wok on high heat again and add the remaining tablespoon of oil. Add the onions and cook them for a minute. Next, add the sliced pepper, carrots, and cabbage and cook them for 2 minutes.

Combine remaining ingredients: Get the chicken back to the wok and sauté with the vegetables for another minute. (See note 1) Finally, add the noodles and the sauce, and toss everything together. Taste the noodles and adjust the seasoning to your liking. Serve immediately.
Notes
The cooked chicken will release more juices as it rests. When you add the chicken back to the wok, leave out the juice.
Mama Lin typically adds a bit of five-spice powder for more flavor. You can add a 1/2 teaspoon of it to the sauce if you want to give it a go.
The original recipe used gai lan (Chinese broccoli) instead of cabbage. Because the stalks are quite thick, you need to cook the vegetables a little longer, about another minute or so.
Nutrition
Serving:
1
serving
|
Calories:
480
kcal
|
Carbohydrates:
53.2
g
|
Protein:
19.5
g
|
Fat:
20.5
g
|
Saturated Fat:
2.5
g
|
Cholesterol:
41
mg
|
Sodium:
1169
mg
|
Fiber:
5.2
g
|
Sugar:
8.2
g
Did you make this recipe?
Tag @hellolisalin or leave a star rating and comment on the blog!