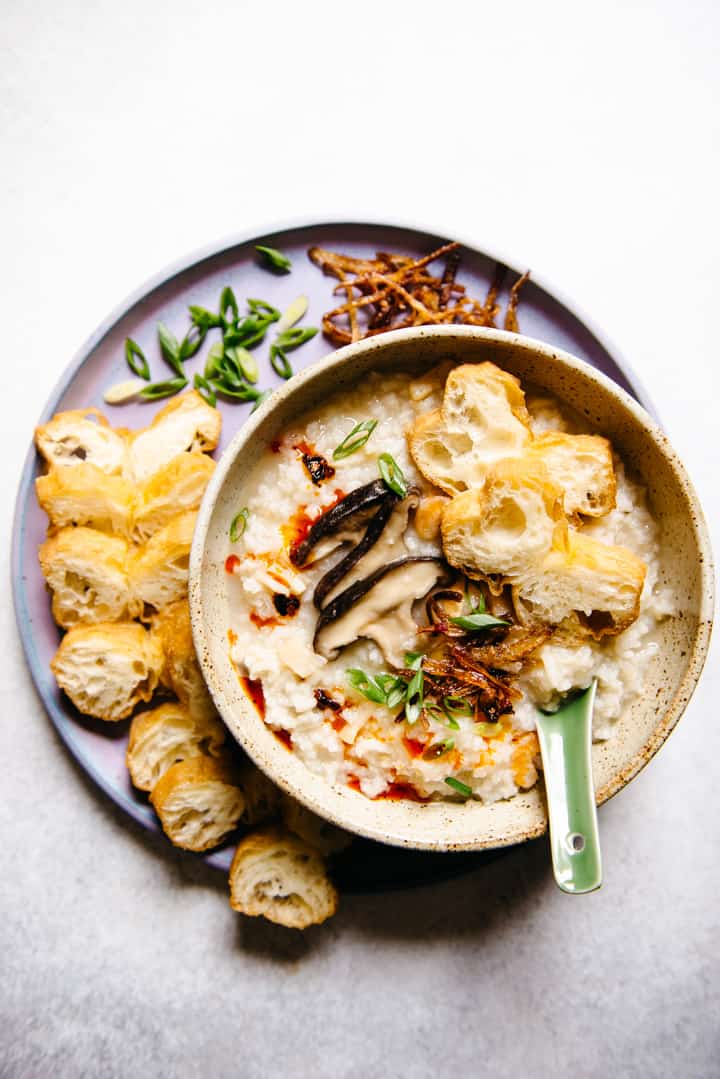 WHAT IS CONGEE/JOOK?
Congee is the ultimate comfort food in Asian cuisine. The word "congee" derives from Tamil, and different Asian cultures have their own version of this delectable, often savory, rice porridge.
In Chinese cooking, congee (粥, pronounced jook in Cantonese or zhou1 in Mandarin) usually involves boiling jasmine rice with a lot of water over low heat. You'll often see people cook the rice along with ingredients that impart umami flavor, such as dried seafood or pork bones.
You can serve congee at any time of the day. When I was young, Mama Lin often cooked congee for breakfast on the weekend, and we'd eat leftovers for lunch or dinner. Whenever I was sick, Mama Lin would also make a simple congee for me because it is easy to digest.
There are many variations of congee in Chinese cuisine, such as 皮蛋瘦肉粥 (congee with century egg and lean pork) or 魚片粥 (congee with sliced fish). In my basic congee recipe, I'm only using ginger, garlic, dried shrimp, dried scallops, and shiitake mushrooms for flavoring. Because I grew up on congee cooked with dried seafood, I tend to prefer congee with those flavors.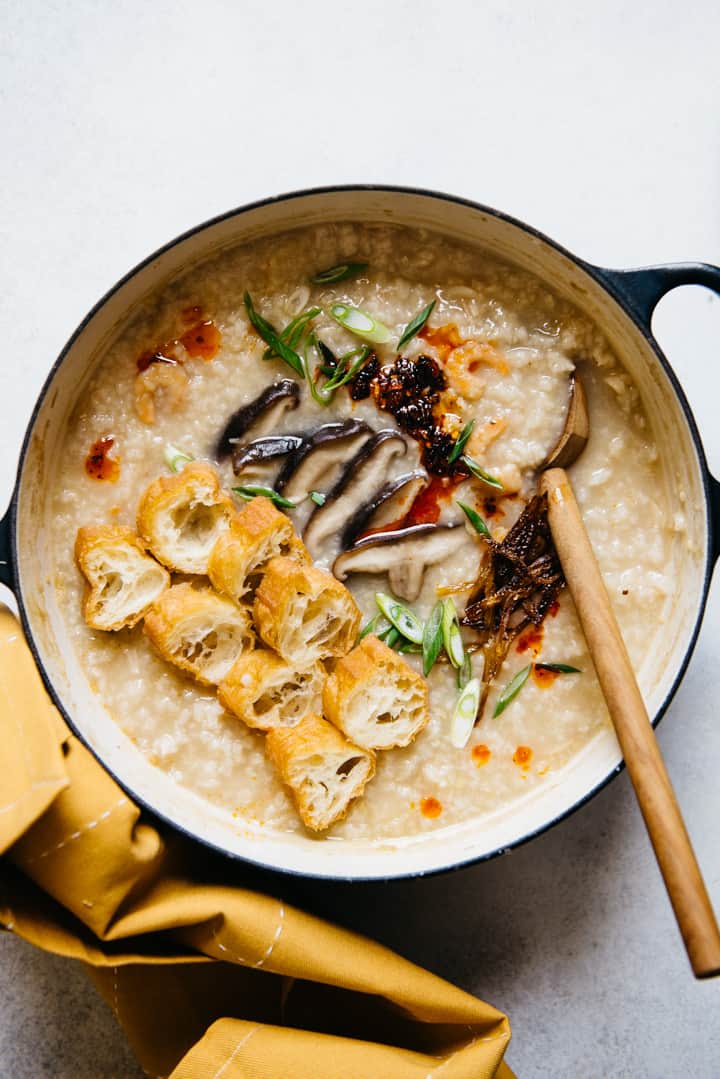 CONGEE RECIPE: RICE-TO-LIQUID RATIO
I would be lying if I told you that Mama Lin follows a specific congee recipe. She always seems to figure out a magical rice-to-water ratio whenever she makes it.
After cooking congee numerous times on my own, I figured out that I prefer a 1-to-9 rice to liquid ratio: 1 cup of jasmine rice to 9 cups liquid (can be water, broth, or a mixture of both). The congee is neither too watery nor too thick. You can play with the amount of water or broth you use to determine what works best for you.
Keep in mind that rice continues to absorb liquid even after it's cooked. Don't worry if you think you've started out with too much water. You can always boil down the congee with the pot uncovered or let the cooked congee sit at room temperature for 15 to 20 minutes.
DO YOU NEED TO SOAK THE RICE BEFORE COOKING?
No, you don't. Jasmine rice breaks down quite easily, so there is no need to presoak the grains.
HOW TO MAKE CONGEE AHEAD
You can make this congee recipe up to 1 or 2 days ahead and store it in the fridge. You'll notice that the porridge thickens the next day. Give everything a stir and reheat the congee in a microwave or saucepan with a splash of water.
WHAT TO SERVE WITH CONGEE
Congee is often served with fresh scallions, cilantro, soy sauce, or fish sauce. You might also see people add fried shallots or chili oil, like I've done in the photos.
In Chinese restaurants, you'll almost always see congee served with fried dough sticks that are crunchy on the outside and spongy on the inside. Mandarin-speaking regions often call the fried dough 油條, which roughly translates to oil sticks. Cantonese-speaking regions call it 油炸鬼, which literally means oil fried ghosts—no idea where that phrase comes from.
I usually buy the fried dough frozen at Asian supermarkets. There is no need to defrost them before reheating. Just bake it on a pan for 5 minutes at 375ºF (190ºC) for 5 minutes. Then, turn off the heat but leave the fried dough sticks in the oven. The residual heat will continue to crisp up the fried dough.
MORE PORRIDGE RECIPES
If you are interested in another porridge recipe, try my vegan congee recipe! It uses shiitake mushrooms, lemongrass, and ginger for flavor. I also have a kabocha congee, which uses kabocha purée to naturally sweet the porridge.
Basic Congee (Jook, 粥, Chinese Rice Porrdige)
This recipe uses vegetable broth. You can substitute it with chicken broth, seafood broth, or any other broth of your liking. I typically prefer a
Ingredients
Congee
1/4

cup

dried shrimp

2

tablespoons

dried scallops

2

tablespoons

safflower oil

,

any oil works

2

tablespoons

minced ginger

3

cloves

garlic

,

minced

1/4

pound

shiitake mushrooms

,

sliced into 1/4-inch thickness

1

cup

jasmine rice

6

cups

vegetable broth

3

cups

water

1

teaspoon

salt

,

add more to taste
To Serve
sliced scallions

fried shallots

fried dough sticks (油條/油炸鬼)
Instructions
Rinse the dried shrimp and dried scallops with water. Then, place them in a bowl and soak with 2/3 cup of water for 30 minutes. The shrimp and scallops should have plumped up a little. You can drain the water once you're done soaking or save it. I usually save the water and use it to cook the porridge.

Rinse the rice once and drain the water.

Heat the oil in a pot over medium-high heat. Add the minced ginger and garlic and cook for 30 seconds, until they start to become fragrant. Add the rehydrated shrimp and scallops to the pot. Use the tip of a wooden spoon or spatula to break the scallops apart. This does not need to be too precise. Add the mushrooms and rice, and sauté for another minute.

Carefully pour the broth and water into the pot. Sprinkle in the salt and stir. Bring the broth to a boil, uncovered. Then, turn the heat to low and cover the pot. I usually transfer the pot to a smaller burner so the congee cooks at very low heat. Let the congee simmer for about an hour, stirring occasionally.

After an hour, check the congee to see if the consistency is to your liking. I like to leave the pot uncovered for 15 minutes so that the porridge cools and thickens. If you notice a small film form on the top of the congee, just stir everything before serving. Taste the congee and add more salt if necessary.

Serve the congee in bowls. Have sliced scallions, fried shallots, chili oil, and sliced fried dough sticks on the side for topping.
Nutrition
Serving:
1
serving
|
Calories:
286
kcal
|
Carbohydrates:
44.7
g
|
Protein:
11.4
g
|
Fat:
6.4
g
|
Saturated Fat:
1
g
|
Cholesterol:
34
mg
|
Sodium:
1765
mg
|
Fiber:
1.4
g
|
Sugar:
2.4
g
Did you make this recipe?
Tag @hellolisalin or leave a star rating and comment on the blog!