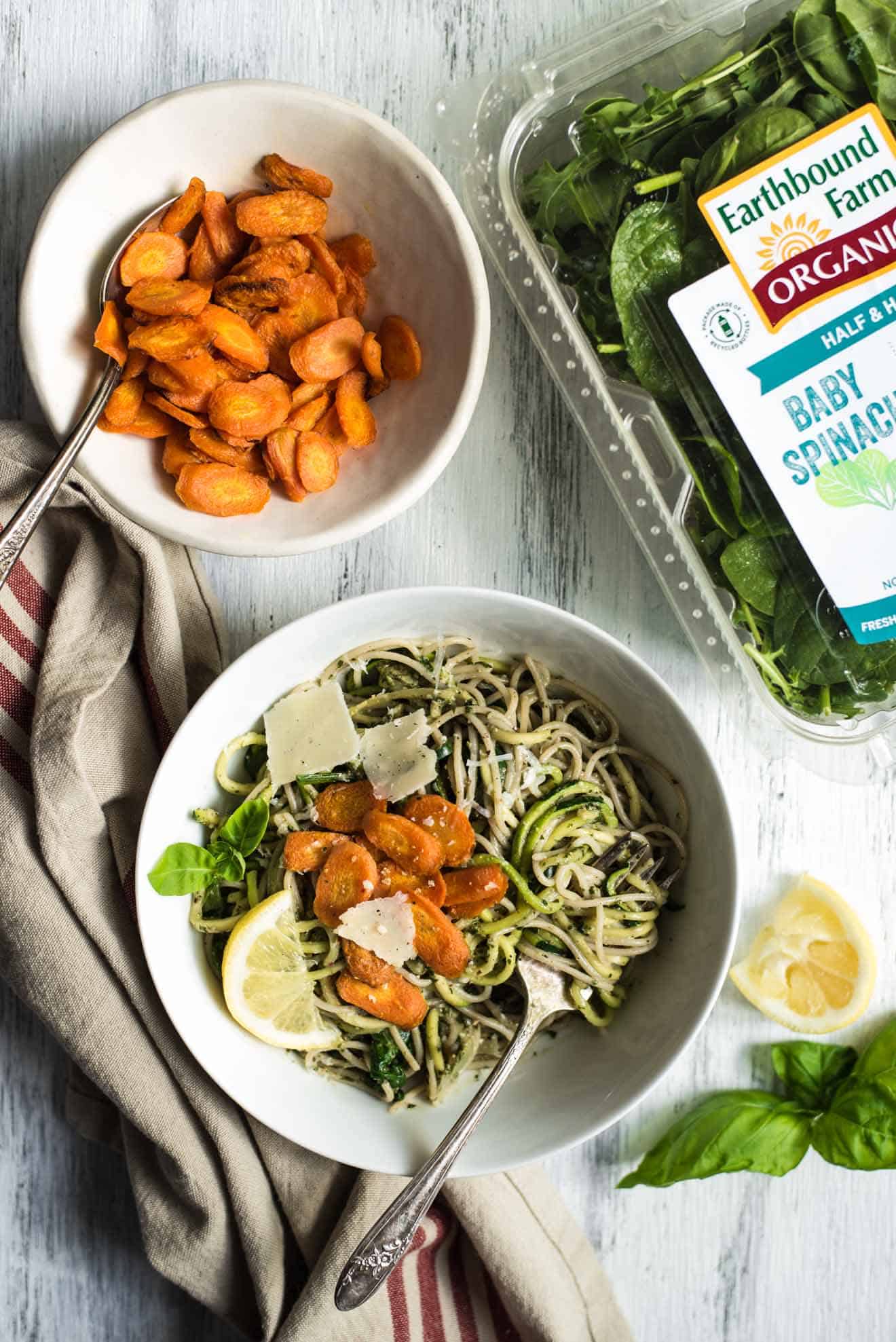 A lot of you may know this already, but food waste is a big problem in the U.S. I've read reports from the USDA that food waste amounts to 30 to 40 percent of our food supply! It boggles my mind that we're spending so much time and resources to food that doesn't end up being consumed. That's why I want to share a few creative recipe ideas to make the most out of our food and to do our part to limit the amount of food we throw away.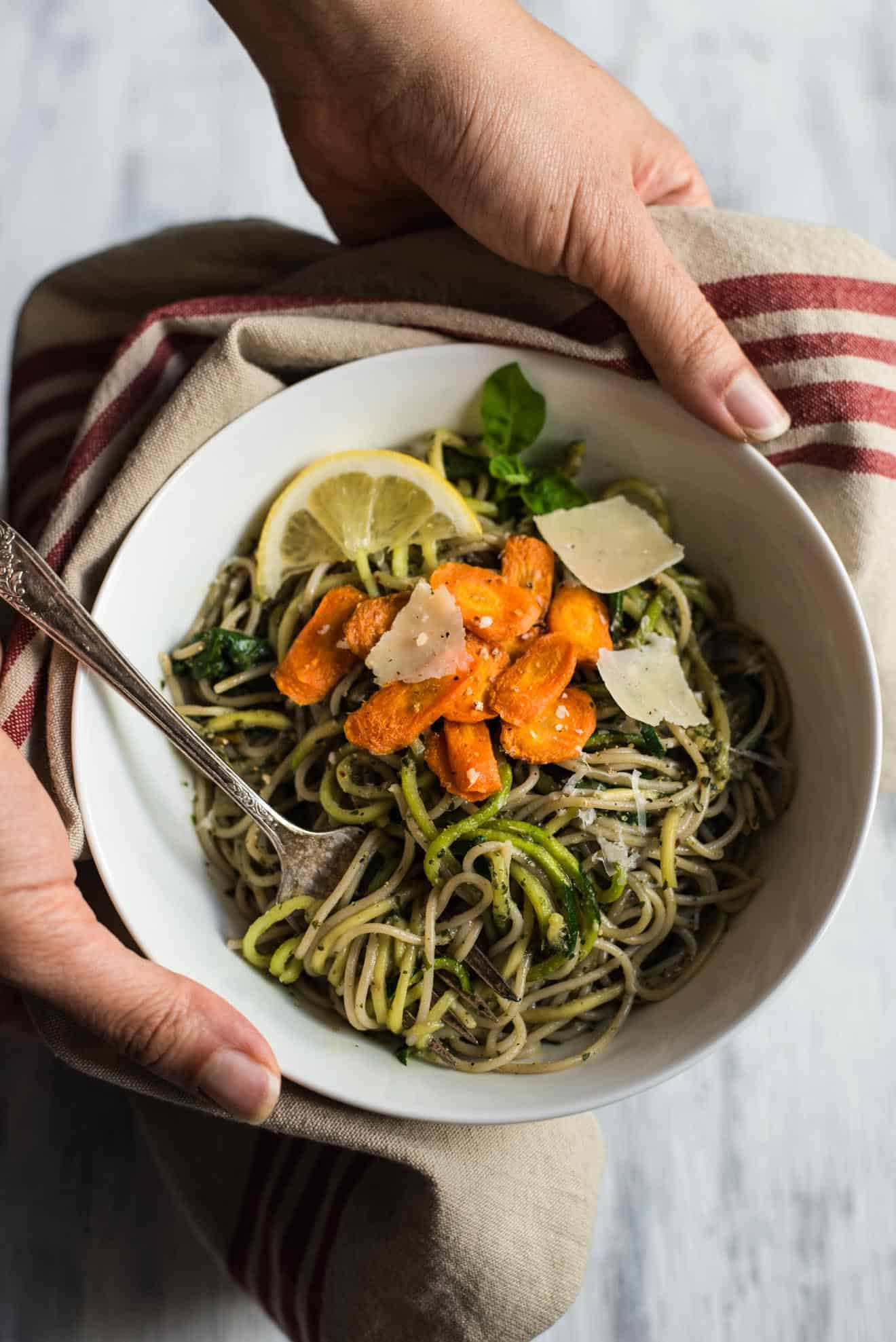 I love buying bunches of carrots at the farmers market, particularly because they come with those beautiful green tops. I know a lot of people (including my sister—tsk, tsk) who toss those greens away, but they're great in an herb soup or a pesto sauce! Besides flavoring pasta dishes, the carrot top pesto is amazing on top of a pizza, too.
Aside from carrot tops, I've also included a handful of salad greens in this pesto. If you're like me, you'll open a package of salad greens in the beginning of the week, only to forget about it for days. By the time you dig out that package from the back corner of your fridge, you realize that the greens look less than optimal for a salad. Instead of just tossing them away, throw them into a green sauce or sauté them with other vegetables. They'll add an extra bit of nutrition to whatever you're eating.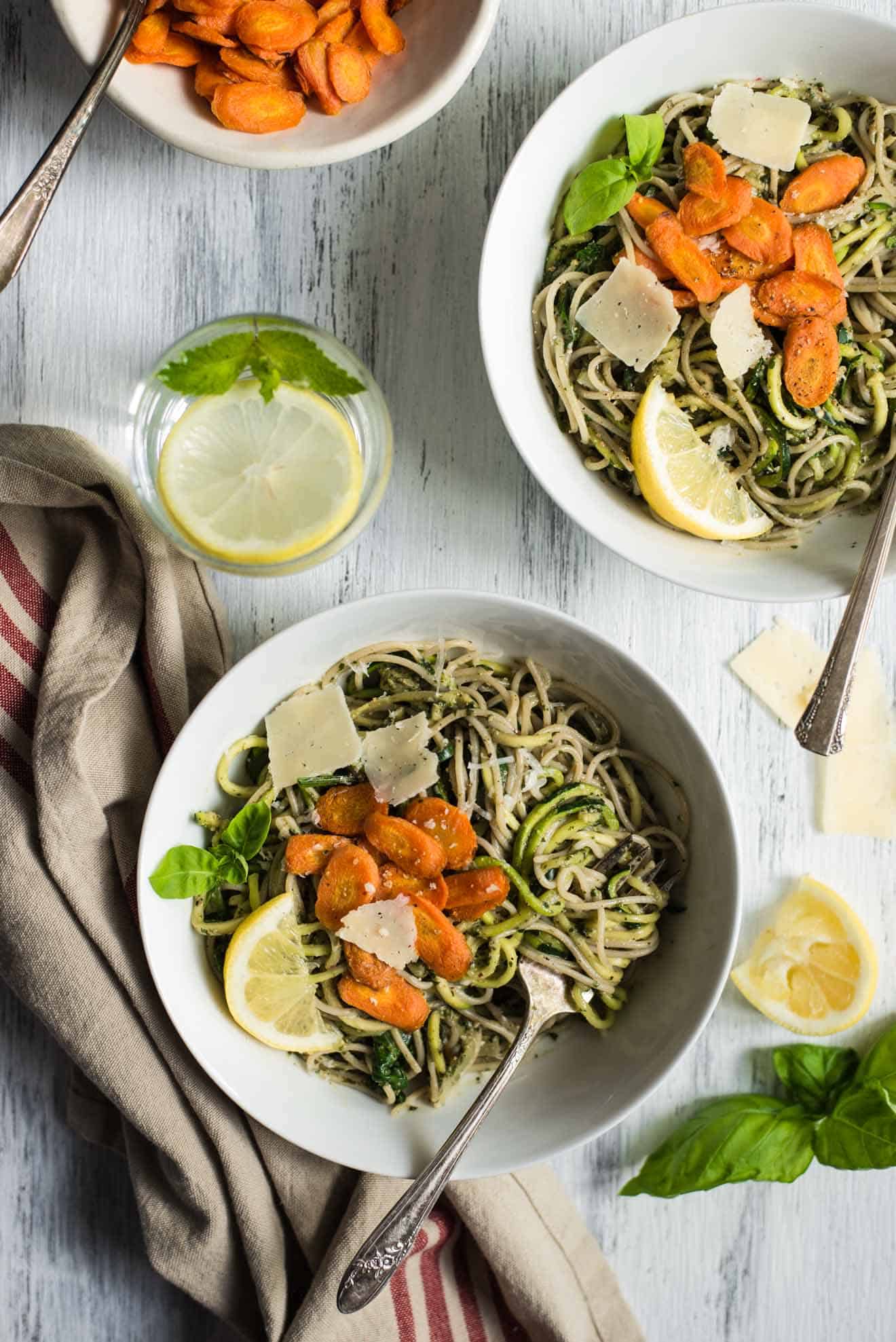 Let's do our part to try to lower the amount of food waste by making simple changes to the way we cook. Every bit of our efforts can add up to make a big, positive impact to our food systems, and, ultimately, our earth. To get more tips on how to make more earth-friendly food choices, visit Earthbound Farm's website and take their "How green is your cart?" quiz! For every quiz taken, Earthbound Farm will plant a tree (up to 20,000)! Isn't that cool? Also, at the end of the quiz, you'll get a $1 coupon that can apply to any Earthbound Farm product. Be sure to check it out!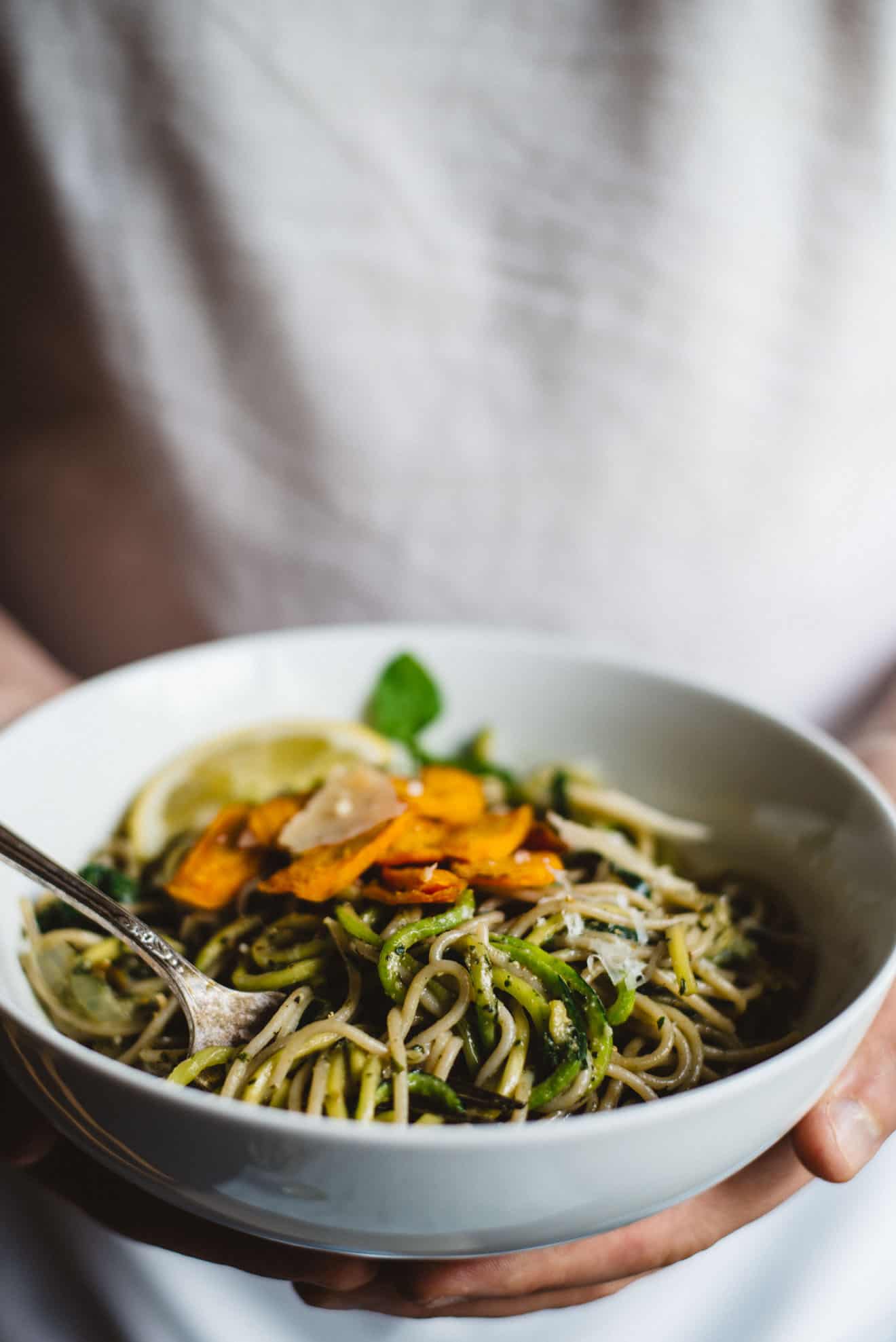 MASTER MY MISTAKES / COOKING NOTES
Did you say miso in the ingredients? Yes! I love adding miso to my pesto sauces because it adds an umami flavor. If you don't have any around, leave it out and just add salt.
Rinse carrot tops thoroughly: A lot of dirt gets trapped in carrot tops, so be sure to rinse them thoroughly!
Refrigerating the Pesto: The pesto does start to turn brown at the top after a day. Just give the sauce a quick stir before using it, and it should look green again.
If you try this recipe, let me know how it goes by leaving a comment or sending me a message. Take a photo of the food and tag me on Instagram so that I can give you a fist bump. Seeing your creations makes my day!
Carrot Top Pesto Pasta with Zucchini Noodles
Ingredients
Roasted Carrots
1

small bunch of carrots

,

should yield 1 1/2 cups sliced carrots

1/2

TBS

olive oil

pinch

of salt
Carrot Top Pesto
carrot tops from the bunch of carrots

,

(leaves and tender stems only – you should get about 3/4 cup)

1/2

cup

Earthbound Farm Half & Half Baby Spinach & Baby Arugula Mix

1

cup

basil leaves

2

garlic cloves

1/3

cup

shredded or grated parmesan

1/3

cup

walnuts

1/4

cup

olive oil

3

TBS

water

1

TBS

lemon juice

1

TBS

miso paste

pinch

of salt

,

if necessary
Pasta
6

oz.

gluten-free angel hair pasta

3

medium zucchini

1

TBS

olive oil

1

small yellow onion

,

diced
Optional Toppings
freshly grated parmesan

freshly ground pepper

lemon wedges
Instructions
Preheat oven to 425 degrees F. Line a baking sheet with a silicone mat.

Peel carrots and slice them thinly on the diagonal. In a bowl, toss sliced carrots with a 1/2 tablespoon of olive oil and a pinch of salt. Spread carrots on baking sheet and bake for 15 minutes, stirring after 10 minutes of baking. Remove from oven to cool.

In a pot, bring a quart of water to boil and add a generous pinch of salt. Add pasta and cook for 7 to 8 minutes. Rinse under cold water and set aside.

Rinse carrot tops thoroughly. In a food processor, blend all the carrot top pesto ingredients together. Taste to see if you need to add more salt.

Trim ends of zucchini and cut into noodles using a vegetable spiralizer or a julienne peeler. Set aside.

Heat 1 tablespoon of olive oil in a large sauté pan over medium heat. Add onions and cook until they soften, about 2 to 3 minutes. Add zucchini and cook for about 2 minutes. Turn off heat. Add pasta to pan and toss everything with 1/2 the pesto sauce. Feel free to add more sauce, if you like. Refrigerate remaining sauce for 1 to 2 days.

Top pasta with roasted carrots, parmesan, pepper, and a bit of lemon juice.
Notes
1. I like using 1 tablespoon of miso paste in my pesto, but you can replace that with 1/2 to 1 teaspoon of kosher salt.
2. Be sure to rinse the carrot tops thoroughly! I lot of dirt can get stuck in there!
Did you make this recipe?
Tag @hellolisalin or leave a star rating and comment on the blog!
This is a sponsored post written by me on behalf of Earthbound Farm.