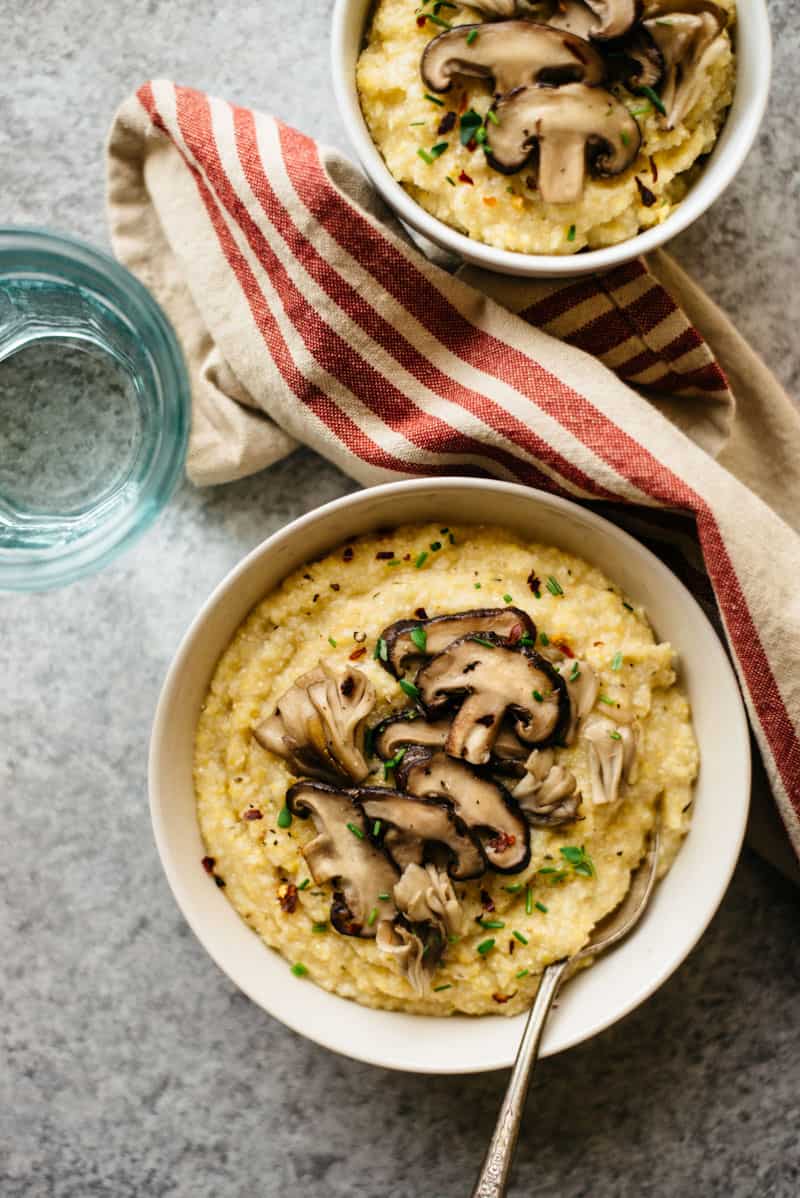 If you've poked around this blog before, you'll know that I pretty much shove vegetables into my dinners wherever I can. (See butternut squash mac & cheese, pesto pasta with zucchini noodles and cauliflower fried rice.) It's the only way that my husband will eat his vegetables, I swear. Well, this cauliflower polenta is another prime example of my cooking philosophy.
Despite the pound of cauliflower that I added to the recipe, the cauliflower flavors don't overwhelm the polenta. The melted butter and cheese add richness and help make the dish taste like a proper polenta. I suppose a tiny bit of butter and cheese can fix anything!
Mushrooms are in season right now, so I paired the cauliflower polenta with some sautéed shiitake and maitake mushrooms. These mushrooms have great flavors that can stand out on their own. If these mushroom varietals are not easy for you to find, the good 'ol cremini mushrooms will work well in this dish, too.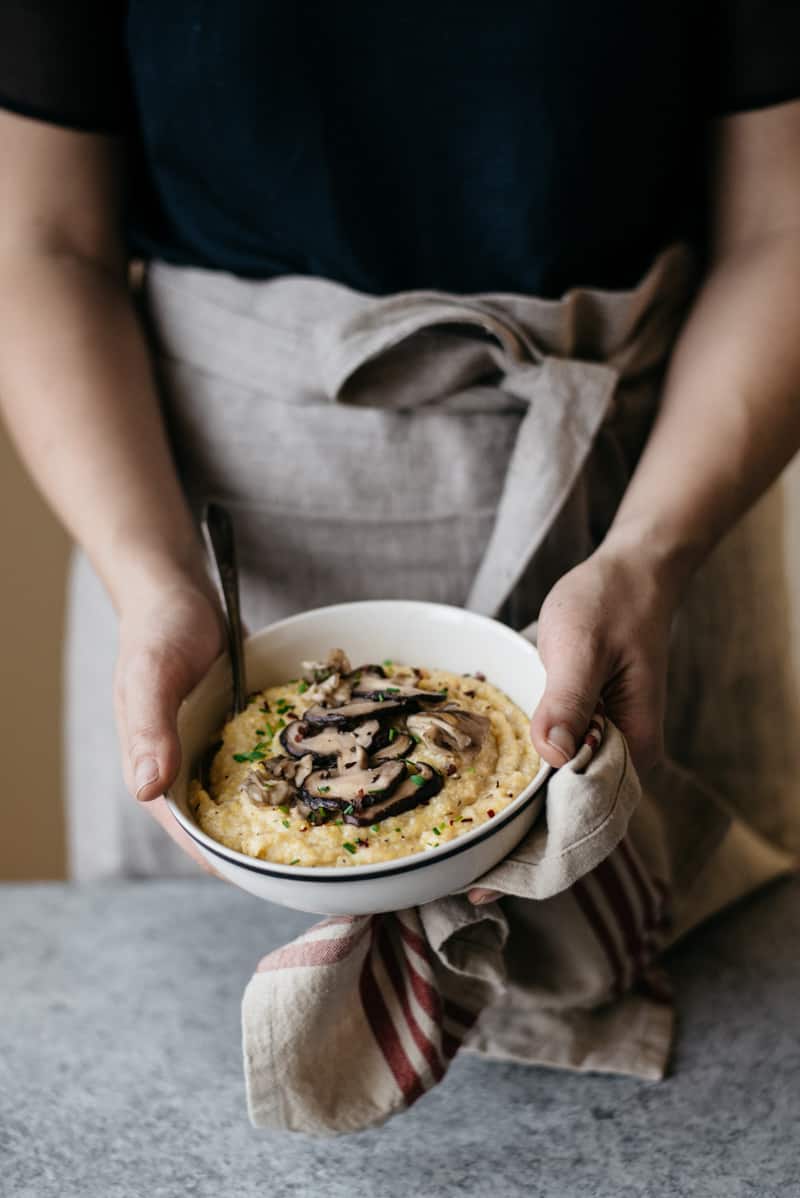 MASTER MY MISTAKES / COOKING NOTES
Rice the cauliflower in batches: Resist the urge to just throw all the florets into a food processor and blitz everything together. You'll probably end up overcrowding the bowl and have a couple of large chunks of cauliflower that won't break down.
Leftovers: Because there's a lot of cauliflower in this recipe, you might notice some water building up in your leftovers. I usually just drain the liquid.
Vegan option: Leave out the cheese and use vegan buttery spread instead of regular butter.
KITCHEN TIP: HOW TO CUT CAULIFLOWER
Cauliflower Polenta with Japanese Mushrooms
This dish is great with your choice of protein, such as tofu or chicken. If the Japanese mushrooms are difficult to find, feel free to substitute them with any other mushroom variety. Adapted from Cooking Light.
Ingredients
Cauliflower Polenta
1

head of cauliflower*

,

should yield about 1 pound of florets, see note

1 1/2

tablespoons

olive oil

4

cloves

garlic

,

minced

1

cup

(140g) fine grind cornmeal

4

cups

(950ml) vegetable broth

1

teaspoon

dried thyme

1/2

teaspoon

porcini mushroom powder**

,

optional, see note

2

tablespoons

unsalted butter

1/2

cup

(55g) shredded white cheddar cheese

1/2

teaspoon

salt
Sautéed Mushrooms
1

tablespoon

olive oil

4

ounces

(115g) shiitake mushrooms, rinsed and sliced

4

ounces

(115g) maitake mushrooms, rinsed and sliced

salt
Optional Toppings
chopped chives

red pepper flakes

freshly ground pepper
Instructions
Cut 

cauliflower into florets

. Working in batches, add florets into a food processor and blitz until you get fine cauliflower rice.

Heat the olive oil in a large pan over medium-high heat. Add the minced garlic and let that cook for about 30 seconds to release the fragrance. Next, add the cauliflower rice and cook for about 2 minutes, stirring frequently.

Add the cornmeal and the vegetable broth and stir to mix everything together. Reduce the heat to medium-low and let everything simmer for about 20 minutes. If you find that all the liquids have evaporated before the cornmeal looks softened, add water, about 1/2 cup at a time and stir to distribute the water. Add the thyme, porcini mushroom powder, butter, cheese and salt and stir until the ingredients have melted. Turn off the heat and cover the pan with a lid while you cook the mushrooms. The cornmeal will continue to absorb all the liquids.

Heat 1 tablespoon of olive oil in a separate pan. Add sliced mushrooms and cook for 4 to 5 minutes, stirring frequently. Sprinkle a small pinch of salt on top.

Dish up cauliflower polenta into bowls and top with some mushrooms. Sprinkle some chives, red pepper flakes and ground pepper on top. Serve immediately.
Notes
NUTRITION INFORMATION: Makes about 4 Servings. Amount per serving: Calories: 382, Total Fat 20g, Saturated Fat: 8g, Sodium: 461mg, Cholesterol: 30mg, Total Carbohydrate: 42g, Dietary Fiber: 6g, Sugar: 4g, Protein 10g
*If you are making this recipe from a head of cauliflower (versus packaged cauliflower florets), you will want a head that is slightly over a pound. After you pick out the leaves and chop out that center core (or stem), you should get about a pound of florets.
**I wanted to give this dish more umami flavor, so I added 1/2 teaspoon of porcini mushroom powder in there. Essentially, it's dried porcini mushrooms that I ground into a powder with a coffee grinder.
Did you make this recipe?
Tag @hellolisalin or leave a star rating and comment on the blog!
If you like the video, I would love it if you could give it a thumbs up on YouTube! For the latest updates, subscribe to my YouTube channel.