These chili and garlic stir-fried brussels sprouts cook FAST. This Thai-inspired, healthy stir fry is ready in just 20 minutes! No asparagus? No problem—substitute it with other vegetables like green beans, carrots or bell peppers!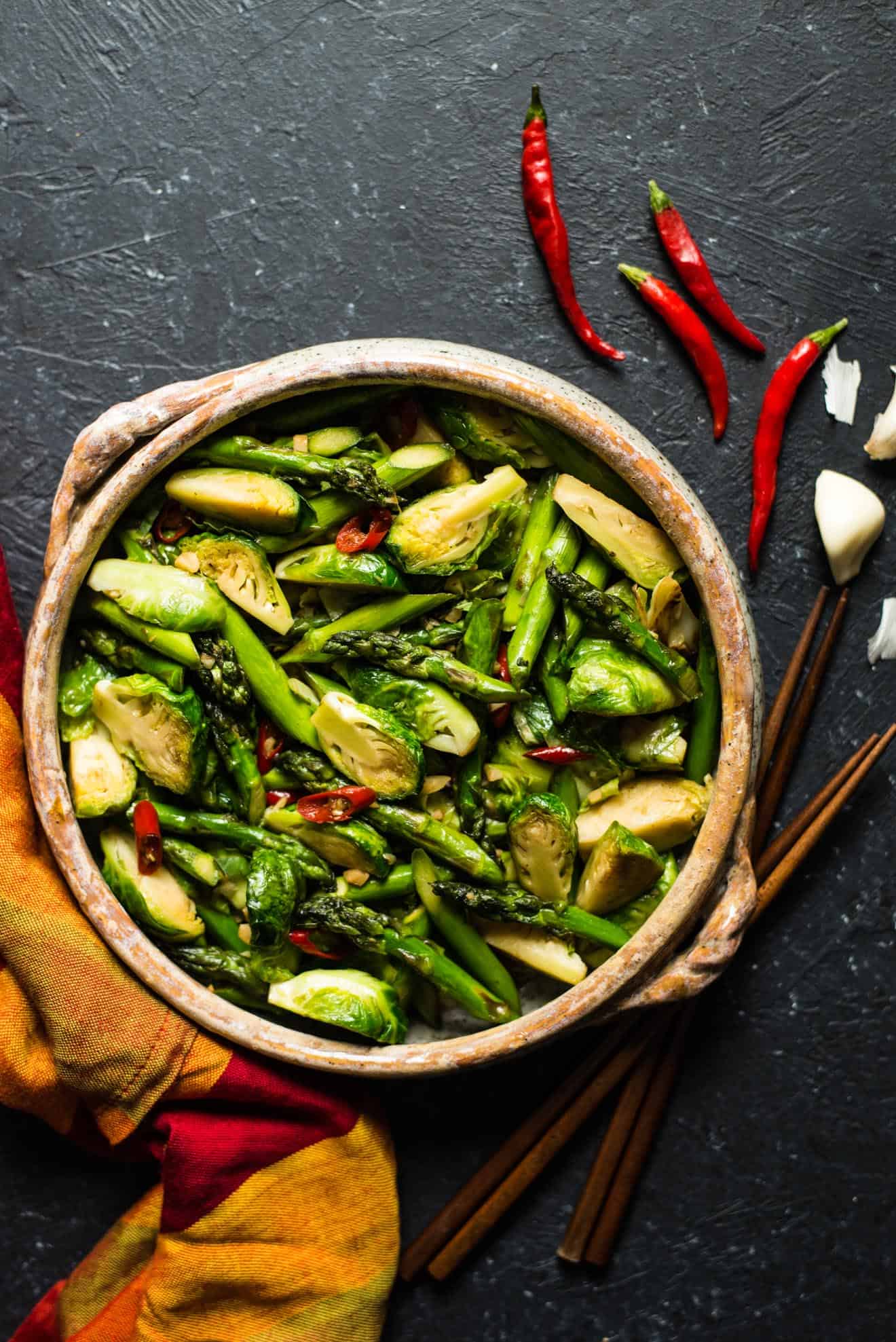 I listened to a recent episode of The Food Programme on farming in Thailand, and I was incredibly fascinated by the story. The episode focused on farming communities in the Northern Chiang Mai province, where many farmers transitioned from farming opium in favor of Western vegetables.The climate in northern Thailand is much cooler, which makes it conducive for farmers to grow crops like brussels sprouts, beets, salad greens and even peaches! It started as part of a national development project launched in the late-1960s, and now, these farmers sell their produce to fine dining restaurants throughout Thailand. Isn't that amazing?
I was flipping through Andy Ricker's cookbook, Pok Pok, and I found a recipe for stir-fried brussels sprouts with Thai flavors. It tasted delicious, and I have adapted the recipe to incorporate more vegetables and simplify the cooking process. Asparagus is in season right now, so I have added them to the stir fry. I also took out the oyster sauce that was in the recipe and replaced it with more fish sauce and soy sauce and a teaspoon of potato starch to thicken the cooking sauce. Finally, in the original recipe, Andy Ricker blanches the brussels sprouts first before stir frying them. In effect, the stir frying is meant to sear the brussels sprouts and infuse it with the flavors of the garlic, chili peppers and the sauce. I'm skipping the blanching process and cooking the brussels sprouts in the wok entirely. I would rather not use another pot if I don't absolutely need to.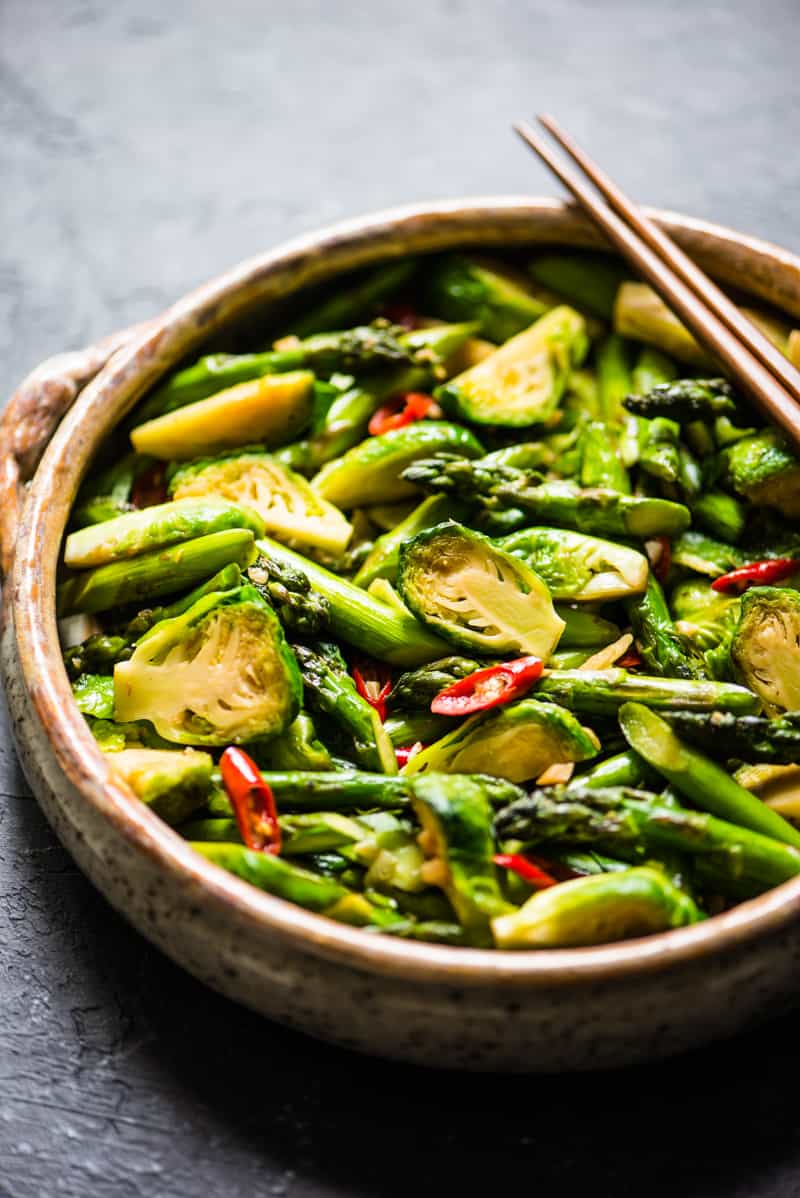 COOKING NOTES FOR STIR FRY
Cooking minced garlic & chili peppers: One of the first steps in cooking the brussels sprouts is to season the oil with garlic and sliced chili peppers. Right after you heat the oil, add the minced garlic and peppers and stir for 15 to 20 seconds. Don't cook them any longer because you will run the risk of burning the garlic and chili peppers.
Cooking the brussels sprouts: The central core of the brussels sprouts take the most time to cook. If you are working with large brussels sprouts, I recommend quartering them so that the core can cook quicker.
Vegan variation: I'm using fish sauce, which is a very common ingredient in Thai cooking. For a vegan version, you can use 6 teaspoons of soy sauce or tamari and add a small pinch of salt if you need more seasoning.
The wok I use: I use this flat-bottomed carbon-steel wok for my cooking. The wok is very thin and heats up very quickly. You will need to season the wok before cooking. For a tutorial on how to season a wok, check out my post here.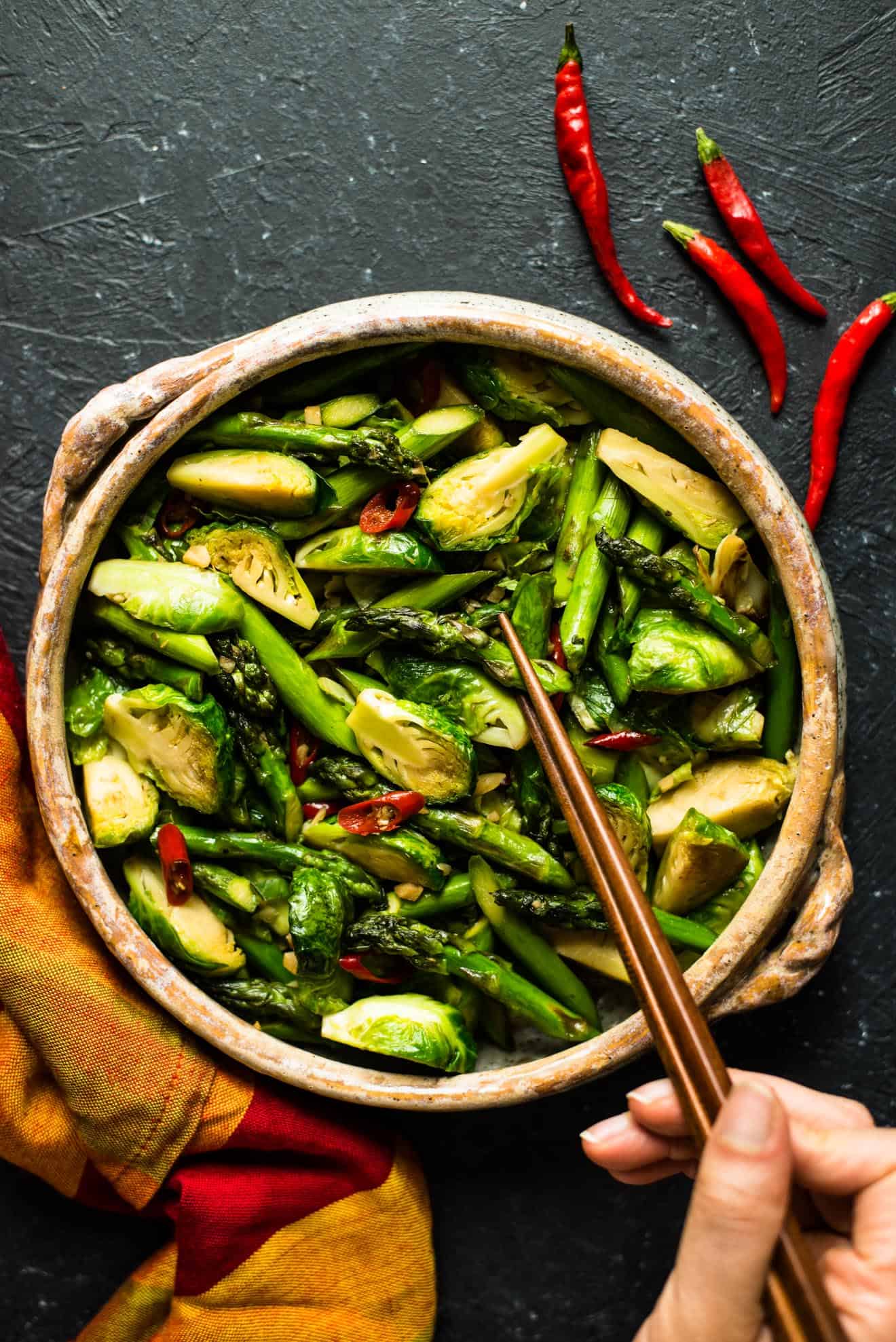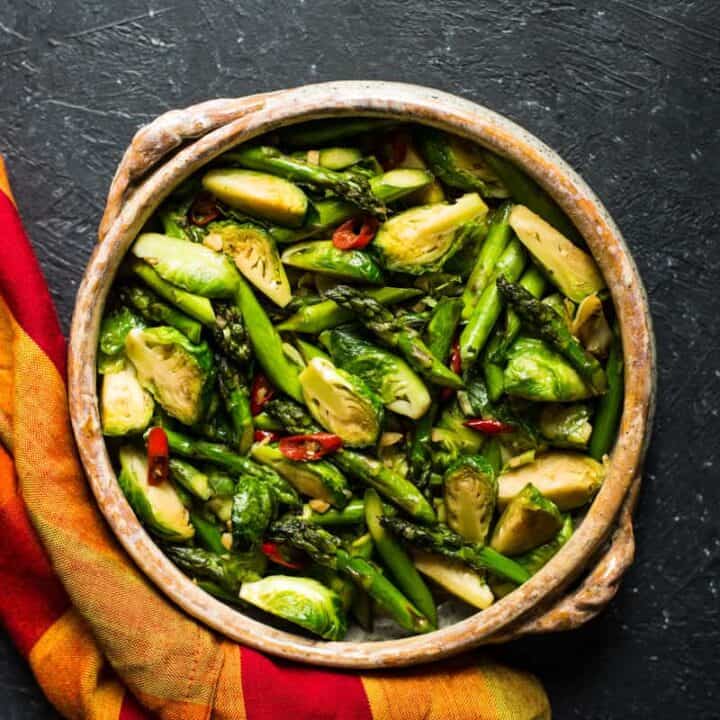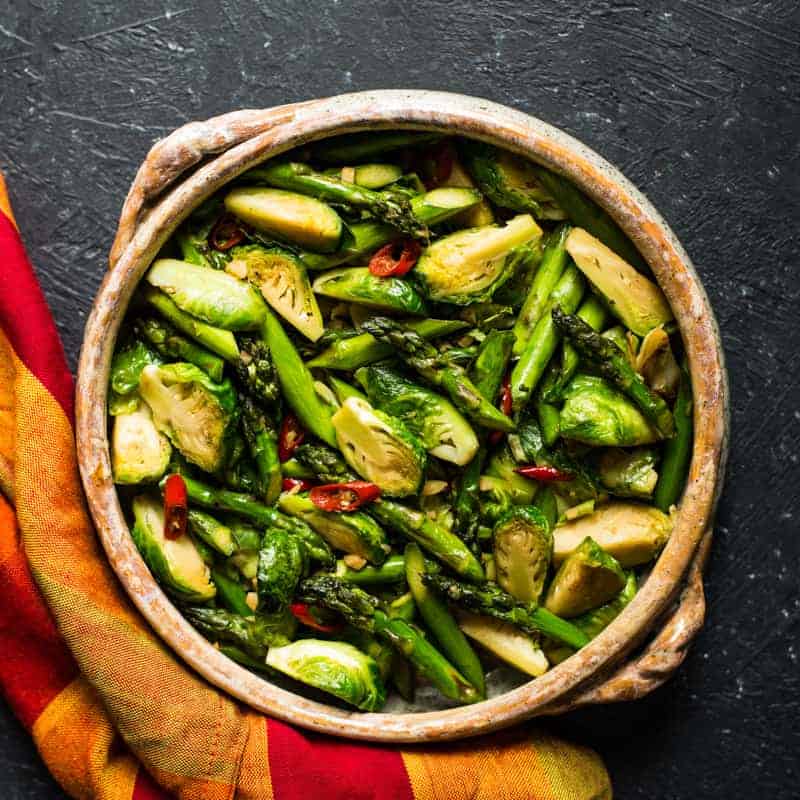 Chili & Garlic Stir-Fried Brussels Sprouts with Asparagus
If asparagus is not readily available, you can substitute them for green beans, sliced carrots or even bell peppers! For a vegan version, use 6 teaspoons of soy sauce. Taste the vegetables and add a pinch of salt if you want more seasoning. Adapted from Andy Ricker's Pok Pok.
Ingredients
3/4 pound (340g) Brussels sprouts
3/4 pound (340g) asparagus
4 teaspoons fish sauce
4 teaspoons low-sodium soy sauce (or tamari for gluten-free)
1 teaspoon brown sugar (any other sugar works also)
1 teaspoon potato starch (see note for substitutions)
4 tablespoons water
2 tablespoons vegetable oil
3 plump cloves of garlic, minced
3 Thai chili peppers, sliced
Instructions
Trim the bottoms of the Brussels sprouts. If you are working with large Brussels sprouts, cut them into quarters. For smaller ones, cut them in half. Rinse the Brussels sprouts once they are cut.
Snap off the ends of the asparagus. Rinse them under water.
In a small bowl, mix the fish sauce, soy sauce, brown sugar, potato starch and water. Set that aside.
Heat the oil in a wok or large sauté pan over high heat. When the pan is hot, add the garlic and chili peppers and stir them immediately. Let them cook for 15 to 20 seconds so that they season the oil.
Add the Brussels sprouts and cook them for 2 minutes, stirring frequently. If it looks like the Brussels sprouts are burning at the edges, add a splash of water (about 1 to 2 tablespoons) to the pan.
Add the asparagus and cook for another 2 minutes, stirring frequently. Again, if the vegetables are burning, add a splash of water.
Give the fish sauce mixture a quick stir and add the mixture to the wok. The sauce should thicken a little. Stir to distribute the sauce on the vegetables. Cook for another 1 to 2 minutes.
Turn off the heat and plate the vegetables. Serve with rice or your favorite grains!
Notes
I like to taste test a piece of Brussels sprouts to make sure that they are cooked to my liking. If the Brussels sprouts still taste raw, just cook them for another minute or two.
If you don't have potato starch, you can use cornstarch, tapioca starch or even some plain white flour. The starch helps to thicken the sauce. If you're not bothered by a runny sauce, you can leave this out entirely.
Nutrition Information:
Yield:

2 to 3
Serving Size:

1/3 of recipe
Amount Per Serving:
Calories:

171
Total Fat:

15.3g
Saturated Fat:

2.1g
Cholesterol:

0mg
Sodium:

359mg
Carbohydrates:

7.7g
Fiber:

3.7g
Sugar:

3g
Protein:

3.9g