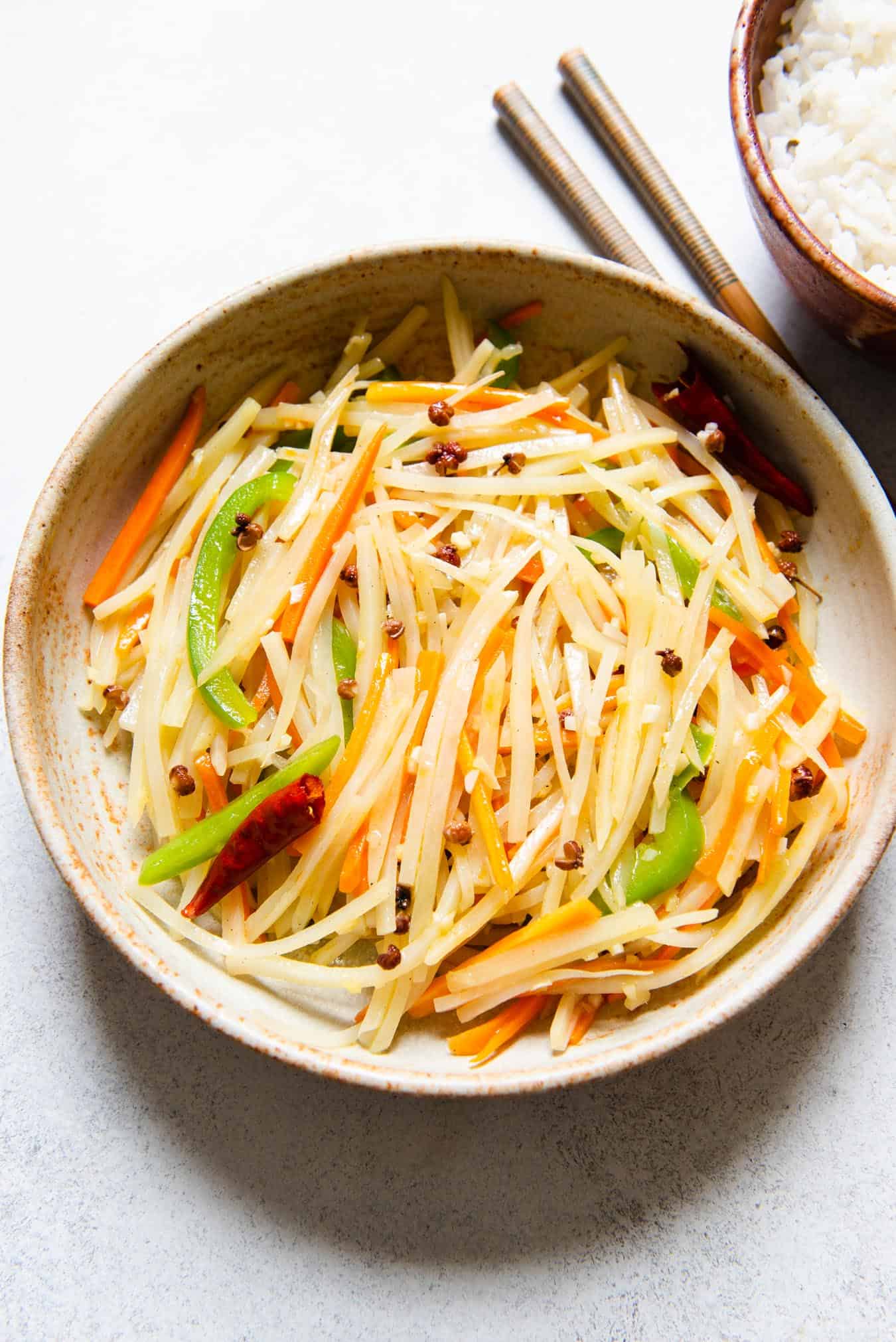 Tudou si (土豆絲) is a side dish that originates from China's Sichuan Province. The dish usually consists of shredded or slivered potatoes that are quickly stir fried with aromatic spices, as well as Sichuan peppercorns and chili flakes.
The quick stir fry takes out the raw bite from the potatoes, but they are still lightly crisp at the core. Imagine eating julienned carrots that are lightly cooked and still slightly firm in the center. That's what the texture of tudou si is like. If you prefer the potatoes to be softer, you can cook them for a few minutes longer. However, the potatoes may break into smaller pieces or stick to your wok.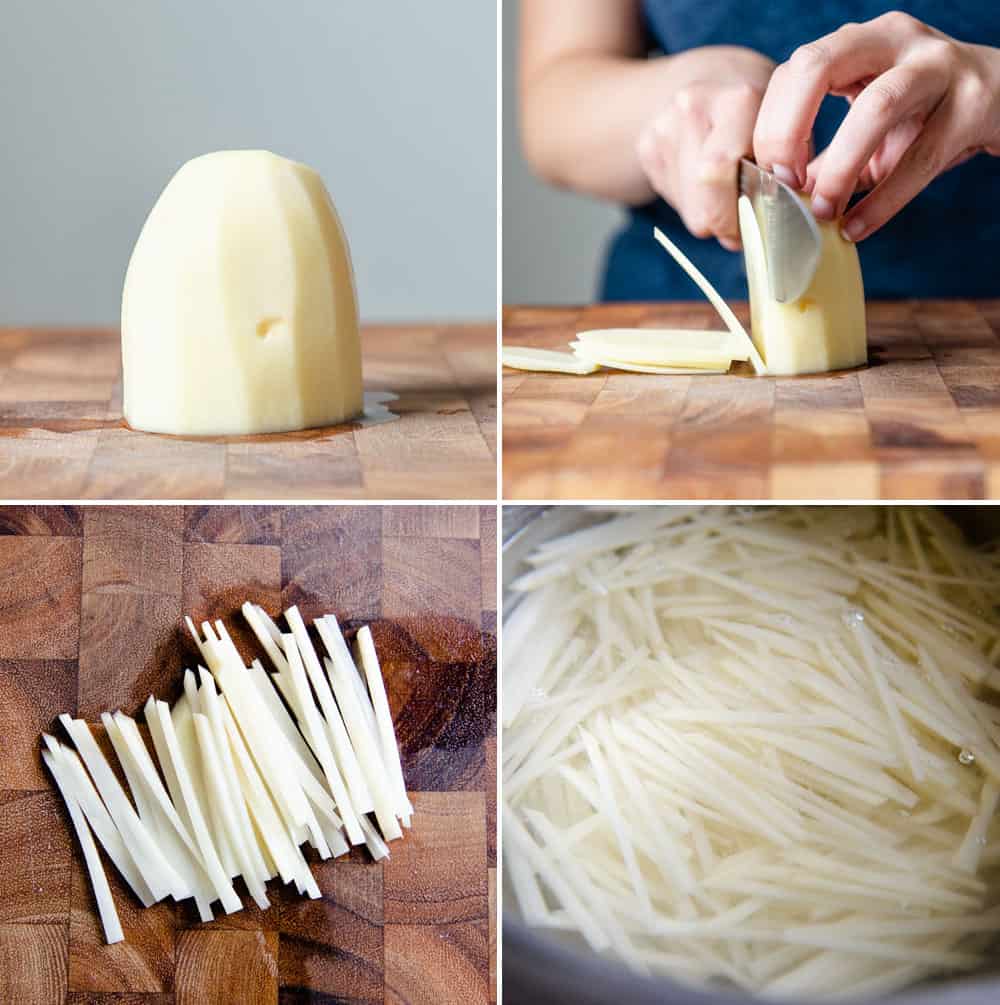 HOW TO PREPARE TUDOU SI
The trickiest part of this dish is slicing the potatoes and carrots. I usually make the dish with russet potatoes, though any type of potato works. Because russets tend to be long, I slice them in half, crosswise. Then, I lay the flat side down on my chopping board and slice each half into thin planks. Finally, I slice the planks into matchstick pieces. Similarly, slice the carrot into matchsticks.
You can use a food processor to grate the potatoes and carrots. However, I found that the grated potatoes were too thin and flimsy. If you decide to use the food processor, make sure to rinse the grated potatoes to wash away the excess starch. Otherwise, the potatoes will be slightly gummy.
VARIATIONS
You can prepare tudou si a number of ways. Most commonly, you'll see the potatoes stir fried on their own or with sliced bell peppers. I like cooking the potatoes with carrots and bell peppers to give more color and natural sweetness to the dish.
Some recipes also recommend adding Zhenjiang vinegar (鎮江香醋), sometimes called "Chinkiang" vinegar. I prefer finishing the dish with a light drizzle of chili oil.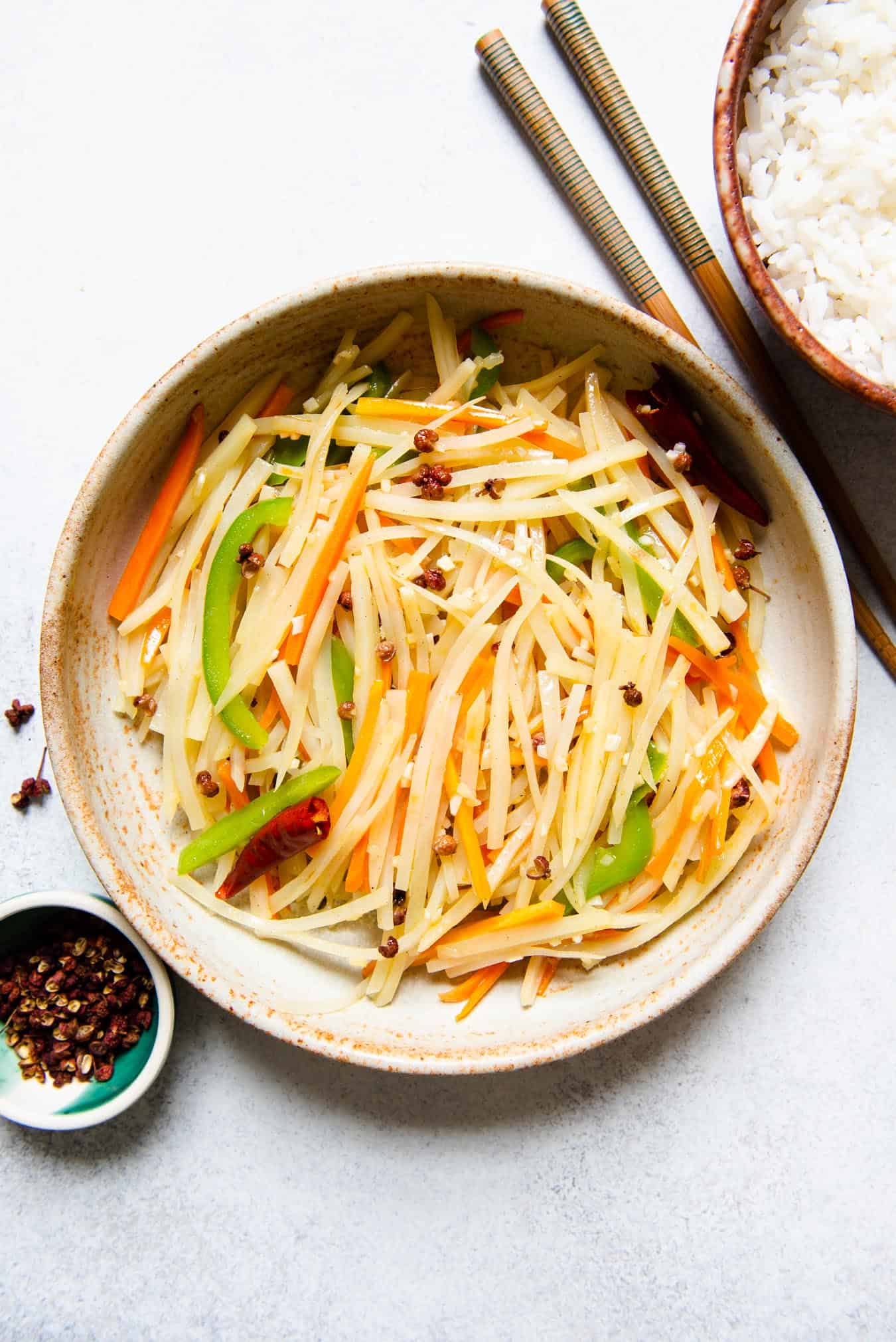 WHAT TO SERVE WITH TUDOU SI
GRAIN/NOODLES
PROTEIN
VEGETABLES
Tudou Si (土豆絲), Chinese Stir Fried Shredded Potatoes
Stir fried shredded potatoes (tudou si) is an easy dish that takes about 20 minutes to make. The potatoes are lightly crisp and they're seasoned with Sichuan peppercorns and white pepper. Serve the dish with my jasmine rice, garlic green beans, and mapo tofu!
Ingredients
12 to 13

ounce

russet potatoes (see note 1)

1

medium carrot

1/2

cup

thinly sliced green bell pepper

2 1/2

tablespoons

canola or vegetable oil

2

tablespoons

minced garlic

1

tablespoon

minced ginger

1 1/2

teaspoons

Sichuan peppercorns (see note 2)

pinch

of red pepper flakes (optional)

1/4

teaspoon

white pepper

1 1/2

teaspoons

kosher salt

1

teaspoon

chili oil (optional)
Instructions
Fill a bowl with cold water. You'll be soaking the slivered potatoes in the water later. This prevents the potatoes from oxidizing after they're cut and it washes away some of the excess starch. 

Cut the potato in half, crosswise. Lay the potato halves flat side down on your chopping board. Slice each half into thin planks, slightly less than 1/8-inch thick. Stack a few of the planks and slice into thin slivers. Continue until you have finished slicing all the potatoes. Transfer the slivered potatoes to the bowl with cold water.

Peel the carrot and cut them into 3-inch sections. Slice each section into matchstick pieces. 

When you are ready to cook the potatoes, drain them from the water.

Heat the canola oil in a wok over medium to medium-high heat. Add the garlic, ginger, Sichuan peppercorns, and red pepper flakes, if using. Cook for 30 seconds, until fragrant. 

Next, add the potato slivers and cook for about 2 minutes, stirring occasionally. Add the carrots, bell pepper, white pepper, and salt. Stir to combine. Cook for another 2 to 3 minutes. The outside of the potato should be slightly soft but the inside still crisp. 

Transfer the potatoes to a plate. Finish the dish with a light drizzle of chili oil, if you like.
Notes
You can use any potato for this recipe.
If you want the peppercorns to be easier to digest, grind them with a mortar and pestle. You can add a small pinch of red pepper flakes to the dish if you want more heat. I use the dried chilis mostly as a garnish in this dish.
Nutrition
Serving:
1
serving
|
Calories:
176
kcal
|
Carbohydrates:
9
g
|
Protein:
2.6
g
|
Fat:
10.1
g
|
Saturated Fat:
1.4
g
|
Sodium:
895
mg
|
Fiber:
2.4
g
|
Sugar:
2
g
Did you make this recipe?
Tag @hellolisalin or leave a star rating and comment on the blog!