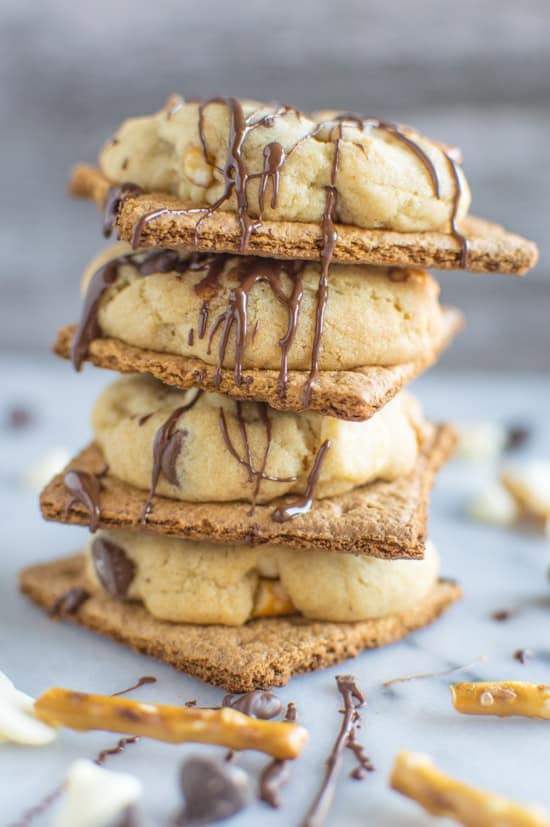 We all have cherished food memories:
helping out our grandparent/parents in the kitchen
the first time we baked cookies (or in my case, slightly burnt and salty oatmeal raisin cookies)
making your first bowl of instant ramen
spending an hour stringing green beans for the Thanksgiving feast
One recent memory that still lingers on my palette are the Mackels'more cookies I had 3 months ago in Seattle. It's difficult to forget eating a buttery chocolate chip s'mores cookie baked onto a graham cracker served with Earl Grey ice cream on a balmy autumn evening. All this alongside my friend's adorable dog. She's a bit of a showstopper. When she was still a young pup, she had everyone eating off the palm of her hands her paws with her cuteness. I can talk about this dog forever.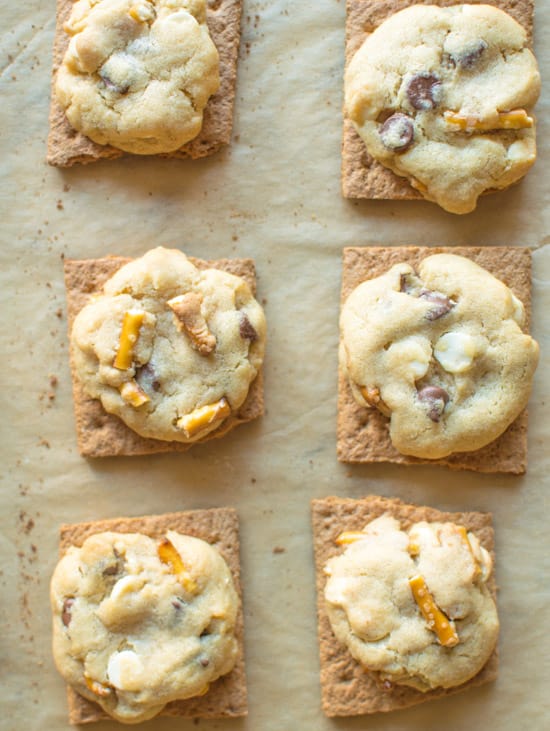 Inspired by those scrumptious Mackels'more cookies from Hello Robin, I baked a batch of chocolate chip cookies with pretzels on top of graham crackers. Then, I gave them away!
This is my first year being part of the Great Food Blogger Cookie Swap, and I wanted to share a type of cookie that evoked scrumptious food memories. I ogle over other bloggers' delicious recipes all the time, but I'm always sad that I never get to taste any of it. These blogger food swaps are definitely made for people with hungry stomachs like mine. Lucky me, I got these delightful Deep Dish Peppermint Hot Cocoa Cookies (plus silver paper straws that I'll use for my photos!!) from Our Full Table, Graham Cracker Snickerdoodles from Big Flavors from a Tiny Kitchen, and Gingersnaps with Eggnog Glaze from Cheap Recipe Blog. MAJOR YUM!
But aside from the delicious food, the Great Food Blogger Cookie Swap also partnered with Cookies for Kids' Cancer, a non-profit that raises money for the research and development of treatments for pediatric cancer. Good cookies, good cause, good feelings all around.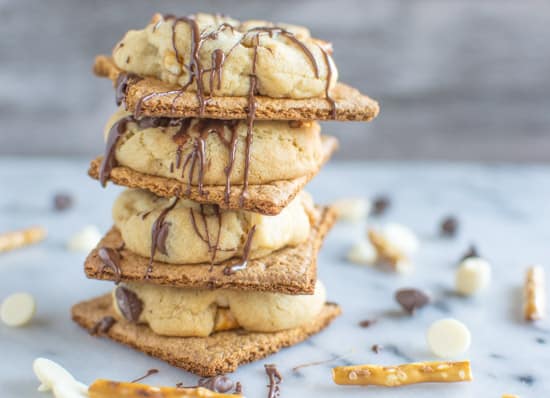 Wish I still had more of these cookies around to share with you all!
Chocolate Chip Pretzel Cookies with Graham Crackers
Makes 4 dozen cookies
Ingredients
2 1/4

(270g) all-purpose flour

1

tsp

baking powder

1/2

cup

+ 2 TBS unsalted butter (1 and 1/4 sticks)

,

softened

1/3

cup

(110g) unsweetened applesauce

3/4

cup

(140g) light brown sugar

1/2

cup

(95g) sugar

2

large eggs

1/2

cup

(40g) chopped salted pretzels (I used pretzel sticks)

1/2

cup

(120g) semi-sweet chocolate chips

1/2

cup

(120g) white chocolate chips

24

sheets of honey graham crackers
Instructions
In a medium bowl, mix the flour and the baking powder. In a large bowl, mix the butter, applesauce, sugar, and eggs together. I pulsed this wet mixture in my food processor. Gradually mix in the flour with the wet ingredients until a dough forms. Fold in the pretzels and chocolate chips. Chill the dough for 30 minutes.

Preheat the oven to 375 degrees F (190 degrees C). Line 2 baking sheets with parchment paper or silicone mats.

Break the graham cracker sheets in half and arrange them on the lined baking sheets. Take about 2 tablespoons of the dough and shape it into a ball. Place the rolled dough onto a graham cracker, and flatten it a little. You don't need to flatten it too much. You're doing this to make sure that the cookie stays on the graham cracker.

Bake for 8-10 minutes, or until the edges of the graham crackers start to brown. Let them cool before serving.

Serve these delicious cookies with ice cream or melted chocolate!
Notes
1. Chocolate chip pretzel cookies adapted from Sally's Baking Addiction.[br][br]2. I like to reheat the cookies and serve them slightly warm. To do so, place them in an oven at 325 degrees F (160 degrees C) for about 5 minutes.
Did you make this recipe?
Tag @hellolisalin or leave a star rating and comment on the blog!
Guess how I enjoyed my cookie: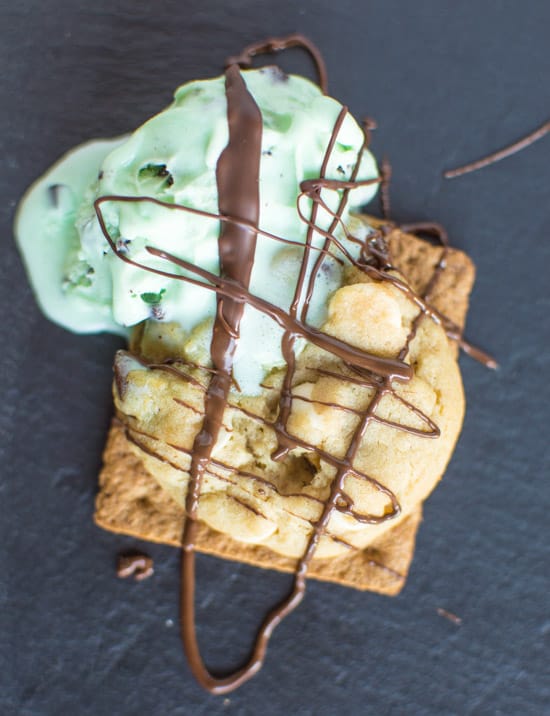 Looking for more cookie inspiration?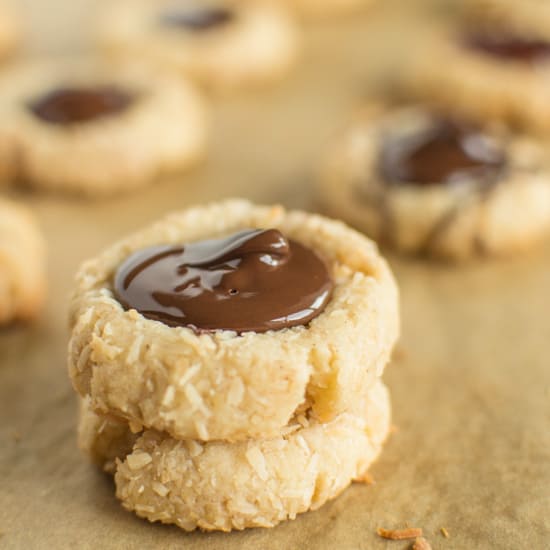 Vegan Coconut Chocolate Thumbprints