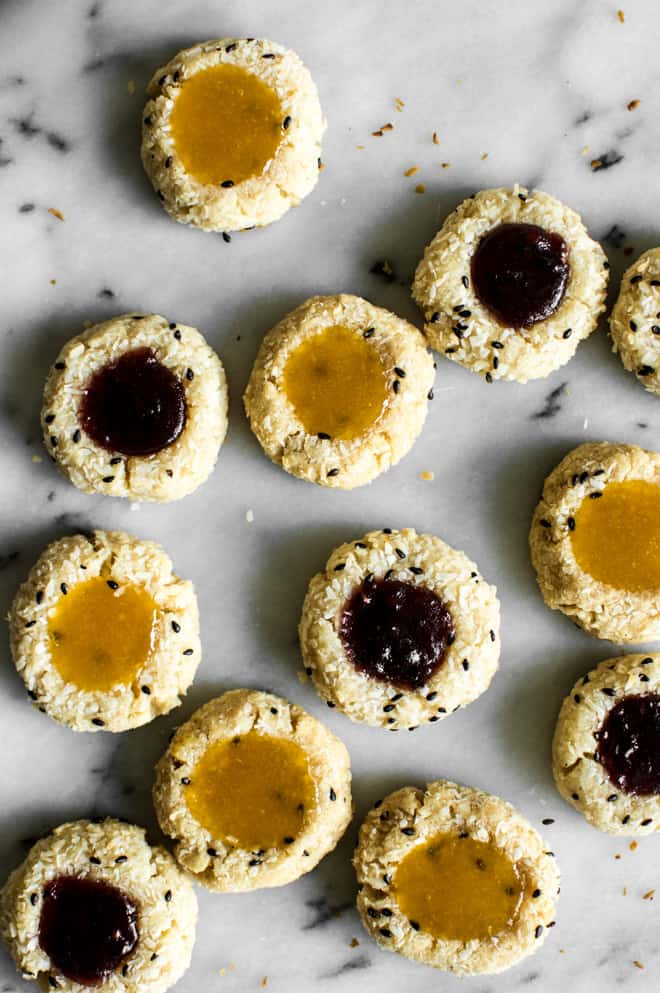 Some people are born to be dessert decorators. Just take a look at Beth's adorable gingerbread men cookies. I am not one of those people. Last year, I wanted to make festive iced sugar cookies for the Christmas gathering with my in-laws, so I packed a few cookie cutters for my trip to the UK. Don't laugh. Packing kitchenware in your luggage for a 3 week trip is completely normal . . . for a food blogger.
During my baking escapade, I managed to get icing all over the kitchen and in my hair. It's beyond comprehension. Honestly, I think my 12-year-old niece could have done a better job. Let's just say that I'm ready to move on from iced cookies.
I have churned out 9 batches of these gluten-free thumbprint cookies already, and I got great feedback on them every time! I even caught my niece sneaking in a few of these right before bedtime a few days ago, which I take to be the highest compliment. Perhaps I should make these for Christmas this year, when I head to the other side of the pond?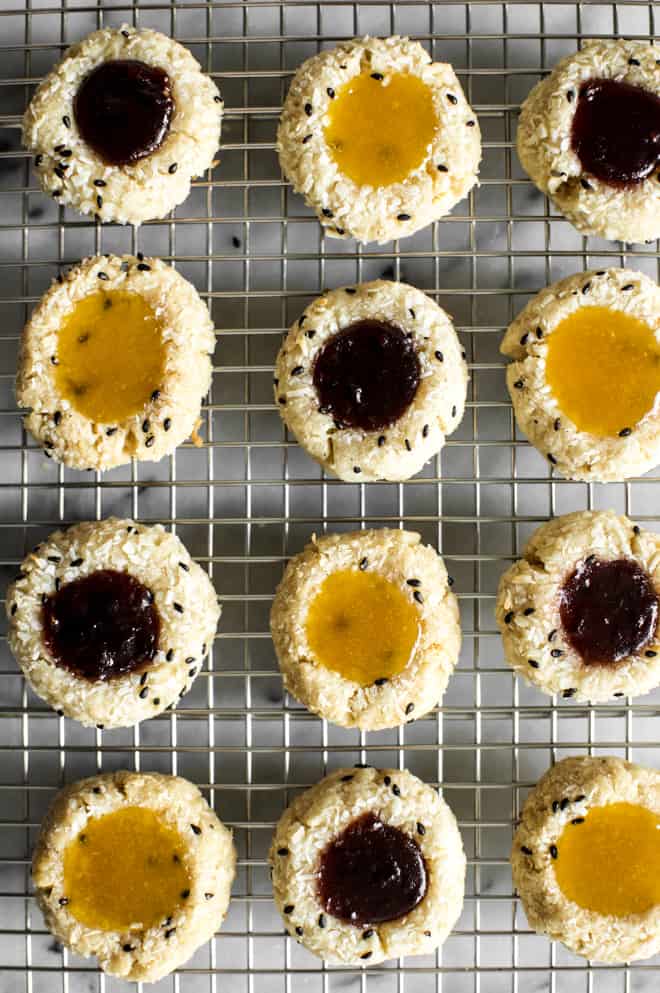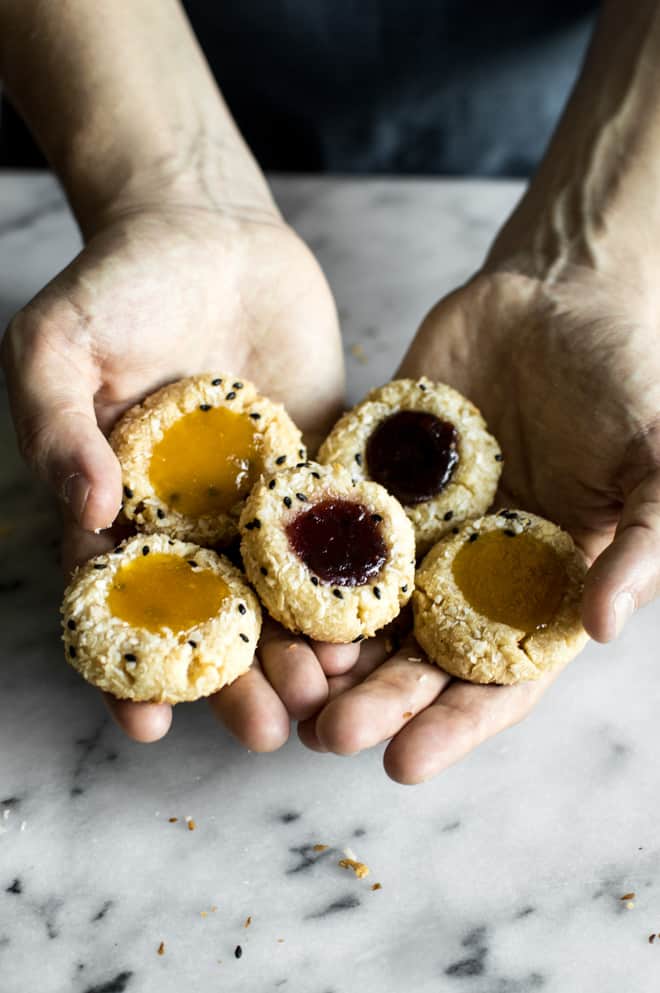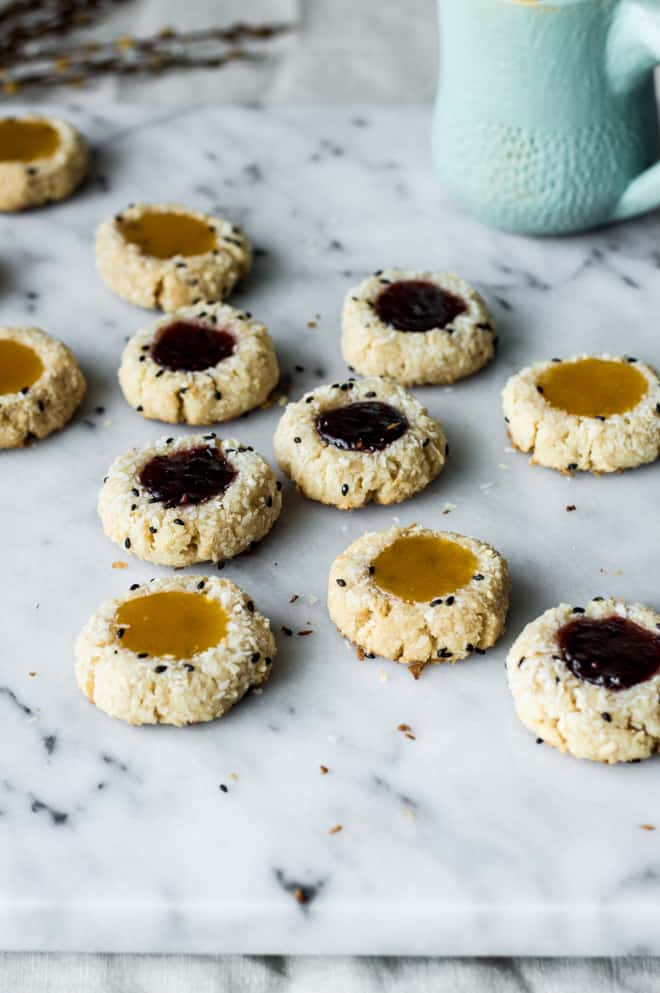 COOKING NOTES FOR THE GLUTEN-FREE THUMBPRINT COOKIES RECIPE
Let the Cookies Cool! I was VERY excited to try these cookies when the came fresh out the oven, so I grabbed one cookie right off the baking sheet while it was still piping hot. The cookie came apart and the jam, which had not settled yet, just dripped everywhere. Learn from my mistake – be patient and wait a few minutes before devouring them!
Cracking Cookies: When you are forming the indentation for the cookies, you'll probably see that the cookie dough starts to crack along the edges. Patch up those big cracks that run from the center of the cookie to the edge to prevent the filling from leaking. Minor cracks are okay!
Servings:
14
to 15 cookies
Easy Gluten-Free Thumbprint Cookies
These tasty thumbprint cookies are inspired by the
coconut chocolate thumbprints
that I made from
Kelly's Vegan Holiday Treats cookbook
. While these cookies are not vegan (it's hard to find a good lemon curd that doesn't use egg yolks), they taste amazing. Feel free to fill the cookies with any jam, citrus curds, or chocolate that you have on hand! Makes 15 to 16 cookies
Ingredients
6

tablespoons

unsalted butter

,

softened at room temperature

2

tablespoons

unsweetened applesauce

1/2

cup

(105g) sugar

1

cup

(160g) gluten-free all-purpose flour*

2/3

cup

(80g) unsweetened shredded coconut, divided

1

teaspoon

pure vanilla extract

1/4

teaspoon

salt

1/2

tablespoon

black sesame seeds

jam

lemon curd

, adapted from my lemon curd recipe
Instructions
Using an electric mixer on low speed, cream butter, applesauce and sugar until the butter is fluffy, about 2 minutes. Add flour, 1/3 cup of coconut, vanilla and salt and mix until a dough starts to form. You may end up with a very crumbly dough, and that's okay. Just gather the dough together with your hands. Freeze dough for 15 minutes or chill in refrigerator for 30 minutes.

Preheat oven to 350 degrees F (175 degrees C) and line a large baking sheet with parchment paper or silicone mats.

Mix remaining coconut and sesame seeds in a small bowl. Set aside.

Scoop out about 1 1/2 tablespoons of cookie dough using a

medium cookie scoop

or measuring spoons. Roll each bit of cookie dough into a ball and roll in the coconut-sesame mixture. Place all rolled cookie dough on prepared baking sheet, with about 1 1/2 inches of space in between. Flatten the cookie dough slightly and create a small indentation in the center. I used my pestle for this, but you can also use your thumb. Fill each indentation with 1/2 teaspoon of jam or lemon curd.

Bake cookies for 12 to 14 minutes, or until the bottoms start to brown. Let cookies cool on baking sheet for at least 5 minutes before transferring to wire rack. Cookies will firm up once they cool.

Store in a sealed container in room temperature for up to 2 days.
Notes
NUTRITION INFORMATION: Amount Per Cookie: Calories: 134, Total Fat 7.4g, Saturated Fat: 5.1g, Sodium: 42.7mg, Cholesterol: 12.2mg, Total Carbohydrate: 17g, Dietary Fiber: 1.8g, Sugar: 9g, Protein 1g
*For this recipe, I used the gluten-free all-purpose flour blend from America's Test Kitchen's How Can it be Gluten Free Cookbook. You can use Cup4Cup Gluten-Free flour. Alternatively, you can use regular flour or whole wheat pastry flour if you're not gluten free.
Did you make this recipe?
Tag @hellolisalin or leave a star rating and comment on the blog!
Disclsoure: The link to the cookie scoop is an affiliate link. I think the cookie scoop is excellent, but there are cheaper versions available online.