Palak paneer is a popular North Indian dish of Indian-style cottage cheese mixed with a creamy spinach sauce that is infused with spices. Here is a 45-minute palak paneer recipe that you can make for weeknights. Serve the dish with a side of basmati rice or coconut rice!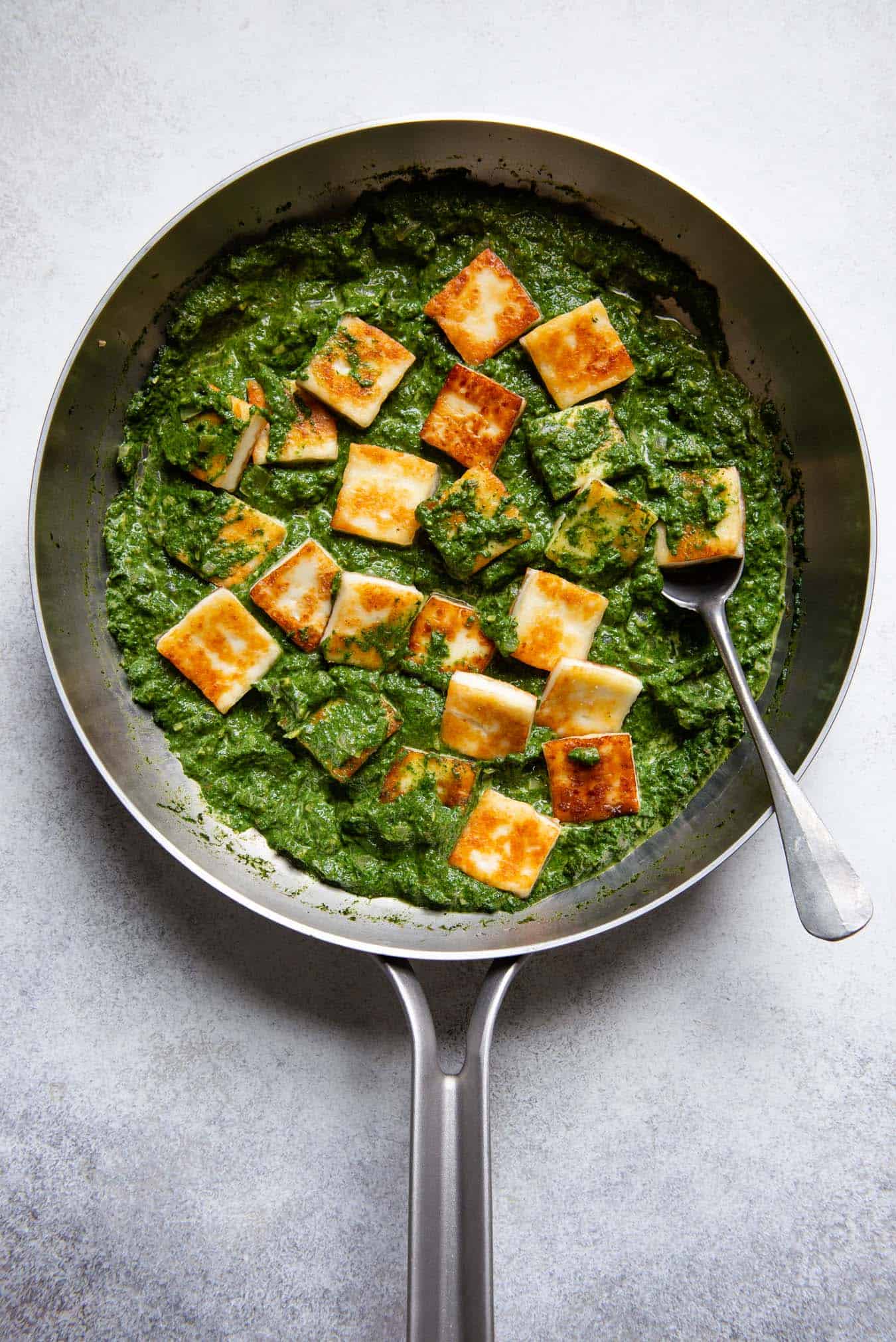 Palak paneer is one of my favorite vegetarian dishes to order in Indian restaurants. The star of the dish is the creamy sauce, which is made of chopped or pureed spinach cooked in a medley of spices. Complementing the sauce are pieces of paneer, or Indian cottage cheese. It is a simple but absolutely irresistible dish that will satisfy all the taste buds.
This flavorful dish is easy to make at home. My palak paneer recipe uses ingredients that are relatively easy to find and takes about 45 minutes to cook. Honestly, I couldn't stop eating this when I was testing the recipe. Also, this dish makes great leftovers. The spinach sauce tastes even better the next day!
Keep an eye on the paneer when you are pan frying it. Often times, I walk away from the stove to clean up the kitchen and I end up over frying the paneer. When you are frying the paneer, aim for the light golden color that you see in the photo above.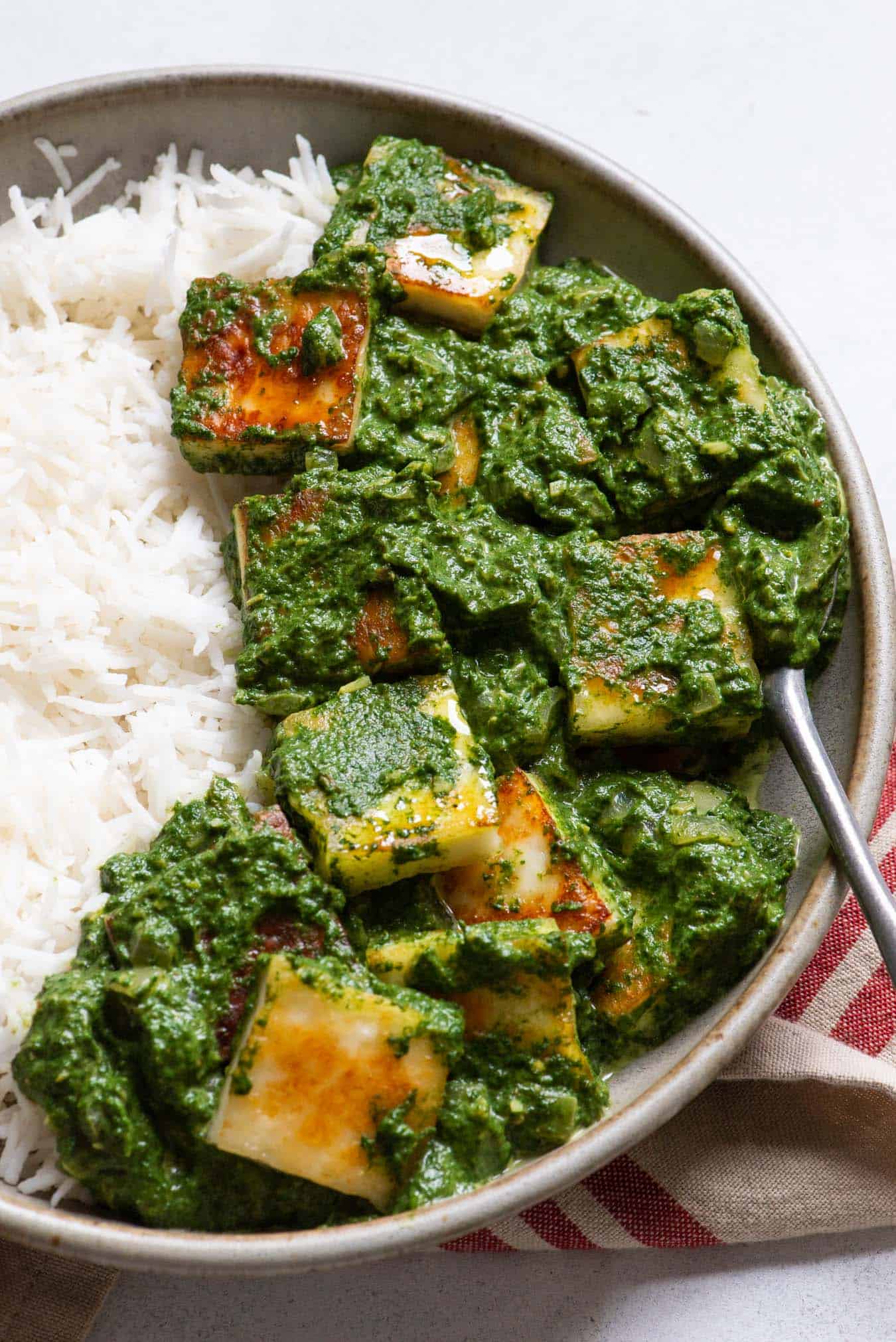 SAAG PANEER VS. PALAK PANEER
For a long time, I thought that saag paneer and palak paneer were the same dish. Part of my confusion came from various Indian restaurant menus I've seen over the years. In some restaurants, I've seen the spinach and paneer dish described as "palak paneer." At other restaurants, that same dish is called "saag paneer." That's why I assumed that "palak" and "saag" were different ways of saying spinach in Hindi.
After some research, I learned that "palak" is Hindi for spinach, while "saag" means leafy greens (mustard greens, collard greens, fenugreek, spinach, etc.). Technically speaking, saag paneer refers to a paneer dish that is served with a sauce of mixed greens. Because this recipe uses spinach only, I am calling it palak paneer.
MORE INDIAN-INSPIRED RECIPES
Print
Easy Palak Paneer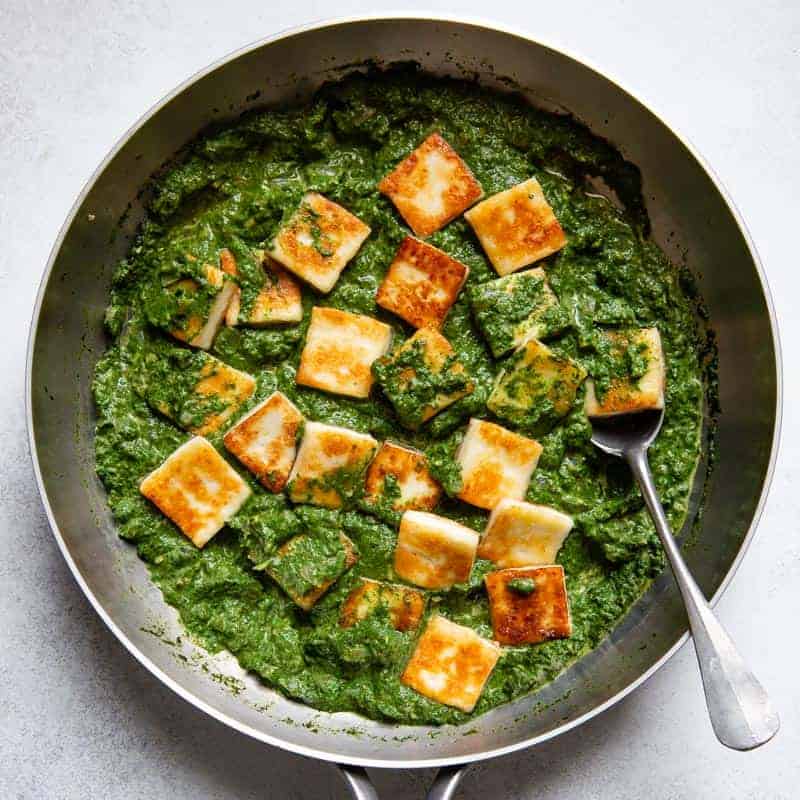 Palak paneer is great when served with a side of basmati rice. Some palak paneer recipes use whole yogurt in place of heavy cream for the sauce. I prefer using heavy cream because the sauce is runnier and the flavor is less tangy. However, feel free to use whichever ingredient you prefer.
Author:
Prep Time:

15 minutes

Cook Time:

30 minutes

Total Time:

45 minutes

Yield: Serves

4

1

x
Scale
Ingredients
Paneer 
14 ounces

paneer

(see note 1)

3 tablespoons

ghee or safflower oil, divided

pinch of salt
Spinach Sauce
1

pound pre-washed baby spinach

2 tablespoons

ghee or safflower oil

1

medium yellow onion, finely diced (about

1 1/2 cups

)

2 tablespoons

minced ginger

4

cloves garlic, minced

1

serrano pepper, seeded and finely diced (see note 2)

1 teaspoon

cumin seeds (or use 3/4 teaspoon ground cumin)

2 teaspoons

garam masala

1/4 teaspoon

turmeric

1/4 teaspoon

cayenne pepper

1/2 cup

heavy cream

1 1/4 teaspoon

kosher salt
Instructions
Pan Fry Paneer
Cut the paneer into small pieces. Usually, I slice the block of paneer into about 1/3-inch slices. Then, I take each slice of paneer and cut it into smaller pieces. 

Heat 1 1/2 tablespoons of ghee or oil in a large skillet over medium heat. Add half of the paneer pieces and pan fry until golden brown, about 2 to 3 minutes. Sprinkle a small pinch of salt over the paneer before flipping them over. Then, pan fry the other side until golden brown, about 2 minutes. Transfer the fried paneer to a plate. 

Add another 1 1/2 tablespoons of ghee or oil to the skillet and repeat the pan frying step above. I've found that the second batch usually takes less time because the pan is quite hot at this point. Transfer the remaining fried paneer to the plate.
Make Spinach Sauce
Fill a large saucepan with about 3 quarts of water and bring it to boil. Add the baby spinach to the boiling water. If all of it doesn't fit into the saucepan, add half of the spinach first. Once the spinach starts wilting, add the remaining spinach. Cook for about a minute, until all the spinach wilts. 

Use a spider spatula to remove the spinach from the saucepan or drain the spinach into a colander. 

Transfer the spinach to a food processor. You don't need to squeeze the excess liquid from the spinach beforehand. Blend the spinach for about 10 seconds. Scrape down the sides of the bowl and blend again for another 10 seconds. Leave the chopped spinach in the food processor (see note 3). 

Heat a large skillet with 2 tablespoons of ghee or safflower oil over medium-high heat. Add the diced onions and cook them for about 3 minutes, until they start to soften. Next, add the minced ginger, garlic, diced serrano pepper, and cumin seeds and cook for 30 seconds. Then, add the garam masala, turmeric, and cayenne pepper. Stir to coat the onions with the dried spices.

Transfer the chopped spinach into the skillet. Next, add the heavy cream and salt. Cover the skillet with a lid and reduce the heat to medium. Let the spinach sauce simmer for about 5 minutes. 

Uncover the lid and add the pan-fried paneer to the spinach sauce. Turn off the heat. Serve the palak paneer with

basmati rice

. 
Notes
You can use

homemade paneer

or store-bought paneer for this recipe. Homemade paneer tends to be softer in texture. If you decide to use homemade paneer, make sure the paneer has been refrigerated at least several hours or overnight. 

If you want more spice, don't remove the seeds from the chili. 

Another way to make the sauce is to use an

immersion blender

to mix the blanched spinach with the other ingredients. If you want to use the immersion blender, cook the onions in a pot or large saucepan instead of a skillet. Otherwise, the sauce will splatter all over the stovetop as you blend. 

Vegan Version

: you can substitute the paneer with pressed extra-firm tofu. Use safflower oil to cook everything, and swap the cream with coconut milk or cashew cream.