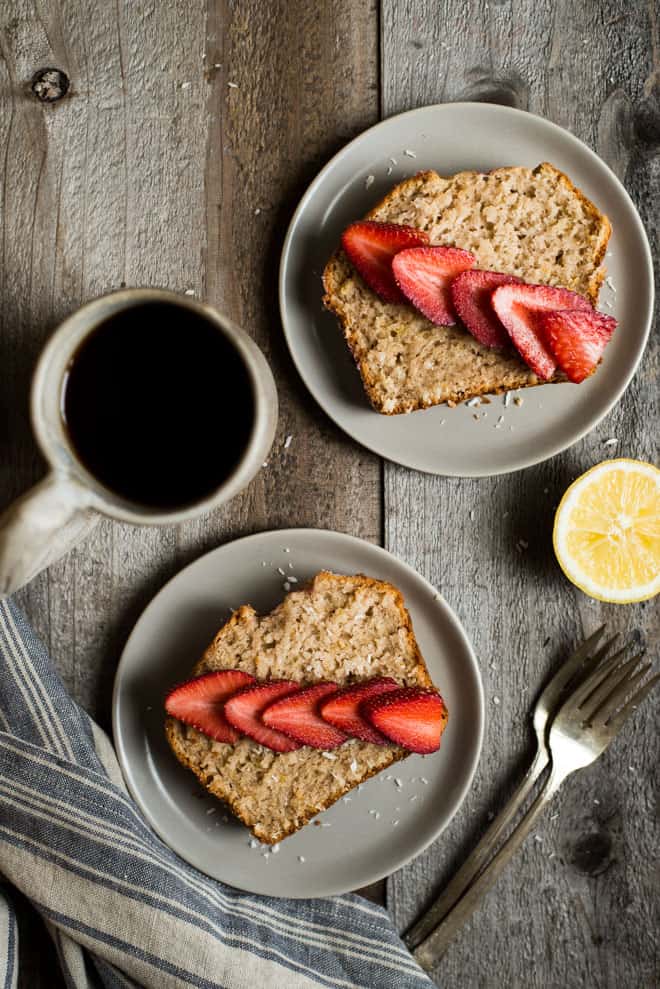 Sometimes, you may see me driving around town with cookies, pies, and bread, looking for someone who could use a bit of extra love that day. For the most part, people are thankful for what I'm doing, but I've also had someone refuse my cookies. That's perfectly fine with me. The funniest encounter would have to be several months ago in San Mateo, when I was handing out my matcha cookies. This guy took one look at the cookies and goes, "Do those have pot in them?"
I may give out free food, my friend, but I don't do miracles.
I'm telling you all this not to fish for compliments but to tell you why I'm sharing a recipe for three loaves of coconut bread today. A while back, my friend Sabrina told me about Three Loaves, a community of food lovers who are dedicated to one thing: saying "'f*ck you' to hunger." To participate, you come up with a recipe for three loaves of bread and you bake them. One is for you to keep, the second is for a friend, and the third loaf is for someone in your community who is in need. Seriously, nothing gives me more joy than helping someone else out, so I knew I wanted to be involved with Three Loaves. Well, today's the day.
The next time you make an extra batch of something, consider giving it to someone who could use an extra boost. I'm sure they'll appreciate it.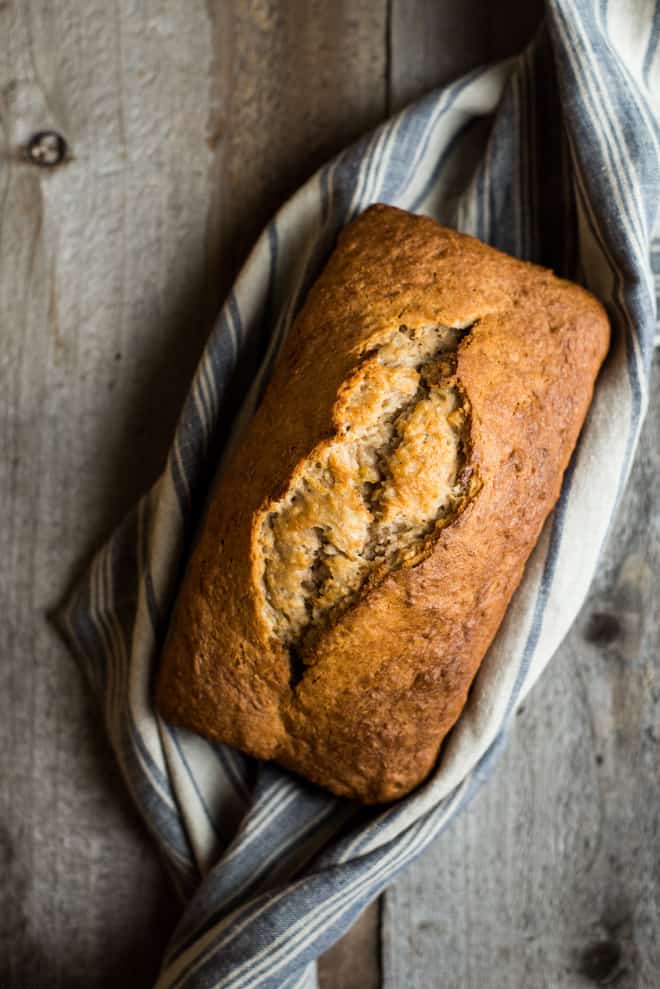 MASTERING MY MISTAKES / COOKING NOTES
Gluten-free flour blend: I tested this recipe with my own gluten-free flour blend and with Cup-4-Cup gluten-free flour, and I have to say that I loved the way this bread turned out with Cup-4-Cup. I had my doubts when I made my first test batch with Cup-4-Cup because the batter was very thick and suspiciously viscous. However, the flour gave the bread a nice chewy texture compared to the tasty yet crumbly mess I made with my gluten-free blend. Cup-4-Cup is not cheap but worth trying once.
Using coconut milk: I tried this recipe with low-fat milk and light coconut milk from a can. If you're nuts for coconuts, grab that can of coconut milk! And if you have any extra leftover, consider using it in my Coconut Curry Stir Fry Noodles!
Adjusting the sweetness of the bread: I used a 3/4 cup of sugar for this recipe, which gave the bread a light sweetness. I had planned to add a blood orange glaze to this bread to make it look more special, but the glaze was too much. Lesson learned: don't gild the lily.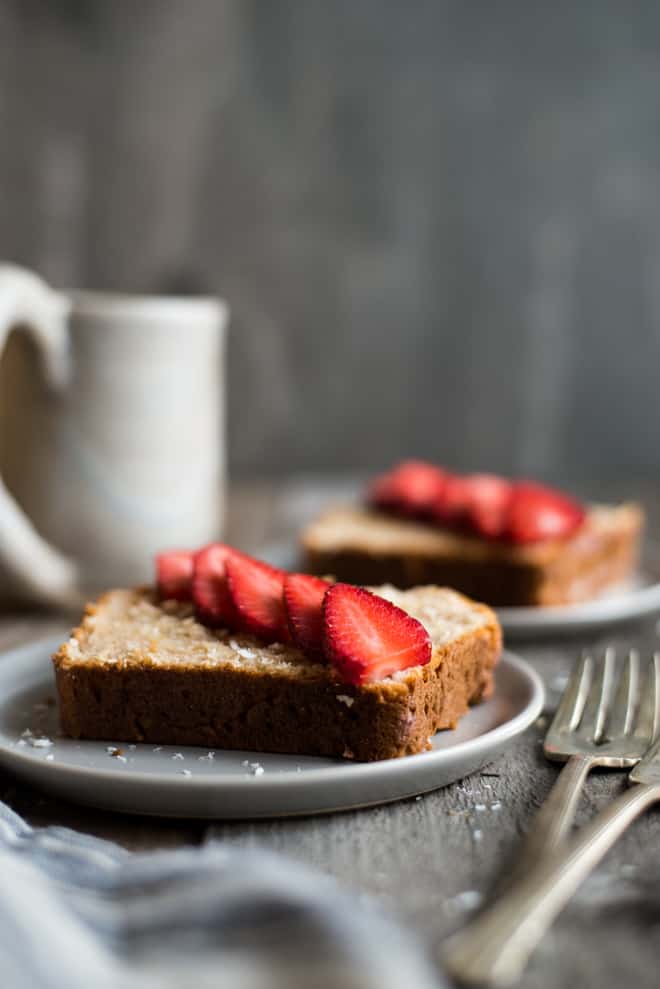 If you make this bread, please let me know! Take a photo of your creation and tag me on Instagram so that I can give you a fist bump! Seeing your creations make my day!
Easy Gluten-Free Coconut Bread with Lemon
Ingredients
cooking spray

5 1/4

cups

[gluten-free all-purpose flour ],

use all-purpose flour if not gluten free

6

teaspoons

baking powder

3

teaspoons

ground cinnamon

1 1/2

teaspoons

salt

6

large eggs

,

at room temperature

2 1/4

cups

cane sugar

3

cups

light coconut milk from a can

1

cup

+ 2 tablespoons coconut oil

4 1/2

teaspoons

vanilla extract

3 3/4

cups

unsweetened shredded coconut

zest from 3 lemons

sliced strawberries for topping

,

optional
Instructions
I highly recommend mixing the batter for one loaf at a time, especially if you're using

Cup-4-Cup

flour. Preheat oven to 350 degrees F. Grease 3 loaf pans with cooking spray and line a small sheet of parchment paper on top of each pan. My pans are 8 1/2″ x4 1/2″. A 9″ x 5″ loaf pan will work, too. Set aside.

In a medium bowl, mix 1 3/4 cups gluten-free four with 2 teaspoons baking powder, 1 teaspoon cinnamon, and 1/2 teaspoon salt. Set aside.

In a large bowl, mix 2 large eggs, 3/4 cup sugar, 1 cup coconut milk, 6 TBS melted coconut oil, and 1 1/2 tsp vanilla extract. Add half of the dry ingredients to wet ingredients and stir until just incorporated. Add the rest of the dry ingredients and stir until everything is well mixed. Small lumps are okay. Stir in 1 1/4 cups shredded coconut and the zest of one lemon. Pour batter into one loaf pan. Repeat steps 2 and 3 for the rest of the batter.

Bake loaves for 50 to 55 minutes. If you are baking all three loaves at once, note that the baking time may vary if the heat in your oven doesn't distribute evenly.

Let bread cool in pan for 5 minutes before transferring to a rack. Let bread cool for at least an hour before serving. Wrap leftovers tightly with plastic wrap and store in room temperature for up to 2 days.
Notes
NUTRITION INFORMATION: 1/12 of Each Loaf: Calories: 246, Total Fat 13.8g, Saturated Fat: 11.5g, Sodium: 173mg, Cholesterol: 31mg, Total Carbohydrate: 28.4g, Dietary Fiber: 1.4g, Sugar: 13g, Protein 3.5g
1. If you only want to make 1 loaf of bread, here's what you'll need: 1 3/4 cups (225g) of gluten-free all-purpose flour , 2 teaspoons baking powder, 1 teaspoon ground cinnamon, 1/2 teaspoon salt, 2 large eggs, 3/4 cup sugar, 1 cup coconut milk, 6 tablespoons coconut oil, melted, 1 1/2 teaspoons vanilla extract, 1 1/4 cups shredded coconut, and zest from 1 lemon.
2. I suggest using room temperature eggs and milk for the batter. The melted coconut oil can solidify again if you use eggs or milk that is straight of the refrigerator. You can quickly warm up the eggs by soaking them in a bowl of warm water for 10 to 15 minutes. If using refrigerated coconut milk, microwave it for 20 seconds.
Nutrition
Serving:
1
/12 of one loaf
|
Calories:
246
kcal
|
Carbohydrates:
28.4
g
|
Protein:
3.5
g
|
Fat:
13.8
g
|
Saturated Fat:
11.5
g
|
Cholesterol:
31
mg
|
Sodium:
173
mg
|
Fiber:
1.4
g
|
Sugar:
13
g
Did you make this recipe?
Tag @hellolisalin or leave a star rating and comment on the blog!