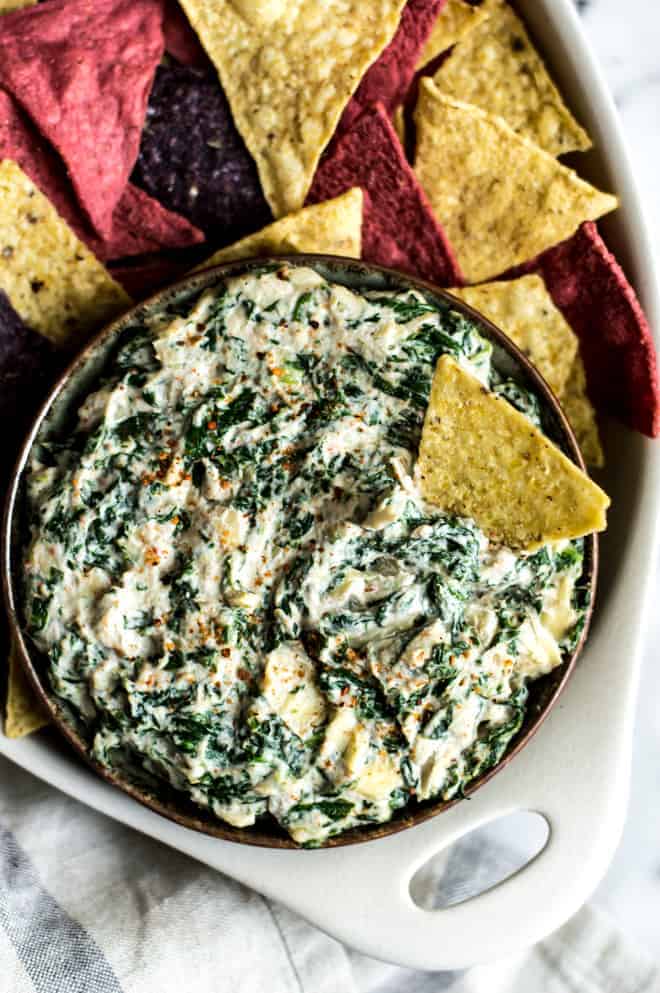 Do you serve appetizers before the Thanksgiving dinner, or do you forgo the small bites to leave room before the big feast? In my family, there's no such thing as "saving room" for dinner. We just eat all the time. That's why the appetizers are just as important as the main event.
For whatever reason, one of my sisters has brought a cheesy spinach artichoke dip to our last few family gatherings. It tastes quite good, but it's so rich that 1/4 of that dip is a meal unto itself. I want to keep the spinach artichoke dip tradition alive during my Thanksgiving dinner this year with a dip of my own.
I made a lighter version by leaving out on the cheese and sour cream and mixing in some cashew cream instead. From tikka masala to cheesecakes, we've seen how cashew cream can be so versatile in the kitchen. It's absolutely dreamy in this dip. It adds a richness and natural sweetness that pairs so well with the vegetables. I've been snacking on the dip over the last few days and spreading it on my morning toast with a heavy hand. It's wonderfully addictive.
With Thanksgiving coming up in less than a week, how far along are you with your planning? I have 3 dishes down, but still have to tackle the dessert and figure out what I'm doing with the bird. Stay tuned to see what dessert I make!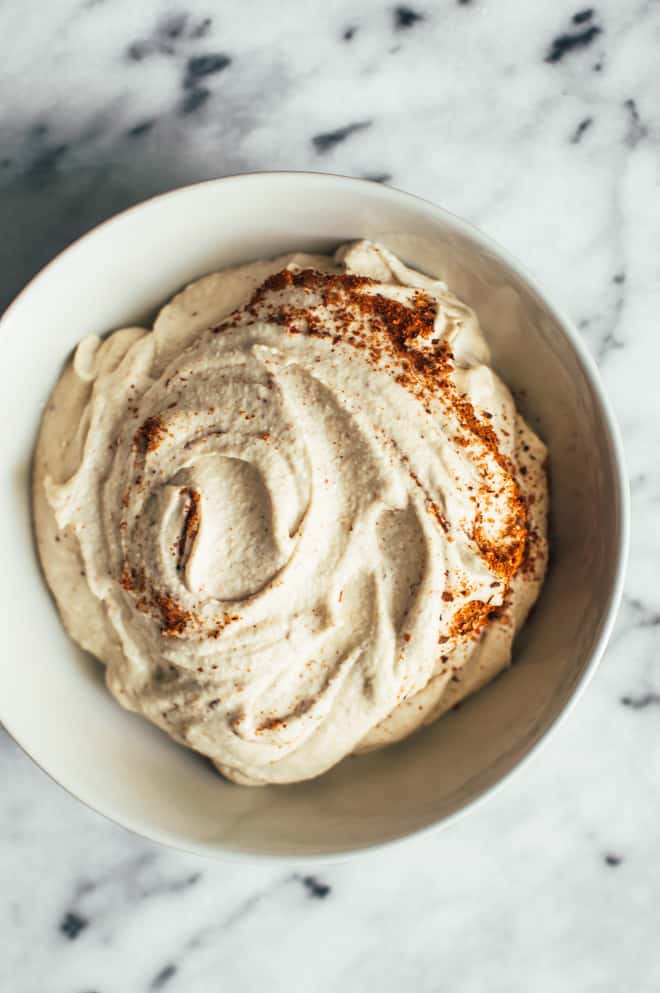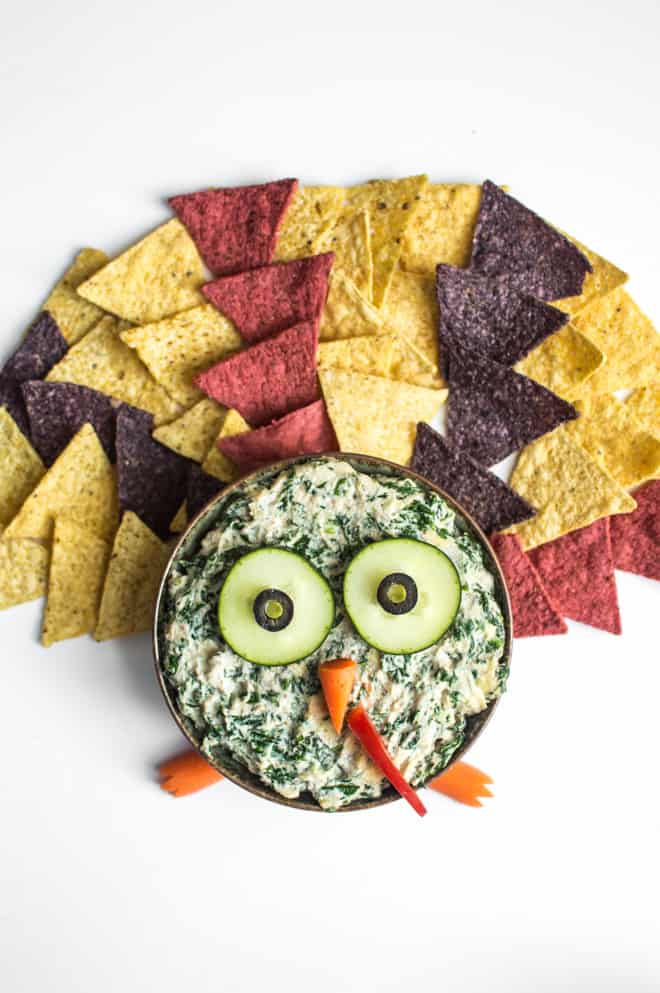 MASTER MY MISTAKES / COOKING NOTES
Get that Water Out! Make sure to squeeze the excess water from the spinach before chopping and mixing it with the rest of the ingredients.
Heating the Dip: I like the serving the dip as is, but if you want it warmed, pop the dip in a 350 degrees F oven (175 degrees C) for about 10 minutes. Word of warning, the dip will turn a bit yellow once you bake it, but it still tastes fine!
Try with homemade baked tortilla chips! This dip is great with homemade tortilla chips, too. Click here for the printable recipe, or check out my video tutorial!
TOOLS + INGREDIENT USED
LOOKING FOR MORE VEGAN DIPS?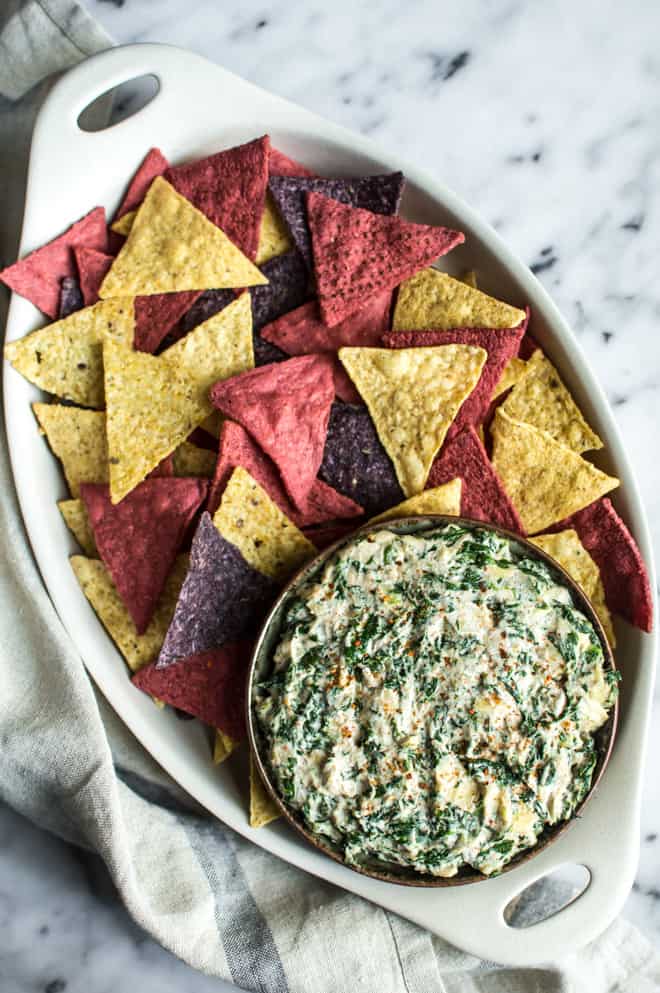 Spicy Vegan Spinach Artichoke Dip
Ingredients
1 1/4

cups

(175g) raw cashews

1

tablespoon

olive oil

3

cloves

garlic

,

minced

10

ounces

(280g) baby spinach

1/2

cup

(120ml) unsweetened soy milk

,

any non-dairy milk works also)

1

teaspoon

kosher salt

1/4 to 1/2

teaspoon

cayenne pepper

1

tablespoon

lime juice

3/4 to 1

cup

(150g) roughly chopped artichoke hearts (I used ones from a jar)
Instructions
Soak cashews with water overnight or with boiling water for 1 hour.

Heat a large sauté pan with the olive oil over medium heat. When the pan is hot, add the minced garlic and let it cook for a minute. (Watch the garlic dance!) Add spinach and cook until wilted, about 2 to 3 minutes. Remove from heat.

In a high-speed blender or food processor, mix the cashews, soy milk, salt, cayenne pepper, and lime juice together until you get a creamy sauce. Taste the sauce and adjust seasonings to your liking. Set aside.

When the spinach is cool enough to handle, squeeze out excess liquid from spinach. Give the spinach a rough chop.

In a medium bowl, mix the spinach, chopped artichokes, and creamy cashew sauce together. Serve dip with chips, crackers, or your favorite vegetables!
Notes
NUTRITION INFORMATION: Amount for 1/12 of recipe: 153, Total Fat 11.8g, Saturated Fat: 2g, Cholesterol: 0mg, Sodium: 183.7.5mg, Total Carbohydrate: 8.4g, Dietary Fiber: 1.4g, Sugar: 2g, Protein 5.4g
To make the turkey (as seen in the photos), cut 2 slices of cucumbers and 2 slices of olives for the eyes. For the nose, cut a baby carrot in half, crosswise. Take one half of the carrot and make 2 diagonal cuts to create a large triangle shape. For the feet, cut a carrot in half, lengthwise. Make small diagonal cuts on one end of the carrots to make the feet. For the wattle, slice a thin strip of red pepper.
Did you make this recipe?
Tag @hellolisalin or leave a star rating and comment on the blog!