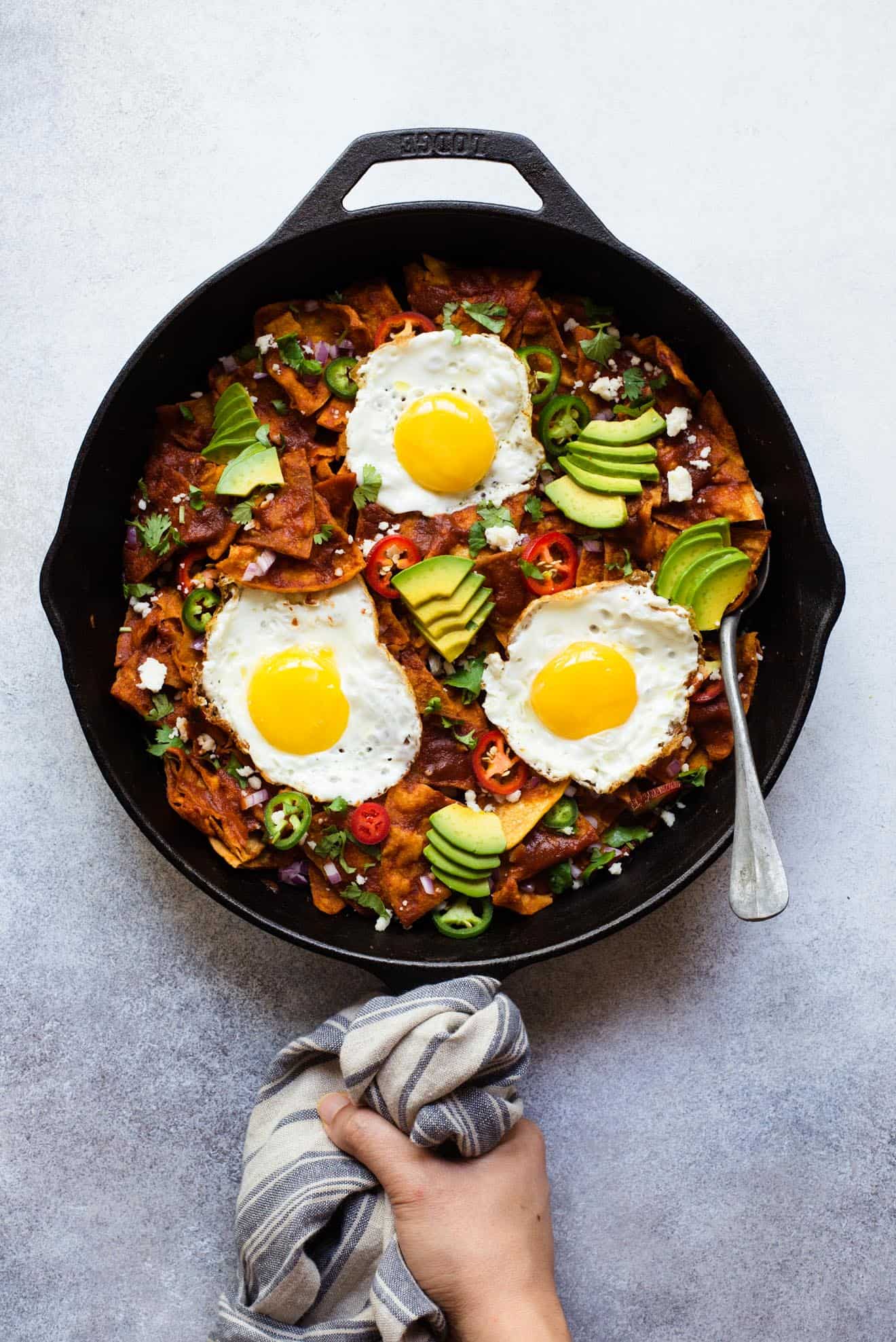 One of my favorite things to order in Mexican restaurants is chilaquiles. I love eating tortilla chips in general, but there's something about eating chips smothered in either a red chile sauce or salsa verde that makes the dish so comforting. The other day, I was cooking chilaquiles and wanted to make it spicier by adding gochujang that I kept in my fridge. I was pleasantly surprised by how well the sweet and spicy flavors of gochujang complimented the red chile sauce of the chilaquiles.
WHAT IS GOCHUJANG?
If you've never had gochujang before, let me tell you, it is fantastic on anything. This spicy and sweet Korean fermented red chili paste is often used in bibimpap and tteokbokki. Because the sauce is fermented, gochujang will keep in your fridge for a while—between 1 to 2 years. I also like using it stir-fried dishes, like my kimchi fried rice and tteokbokki-inspired spicy stir fried rice cakes.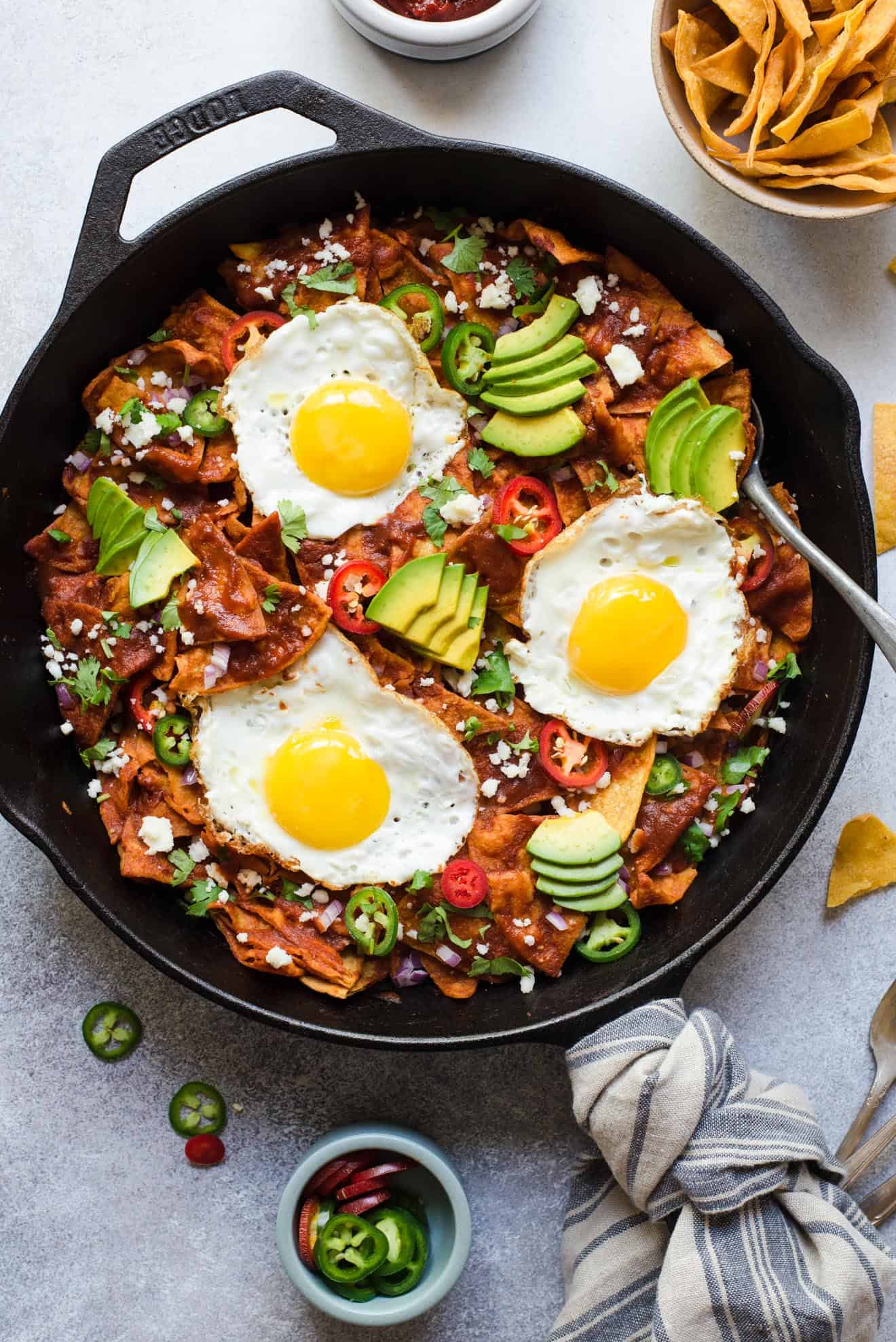 COOKING NOTES FOR CHILAQUILES WITH GOCHUJANG
Using dried chiles: Chilaquiles are often made with a red sauce that consists of chiles and spices or a blend of chiles, tomatoes and spices. For this recipe, I recommend the blend. I tried a sauce with just ancho chiles and I thought it was too bitter. Then, I made another sauce with just tomatoes and it was too acidic. Finally, I cooked a sauce with a mixture of the two and the flavor was, you guessed it, just right.
Substitutions: For those of you who don't have any ancho chiles on hand or you can't be bothered to soak chiles in hot water for the sauce, fear not. You can add 1 to 1 1/2 teaspoons of paprika to the red sauce to give it deeper flavor. Better yet, use smoked paprika.
Gochujang brands: If you go to an Asian supermarket, you'll likely find gochujang in red, rectangular plastic tubs. I don't buy them because they usually contain corn syrup. Instead, I use Mother-In-Law's gochujang, which is sweetened with malt syrup). Another brand you might consider is Chung Jung One. Their gochujang is sweetened with rice syrup and cane sugar.
Food styling notes: Wonder how I got the egg yolks to sit nicely on the whites? As I crack the egg into the pan, I separate the yolk in one and drop all the whites into the pan. Then, I carefully place the yolk on top of the whites. It's an unnatural way to fry eggs for sure, but the eggs look more photogenic.
WATCH HOW TO MAKE BAKED TORTILLA CHIPS
MORE BREAKFAST RECIPES
Chilaquiles with Gochujang
Gochujang is a fermented Korean red pepper paste, and it adds great flavor to chilaquiles (tortilla chips with red pepper sauce). It's made with a simple homemade red sauce and it all comes together in a pinch. 
Ingredients
1

dried ancho chile

2

cups

water

1

cup

crushed tomatoes

2

cloves

of garlic

1

teaspoon

kosher salt

1 1/2

tablespoons

gochujang

5 to 6

cups

tortilla chips

3

large eggs

1

tablespoon

olive oil
Optional Toppings
crumbled cotija

chopped cilantro

sliced jalapeño peppers

diced onions

sliced avocado
Instructions
Bring the water to boil in a saucepan. I cheated slightly and boiled the water in an electric kettle and poured it into the saucepan. There's no real superior method here. Add the ancho chile to the boiled water and soak for 15 minutes to give it time to plump up.

Once finished, use tongs or a ladle to extract the chile. Remember to save the water for the sauce! However, if you accidentally pour the water down the drain, it's not the end of the world.

Blend the soaked chile, 1 cup of reserved hot water, crushed tomatoes, garlic, salt and gochujang until smooth.

Pour sauce into a large pan and heat over medium heat for 4 to 5 minutes. Turn off the heat and add the tortilla chips. Stir the chips to coat with the sauce. In a separate pan, drizzle a teaspoon of oil and fry an egg on top, until the whites have settled. Plate the egg and fry the rest of the eggs. If you are excellent at multitasking, you can probably fry the eggs while you heat the red sauce. I am not quite so talented.

Top the chips with the fried eggs, cotija, chopped cilantro, jalapeños, onions and avocado. Serve immediately.
Nutrition
Serving:
1
serving
|
Calories:
407
kcal
|
Carbohydrates:
44
g
|
Protein:
12.5
g
|
Fat:
21
g
|
Saturated Fat:
3.7
g
|
Cholesterol:
186
mg
|
Sodium:
1338
mg
|
Fiber:
5.5
g
|
Sugar:
5
g
Did you make this recipe?
Tag @hellolisalin or leave a star rating and comment on the blog!