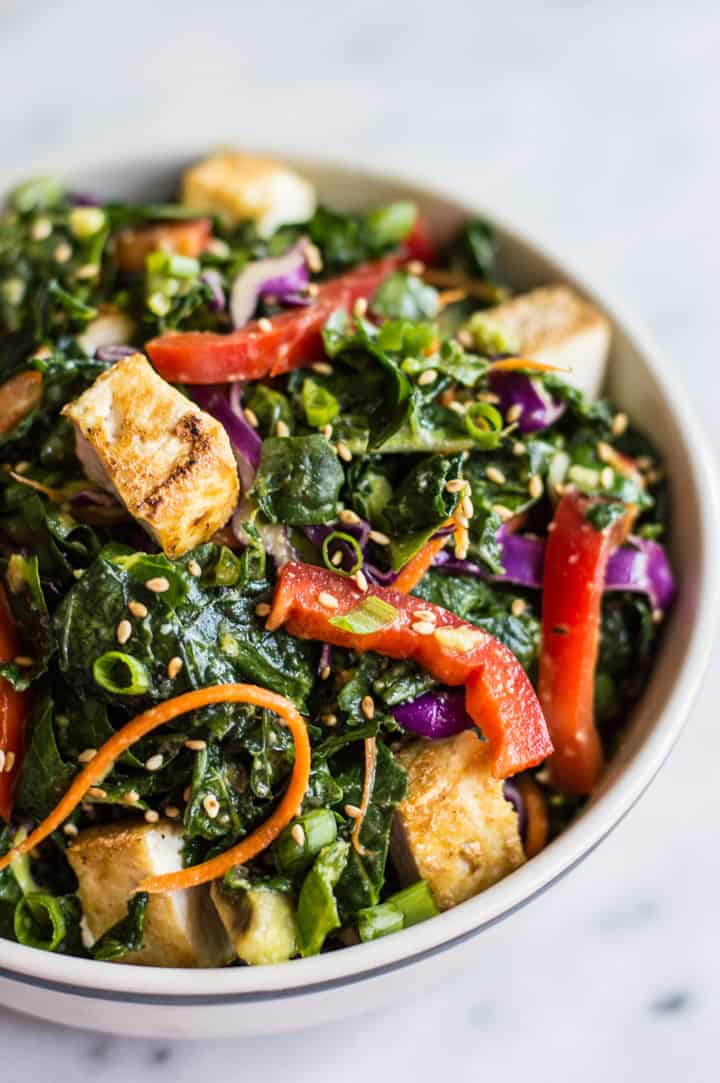 What's the first thing that you cook when you get home from a week of vacation? A big batch of pasta? The meanest, cheesiest omelette? Chocolate chip cookies? (If you do make cookies, please send me a few.) As for me, I go straight for the biggest, most colorful salad that I can possibly fill inside a bowl.
Let's put this all out on the table: I'm awful about eating fruits and vegetables when I'm on vacation. Quite frankly, I would rather sample the best foods from local restaurants, which usually means chicken and waffles, pizzas, donuts, or cake pops. I never miss out on an opportunity to indulge.
But when I get home from my vacation, I immediately hit the reset button and stuff my face with all the vegetables under the sun.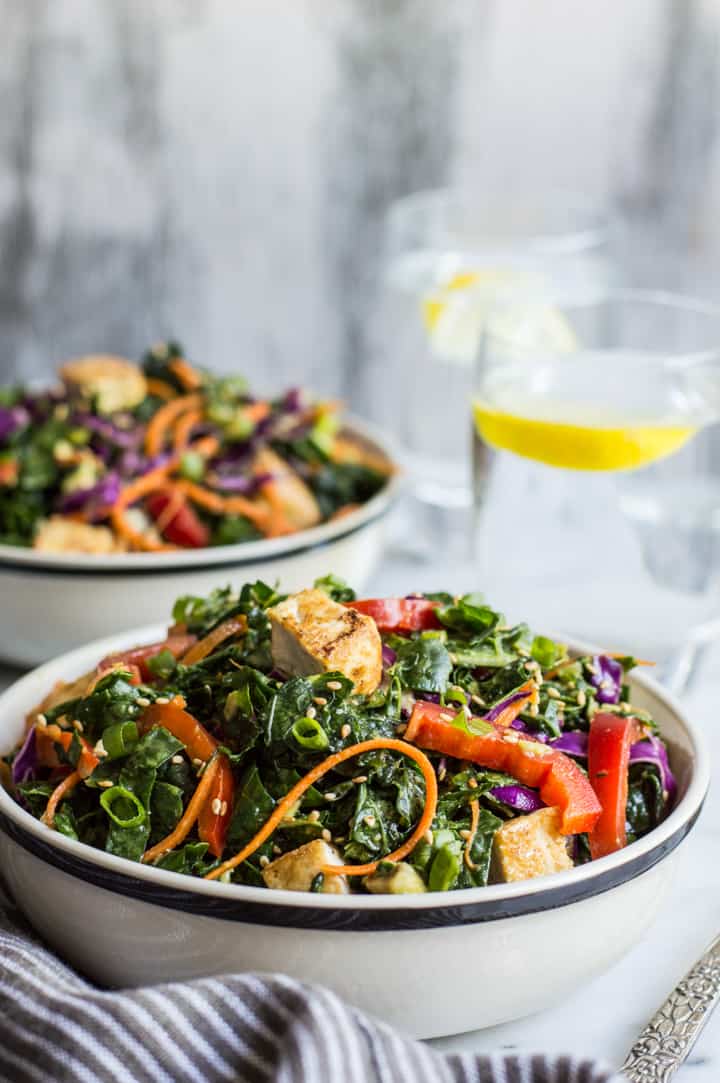 Speaking of vacation, I had such a wonderful time at Blog Brûlée! Besides meeting bloggers that I've been following for a while, I got to experience the beauty that is Vermont. I couldn't get over how lush and green the hills look! I'm ready to book another trip out there already.
Whitney, Selena, and I decided to go on a hike last Friday, and this was our view: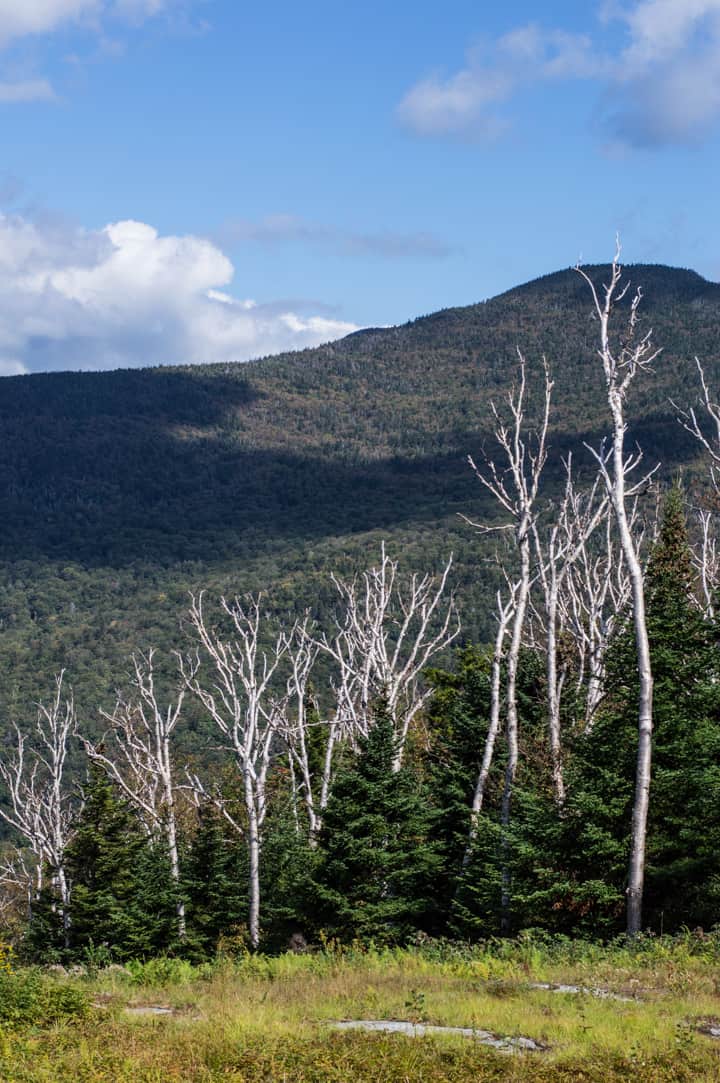 Actually, the backstory about this hike was that it was much more treacherous that we anticipated. I asked the front desk for suggestions on easy to moderate hiking trails. Little did we know, we were in for a nice steep treat. I was sweating like crazy 15 minutes into the hike.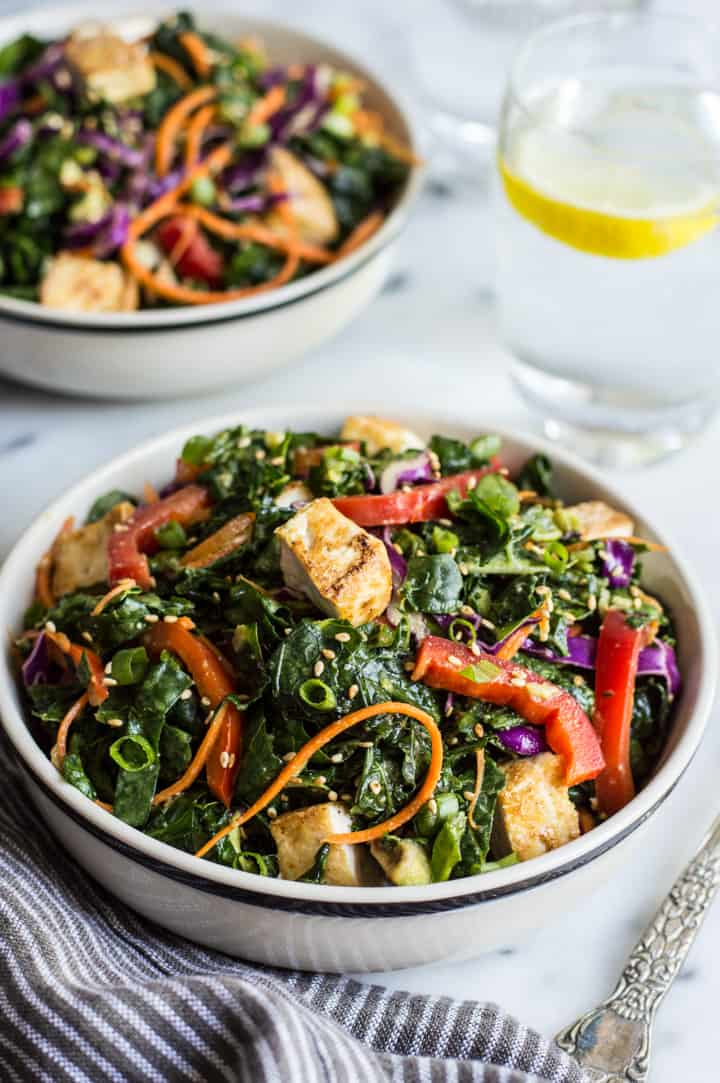 After a long weekend of travels, it was time to nourish my body with a good salad. I made the salad with ingredients I could find around the house, but feel free to add your favorite fruits and vegetables to the mix!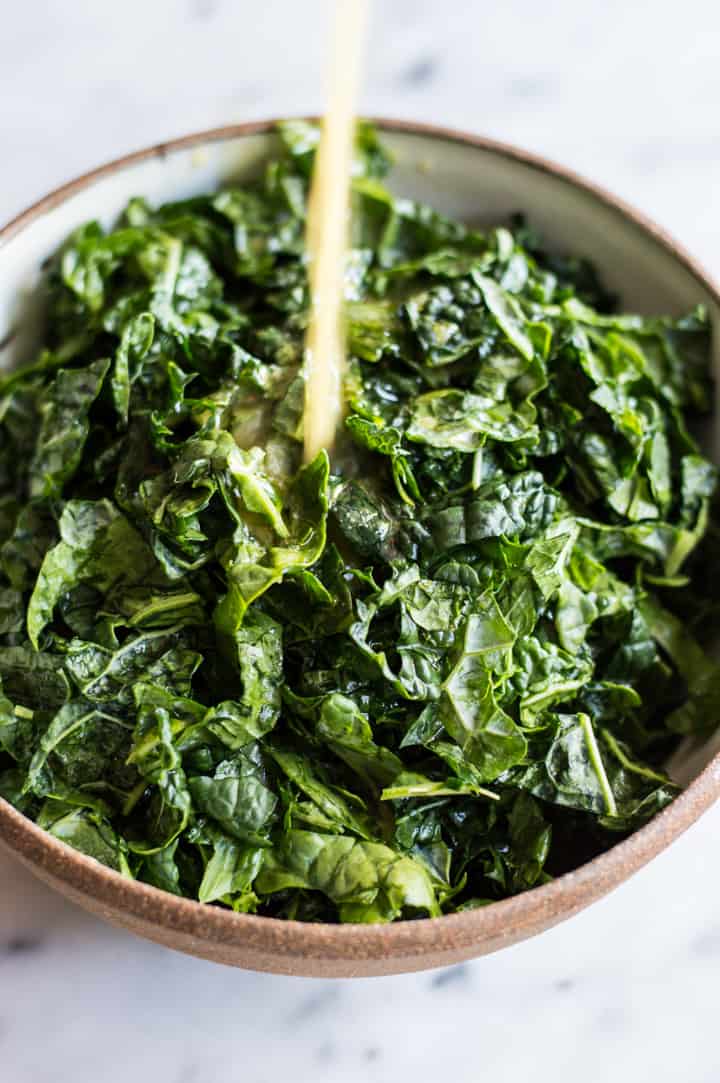 MASTERING MY MISTAKES / COOKING NOTES
Massage the kale: Until I read this post from Cookie + Kate, I didn't bother to massage the kale, but this simple step makes a HUGE difference to the texture. 30 seconds is all it takes for better kale salads!
Remove the stems: Nothing bothers me more than eating kale with the stems still in tact. The texture of the stems are very tough and don't add much to the overall flavor of the salad.
Press the tofu: Don't skip this step! Wrapping the tofu with paper towels and pressing it helps release extra moisture, which means crispier tofu when you fry it.
Servings:
2
to 4 Servings
Kale Salad with Fried Tofu and Miso Ginger Dressing
A light healthy kale salad with a miso ginger dressing – perfect as a meal or an appetizer!
Ingredients
Salad
1

bunch of kale

,

stemmed and chopped (I used lacinato/dino kale)

1/2

large avocado

,

mashed

1

large carrot

,

peeled and julienned

1

cup

(85g) sliced red cabbage

1

medium red pepper

,

sliced

2

green onions

,

chopped

sesame seeds for garnish

,

optional
Miso Ginger Dressing
3

tablespoons

olive oil

1/4

cup

(60ml) rice vinegar

1 1/2

tablespoons

white or yellow miso paste

1 1/2

tablespoons

coconut aminos

,

low-sodium soy sauce or tamari works also

1/2

tablespoons

maple syrup

,

or sweetener of choice

1 1/2

teaspoons

sesame oil

1/2

teaspoon

freshly grated ginger

1/4

teaspoon

granulated garlic

,

or a minced clove of garlic

salt to taste
Fried Tofu
12 to 14-

ounce

package of firm or extra-firm tofu

2

tablespoons

olive oil

salt and pepper to taste
Instructions
Open the container of tofu and drain out the water. Wrap tofu block with two layers of paper towels and place it on a plate. Press the tofu by positioning a pot on top or another plate with something heavy in it (a bag of sugar or flour works well). Let it stand for 15 minutes.

Place chopped kale in a bowl and sprinkle a pinch of salt. Massage the kale by grabbing a handful of it and giving it a quick squeeze. Continue doing this until the kale leaves turn into a slightly darker shade of green (no more than 30 seconds). Set aside.

Whisk the miso ginger dressing ingredients together. I find using a fork helps to break up the miso paste. Set aside.

Chop the tofu block into cubes. I sliced the block into 6 sections along the length of the tofu block and 5 slices along the width. You should end up with 6 smaller rectangular sections. Slice each section in half so that you get square tofu pieces, but don't break the tofu apart. It will be easier to fry the tofu in the larger rectangular sections instead of smaller individual cubes.

Heat a large pan with 2 tablespoons of olive oil over medium-high heat. When the pan is hot, add the 6 rectangular tofu sections into the pan. Sprinkle some salt and pepper over the tofu. Fry it for 3 to 4 minutes, or until the tofu is a nice golden brown. Flip tofu, sprinkle more salt and pepper, and fry it for another 3 minutes. You can fry the remaining 2 sides of the tofu sections, if you like. Dish tofu onto a plate lined with a paper towel. Let tofu sections cool for at least 5 minutes before breaking it up into cubes.

Toss all the salad ingredients, fried tofu, and dressing together. You probably won't need all of the dressing. I used about half and refrigerated the rest for another salad. Sprinkle sesame seeds on top of the salad if you like. Serve immediately.
Notes
NUTRITION INFORMATION: Amount for 1/4 of Recipe: Calories: 259, Total Fat 18.2g, Saturated Fat: 2.6g, Sodium: 377.4mg, Cholesterol: 0mg, Total Carbohydrate: 16.8g, Dietary Fiber: 6g, Sugar: 6.7g, Protein 11g
If you don't have a julienne peeler, just slice the carrots thinly or use 1/2 cup of shredded carrots instead.
Did you make this recipe?
Tag @hellolisalin or leave a star rating and comment on the blog!
LIKE THE KALE SALAD? TRY THESE RECIPES: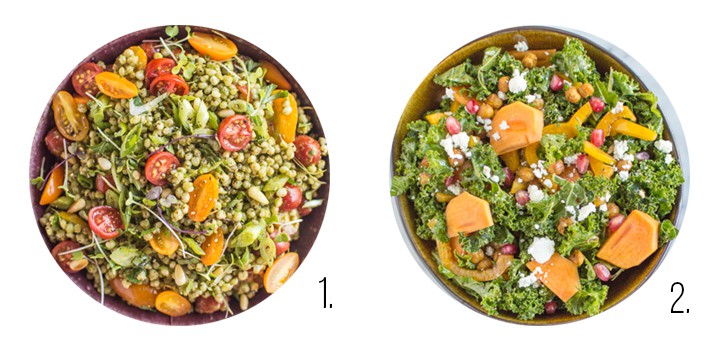 Sorghum Salad with Kale Pesto (vegan)
NOTE: The link to the microplane grater is an affiliate link. It's one of my favorite kitchen tools!