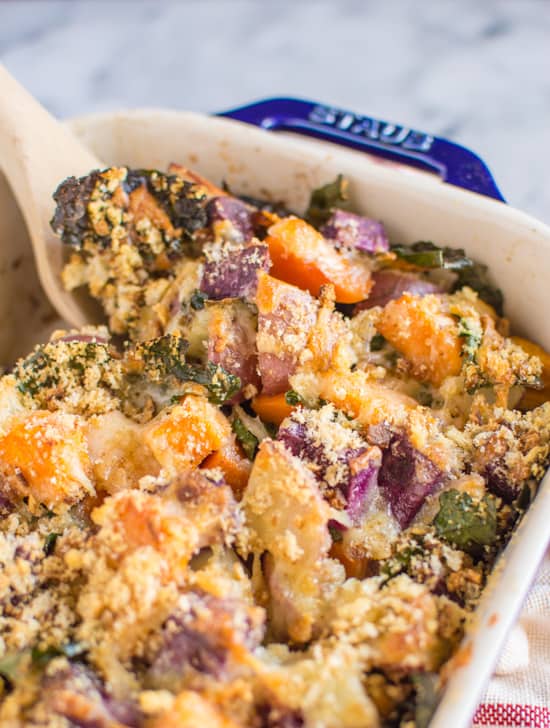 Let's make a pact. Every month of this year, we'll all try a recipe that is a bit out of the box. Now, we don't have to go all crazy and start making fruity foams or liquid nitrogen ice cream. Just something…different.
I was flipping through an old copy of Bon Appétit and came across this recipe for "herb powder." The title makes it sound like we are about to launch into a deep discussion about herbal supplements. But really, we're just venturing into the art of drying herbs and then turning them into a super powder.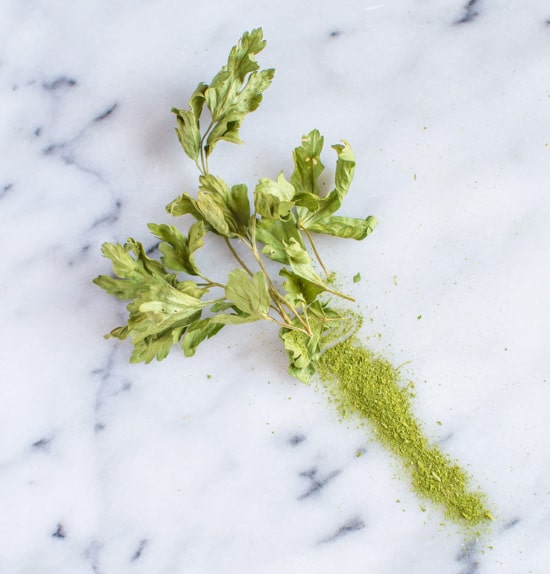 Here's my problem with fresh herbs. I get all excited when I see them at the farmers market, and I buy 5 bunches at a time. We all know that they don't stay fresh for long. I know about the trick where you stick fresh herbs into a cup and water it like a plant. But counter space is a hot commodity in my kitchen. I can't go around raising mini plants all over the space I'm supposed to roll dough on. Drying some of these herbs seems like the "well, duh" solution to my conundrum. Why haven't I been on top of this?
So, we now know that herb powder is a thing. How the heck are powders different from the dried herbs that we get at the supermarket? For one thing, the herb powder we make at home will be fresher. That alone is gold-star worthy. The flavor of herb powder will also knock the socks of its dried, leafier cousins. Finally, you can only make fun parsley clouds when it's in powder form.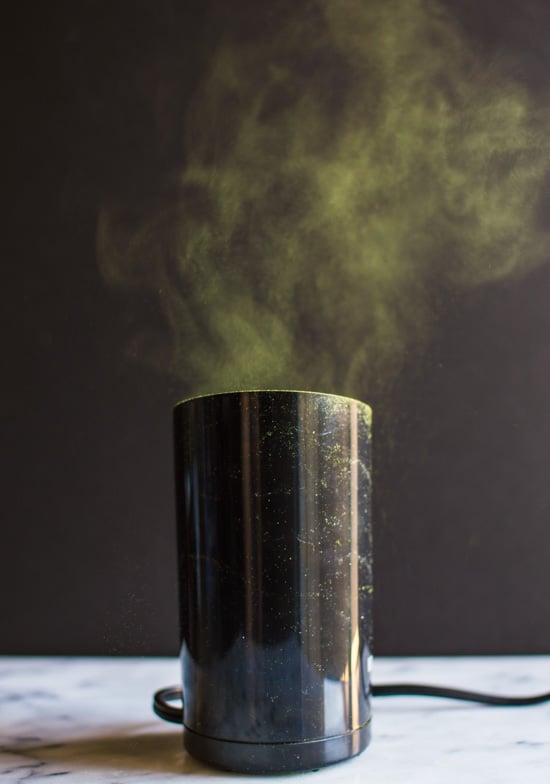 A bunch of parsley yields about 2 to 3 tablespoons of powder. It doesn't sound like much, but there's a whole bunch of parsley compacted into those few tablespoons!
Instead of just using the parsley powder straight from the mill, I incorporated it into a porcini seasoning blend that is based off of Nom Nom Paleo's Magic Mushroom Powder. When I met Michelle months ago, she showed me how to make this amazing spice blend that is made of ground dried porcini mushrooms, salt, and a few additional spices. I've used it in my stir fries, roasts, and most importantly, on these scrumptious Cracklin' Chicken recipe. (Side note: Michelle, if you're reading this, I still have your jar. I've just added a fresh batch of the seasoning blend in there. I swear I'll return it one day.)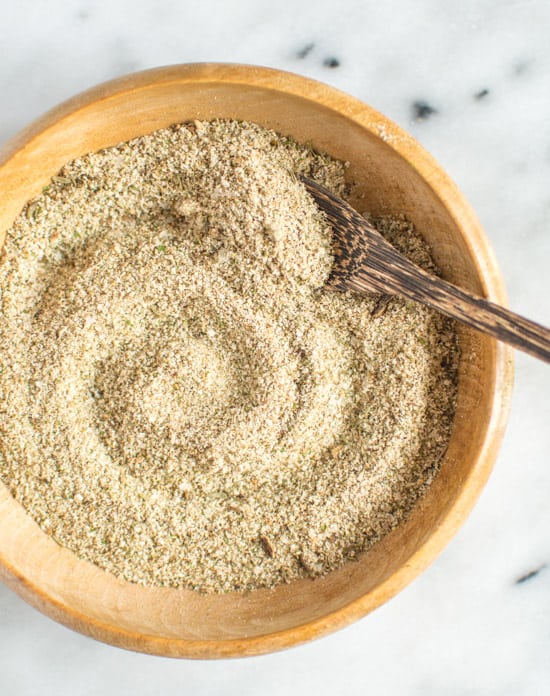 This parsley-porcini seasoning should become a staple in your pantry. It's simple. It's versatile. It's delicious.
When you make yourself a batch of the seasoning, be sure to USE IT. It's too good to let it collect dust. Let's start using it now, in this cheesy potato kale bake.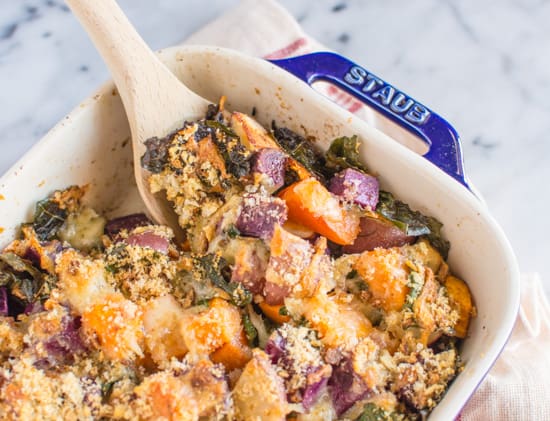 How to Make Herb Powder + Cheesy Potato Kale Bake
Serves 4-5.
Ingredients
Porcini Parsley Seasoning
1

bunch of fresh parsley

0.75

oz

(20g) dried porcini mushrooms

1/2

cup

(70g) kosher salt

2

tsp

dried thyme
Cheesy Potato Kale Bake
2 1/2

cups

(350g) cubed butternut squash (1/2-inch cubes)

1

medium purple sweet potato

,

about 300g, peeled and chopped into 1/2-inch cubes

4

small red potatoes

,

about 350g, chopped into 1/2-inch cubes.

3

cups

(55g) chopped dino/lacinato kale

2

TBS

olive oil

1 1/2

TBS

porcini parsley seasoning

1

cup

(90g) shredded white cheddar cheese

1/3

cup

(25g) bread crumbs
Instructions
Preheat oven to 170 degrees F (75 degrees C). Place a wire rack on a baking sheet. Spread a bunch of parsley on top of the wire rack. Bake for about 1 hour and 30 minutes, or until the parsley is dried and brittle to touch. It should make a crunching sound when you touch it.

Rip off the tougher stems of the parsley and discard them. Grind the parsley into powder with your spice mill or coffee grinder. It's okay if there are tiny leafy pieces in there. I did this in several batches. Pour the powder into a small bowl.

Working in batches, grind the porcini mushrooms into a powder. There will always be a few pieces that just don't seem to want to be turned into powder, but that's okay. Pour the powder into the bowl with the parsley. Mix in the salt and thyme. You'll only use about a tablespoon or two of this seasoning, so store the rest in an airtight container.

Increase the heat in the oven to 385 degrees F (195 degrees C). Grease a baking pan with oil or cooking spray. Set it aside.

In a large bowl, mix the potatoes and kale. Mix in the olive oil and porcini parsley seasoning until well incorporated. Pour the potatoes and kale into the prepared baking pan.

Sprinkle a layer of cheese on top, then sprinkle on the breadcrumbs. Bake for about 35-40 minutes, or until you can pierce the red potatoes easily with a fork. The red potatoes take longer to cook, so you wan to want to test those pieces for doneness.

Best served immediately. Refrigerate leftovers in an airtight container.
Notes
1. Porcini parsley seasoning adapted from Nom Nom Paleo. Parsley powder recipe from Bon Appétit.[br][br]2. Make sure that the red potatoes are chopped pretty small, as they take the longest to cook.[br][br]3. I ground my dried parsley and porcini mushrooms in a coffee grinder that I've dedicated for spices. You probably don't want to use the one you normally would for coffee. Unless you want your coffee to taste a bit like porcini mushrooms.
Did you make this recipe?
Tag @hellolisalin or leave a star rating and comment on the blog!