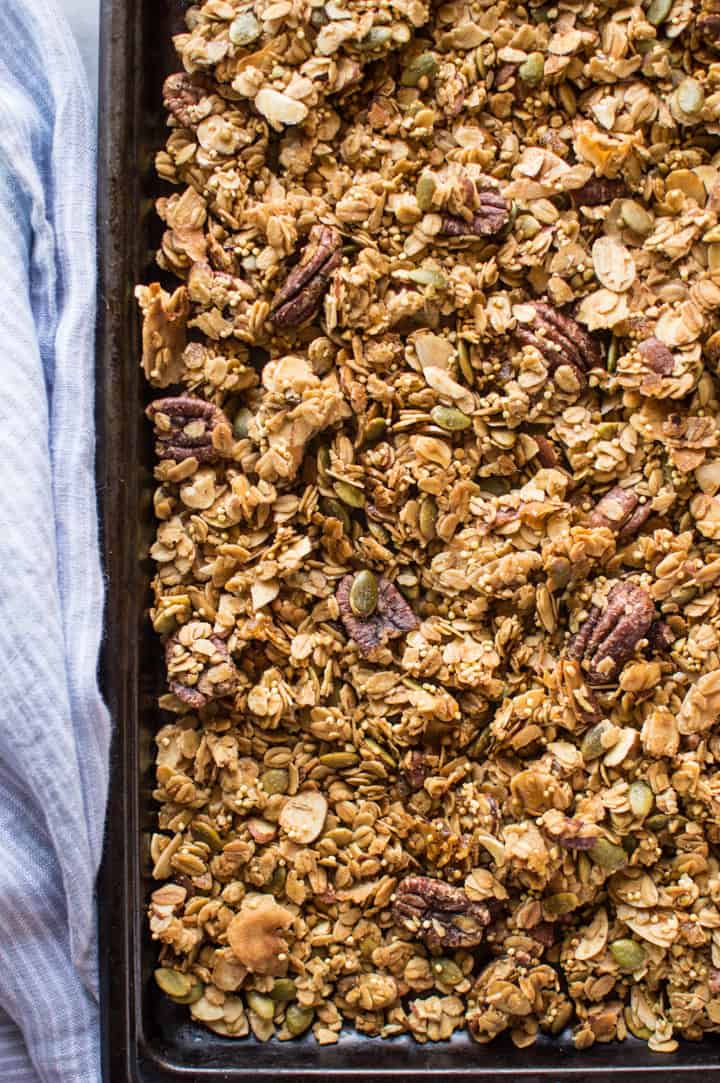 If there is a lesson in all of this, it's that baking sweets is the sure-fire way to anyone's heart. 100% guaranteed.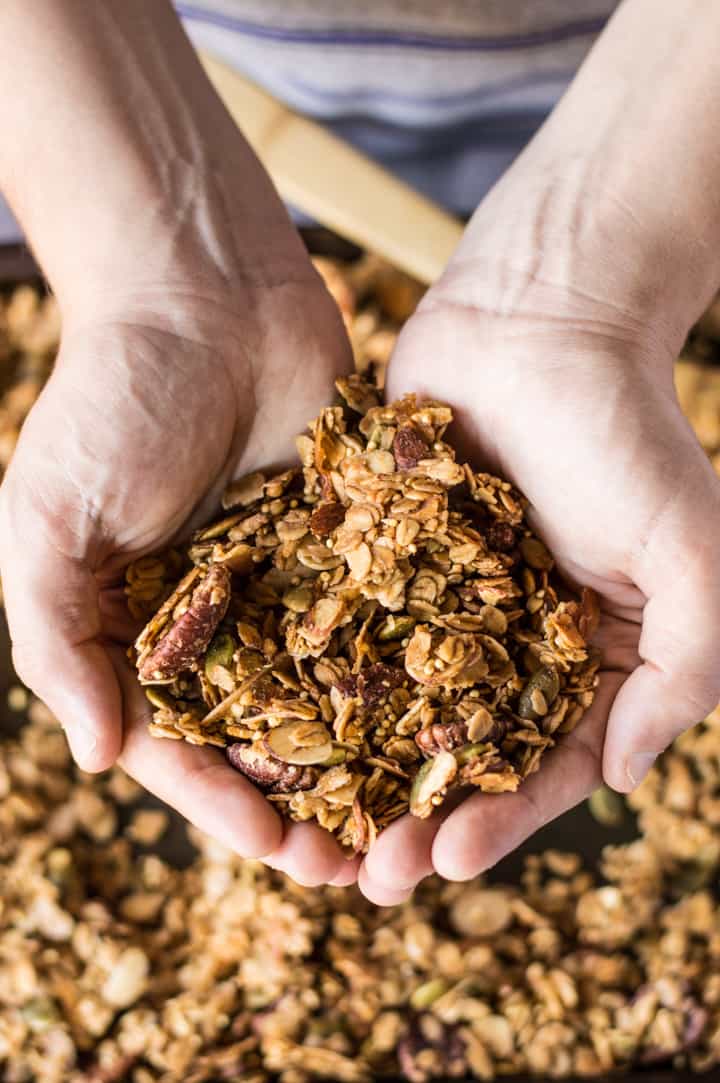 You might not know this about me, but I am a granola addict. When I was in law school, I bought Nature's Valley Pumpkin Spice granola in bulk to make studying a teensy bit more bearable. Here's my big secret though: I'm that person who goes digging around the bin for the huge clusters, what I like to call nuggets of gold. I feel sorry for the person who was buying the bulk granola after me (but not really).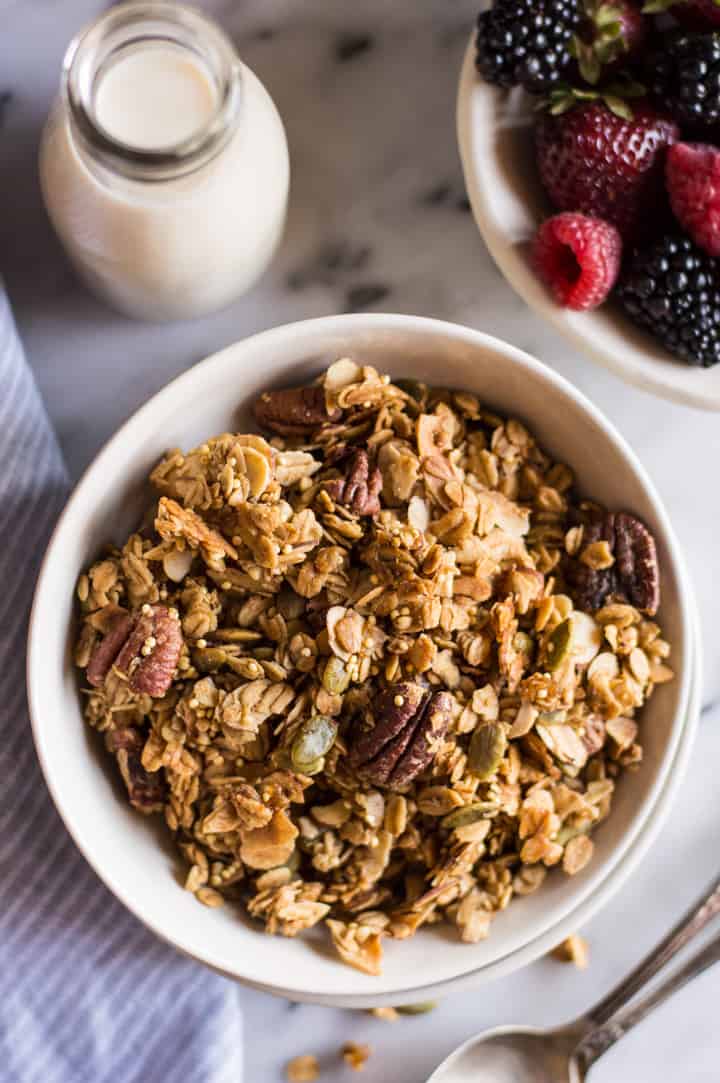 Who knows why it took me so long, but it wasn't until 2 years ago that I started to make my own granola. Quite frankly, there's no turning back. In case you need some convincing about making your granola at home, here's some reasons why homemade > store bought:
It's less sweet. YOU control the amount of sugar that goes into your granola.
I'm a "bring on the nuts" kind of girl, and I'm always so sad when boxed granola doesn't have as much nuts as I want. Look at this granola. Those nuts and seeds! It's perfect.
Just like chop suey, you can throw everything you want into the granola: oats, nuts, grains, dried fruit, chocolate . . . the possibilities are out there!
This time, I made a ginger spiced granola that was inspired by what I ate during the Almond Board of California's Almond Orchard Experience in Lodi 2 weeks ago. (More details about my trip on Friday!) That granola had this gingery spicy thing that caught me by surprise, and I couldn't stop eating it. Don't worry, I left some granola clusters for everyone else at the conference.
To replicate that gingery zing, I added finely chopped crystallized ginger to this granola. With every few bites of this granola, you'll get a nice subtle gingery flavor. It's absolutely wonderful.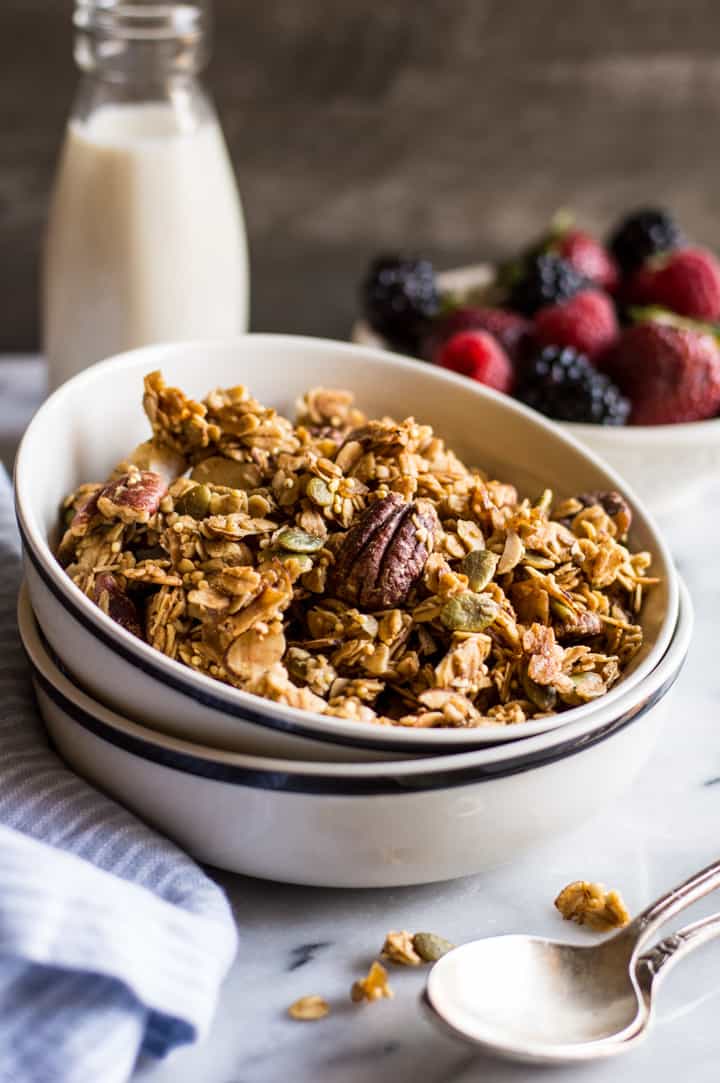 MASTER LISA'S MISTAKES (AKA COOKING NOTES)
The best granola is baked on low heat: I used to be super impatient about baking, so I baked granola on higher heat (around 375 degrees F) to cut down on cooking time. The problem with that baking method is that higher fat ingredients, like nuts and coconut, tend to burn quicker in higher heat. I can't tell you how many times I scooped out charred nuts in my granola. Baking granola at lower temperatures (about 275 degrees F) ensures that the granola won't burn during the baking process. This method takes up more time, but it's well worth it!
CLUSTERS: I. LOVE. GRANOLA. CLUSTERS. I'm sure you do, too. The trick to making granola clusters at home is to make sure that you DO NOT stir the granola while it's baking. I know, it also goes against my baking instinct, but trust me on this one. You want to wait until the granola is out of the oven and has cooled off before breaking it up. The rest is just clustery bliss.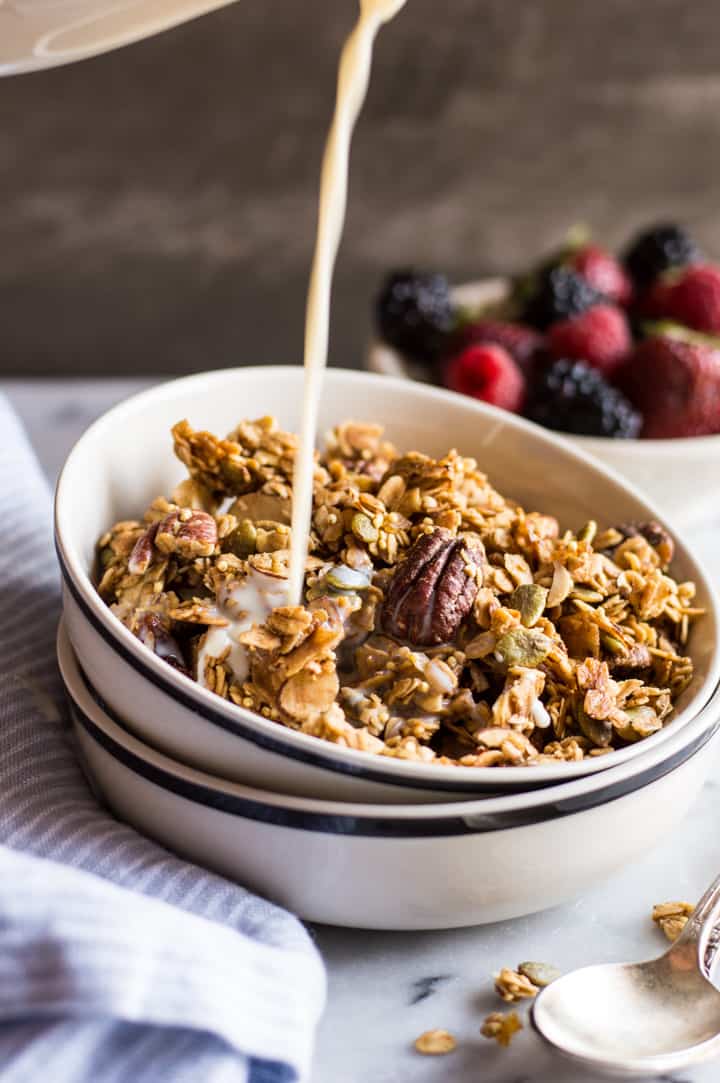 If you make this recipe, be sure to share your creation with me on Facebook, Twitter, or Instagram and use #hnbeats! I get super excited when you share your photos with me!
Easy Ginger Spiced Granola with Ancient Grains
This ginger spiced granola is super easy to make and way better than store bought. The prep is done all in one bowl! Makes about 3 1/2 cups. Recipe lightly adapted from
The Pretty Bee
.
Ingredients
Use about 3 1/2 cups of your favorite blend of oats, nuts, and grains. Here's what I used:
1 1/2

cup

(120g) rolled oats (use gf oats if gluten-free)

1/2

cup

(30g) sliced almonds

1/2

cup

(50g) pecan halves

1/3

cup

(20g) pumpkin seeds

1/3

cup

(20g) unsweetened flaked coconut

3

TBS

millet

3

TBS

buckwheat groats

1 1/2 to 2

TBS

finely chopped crystallized ginger

1 1/2 to 2

tsp

ground cinnamon

1

tsp

ground ginger

1/3

cup

(45g) vegan buttery spread, melted (coconut oil works also)

1/3

cup

(80ml) maple syrup
Instructions
Preheat oven to 275 degrees F (135 degrees C). Line a large baking sheet with parchment paper. Set aside.

In a large bowl, mix the oats, almonds, pecans, pumpkin seeds, coconut, millet, buckwheat groats, crystallized ginger, cinnamon, and ground ginger together.

Add the melted vegan buttery spread and maple syrup to the bowl and stir until well incorporated.

Spread the granola on the baking sheet into a thin later. If you want clusters, make sure that the granola is somewhat stuck together. You don't want big gaping holes in that layer of granola.

Bake for 25 minutes. Rotate the pan. If you want clusters, DO NOT stir the granola. Bake for another 25 to 30 minutes, or until the granola is golden brown.

Let the granola cool for 30 minutes before breaking it up.

Store in room temperature in an airtight container.
Did you make this recipe?
Tag @hellolisalin or leave a star rating and comment on the blog!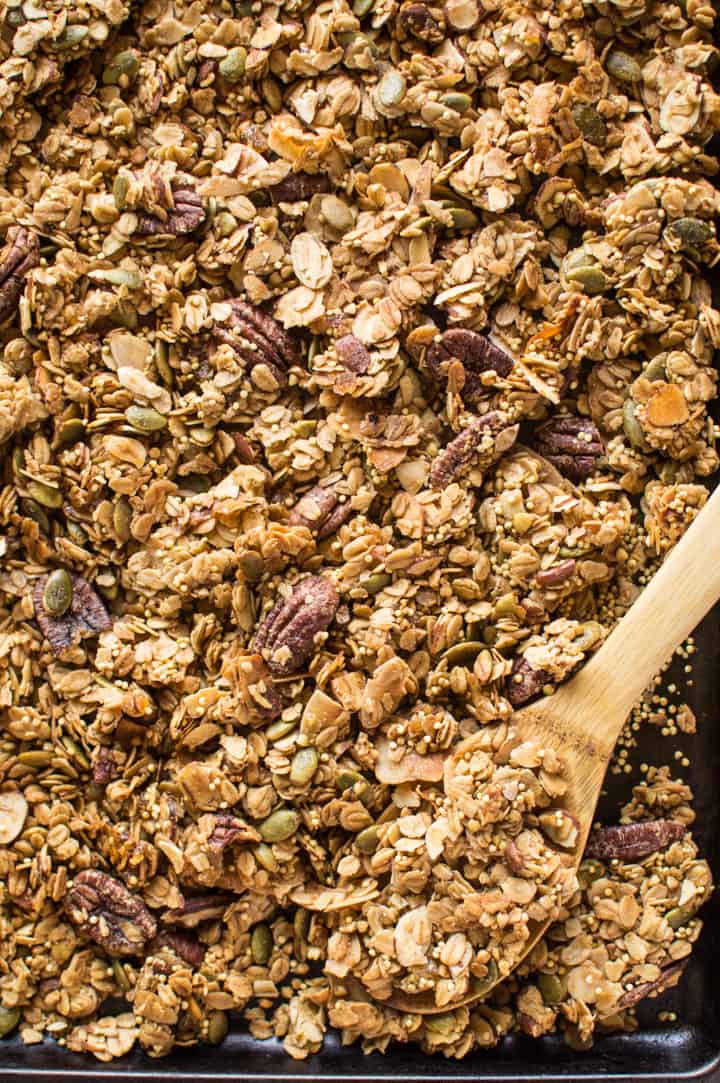 LIKE THE GINGER SPICED GRANOLA? TRY THESE: