My favorite way to consume cherries is to shove them in my mouth and spit out the pits, while engaging in contests to see who can shoot the furthest. But when I'm planning to cook with cherries, this shove-them-in-the-mouth method might not be the best.
I own this OXO cherry pitter, which works wonderfully, but I get that most people don't want to own kitchen gadgets with a limited purpose. That's why I want to show you this quick trick on how to pit cherries without a pitter.
All you need is an empty bottle and a chopstick. That's it!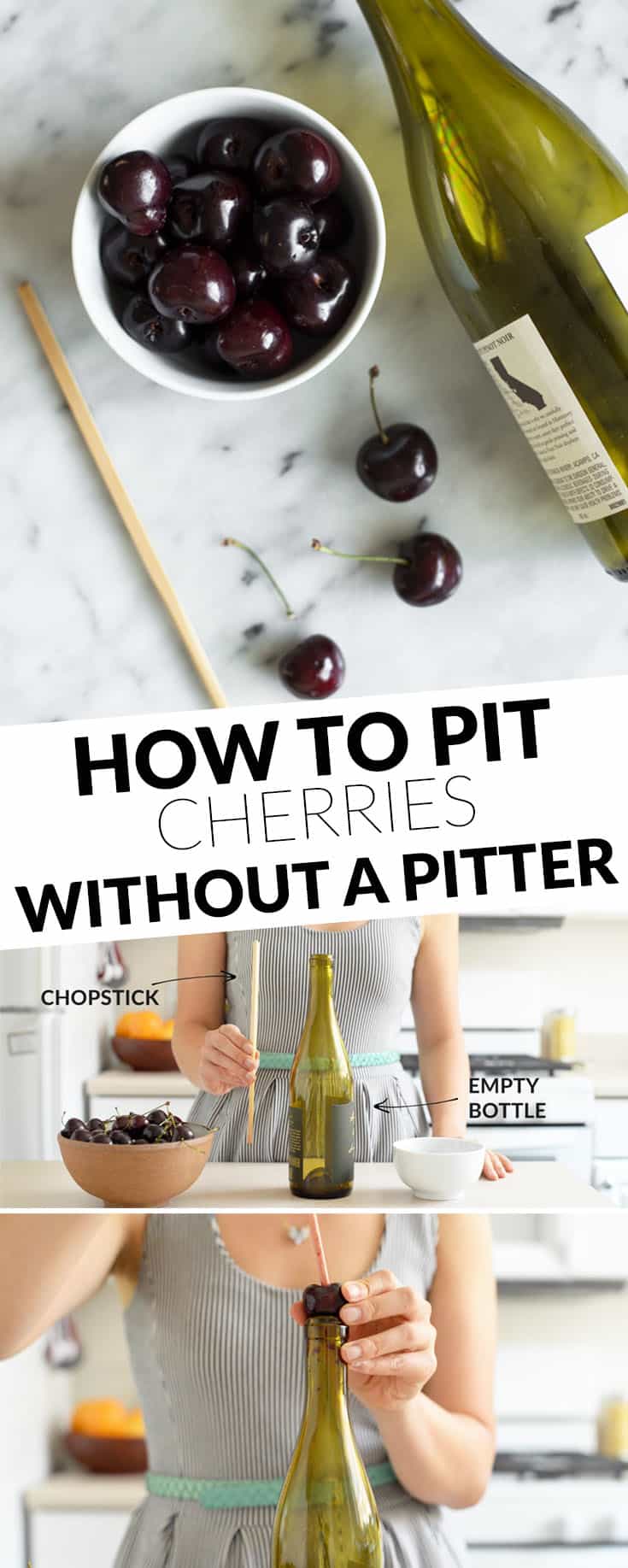 MASTERING MY MISTAKES / CHERRY PITTING NOTES
Use a stick with a wider, round tip: Some chopsticks have a flat bottom and others are pointier. You'll want to use the ones with the flat bottom because they're easier to push against the cherry pit. I tried using a pointed chopstick the first time around, and the chopstick kept sliding off the pit.
Use any sturdy bottle: You don't have to use a wine bottle for this—any sturdy bottle will do. You can also do this without a bottle: just stick the chopstick through the cherry, as if you were skewering it. However, I don't like this method as much because it's messier.
Does the cherry juice squirt all over when I do this? It shouldn't! From my experience, the juice doesn't squirt out from the top, and all the juice coming from the bottom of the cherry is all contained within the bottle. I have found using my OXO cherry pitter to be messier.
Now that you've learned a new method on how to pit cherries, let's cook with them! Here are a few recipes for your inspiration: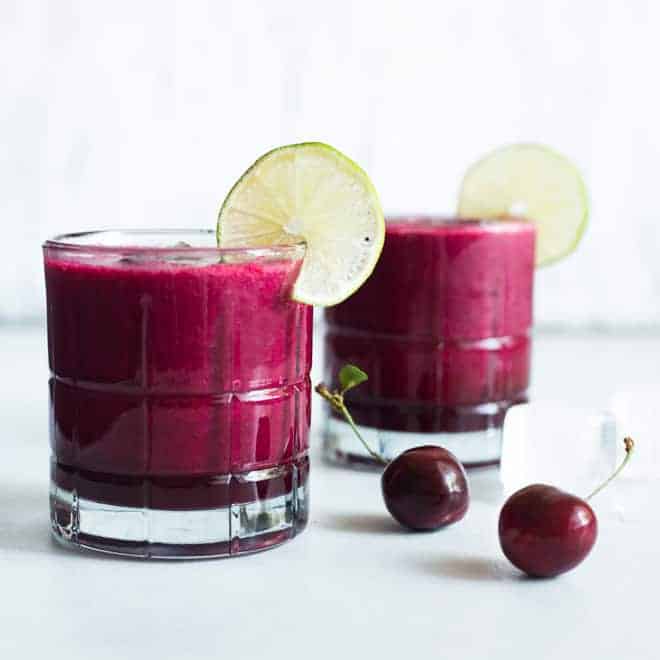 Vegan Cherry, Peach, and Blueberry Crumble
I also have a tasty round-up of 15 healthy cherry recipes, in case you're looking for more ideas!
How to Pit Cherries Without a Cherry Pitter
Here's a simple way to pit cherries if you don't have a cherry pitter! This is perfect when you need to pit a bunch of cherries for a recipe.
Ingredients
cherries

empty bottle (preferably a wine bottle)

a chopstick with a flat bottom or a metal straw
Instructions
Stem a cherry and place it on top of your empty bottle, with the top facing up.

Hold on to the cherry as you place your chopstick above the cherry, where the stem used to be. Push down until you can feel the pit. Keep pushing until the pit goes through the bottom. The pits can be at an odd angle sometimes, and you might find that you've poked through the cherry without actually dislodging the pit. Check to make sure that the pit isn't still stuck on the cherry before cooking.

Transfer pitted cherry to a bowl and repeat with the rest of your cherries!
Video
Did you make this recipe?
Tag @hellolisalin or leave a star rating and comment on the blog!
If you try this kitchen trick, let me know! Also, if you have a few minutes, I would love it if you liked my video on YouTube or subscribed to my channel!