Oh, yes. MORE cherries! I can't get enough of them, and I know you're not tired of cherries either. Most of the time, I devour cherries by the bowl. For instance, I learned yesterday that when I'm super nervous about my basketball team's chances of closing out a must-win game, I will chow down on a HUGE bowl of cherries. Eating cherries gets rid of the heebie jeebies. Put that on a t-shirt.
There are so many fun and creative ways to incorporate fresh cherries into healthy recipes, though. That's why I've rounded up some delicious cherry recipes from this blog and my talented food blogger friends. Cherries are in season NOW, so be sure to go get yourself a bag and try these delicious recipes!
A quick note: if you're planning to cook these recipes with fresh cherries, I highly suggest investing in a good cherry pitter. I can't stress enough how much time a cherry pitter will save in the kitchen. To pit cherries without a cherry pitter, check out my video tutorial.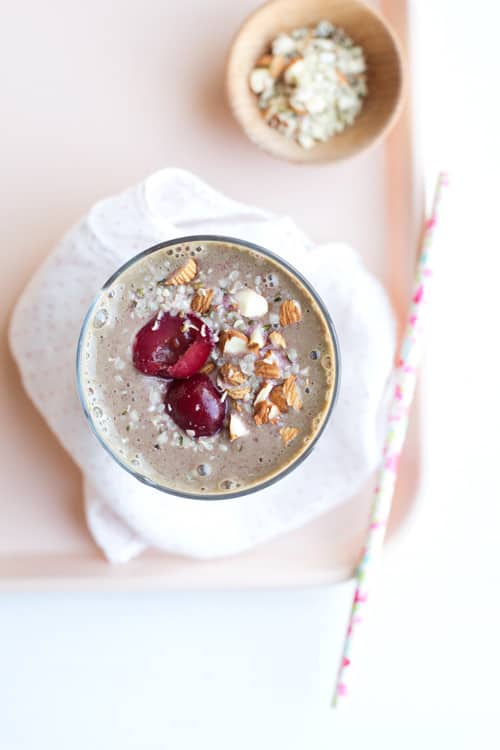 Cherry Almond Smoothie // Hungry Girl Por Vida
Start your summer days off right with this delicious cherry almond smoothie! Cindy uses frozen tart cherries for the smoothie, but you can definitely sub it for fresh ones, too. (Also, where does Cindy get those cute paper straws??! I have a serious obsession with many of her food props.)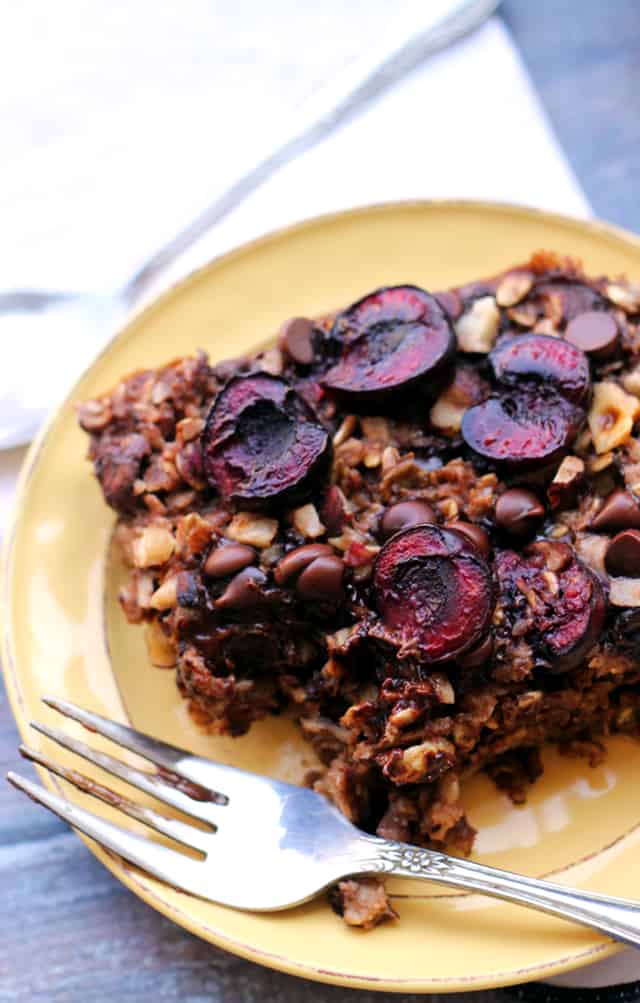 Chocolate-Covered Cherry Baked Oatmeal // Eats Well With Others
You know when there's chocolate for breakfast, I'm there. This gluten-free beauty from Joanne is a great make-ahead breakfast and doubles up as a fantastic dessert. I don't know about you, but I want to dig in right now.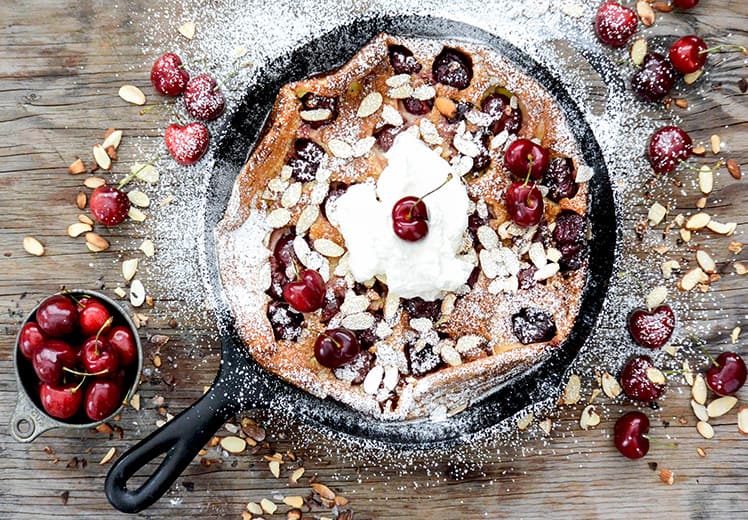 Bourbon-Cherry and Almond Dutch Baby // Floating Kitchen
I love the way Liz describes the Dutch baby: "It's like a giant pancake, except without all the flipping. In fact, you can probably make this even if you're still half asleep." I'm ALWAYS half asleep in the mornings, which means I have no excuse but to make this delight for brunch this weekend.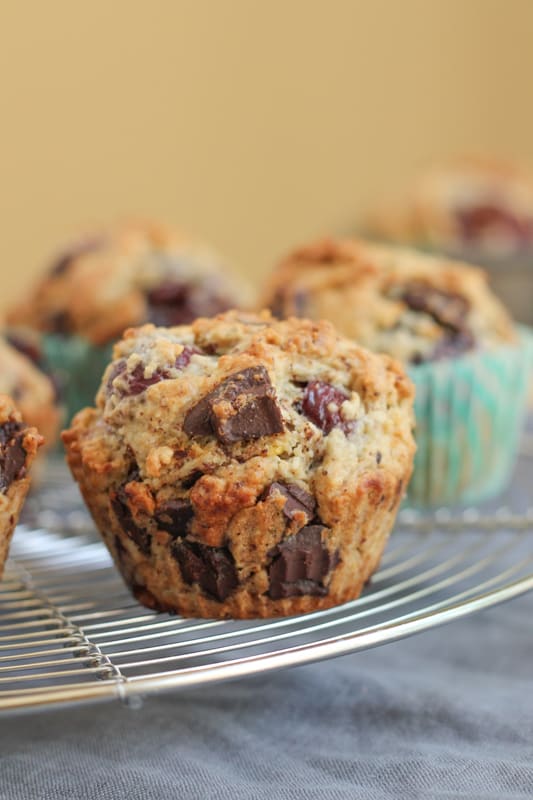 Cherry Chocolate Hazelnut Muffins // Hip Foodie Mom
Those. Chocolate. Chunks. Alice knows the way to my heart. These muffins get a nutty boost from hazelnut meal, and I can't wait to add the muffins to my breakfast rotation.
Barley Salad with Cherries // Recipe Runner
Cherries are the perfect way to add some sweet flavor to our savory dishes. I love how Danae pairs cherries with barley, almonds, and goat cheese. This salad is ideal for lunches on the go!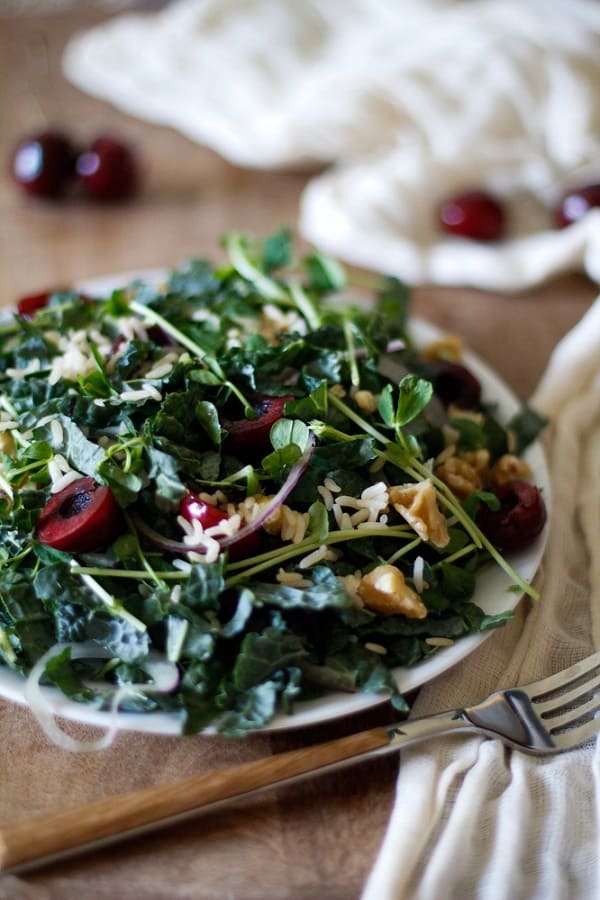 Cherry and Pea Shoot Kale Salad with Date Balsamic Vinaigrette // The Roasted Root
I've actually NEVER eaten raw pea shoots before. Stir fried pea shoots with garlic is a common dish in Chinese cuisine, which is what I grew up on. When I saw Julia's pea shoot salad and date-sweetened vinaigrette, I was so intrigued. We all need to make it soon.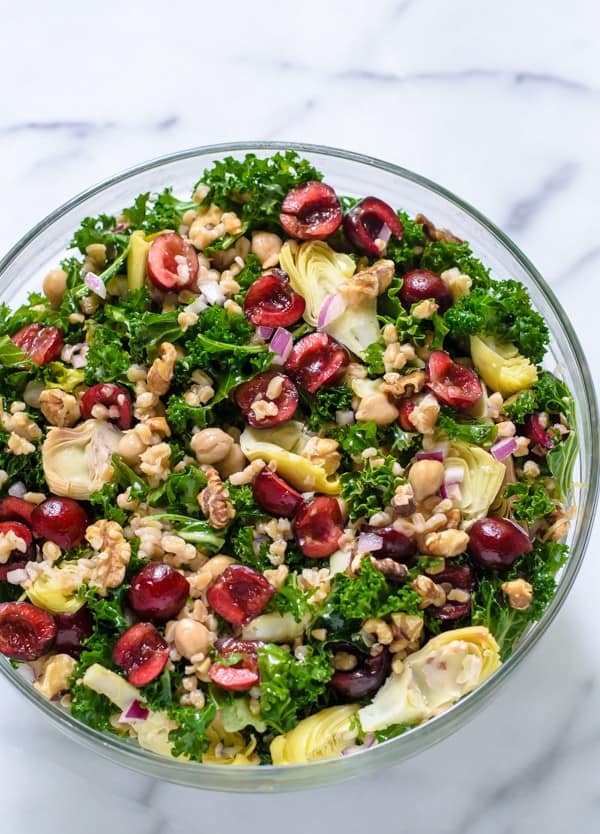 Super Summer Detox Salad // Well Plated by Erin
You all know I love colorful salads, and Erin has created a stunning one! This salad is a great way to reset after your foodie vacations this summer.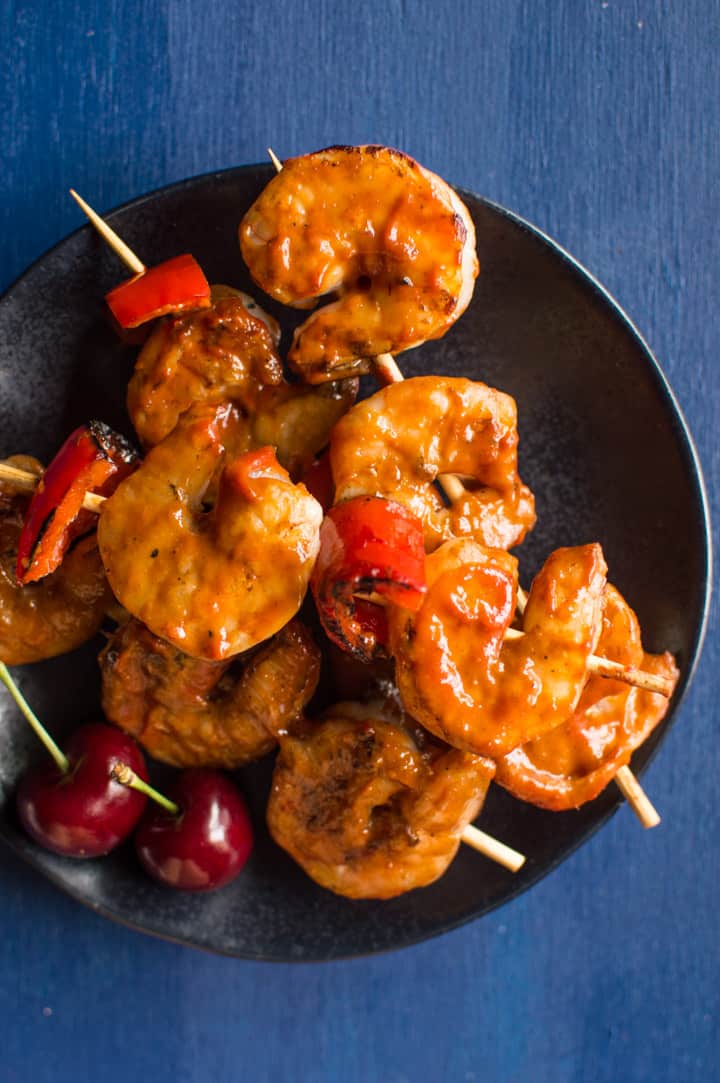 Cherry Bourbon Barbecue Sauce // Healthy Nibbles & Bits
Finally, a barbecue sauce that is not loaded with sugar! It's naturally sweetened with cherries and pear juice and is one of my favorite sauces!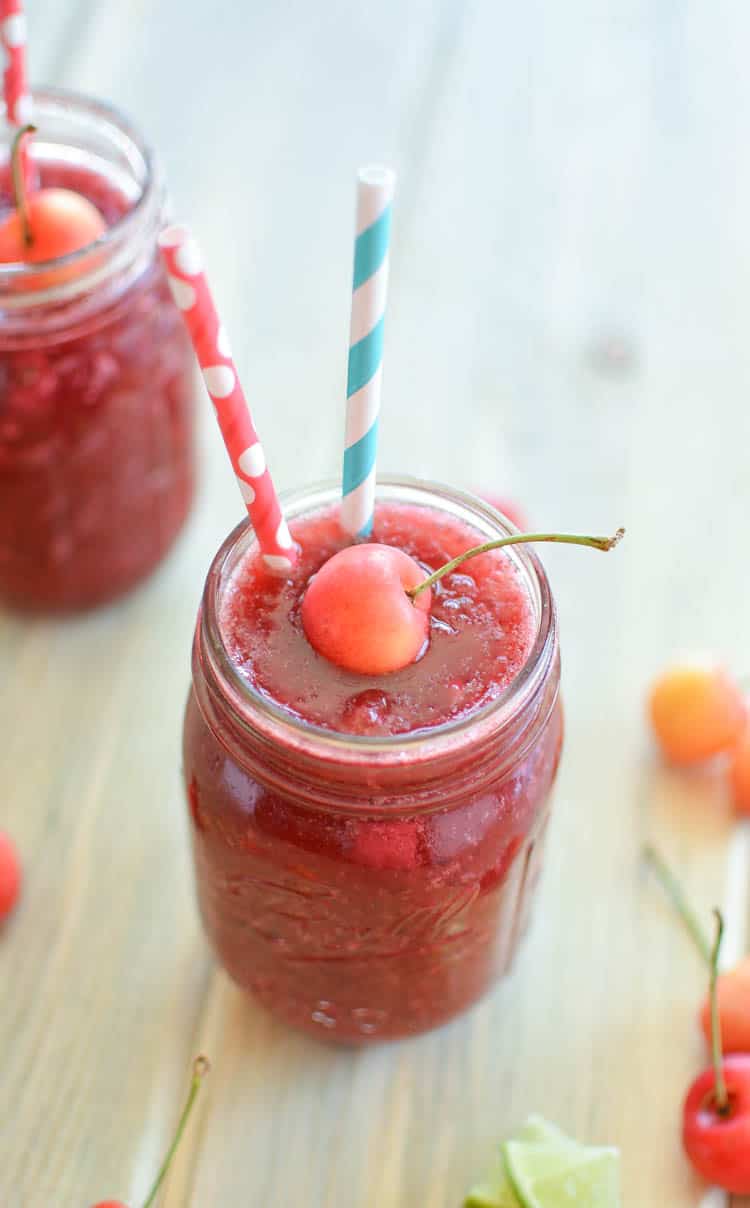 Rainier Cherry Limeade Slushie // Cooking and Beer
When it comes to recipes, Rainier cherries sure do not get enough love. Justine has made a great refreshing beverage to help us cool off this summer! NOTE: This looks 10x better than what you get out of the slushie machines at 7-Eleven.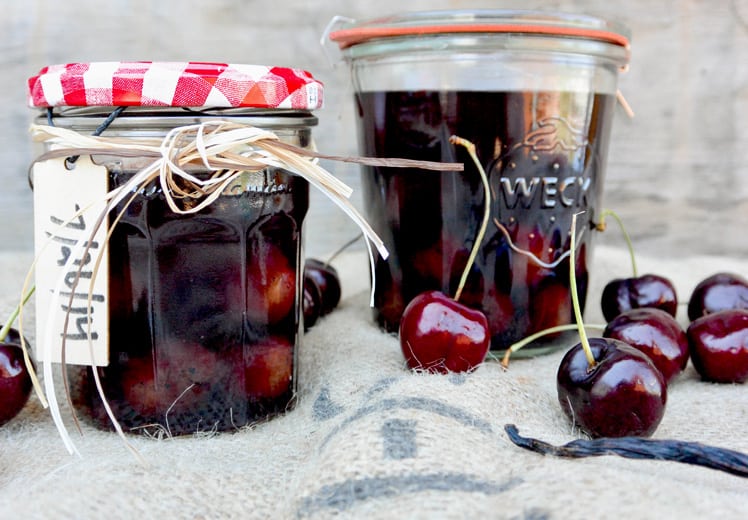 Cherry-Vanilla Infused Bourbon // Floating Kitchen
For those of you who fancy a bit of cocktails, Liz's infused bourbon is for you. I'm ready to action this with my huge bottle of Maker's Mark because, well, I'm a bit of a lush. Cherries and bourbon are a match made in heaven. Am I right?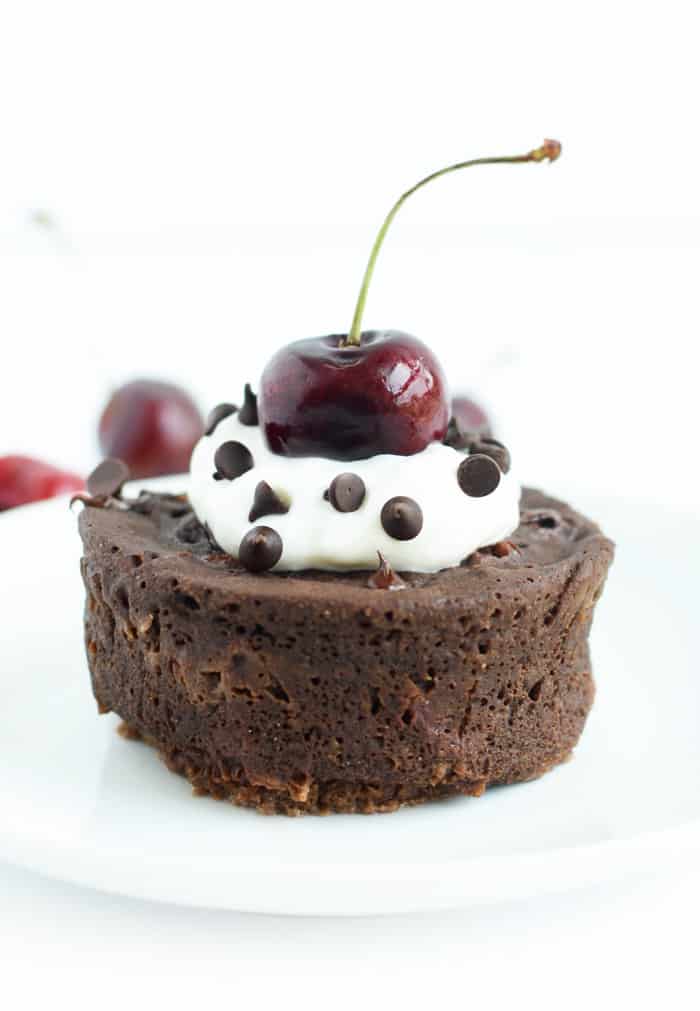 Healthy Chocolate Cherry Mug Cake // Fit Foodie Finds
My obsession with cooking in a mug should come as no surprise to you all. I usually make savory meals in a mug now, but mug cakes is where it all started for me! I love Lee's healthy chocolate cake, and the cherries are a fantastic touch!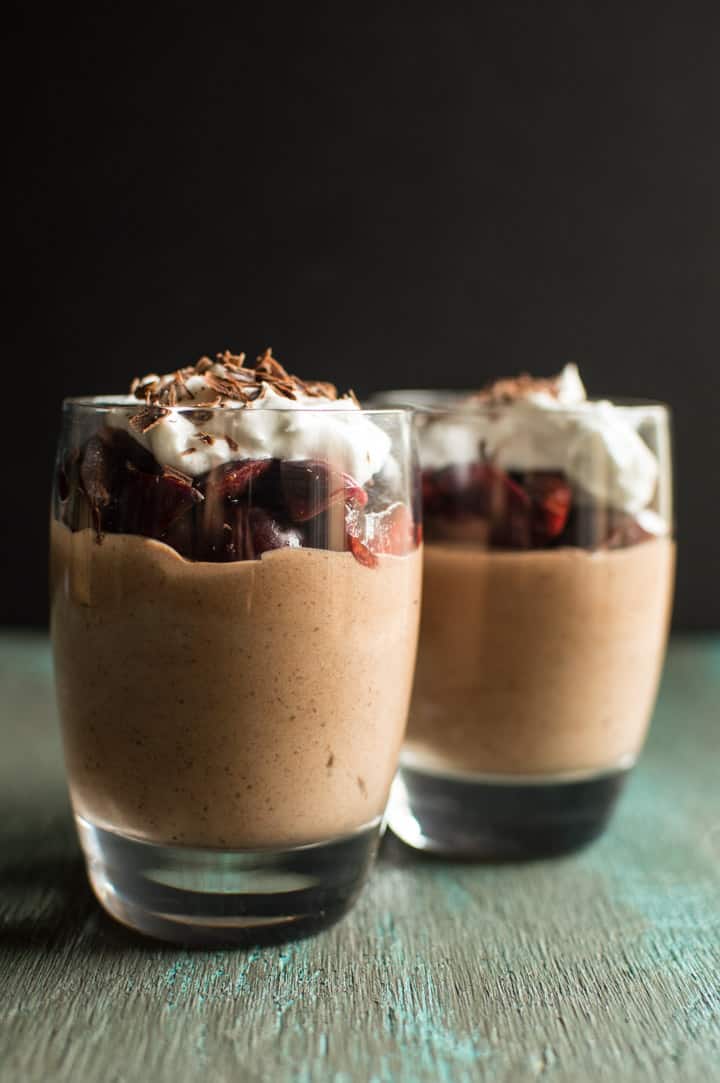 Black Forest Mousse // Healthy Nibbles & Bits
Hands down, one of the best homemade mousses that has come out of the HNB kitchen. It's incredibly easy to make AND it's dairy free!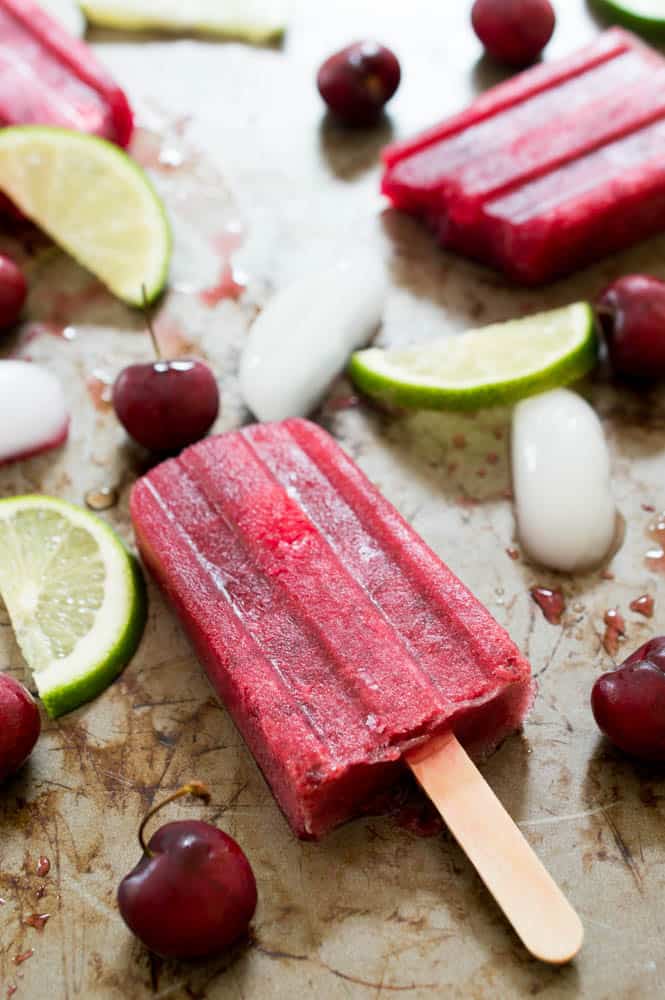 Cherry Pomegranate Limeade Popsicles // Chef Savvy
Just look at the beautiful color of these popsicles! I haven't broken out my popsicle moulds in a year, and Kelley's fruity delights remind me that I need to dust them off and put them to good use.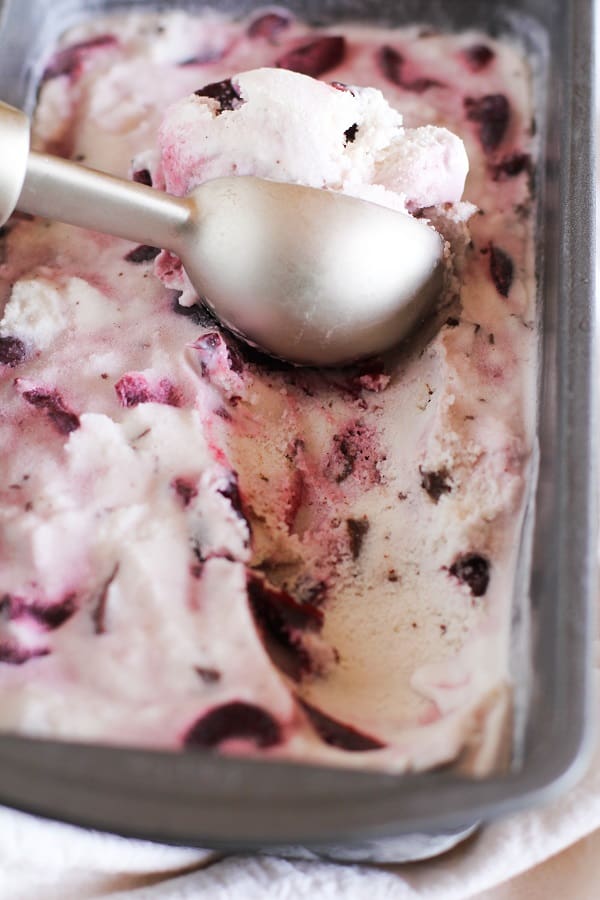 Boozy Roasted Cherry Dark Chocolate Chunk Ice Cream // The Roasted Root
Yes, more booze and cherries. Are you starting to notice a trend in my taste? Julia's vegan ice cream looks so creamy and seductive with perfectly bourbon-ed cherries ('bourbed out cherries?) and huge chocolate chunks. Seriously, Julia should open an ice cream shop called Boozy Creams. Bad name? I'll work on it.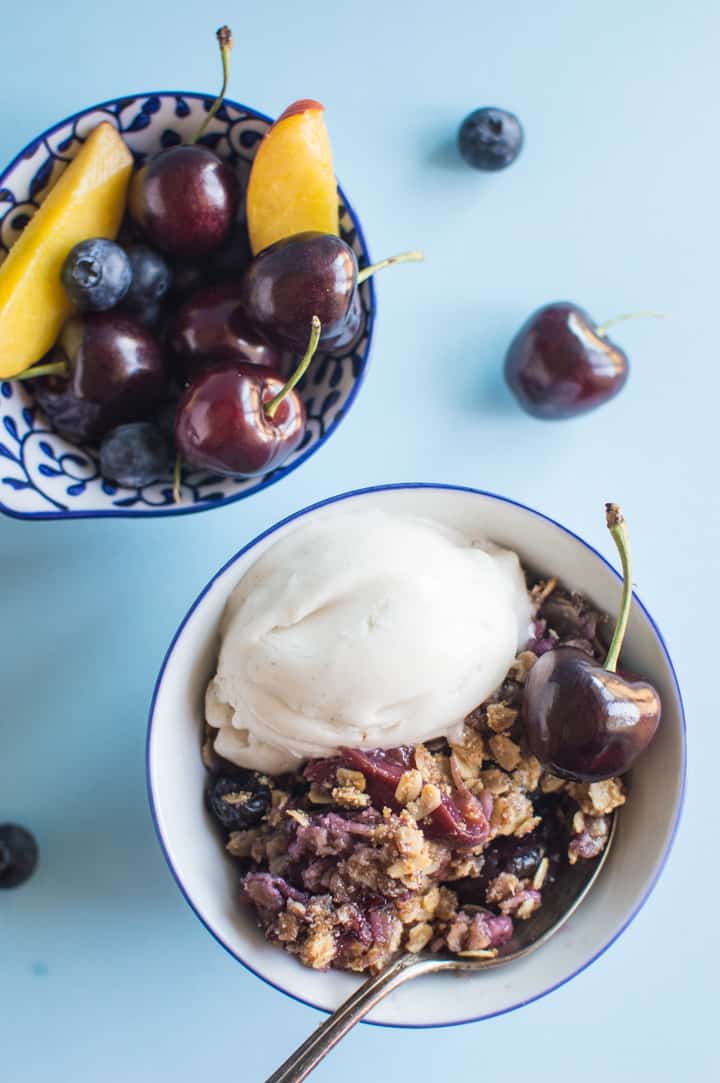 Peach Cherry & Blueberry Crumble // Healthy Nibbles & Bits
A delightful gluten-free and vegan dessert that features some of my favorite summer fruits! It's best served warm with a huge scoop of ice cream. Trust me on this one.
That's all for the round-up! Be sure to check out all of these delicious recipes and let us know how you enjoyed them!
A Quick Note: This post contains affiliate links, which means that I earn a small commission if you decide to purchase a product after clicking the link. Buying products through affiliate links is an easy way to support your favorite bloggers at no additional cost to you. Thank you very much for your support!