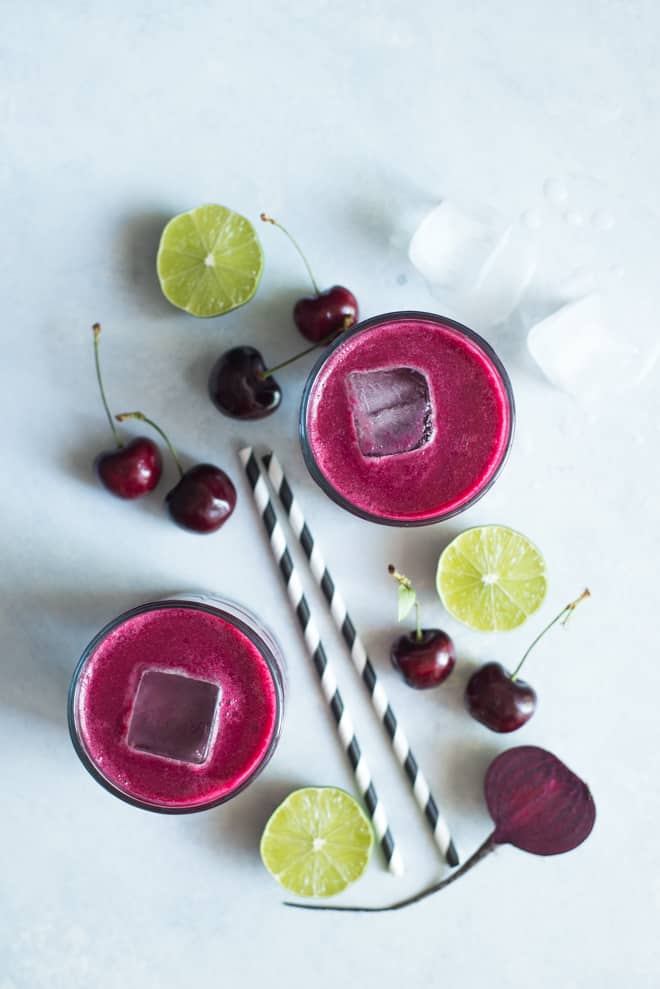 Cherries are my summer candy. I love sitting around on a lazy summer day, stuffing my face with fresh cherries, and spitting out the pits like a baseball player with sunflower seeds. However, as we all know, cherry season is far too short. A few months a year just isn't enough, but I guess this makes me appreciate cherries even more when they come in season!
To savor cherry season for as long as I can, I like to buy pounds and pounds of cherries during peak season and freeze them. I usually use a cherry pitter to pit all these cherries, but this wine bottle and chopstick trick works just as well. (It's a great excuse for drinking a bottle of wine, if you ever need one.) After pitting the cherries, I'll line them all on a plate and freeze them for a few hours or overnight before transferring them to a freezer bag. This way, the cherries won't clump up together in the freezer.
At this point, you're probably wondering why I don't just go out and buy a bag of frozen cherries. Although frozen cherries taste fine, the color is definitely not the same. Frozen cherries tend to take on a more purplish hue while cherries that I freeze are still quite red, and they make my food look prettier. I'm a stickler for pretty food.
For this cherry smoothie, I added lime juice for zing and some beets to neutralize the sweetness of the cherries. The beets also give this smoothie a beautiful magenta color that just brings a smile on my face whenever I make it. Yeah, super cheesy but true!
Let's make a smoothie toast to the last days of summer!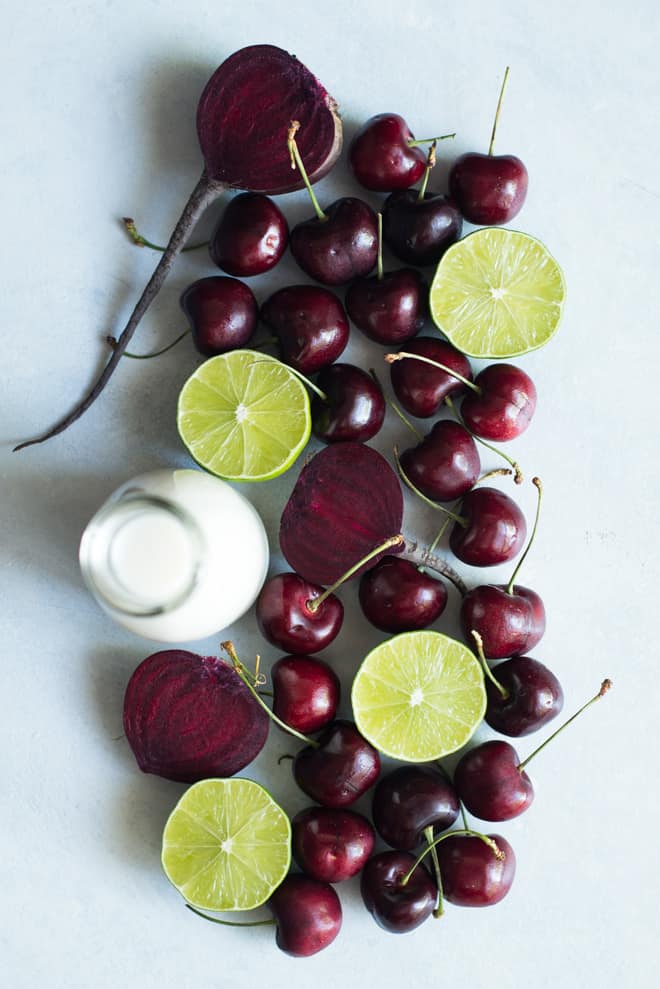 MASTERING MY MISTAKES / COOKING NOTES
Turning this drink into a slushie: If you are still battling the summer heat, turn this smoothie into a super chilled drink to cool you off from the inside out! Try adding 3/4 cup of ice cubes to this recipe. The ice cubes will water down your drink, so you might want to add more cherries, lime juice or beets to give the drink more flavor. Personally, slushies give me brain freezes, so I prefer drinking this as a smoothie instead.
If you want something more sweet: Try adding 1/2 to 2/3 cup of frozen mango if you want more sweetness in the smoothie. I thought the mango made the smoothie a touch too sweet, which is why I left it out of the recipe.
TOOLS USED
Using the right blender: If you're going to commit to drinking smoothies a few times a week, I highly recommend getting a high-speed blender. I used to make smoothies with a cheap blender, and I never quite got the consistency that I wanted. Currently, I use a Vitamix, but the Nutri Ninja served me very well for a long time and it's less expensive than the Vitamix)
WANT MORE SMOOTHIES + DETOX DRINKS?
For those of you who are curious about my cherry pitting trick, here it is: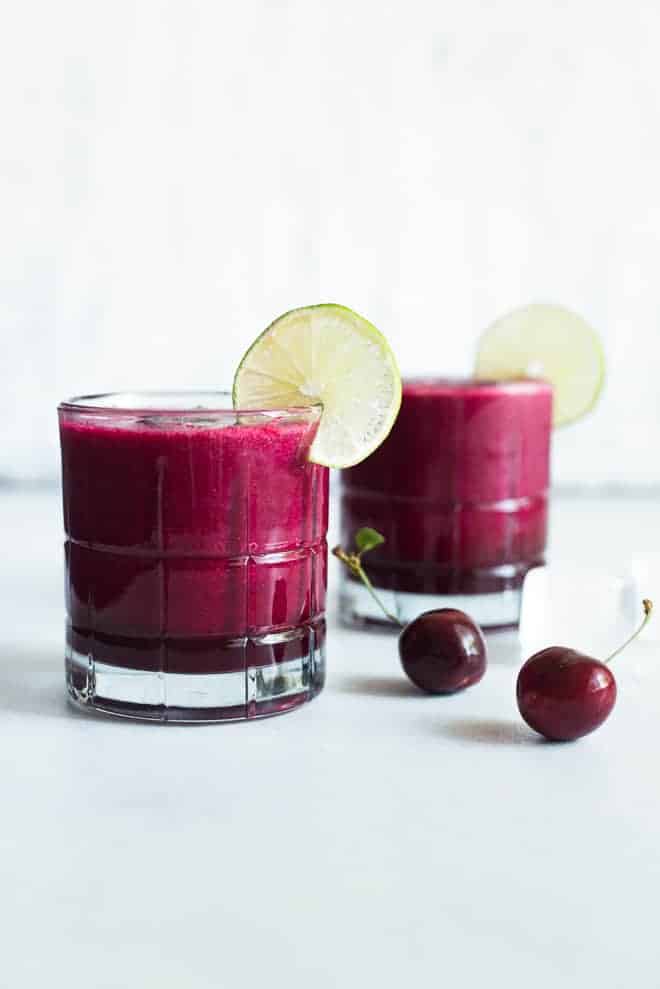 Servings:
1
Large Serving or 2 Small Smoothies
Cherry Lime Red Beet Smoothie
Ingredients
1 1/2

cups

(450g) pitted cherries, fresh or frozen

juice from 1 1/2 to 2 limes

1/2

cup

(75g) raw chopped red beets

1

cup

(240ml) almond milk

a few ice cubes

lime slices for garnish

,

optional
Instructions
Blend all ingredients until smooth. Serve in glasses and garnish if a slice of lime if you like.
Notes
NUTRITION INFORMATION: Yields 2 small smoothies. Amount Per Serving: Calories: 194, Total Fat 2g, Saturated Fat: 0.1g, Sodium: 113mg, Cholesterol: 0mg, Total Carbohydrate: 47g, Dietary Fiber: 9g, Sugar: 32.3g, Protein 4.1g
Did you make this recipe?
Tag @hellolisalin or leave a star rating and comment on the blog!