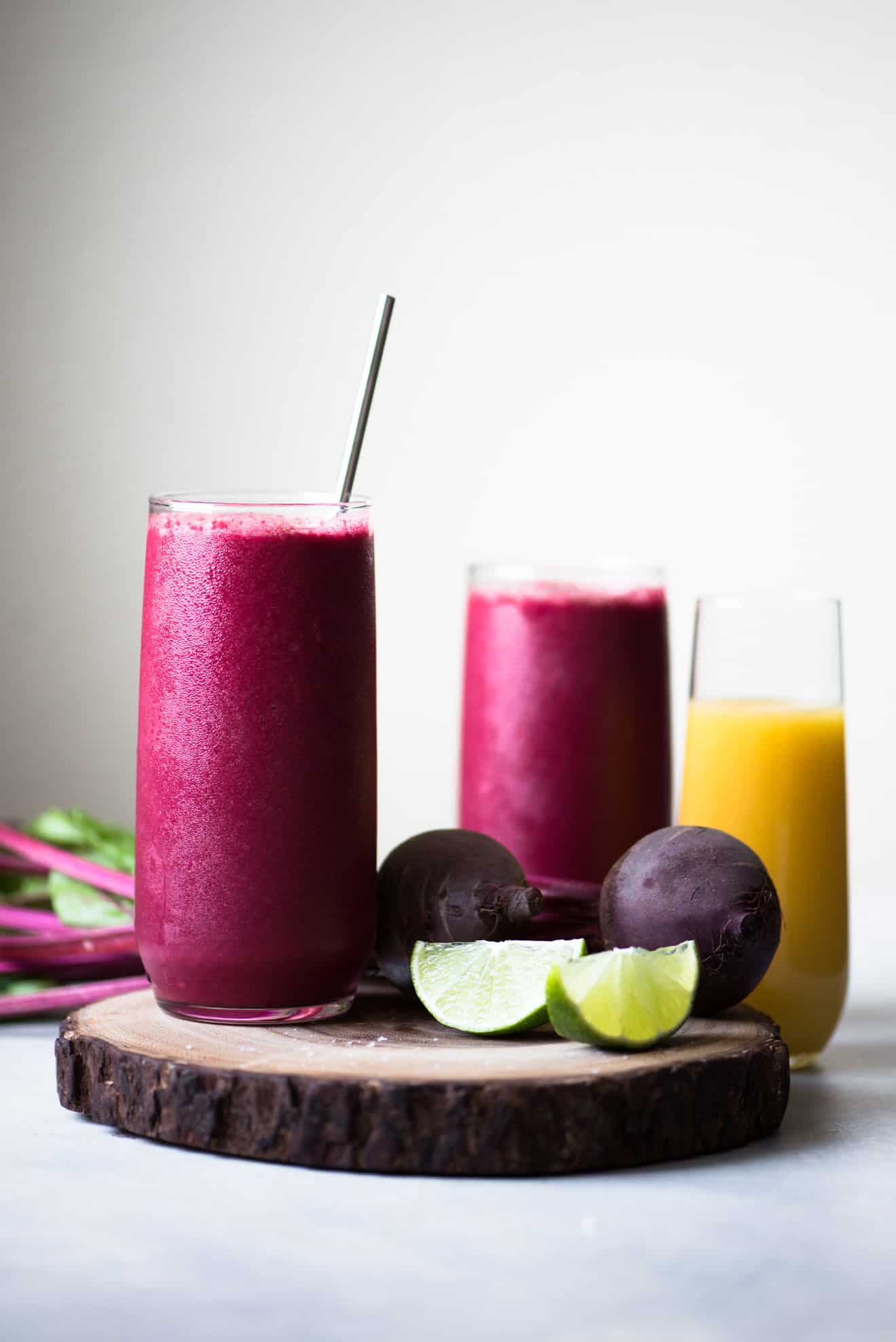 I love cooking with beet greens. If you have never had them before, they look and taste a lot like swiss chard, except the leaves are smaller and the stems are thinner. Like the actual beet, the stems release a lot of red color when you cook with it! I often toss the stems with rice, and I like to think of it as beautifying the entire dish.
I am currently on a mission to find more ways to cook with beet greens. Whenever I go to the farmers market, I mill around, collecting beet greens that other customers ask to be chopped off. I can't bear to see good food go to waste! Beet greens are also packed with Vitamin A (good for vision, immunity, etc.) and Vitamin K (good for healthy bones and important for blood clotting).
An easy and tasty way to use your beet greens is to add them your smoothies! I usually only use the leafy parts, saving the stems for sautéing. If you are using a high-speed blender, I don't see why you can't toss a few stems into your smoothies, too! Just be sure to slice them into smaller segments first so that they're easier to blend.
STORING BEETS AND BEET GREENS
When you buy beet greens at the farmers market (and sometimes at your grocery stores), there's usually a lot of dirt on the leaves and stems. I always rinse them several times before cooking with them.
If you're not cooking the beet greens within a day or two of purchase, chop off the beets and separate the stems from the leaves. Refrigerate the beets in a plastic bag—they usually keep for a few weeks. Rinse the stems and scrub out any dirt. Pat them dry and slice them in half so that they're easier to store. Rinse the leaves thoroughly. If you have a salad spinner, use it to get rid of some of the moisture from the leaves. You can also pat them dry and let the leaves air dry on a baking sheet that's lined with towels. I leave them out for 30 minutes to an hour. Store the leaves and stems together in a plastic bag. They usually keep for about a 1 week (sometimes even a few days more) before the leaves start to brown.
MASTERING MY MISTAKES / COOKING NOTES
Using red onion: A lot of you might be wondering why on earth I'm adding red onion into a smoothie. It makes the smoothie taste more interesting! I usually add 1 or 2 thin slivers of red onion into smoothies, which is about 1/2 to 1 teaspoon of minced red onion. If you're a bit apprehensive about this (and I totally get it), start out with 1/2 teaspoon of minced red onion first and work your way up if you're feeling more adventurous. I tried a version with 2 teaspoons of minced red onion and that was way too much! I had a bit of onion breath after drinking the smoothie, which wasn't exactly the sensation I was hoping for . . .
Boosters: If you are looking for a bit more natural protein in the smoothie, add a few tablespoons of raw almonds and/or a generous pinch of hemp seeds. You can add more almonds and hemp seeds, but do note that they tend to water down the flavor of the smoothie.
TOOLS USED
Using the right blender: If you're going to commit to drinking smoothies a few times a week, I highly recommend getting a high-speed blender. I used to make smoothies with a cheap blender, and I never quite got the consistency that I wanted. Currently, I use a Vitamix, but the Nutri Ninja served me very well for a long time and it's less expensive than the Vitamix)
WANT MORE SMOOTHIES + DETOX DRINKS?
Red Zinger Beet Smoothie
I know that the ingredients list for this smoothie is a bit long, but they all add to the complexity of the flavors. You can pare it down by only using frozen mango or frozen strawberries for the smoothie. Just be sure to use two cups instead of one. 
Ingredients
1

cup

(240ml) almond milk

1 1/4

cups

(300ml) orange juice

1

cup

packed beet greens

,

handful

1

small beet

,

about 1/3 cup chopped

1/2 to 1

teaspoon

minced red onion

1

cup

(140g) frozen mango

1

cup

(140g) frozen strawberries

1/2

teaspoon

lime zest

1 1/2

tablespoons

lime juice

pinch

of salt

pinch

of cayenne
Instructions
Add all of the smoothie ingredients to a blender and blend until smooth.

Pour the smoothie into 2 large glasses. Enjoy!
Notes
NUTRITION INFORMATION: Makes 2 drinks. Amount per serving: Calories: 178, Total Fat 2g, Saturated Fat: 1g, Sodium: 291mg, Cholesterol: 0mg, Total Carbohydrate: 40g, Dietary Fiber: 6g, Sugar: 29g, Protein 4g SUBSTITUTIONS: (1) If you don't have been greens, you can substitute it with baby spinach. (2) If you have fresh ginger, consider adding 3 to 4 slices of them to the smoothie!
Did you make this recipe?
Tag @hellolisalin or leave a star rating and comment on the blog!