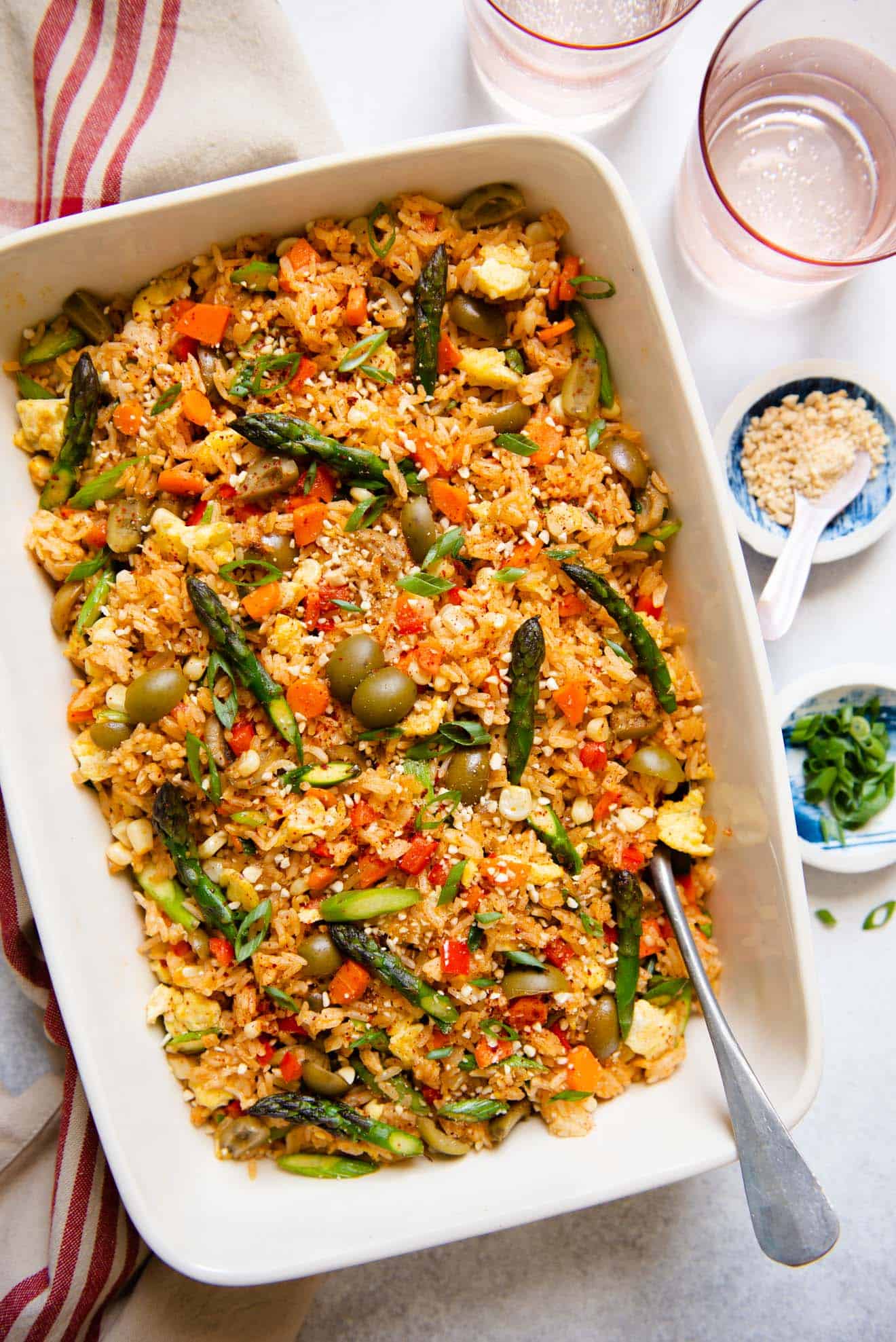 Thank you California Ripe Olives for sponsoring this post!
Growing up in San Francisco, the only time my family went out for a picnic or barbecue is during the summer time. We would always grill meat, but what I actually looked forward to at these barbecues were the sides.
In Chinese families, it is not uncommon to see platters of fried rice or chow mein at the family barbecue. They're easy to transport, not temperature sensitive (i.e., they'll still taste great at room temperature), and go well with anything off the grill. This red curry fried rice with olives is inspired by those fried rice platters we have at our family picnics.
I use an amazing red sauce made of red curry paste, olive brine, soy sauce, and brown sugar to flavor the fried rice. (By olive brine, I mean the brine that you see when you open a can of California Ripe Olives.) Overall the red curry fried rice is light and bright with a pleasantly sweet flavor.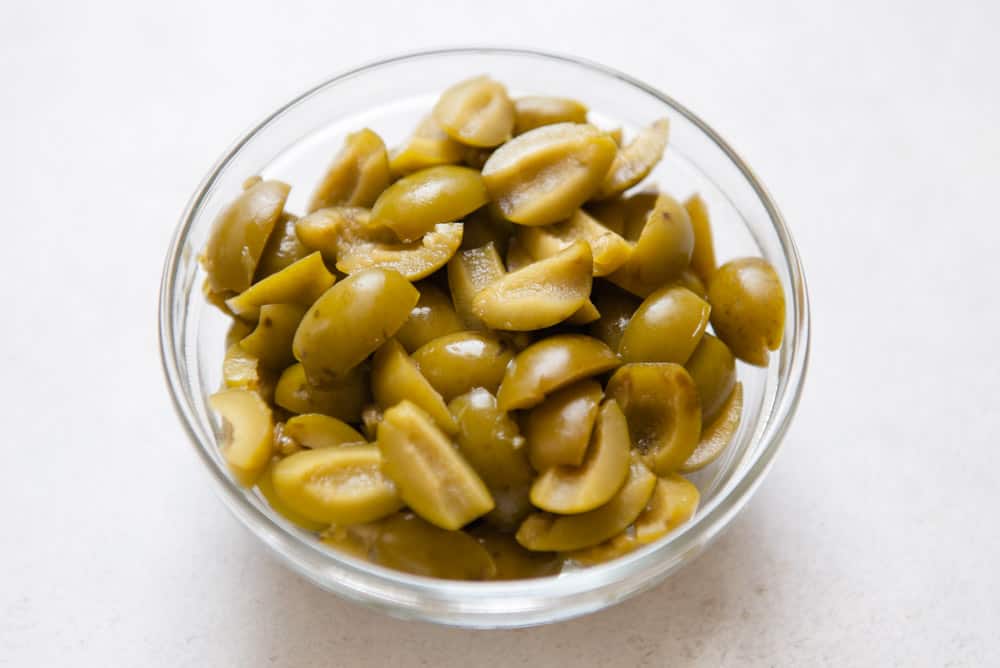 To contrast the sweetness of the sauce, I added sliced California Green Ripe Olives. Because I didn't add meat to the fried rice, I wanted something to stand out in the dish. I know it's not often that you see olives in a fried rice recipe. However, the California Green Ripe Olives give a great savory punch in this dish. It also adds a nice earthy green color to the fried rice.
When purchasing the olives, make sure to check the label and use California Green Ripe Olives in this recipe. Although the olives are brined, they are not overly salty. As a result, the olives will complement the flavors of the red curry fried rice rather than overwhelm it.
This red curry fried rice is a great vegetarian side dish that you can take to any picnic or cookout. There are a number of vegetables and spices to prepare, but the cooking process is very straightforward.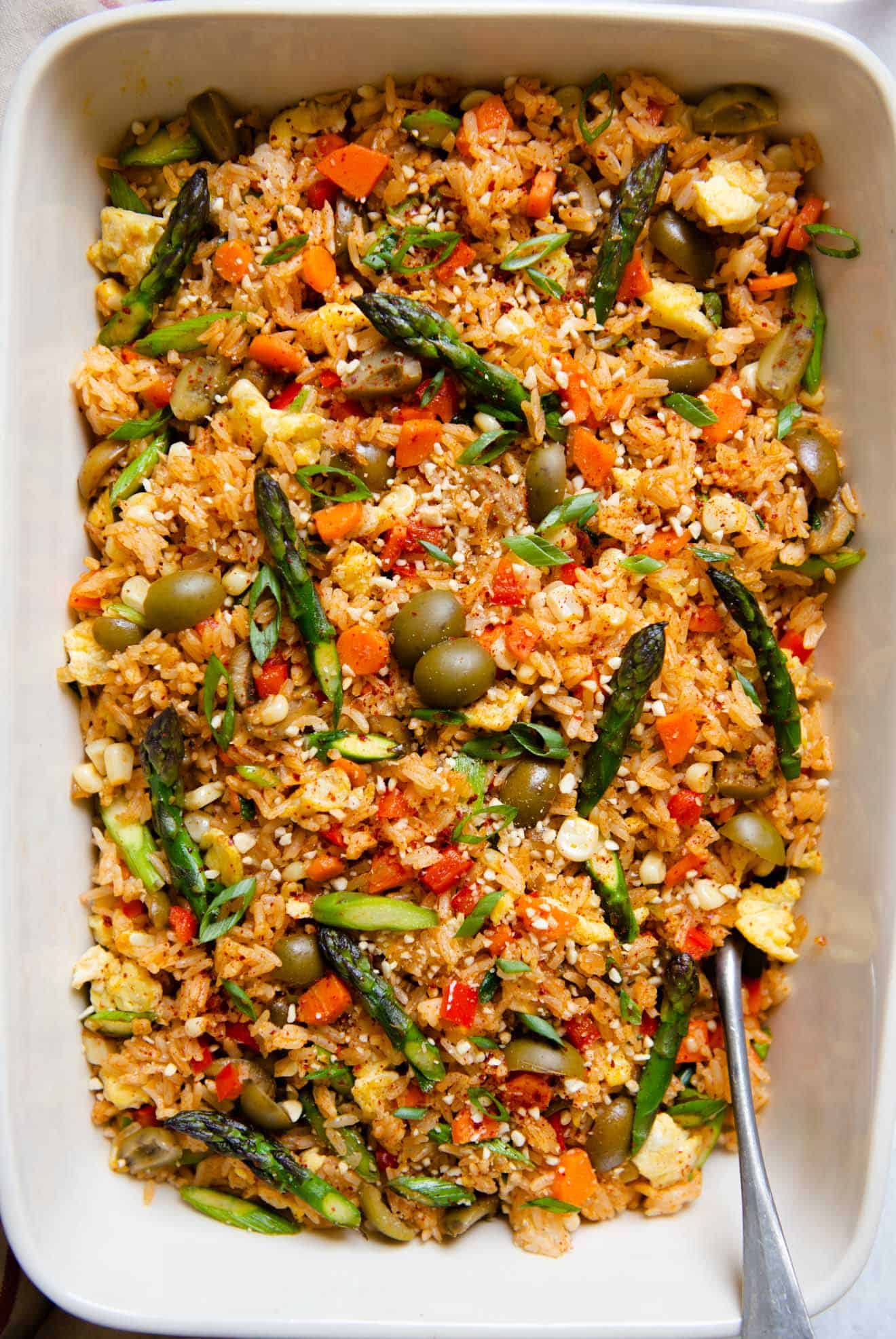 WHY YOU USE DAY-OLD RICE FOR FRIED RICE RECIPES
Fried rice is usually a dish that you make to repurpose the leftover cooked rice from the day before. You want to avoid freshly cooked rice because it is still moist and steamy. If you stir fry rice that is still hot, you'll notice that the rice gets mushy in texture.
However, if you forgot to prep the rice ahead, here is a little trick that I use. I spread a layer freshly cooked rice onto large baking sheets and let the rice air out for about 1 to 2 hours, the longer the better. The grains of rice will dry out during this process. (Check out my post here on how to cook jasmine rice.)
LOOKING FOR MORE FRIED RICE RECIPES?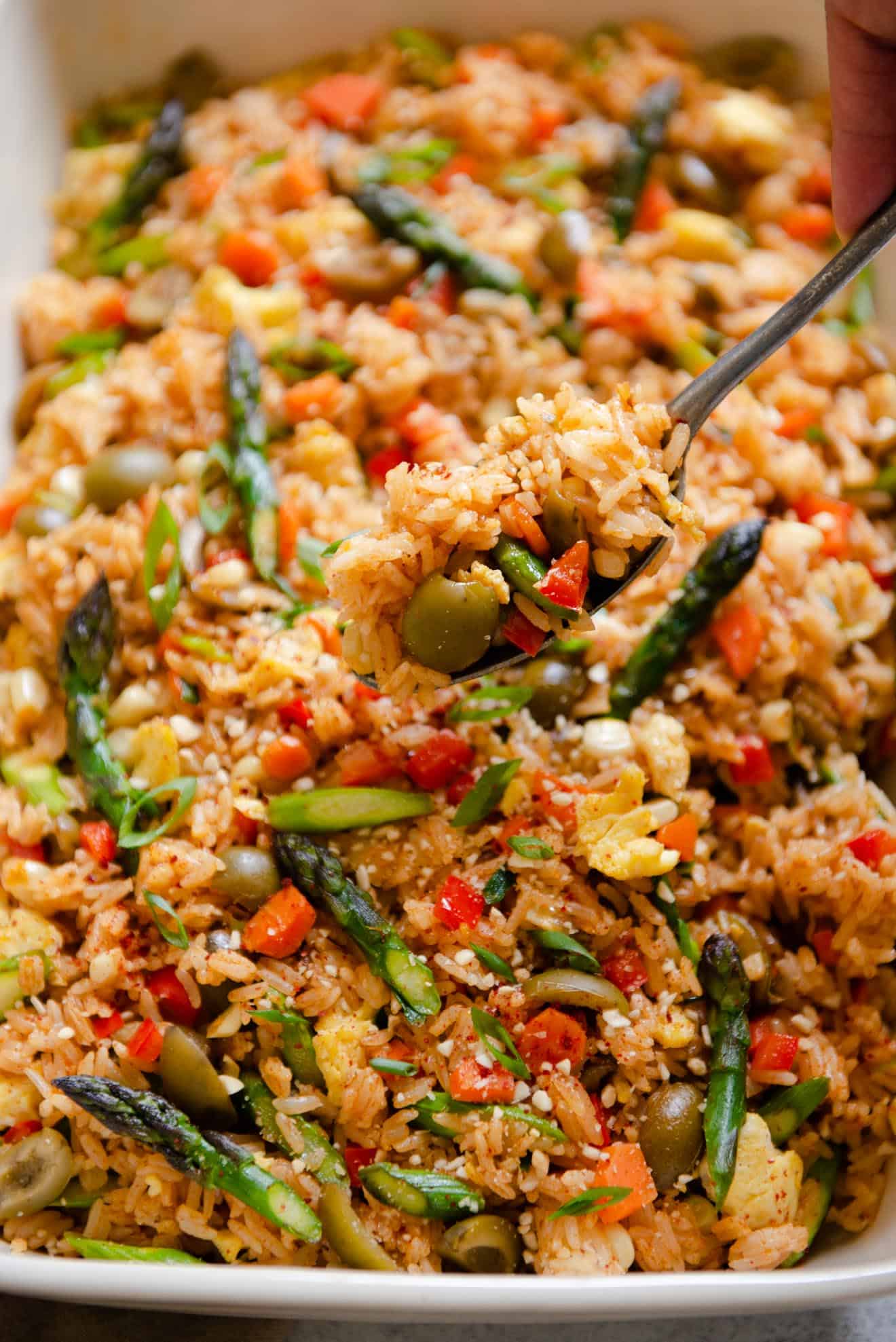 Red Curry Fried Rice with Olives
This fresh and light red curry fried rice recipe is great parties or dinner. It is packed with vegetables and lightly sweet. Feel free to substitute any of the fresh vegetables with whatever you have on hand.
Ingredients
Red Curry Sauce
2 1/2

tablespoons

red curry paste

2 1/2

tablespoons

olive brine

2

tablespoons

soy sauce

3

tablespoons

brown sugar

3/4

teaspoon

ground coriander
Fried Rice
2 1/2

tablespoons

extra-virgin coconut oil, divided (note 1)

3

large eggs, lightly whisked

2

teaspoons

kosher salt, divided

1/2

cup

finely diced shallots

2

tablespoons

minced ginger

3

cloves

garlic, minced

1

large carrot, diced (about 3/4 cup)

1/2

red bell pepper, diced

3/4

cup

corn kernels

1 1/2

cups

sliced asparagus, about 1/2 bunch

3

stalks of scallions, sliced

6 to 7

cups

cold cooked jasmine rice (note 2)

2/3

cup

California Green Ripe Olives, quartered
Toppings (Optional)
chopped toasted peanuts

red pepper flakes
Instructions
In a bowl, mix all of the red curry sauce ingredients together. Set it aside.

Add 1/2 tablespoon of coconut oil to a wok over medium-high heat. Pour the whisked eggs to the wok. Let the eggs set for about 10 seconds. Sprinkle the eggs with a pinch of salt.

Then, use a spatula to scramble up the eggs. Cook the eggs for about 1 minute. Turn off the heat. Use the edge of your spatula to break up any large pieces of egg. Transfer the eggs to a plate and wipe down the wok with a towel.

Heat the remaining coconut oil in the wok over high heat. Add the shallots and cook them for about 1 minute, until they start to soften. Then, add the ginger and garlic and cook for about 30 seconds.

Once the ginger and garlic are fragrant, add the carrots, pepper, corn, asparagus, and 1/2 teaspoon salt. Stir fry all the vegetables for about 2 minutes, until the asparagus turns vibrant green.

Add the scallions and rice into the wok. Drizzle the red curry sauce over the rice. Toss to incorporate the sauce into the rice. Use your spatula to break up any large chunks of rice. Season the fried rice with the remaining salt, and toss to combine.

Turn off the heat. Add the California Green Ripe Olives, and mix everything together. Transfer the cooked red curry fried rice to a large baking pan or casserole dish. Sprinkle chopped peanuts and red pepper flakes for garnish. Serve.

If you are transporting the fried rice, cover the rice loosely with aluminum foil.
Notes
Make sure to use extra-virgin or unrefined coconut oil, as it enhances the flavor of the fried rice.
See note in the post about using day-old rice for this dish.
SHORTCUT: If you want to save time with the vegetable prep, you can substitute the carrots, bell pepper, and corn with frozen vegetables. Soak the frozen vegetables in warm water for about 15 minutes. Drain the water, and the vegetables will be ready to use.
Nutrition
Serving:
1
serving
|
Calories:
244
kcal
|
Carbohydrates:
24.9
g
|
Protein:
9.1
g
|
Fat:
12.6
g
|
Saturated Fat:
8.3
g
|
Cholesterol:
140
mg
|
Sodium:
1134
mg
|
Fiber:
4.1
g
|
Sugar:
14
g
Did you make this recipe?
Tag @hellolisalin or leave a star rating and comment on the blog!
Disclosure: This post was sponsored by California Ripe Olives. You can visit their website for more information or follow them on Facebook, Pinterest, Instagram, or Twitter.