This sweet potato mango smoothie is packed with nutrition and perfect for breakfast!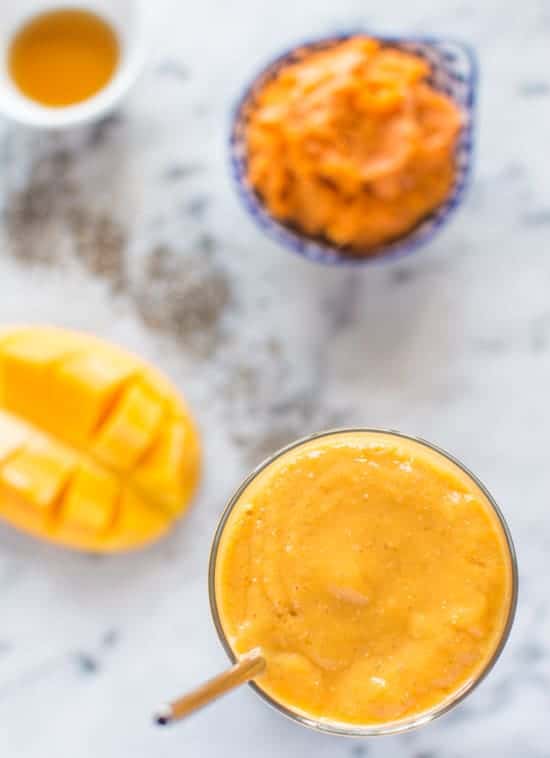 Peek into my apartment and you may find me parked on my couch, deeply engrossed in a shiny black box. A shiny black box that flips open, with colors running all over the screen. Pardon me while I relive my teenage years.
A month ago, I got this new toy, and I have problems taking a break from playing The Legend of Zelda. This is how it goes: I tell myself that I'm going in for a 15-minute hit, but when I finally tear my eyes away from the screen to check the time, it's been over an hour.  If I embark on a new mission, I might as well take it all the way and kill the boss, right? I don't think I've understood gamers better than I do now.
My recent video gaming obsession is how this smoothie came to be. I was so locked into the game one that I forgot I had to cook dinner. In my youth, I would have ran to the kitchen to microwave some instant noodles and jump right back into the game. You'll be glad to know that I have grown up though. I whipped up a super nutritious smoothie and jumped right back into the game. There is no time to sit and eat a proper meal.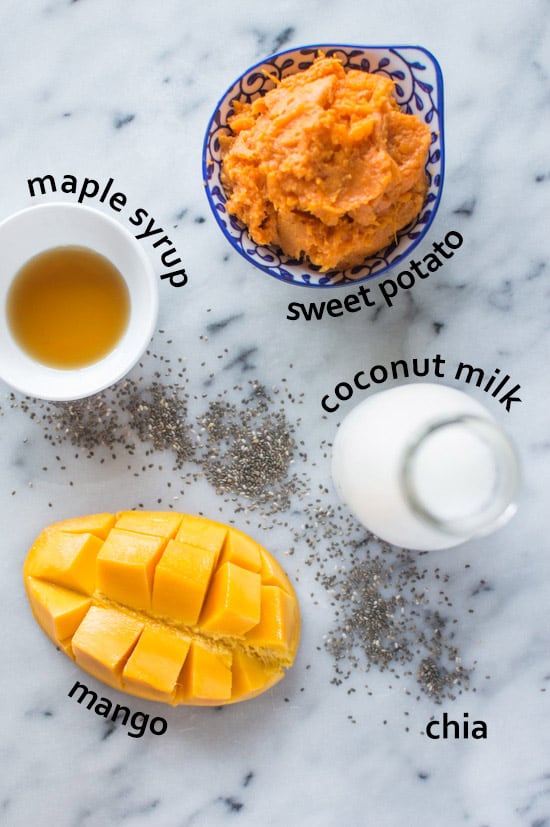 Okay, the sweet potato addition might sound a bit weird, but it works. Not only does it naturally sweeten the smoothie, but gives me a big shot of Vitamin A into my system. The mango's there to add a tropical touch to the smoothie because my mind is on summer already. You'll be surprised how well the mango chunks compliment the sweet potato. For those of you who've been drinking green smoothies a lot lately, this is a great way to break up your routine.
Whether you need this smoothie to energize you in the morning or keep you going for hours of gaming (okay, maybe only me), this smoothie recipe is definitely something you want to keep in your back pocket!

Lisa Lin
1
Sweet Potato Mango Smoothie
5 minPrep Time
5 minTotal Time
Ingredients
1 small cooked sweet potato (about 1/2 cup smashed)
1/2 cup fresh or frozen mango chunks (small handful)
1 1/3 cup unsweetened coconut milk beverage
1 TBS chia seeds
2 tsp maple syrup (any liquid sweetener works also)
ice cubes (optional)
Instructions
Blend all the ingredients until smooth. Enjoy! You can also make this ahead and refrigerate the smoothie in a jar overnight.
Notes
You can also replace the coconut milk beverage with almond milk, soy milk, or any kind of milk you prefer.
7.6.4
419
https://healthynibblesandbits.com/sweet-potato-mango-smoothie/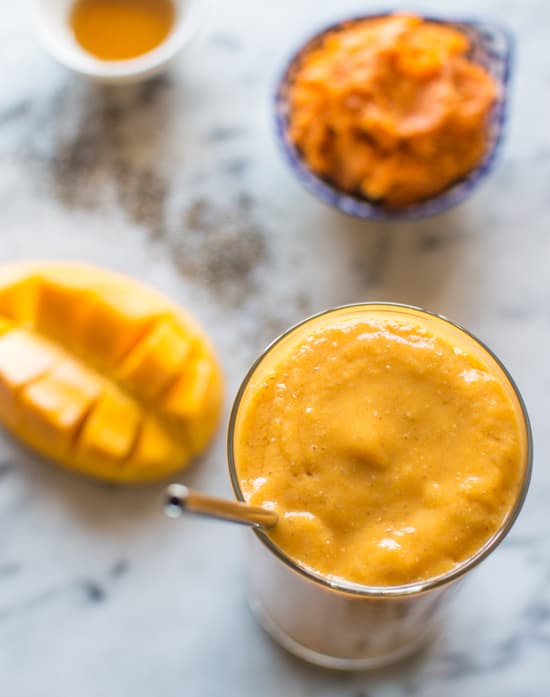 Looking for more drink ideas?