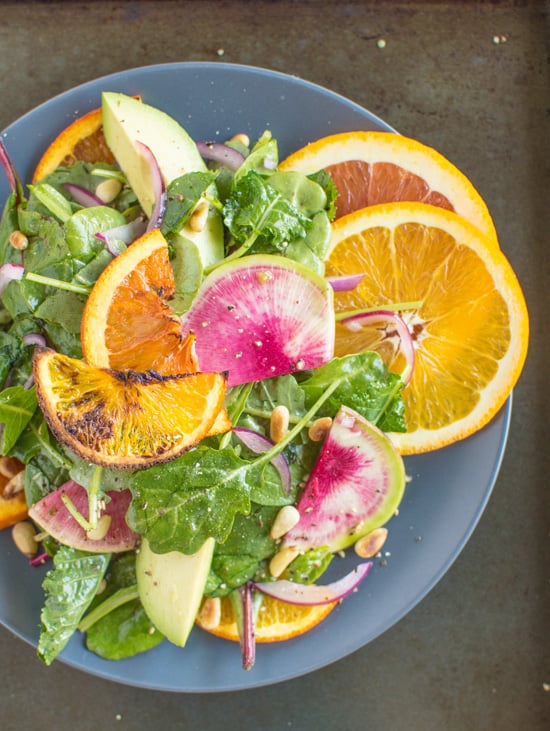 I get very excited about January. Sure, there's the whole, "new year, new you," "time for a fresh start" kind of positive vibes that we throw at each other at the beginning of the year. But the source of my excitement runs deeper. It has all to do with those bright orange and yellow hues that pop up at the supermarket/farmers market. I'm talking citrus fruits.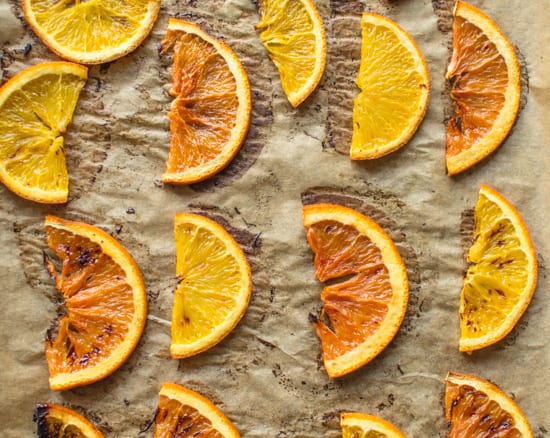 My love for citrus coincides with Chinese new year traditions. I don't know if other Chinese families are the same as mine, but Mama Lin decorates every inch of the household with citrus fruits for the new year festivities: oranges, clementines, kumquats, pomelos. I'd find an orange by the bedside, in the bookshelf, on top of the television, by the shoe rack, pretty much anywhere in our tiny house that Mama Lin felt could use an extra sprinkling of good luck and fortune.
Chinese new year is usually the most festive time of the year for my family, and it always seems to coincide with citrus season (it's February 19th this year, in case you're wondering). That's why when I start seeing those bright orange and yellow globes prominently displayed around the grocery stores, I know that red envelope time is just around the corner and all the warm and fuzzy feelings that go along with it.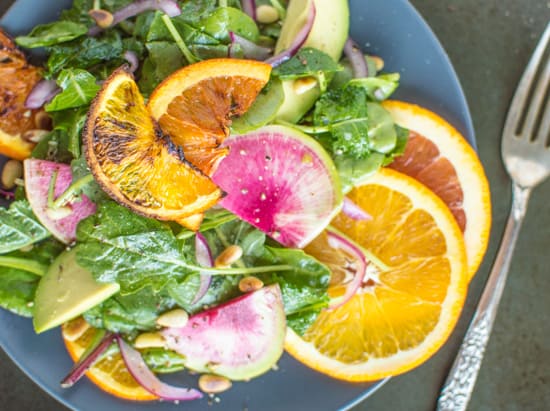 Mama Lin would never think of sticking sliced oranges into an oven, but I might fix up a couple of these for her soon. If you've never roasted oranges before, this is the perfect place to start. The roasted orange slices add a light malty sweetness to salads that you don't find with other fruits. I know, orange and malt? It's a thing, and you'll want to try it.
As for the orange rind, eat it! Just make sure you slice those oranges thinly so that the rind can crisp up in the oven. Of course, I won't judge if you decide to skip it.
Roasted Orange Rainbow Salad with Asian Orange Vinaigrette
Serves 4.
Ingredients
Salad
2

oranges

,

I used one Cara Cara orange, and one navel orange

1

and 1/2 TBS olive oil

salt

1/4

small red onion

,

thinly sliced

2

TBS

lemon juice

1/2

TBS

white balsamic vinegar

,

optional

8

cups

(150g) salad greens

1

medium watermelon radish

,

thinly sliced and cut into half moons

3

TBS

toasted pine nuts

a few fresh basil leaves

,

chopped

1

medium avocado

,

sliced

freshly ground black pepper
Orange Vinaigrette
2

TBS

rice vinegar

3

TBS

orange juice

1/2

TBS

sesame oil

1

clove

of garlic

,

minced

1/2

shallot

,

finely chopped

1

green onion

,

finely chopped

1/2

tsp

salt

1

tsp

sesame seeds

,

optional
Instructions
Preheat oven to 425 degrees F (220 degrees F). Line a baking sheet with grease-proof paper.

Slice the oranges very thinly (about 1/8-inch thick). Cut them in half again so that the orange slices look like half moons. Toss the orange slices with the olive oil and a small pinch of salt. Lay the orange slices in a single layer on the baking sheet, and bake for about 13-15 minutes. Make sure to rotate the baking sheet and flip the orange slices halfway to prevent them from burning too much. You want to be able to see some charring on the oranges.

While the oranges are baking, toss the sliced red onion with lemon juice, balsamic vinegar, and a pinch of salt. Set aside.

Prepare the vinaigrette by mixing all the ingredients together. Set aside.

When the oranges are roasted, toss them with the salad greens, onions, radish, pine nuts, basil and the vinaigrette. Fold in the avocados. Top with some freshly ground pepper.

Serve immediately.
Did you make this recipe?
Tag @hellolisalin or leave a star rating and comment on the blog!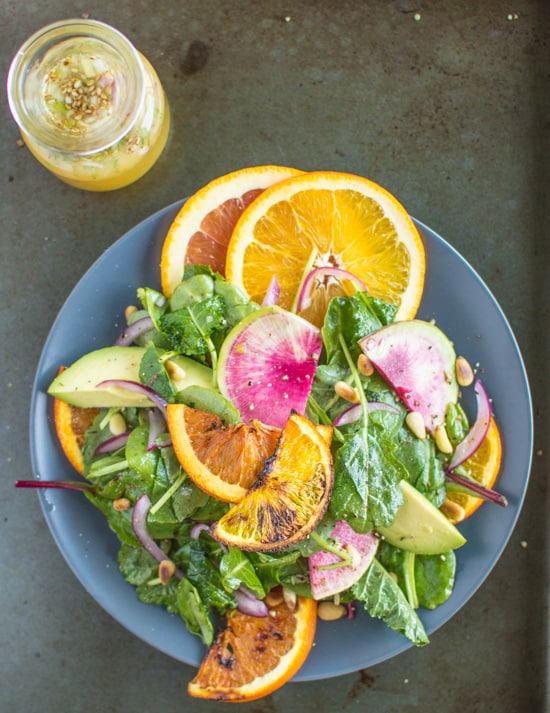 Looking for more salads? Try these: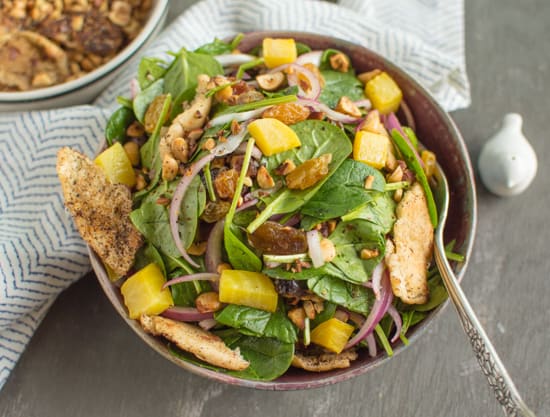 Spinach Salad with Toasted Pita & Hazelnuts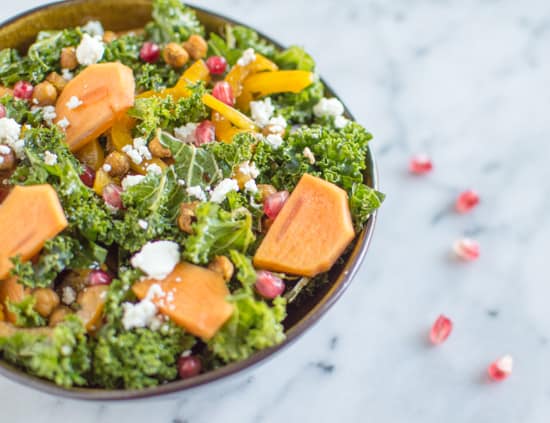 Kale Persimmon Salad with Chickpea Croutons