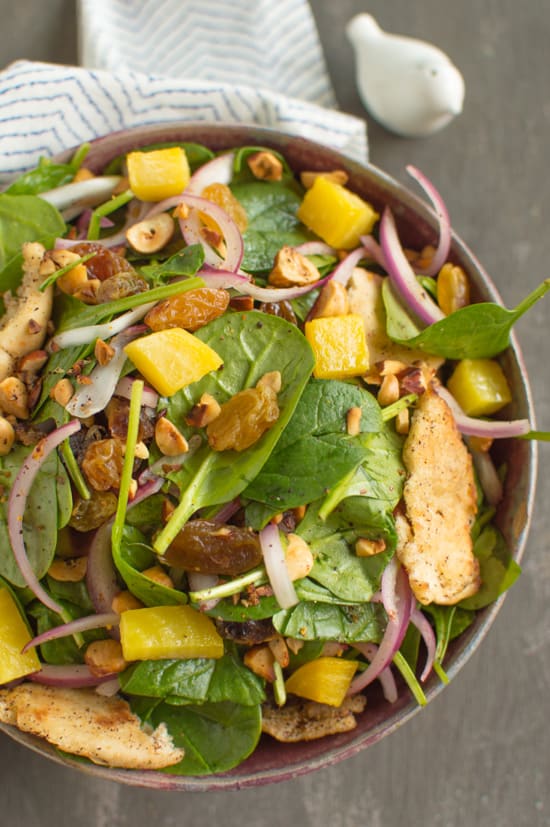 This has been my schedule the last week:
wake up from my slumber and clamber out of bed ungracefully.
make a cup of tea. eat.
complete requisite blogging duties.
cook.
photograph food. sneak in many bites of said food.
shop.
more blogging.
repeat.
Between Christmas shopping, preparing for a 2.5 week trip, planning blog posts ahead, and finishing up random projects, things have been messy around here, literally and figuratively. This always happens to me right before a big trip: work until the last minute and shove everything in a suit case. I just hope I don't leave out anyone's Christmas present! I can't wait to relax and just drink cups of tea all day long. That, and a few biscuits. (P.S. Follow me on Instagram to see scenes from my trip!)
As you can tell with all the recipes on the blog lately, Christmas, chocolate, and peppermint has been in full swing. The pants are beginning to feel a bit snug. Yes, we're in the heart of the holiday season. So I decided to go ahead and shake up this chocolate-peppermint-gingerbread routine and make myself a much needed nutritious salad. Life is all about balance: chocolate cookies on one hand, spinach on the other.
So, I whipped up a salad, but not just any salad—it's an Ottolenghi salad. I finally got myself a copy of Jerusalem by Yotam Ottolenghi and Sami Tamimi (I don't know why that took so long), and I am OBSESSED with it. The colors of every photographed dish look wonderful, and this cookbook is making me want to travel to the Middle East. Maybe Istanbul soon? Flipping through Jerusalem, the Baby Spinach Salad with Dates & Almonds recipe popped right out to me. It's a simple, perfectly dressed spinach salad with toasted pita and almonds. Toasted pita with sumac in a salad?! How can I refuse?
When I made the salad, I changed the recipe a few ways: I swapped the almonds for hazelnuts, added plump golden raisins and roasted golden beets, and toasted the pita and nuts with Japanese seven-spice (shichimi togarashi).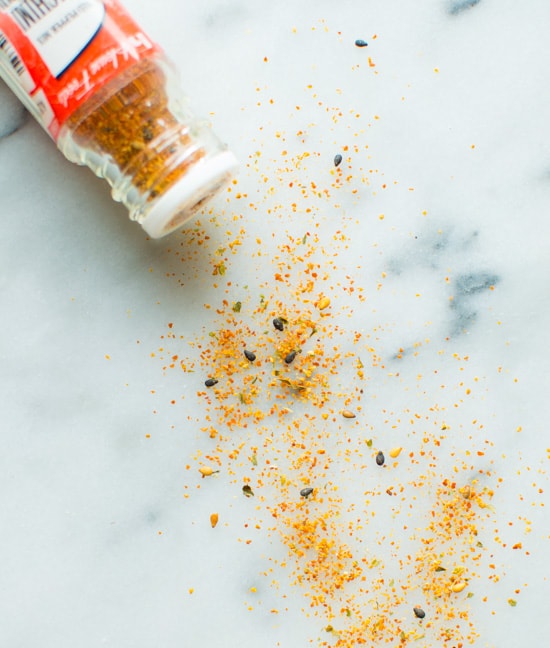 The addition of shichimi togarashi might look like it's coming out of left field, but according to this post, shichimi togarashi and shawarma is going to be the next big thing in 2015. I wanted to see how that Japanese spice worked with Middle Eastern flavors, so I sprinkled it onto the pita and hazelnuts. Oh my. I could have easily wolfed down the entire batch of pita and nuts. The acidity of the sumac pairs so well with the flavored spice blend. Just try it!
Spinach Salad with Toasted Pita & Hazelnuts
Serves 4.
Ingredients
2

medium golden beets

,

peeled and chopped into 1/2-inch cubes

3

TBS

olive oil

,

divided

1/3

medium red onion

,

thinly sliced

3

TBS

golden raisins

5

large medjool dates

,

quartered

2

TBS

white balsamic vinegar

,

or any vinegar you have on hand

pinch

of salt

2

TBS

unsalted vegan buttery spread (use butter if not vegan)

1 1/2

large pitas

1/2

cup

(65g) hazelnuts

2

tsp

sumac

1/2

tsp

Japanese seven-spice (shichimi togarashi)

6

cups

baby spinach (about 5 oz/150g)

2

TBS

lemon juice
Instructions
Preheat oven to 375 degrees F (190 degrees C). Line a rimmed baking pan with parchment paper. Toss the beets with a tablespoon of olive oil, and spread it onto the baking pan. Bake for 20-25 minutes, or until the beets are easily pierced with a fork.

In a small bowl, stir the red onions, raisins, dates, vinegar, and a pinch of salt together. Let it stand for 20 minutes. If there's any leftover vinegar after it's been marinated, drain it away.

Tear apart the pita into 1- to 1 and 1/2-inch pieces.

In a large pan, heat the buttery spread and 1 tablespoon of olive oil over medium-low heat. When the butter has been melted, add the pita and nuts, and stir well. Keep stirring it for about 4 to 6 minutes, or until the pita turns golden brown. Remove the pan from heat, and sprinkle on the sumac and shichimi togarashi, and mix well. Use 1 tsp of the shichimi togarashi if you want more heat in your salad.

In a large bowl, toss the spinach with the onion marinade, beets, pita, nuts, 1 tablespoon of olive oil, and lemon juice. I didn't need to add any more salt, but adjust it to your taste.

Serve immediately.
Notes
Adapted from the Baby Spinach Salad with Dates & Almonds Recipe in Jerusalem by Yotam Ottolenghi and Sami Tamimi.
Did you make this recipe?
Tag @hellolisalin or leave a star rating and comment on the blog!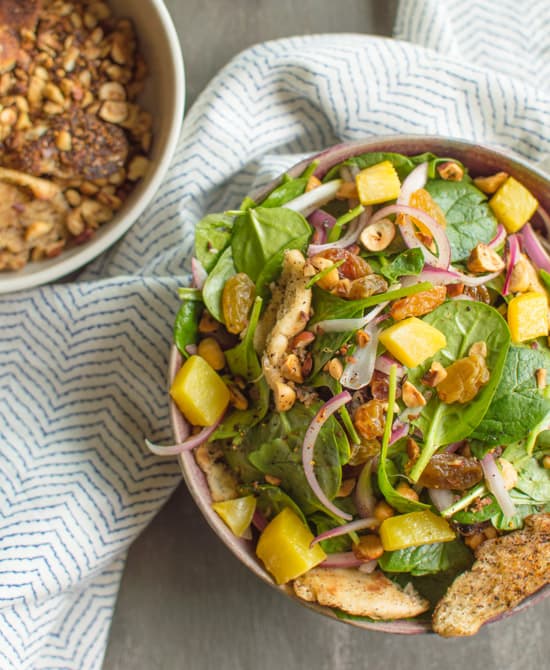 Need more inspiration for salads?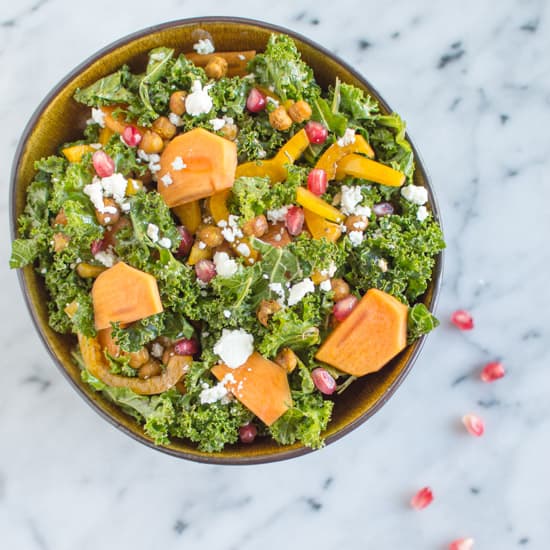 Kale Persimmon Salad with Chickpea Croutons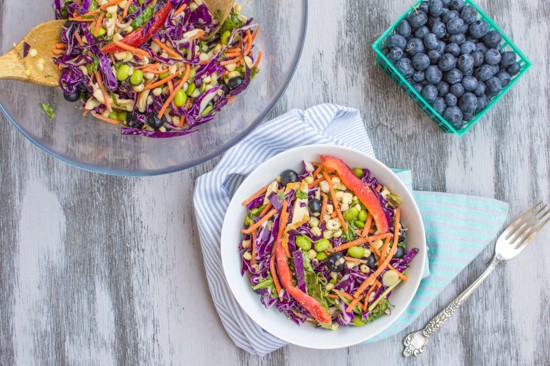 Rainbow Salad with Peanut Vinaigrette
Note: This post contains affiliate links, which means I earn a small commission when you buy products through those links. Thanks for supporting Healthy Nibbles & Bits!