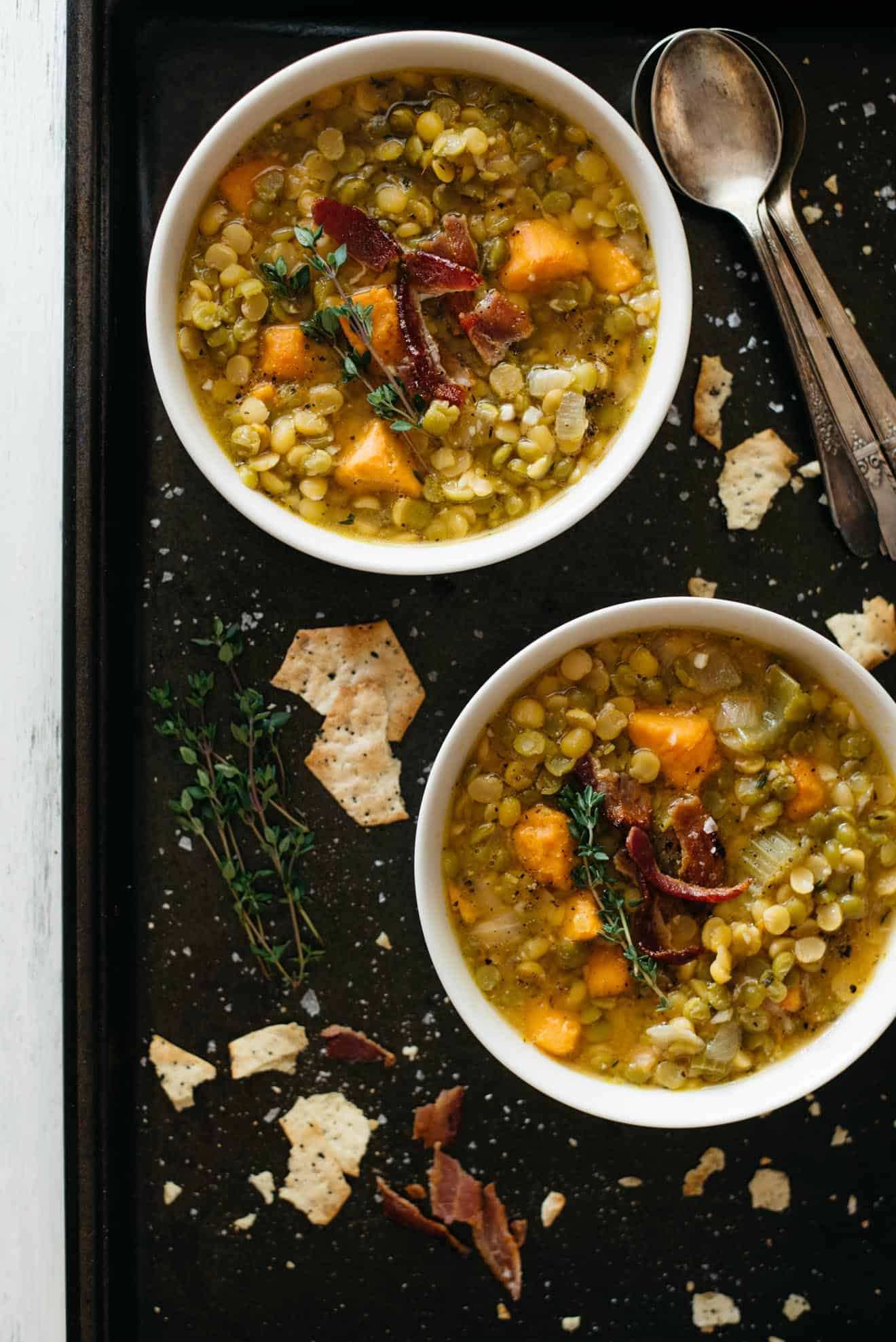 Here we go, friends, another week of my budget-friendly meals! We're starting to get into fall, a time for heartier, filling meals. For me, it's a time to eat more soup!
I recently tried a split pea soup recipe from Cooking Light, and I LOVED how they used miso paste to flavor the soup. The miso gives the soup a rich, savory and umami flavor. It goes to show that miso isn't just the brothy soup that you get a Japanese restaurant, it is a wonderful savory flavor enhancer as well! I use miso paste all the time in my cooking, for roasting squash, salad dressings, and even pesto sauce! Because miso paste is made from fermented soybeans, the paste usually keeps for a year!
This split pea soup is packed with protein and fiber, so you'll definitely be able to make a meal out of this. Give thie soup a try soon, and let me know how it goes!
Price of Entire Meal: $10.36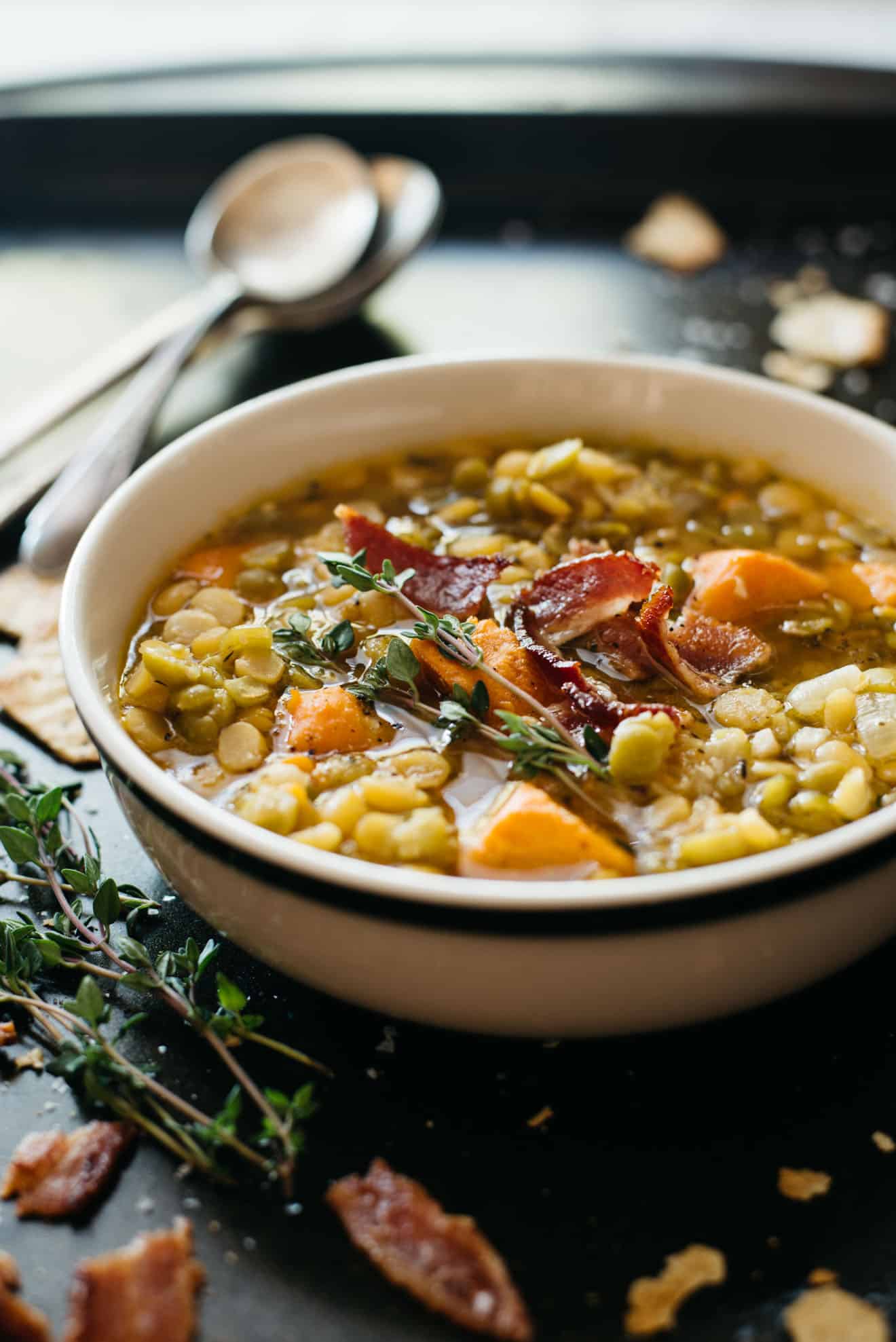 MASTERING MY MISTAKES / COOKING NOTES
Texture of the peas: The cooking time for the soup depends on how soft and mushy you want the peas to be. I like the peas right when they turn tender, so I let the everything simmer for 45 to 50 minutes before turning off the heat. The peas are still firm so that I have something to chew on as I eat the soup. If you prefer softer, mushier peas, let the soup simmer for an hour before turning off the heat. Alternatively, you can also blend the soup in a blender or use an immersion blender.
Type of peas: I used a 50/50 blend of green split peas and yellow split peas here, but you can use all green split peas or all yellow split peas. There isn't much of a difference in taste.
Rinsing the peas: I suggest rinsing the peas only right before they're ready to go into the pot. Wet peas will stick together into one GIANT clump if you leave them there for more than a few minutes. I learned this the hard way.
Vegetarian/vegan option: You can definitely make this into a vegetarian recipe. Just skip the bacon, sub the chicken broth for vegetable broth, and use olive oil to sauté the vegetables in the beginning.
Leftovers: The split peas will absorb some of the soup liquid overnight. If I want to make the leftovers into a soup again, I'll add a bit of water to the pot and adjust the seasonings. By the way, I have spooned leftovers of this split pea soup over toast, and it tasted wonderfully!
If you make this recipe, let me know! Take a photo of your creation and tag me on Instagram so that I can give you a fist bump!
Servings:
5
to 6 Servings
Split Pea Soup with Bacon
Ingredients
4

strips of bacon

1

cup

diced onions

,

135g

3

celery stalks

,

sliced

1

medium to large sweet potato

,

peeled and diced (about 2 cups cubed, 225g)

5

cloves

garlic

,

minced

1 to 1 1/2

tablespoons

white/yellow miso

,

depending on your taste

1

pound

(450g) green or yellow split peas, rinsed

4

cups

(960ml) chicken stock

2 to 3

cups

(480ml to 720ml) water

1

tablespoon

fresh thyme or 1 teaspoon dried thyme

salt and pepper to taste
Instructions
In a heavy bottomed pot, fry up the bacon. Line a plate with paper towels to absorb excess bacon fat. I usually pull the bacon out of the pan when the edges start to brown, about 4 to 5 minutes. Turn off heat. Pour out some of the bacon fat, leaving about 1 1/2 tablespoons of fat remaining.

Heat pot over medium-high heat. Add onions and celery and cook for about 3 minutes, stirring occasionally. Add sweet potato chunks and cook for another 2 minutes. Add minced garlic and miso paste and stir for a minute. (NOTE: If this is your first time using miso, add only 1 tablespoon. If you love miso flavor, add 1 1/2 to 2 tablespoons of miso.) Throw in the peas and mix everything for another minute. Pour in the broth and 1 cup of water, saving the rest of the water for later.

Bring the soup to boil. Stir in the thyme and reduce the heat to low. Let the soup simmer, partially covered, for 45 minutes to 1 hour. Check the peas at 45 minutes. If all the liquids are nearly gone, add 1 to 2 cups of water, depending on how brothy you want your soup. I turned off the heat at about 55 minutes so that the beans are just tender. Keep cooking them for another 15 to 20 minutes if you want mushier peas. You may need to add more water to prevent the beans from drying out. Season the soup with salt and pepper.

Crumble the bacon into smaller pieces and mix them into the soup. Serve with crackers or bread, if you like!
Notes
NUTRITION INFORMATION: Serves 5 to 6. Amount for 1/5 of Recipe: Calories: 489, Total Fat 11g, Saturated Fat: 3.3g, Trans Fat 0g, Sodium: 430mg, Cholesterol: 15mg, Total Carbohydrate: 74g, Dietary Fiber: 26g, Sugar: 11g, Protein 27g
Did you make this recipe?
Tag @hellolisalin or leave a star rating and comment on the blog!