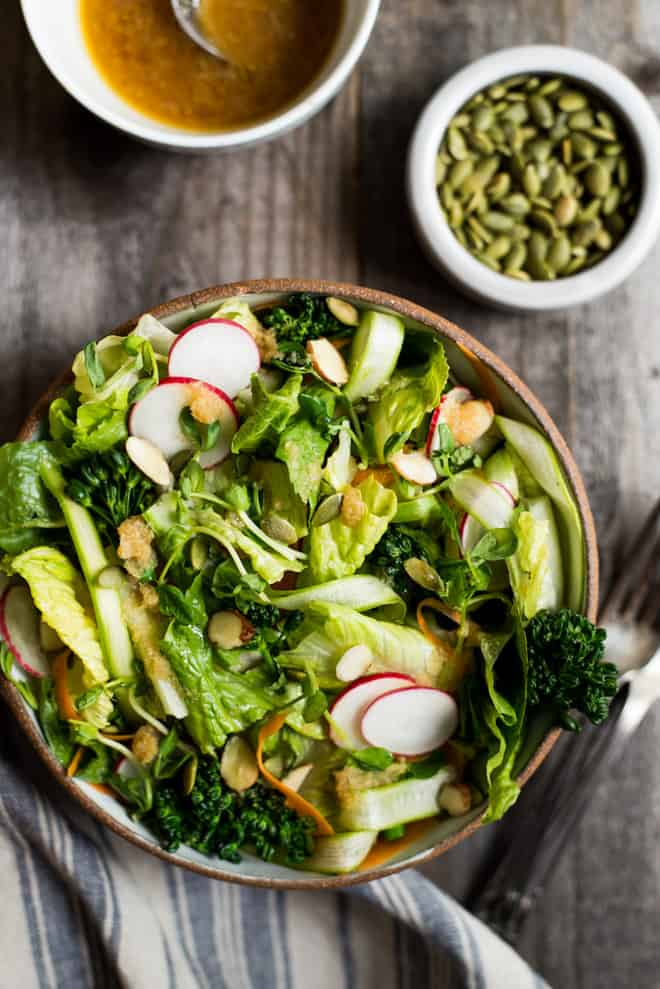 The food I ate over the weekend was mad delicious. From Russian dumplings to tasty tacos, I left the city with a full, happy belly. However, the first thing I wanted to do when I got back home was to eat a BIG bowl of vegetables. I don't know about you, but vegetables always take a bake seat whenever I'm traveling. Why bother paying for a salad that you probably can make at home when you can have Korean fried chicken and bibimbap with bacon? Let's be real.
Even after three trips to Portland, I still haven't ventured over to the famed Pok Pok. Eek! Shame on me. So, I decided to throw together this spring salad. If I couldn't get a taste of Thai flavors over the weekend, at least I can make it at home!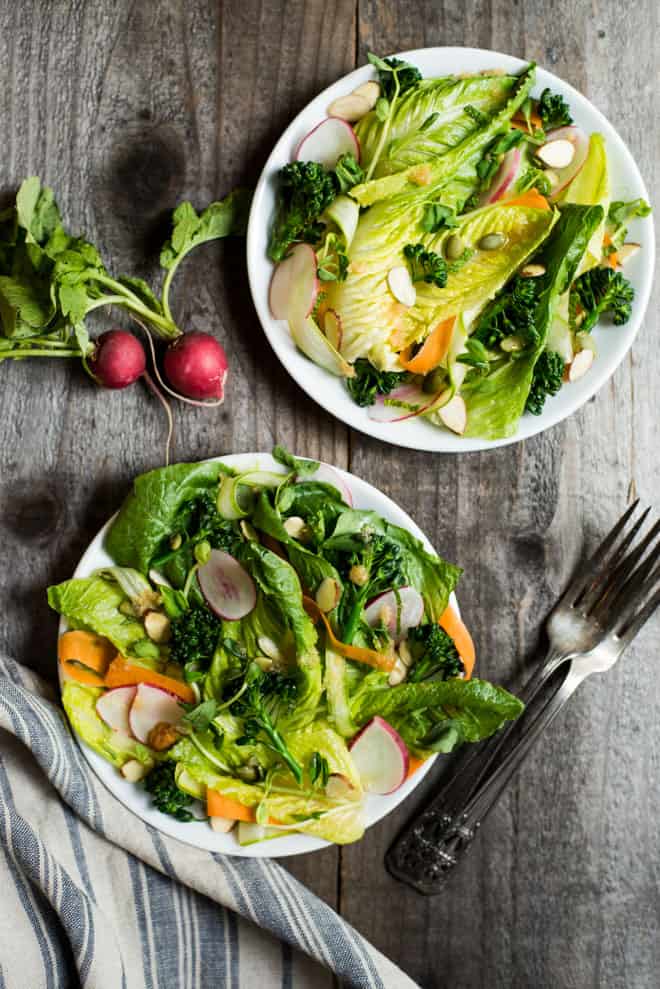 MASTER MY MISTAKES / COOKING NOTES
Notes on flavor: The lemongrass vinaigrette is tangy (from rice vinegar) and slightly spicy (from ginger and garlic). You can start with 3 tablespoons of rice vinegar in the recipe and add more 1/2 tablespoon at a time to get to the flavor you like. If you want the vinaigrette to be less spicy, use 1 teaspoon of grated ginger.
Make it a meal: This salad is meant to be an appetizer, but you can make it a fuller meal by adding some avocado and your favorite protein! I had this salad with eggs and avocado, and it tasted wonderful.
Roast leftover asparagus: As you're shaving the asparagus, you'll probably notice that you can't shave off the entire stalk. Just save it for roasting or your stir fry!
Spring Salad with Lemongrass Vinaigrette
Ingredients
Salad
4

oz.

tender-stem broccoli or broccoli corwns.

1/4

cup

pepitas or pumpkin seeds

1

large head of romaine lettuce

1

cup

of pea shoots

,

about a small handful

7 to 8

radishes

,

sliced thinly

1

large carrot

6 to 8

stalks of asparagus

1/4

cup

sliced almonds

1

TBS

chopped fresh mint

,

optional
Lemongrass Vinaigrette
2

TBS

stalks of lemongrass

1

large clove of garlic

fresh ginger

3 to 4

TBS

seasoned rice vinegar

,

depending on your taste

1/2

TBS

low-sodium tamari

,

use soy sauce if not gluten free

1/2

tsp

sesame oil

1

TBS

sunflower oil

,

olive oil works also

1 1/2

TBS

lime juice

1/2 to 1

TBS

maple syrup

,

depending on your taste
Instructions
Chop tender-stem broccoli into smaller pieces. Steam them for about 2 minutes, then place them in a bowl of ice water. This helps keep the broccoli crisp while you prepare the other ingredients.

Lightly toast pepitas on a pan. Stir pepitas often to prevent them from burning. When they're done, plate seeds.

Rinse romaine leaves, and chop them to smaller pieces. Place in a large bowl. Add pea shoots and sliced radishes.

Peel carrot and use your peeler to create carrot shavings. Shave asparagus with your vegetable peeler. Note that you'll probably only be able to get about 4 or 5 shavings on a stalk. Just save the rest for roasting or a stir-fry. Add shaved vegetables to the bowl. Add tender-stem broccoli, pumpkin seeds, sliced almonds, and chopped mint, if using.

Prepare lemongrass vinaigrette. Remove the tough outer 2 layers of a stalk of lemongrass. Grate the larger end on a microplane, until you get about 2 to 2 1/2 tablespoons of lemongrass shavings. Place in small bowl. Grate garlic and add to the bowl. Grate ginger until you get about 1 to 2 teaspoons of it. If you want a spicier vinaigrette, use 2 teaspoons. Add to bowl with other spices.

Mix in rice vinegar, tamari, sesame oil, sunflower oil, lime juice, and maple syrup.

Toss salad and drizzle with lemongrass vinaigrette.
Did you make this recipe?
Tag @hellolisalin or leave a star rating and comment on the blog!