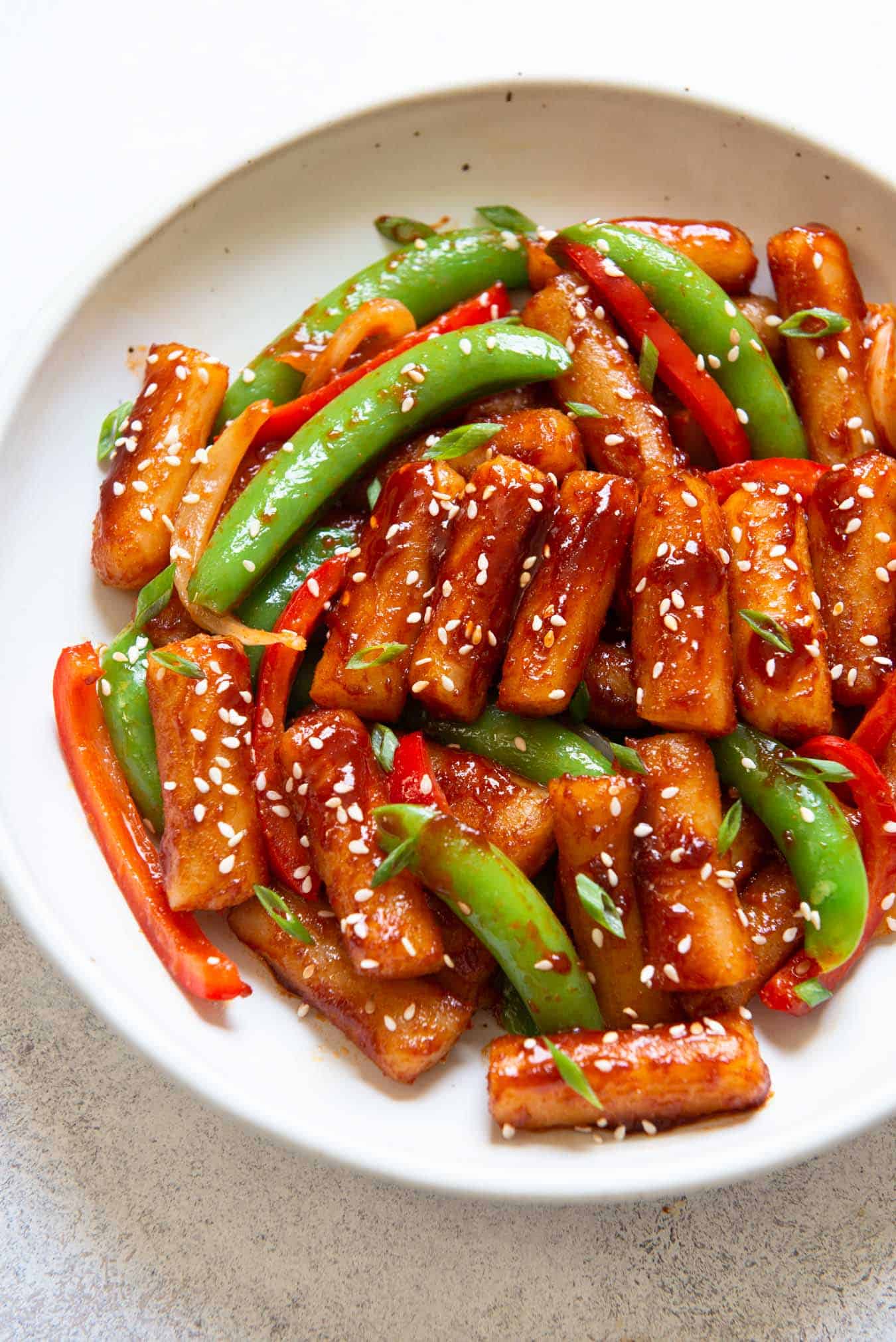 One of my favorite Korean dishes is tteokbokki, a street food snack made of cylindrical rice cakes that are cooked in a spicy, flavorful sauce. To make tteokbokki, you simmer rice cakes (tteok) in a stock often made with anchovies as well as gochujang (Korean chili paste) and other spices. Over time, the starch from the rice cakes thickens the sauce. As a result, the rice cakes will be coated in a lovely spicy sauce. If you are interested in making tteokbokki, check out these recipes from Maangchi, Korean Babsang, or Robin Ha's cookbook, Cook Korean!
Drawing inspiration from tteokbokki, I often stir fry rice cakes in a spicy sauce made with gochujang. Although I don't simmer the rice cakes in a sauce like for tteokbokki, the rice cakes still get a lot of flavor when I toss them with the gochujang sauce.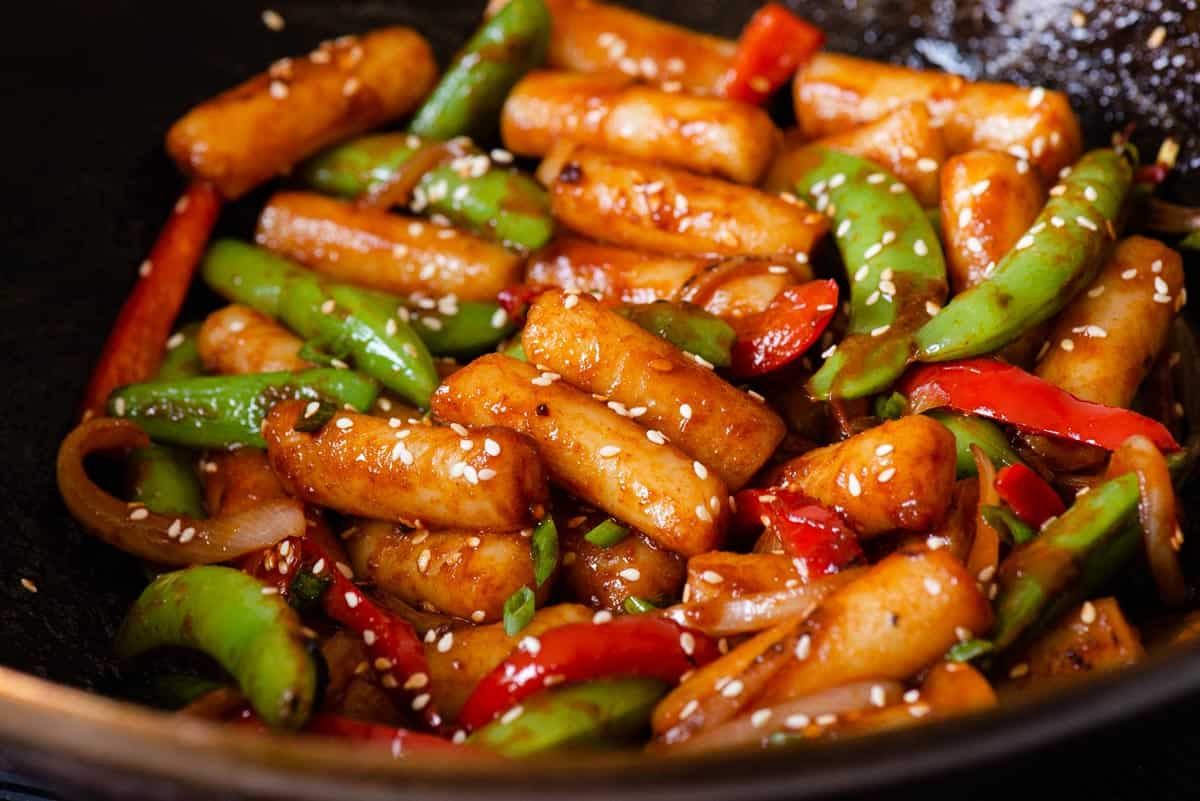 COOKING NOTES FOR SPICY RICE CAKES
GOCHUJANG
One of the key ingredients in this spicy rice cakes recipe is gochujang. I used Mother In Law's gochujang for my recipe testing. You can also use gochujang that comes in the classic plastic red tubs, which you can find in Asian supermarkets.
VEGETABLES
In this recipe, I pair the rice cakes with sugar snap peas (because they're in season) and red bell peppers for color. However, you can use any vegetables you have on hand. Other vegetables that work well for this recipe include snow peas, green beans, carrots, broccoli, or cabbage.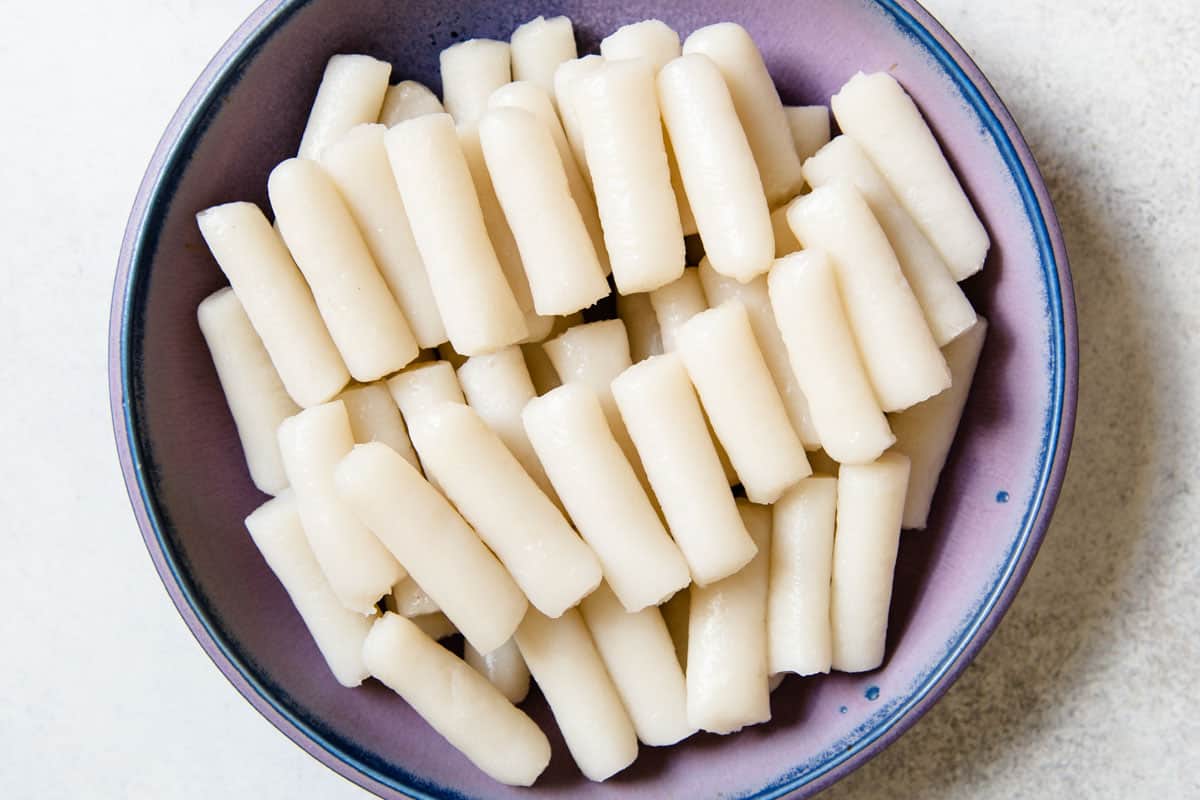 USING REFRIGERATED RICE CAKES
I often use refrigerated cylindrical rice cakes for the stir fry. Once refrigerated, the rice cakes harden. To restore their chewy texture, I like to soften them beforehand by soaking them in hot water for 2 minutes. Then, I drain the rice cakes before adding them to the stir fry.
The cold rice cakes will take much longer to soften if you add them directly into the wok. Especially with cylindrical rice cakes, like tteokbokki tteok, the rice cakes might not heat up evenly.
By the way, if you use the larger cylindrical rice cakes (garaetteok), I recommend slicing them up before stir frying them. You can also use pre-sliced rice cakes for this recipe.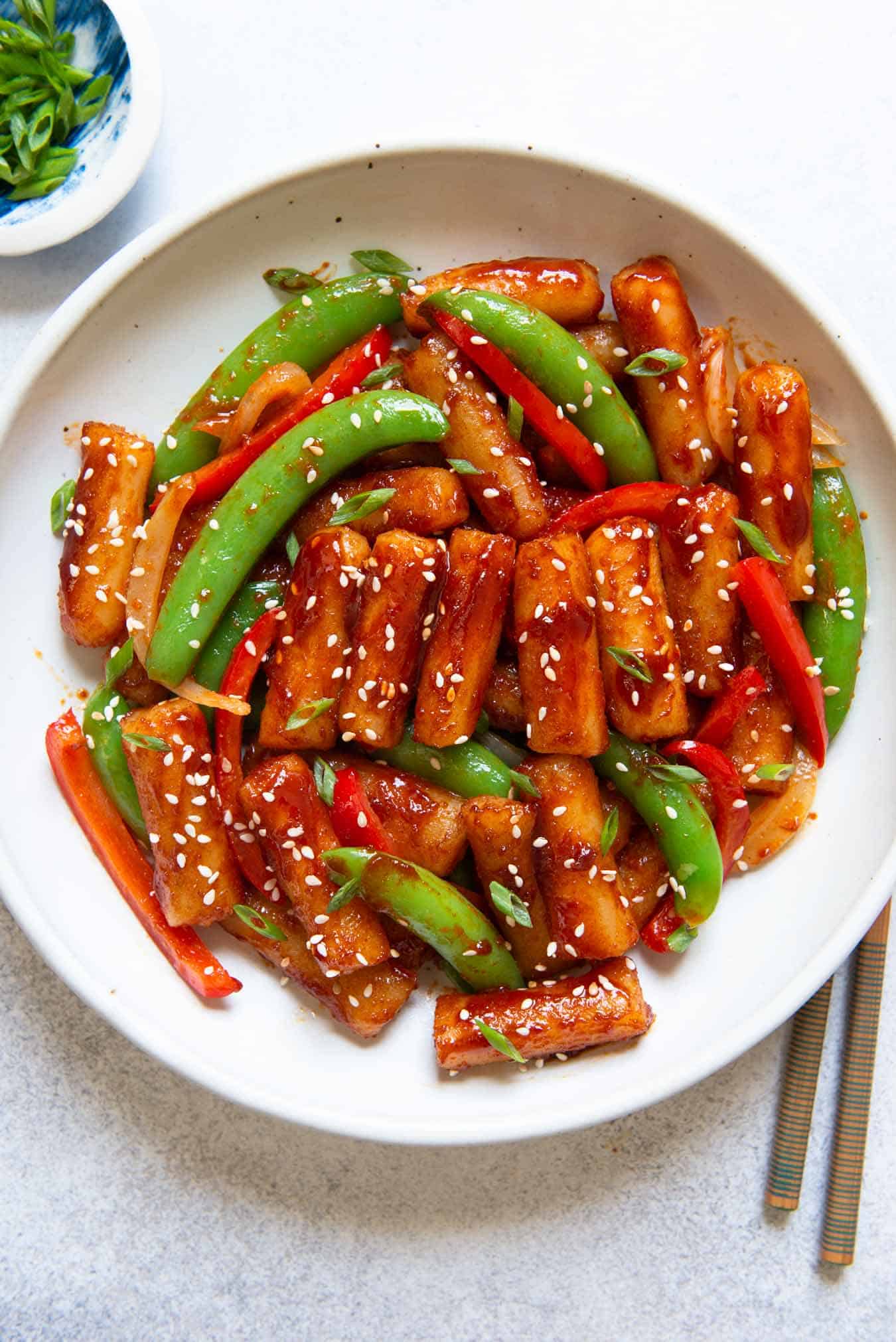 WHAT TO SERVE WITH SPICY RICE CAKES
Stir Fried Spicy Rice Cakes
For this recipe, I used
small homemade cylindrical rice cakes
. If you use the thicker cylindrical rice cakes, slice them before stir frying. You can also use pre-sliced rice cakes. Feel free to substitute any of the vegetables with whatever you have on hand. Also, feel free to add more gochujang if you want more spice. 
If you are not vegetarian, the rice cakes also taste great with a drizzle of fish sauce. This is a tteokbokki-inspired recipe. If you are interested in making tteokbokki, check out these recipes from Maangchi, Korean Babsang, or Robin Ha's cookbook, Cook Korean!
Ingredients
1

pound

rice cakes

2 1/2

tablespoons

canola

,

vegetable, or olive oil, divided

2/3

cup

sliced yellow onions

8

ounces

sugar snap peas, stringed

,

about 2 1/2 cups

1/2

large red bell pepper

,

thinly sliced
Gochujang Sauce
2 1/2

tablespoons

gochujang

2

tablespoons

soy sauce

1

tablespoon

sugar

1

teaspoon

sesame oil

1/2

teaspoon

garlic powder
Garnish
toasted sesame seeds

sliced scallions
Instructions
Fill a saucepan with water and bring it to boil. Turn off the heat.

Carefully lower the rice cakes into the hot water. Soak the rice cakes for 2 minutes before draining them. (See note) If you don't have enough room in the saucepan to soak them all at once, soak them in batches. 

In a small bowl, stir all the gochujang sauce ingredients together. Set the bowl aside.

Heat a wok (or large sauté pan, preferably nonstick) with 1 tablespoon oil over high heat. Add half of the onions and cook them for 1 minute. Add the sugar snap peas, and cook them for 2 minutes, stirring occasionally. Next, add the sliced bell peppers and cook them for one minute more. Transfer everything to a plate.

Drizzle another 1 1/2 tablespoons of oil into the wok. Add the remaining onions into the wok and cook them for 1 minute. Add the rice cakes and cook them for 1 to 2 minutes. Pour the gochujang sauce over the rice cakes and toss to coat the rice cakes with the sauce. Add the vegetables back to the wok and stir everything together. Turn off the heat.

Divide the spicy rice cakes in individual plates or bowls. Garnish with scallions and sesame seeds.
Notes
If you are using frozen rice cakes, soak them for 5 minutes.
Nutrition
Serving:
1
serving
|
Calories:
507
kcal
|
Carbohydrates:
88.5
g
|
Protein:
7.6
g
|
Fat:
14.6
g
|
Saturated Fat:
2.1
g
|
Sodium:
888
mg
|
Fiber:
4.9
g
|
Sugar:
15
g
Did you make this recipe?
Tag @hellolisalin or leave a star rating and comment on the blog!